Highlights of the week:
Blumer Named Recipient of Mario Foundation Award
Vanessa Blumer, MD, a third-year cardiology fellow, has been selected by the review committee for the Mario Family Foundation as the 2021 recipient of the Mario Family Foundation Award for her research proposal, "Predictors of Clinical and Hemodynamic Response to Intra Aortic Balloon Pump Therapy Across Cardiogenic Shock Phenotypes."
Blumer will be awarded $35,000 for her project for the duration of one year, retroactively starting July 1.
"Vanessa continues the tradition of Duke cardiology fellows who are true triple threats, excelling not only at clinical care, but leveraging their clinical experience to ask research questions that are critical to fill our knowledge gap in," said Tracy Wang, MD, professor of medicine in cardiology and Blumer's primary mentor on the project. "It's also what makes being a faculty member at Duke so special: being able to mentor such remarkable individuals and watch their career take off into the stratosphere."
The award announcement was made earlier this week by Kathleen A. Cooney, MD, the George Barth Geller Distinguished Professor of Medicine and chair, Department of Medicine.
Given annually to a physician-in-training within any of the divisions in the Duke Department of Medicine, the award has been made available thanks to the generosity of the Mario Family Foundation. Ernest Mario, PhD, launched the foundation in 1997. Mario served on the Duke Board of Trustees, and was chairman of the Duke University Health System board of directors. He was named Trustee Emeritus of Duke University in 2007, and is the second longest serving trustee in the school's history. He was awarded The University Medal in 2009, Duke's highest recognition of service to the school.
Congratulations, Vanessa!
Rao Receives NIH/NHLBI Loan Repayment Program Award
Vishal Rao, MD, a fellow in our Advanced Training in Cardiology Fellowship program, has been selected as a recipient of the National Institutes of Health/National Heart Lung and Blood Institute (NIH/NHLBI) Loan Repayment Program Award. His selected proposal is for a project titled "Regional Adiposity and Risk of Heart Failure and Mortality."
The NIH Loan Repayment Programs (LRPs) are a set of programs established by Congress and designed to recruit and retain highly qualified health professionals into biomedical or biobehavioral research careers.
The escalating costs of advanced education and training in medicine and clinical specialties are forcing some scientists to abandon their research careers for higher-paying private industry or private practice careers. The LRPs counteract that financial pressure by repaying up to $50,000 annually of a researcher's qualified educational debt in return for a commitment to engage in NIH mission-relevant research.
Congratulations, Vishal!
Friede Selected as AHA GPM Finalist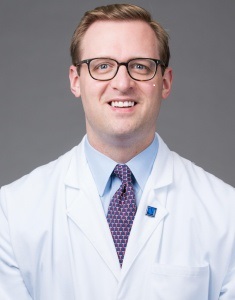 Kevin Friede, MD, a fellow in our Interventional Cardiology Fellowship program, has been selected by the American Heart Association's (AHA) Council on Genomic and Precision Medicine (GPM) Circulation: Genomic and Precision Medicine as a finalist for the 2021 Genomic and Precision Medicine Early Career Investigator Award Competition.
Friede, who has completed a two-year postdoctoral research fellowship in the Duke Center for Applied Genomics and Precision Medicine, will present his abstract, "A Gene Expression Signature Reflective Of Exposure To Antiplatelet Therapy Is Associated With Bleeding" during the Genomic and Precision Medicine Early Career Investigator Award Competition session at the upcoming AHA Scientific Sessions scheduled for November 13-15, 2021, in Boston, MA.
Ashley Named Nurse Manager Operations for 6 East DMP, Effective August 2nd
Duke Heart is pleased to announce that Ciarra Ashley, BSN, RN, PCCN will become Nurse Manager Operations for Duke University Hospital's Cardiothoracic Surgical Stepdown Unit 6 East effective Monday, August 2. Ciarra earned a Bachelor of Science in Nursing at the University of North Carolina at Chapel Hill in 2011. Ciarra joined the Duke Heart Team in 2012 as a staff nurse on 3300 before assisting with the opening of 6 East and has served as Clinical Lead for 6 East DMP since 2018. Ciarra has held a variety of roles during her time at Duke. She has advanced the clinical ladder by becoming a CNIV and has continued to mentor other nurses throughout Duke Hospital by becoming a Clinical Ladder Advisor. She is also a member of DUHS Clinical Practice Council and has done many team building and leadership activities throughout the Heart Center. She is also active in the community through various outreach projects.
Please join us in congratulating and welcoming Ciarra to her new role!
Botzenhart Named Nurse Manager DUH 3100, Effective August 2nd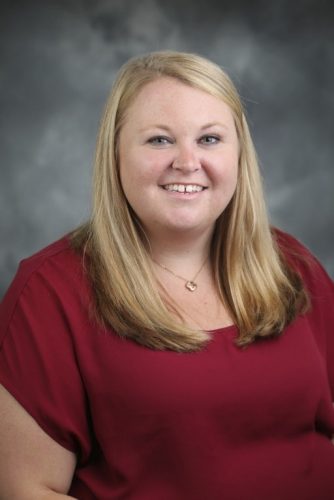 Duke Heart is pleased to announce that Lindsay Botzenhart, BSN, RN, PCCN, CNIV will become Nurse Manager for Duke University Hospital's Cardiothoracic Surgical Stepdown Unit 3100 effective Monday, August 2. Lindsay earned a Bachelor of Science in Nursing from Liberty University in 2010. Lindsay joined the Duke Heart team in 2012 as a staff nurse on 3300 and prior to that time, worked as a nurse at Duke Regional Hospital for 2 years. She has served as Clinical Lead for the DUH Cardiothoracic Surgical Stepdown Unit 3300 since 2015. During her time at Duke, Lindsay has been involved in multiple Heart Center initiatives including LVAD education and site visits and DUHS Heart Core classes. She currently serves on the Duke Health System Inpatient Nursing Improvement committee, Friends of Nursing award selection committee, and DUH based Responsiveness/Purposeful Rounding pilot group.
Please join us in congratulating and welcoming Lindsay to her new role!
Cardiovascular Disease Fellowship Program Featured in Magnify
An article about the important work to increase representation and diversity in our cardiovascular disease fellowship program was published this week in Magnify, the Duke University School of Medicine's online news magazine. Getting to the Heart of Inclusion, which features Jennifer Rymer, Anna Lisa Crowley, Pam Douglas, and Manesh Patel was written by Duke Heart's communications director, Tracey Koepke. To read it, please visit: http://duke.is/U7XSH5
ICYMI: Ohman Guest on Heart-to-Heart
Magnus Ohman was the featured guest on Sirius-XM radio's Heart-to-Heart program on Wednesday, July 28. Heart-to-Heart is hosted by Fred Feit, MD, professor of medicine and interventional cardiologist at NYU School of Medicine. The topic was chronic angina.
PAs Present Smartphrase Results at AAPA
Jordan Hausladen (PA-C) and Todd McVeigh (PA-C) presented a virtual poster session during the American Academy of Physician Assistants (AAPA) National Conference in May 2021. With the guidance of Drs. Andrew Wang and Manesh Patel, the pair of APPs implemented a Smartphrase into cardiology discharge summaries (and a smart-text in EPIC available to non-cardiology teams) that would allow providers to more accurately interpret and diagnose patients who have non-ischemic troponin elevations. Data were examined three months before and after intervention, showing that use of the Smartphrase successfully reduced hospital-wide and cardiology-teams' 30-day MI readmission rates.
Congratulations, Jordan and Todd – great work!
Co-workers Celebrate Upcoming Birth
Several of our Duke Heart team members gathered recently to celebrate the upcoming birth of Baby Williams. Shown L to R: Laura Dickerson, Elizabeth Watts, Kasey Williams, Ashley Barba, and Stephanie Barnes.
REMINDER: Change Passwords to Comply with New Policy
Duke Health users and sponsored guests must update passwords as soon as possible, but will not be required to change passwords in the future – unless you want to update it or your password is compromised.
The new password policy removes the requirement to update passwords every 180 days and requires passwords to be at least 12 characters (special characters and numbers are no longer required); however, including special characters creates a stronger password. In addition, the option to update passwords using CTRL+ALT+DEL is no longer available.
Team members can update their passwords now, but will receive a notice from DHTS via email that requires passwords to be changed by a deadline. Please visit the OIT Account Self Service Portal and create a new NetID password that doesn't expire.
Tip: If working remotely (at a non-Duke site) users should connect to the Duke Virtual Private Network (VPN) before updating passwords (see page 29 of the Technology Toolkit for more information about the VPN). Passwords can be updated without connecting to the VPN, but passwords are synced across all your Duke log-ins faster if connected to the VPN.
Visit https://security.duke.edu/news-alerts/new-password-policy to review the password policy FAQ.
Attention Omnicell Users
Due to Omnicell's password policy, Duke Health employees that use Omnicell, with the exception of Duke Raleigh Hospital employees, must keep passwords to 15 characters or less; Duke Raleigh Hospital employees must keep passwords to a maximum of 30 characters.
We are working with Omnicell to upgrade their password policy to remove restrictions across Duke Health. Check the password policy information page for updates.
Contact the Duke Health Service Desk at (919) 684-2243 for technical support.
If you have not yet updated your passcode to fit this policy, please do so as soon as possible. Thank you!
Have news to share?
If you have news to share with the Pulse readership, please contact Tracey Koepke, director of communications for Duke Heart at tracey.koepke@duke.edu. We would love to hear about your latest accomplishments, professional news, cool happenings, and any events or opportunities that may be of interest to our Duke Heart family. Please call with any questions: 919-681-2868. Feedback on Pulse is welcome and encouraged.
Duke Heart in the News:
July 22 — Jacob Schroder and Carmelo Milano
YouTube/RT en Espanol
Cirujanos implantan el primer corazón artificial de EE.UU
http://duke.is/znqJsd
July 23 — Christopher Granger
Medscape
CLARIFY Confirms Meds, Watchful Waiting in Angina, Stable CAD
http://duke.is/QxnJK1
July 25 — Carmelo Milano
Tech Times
CARMAT Artificial Heart Prosthetic Implant Successful in 39-Year Old, First-Ever US Patient
http://duke.is/qPMZXb
July 26 — Kevin Thomas
Renal & Urology News
Catheter Ablation Improves A-Fib Outcomes in Racial/Ethnic Minorities
http://duke.is/Nx9cNp
July 27 — E. Magnus Ohman
Medscape
Are You at Legal Risk for Speaking at Conferences?
https://www.medscape.com/viewarticle/955454
July 27 — Adam DeVore
HCPLive
No Benefit Shown In Quality Improvement Intervention For Patients with HFrEF
http://duke.is/LmTFVn
July 28 — Mollie Kettle
STAT
'There is a real cost': As Covid shows, barring bedside visitors from ICU deprives patients of the best care
http://duke.is/GU7YAw
July 28 — Manesh Patel and Schuyler Jones
HCPLive
http://duke.is/4ZYcw9
July 28 — Laine Thomas (Biostatistics & Bioinformatics)
Medically Prime
SGLT2 Inhibitor Adds Years of Life to Patients With Heart Failure
http://duke.is/t6s2Fz