Chief's message:
Our final pre-holiday weekly Pulse for 2020 makes me think back a year from now. Last year as we celebrated the New Year we would not have imagined that 2020 would bring a global pandemic that stresses and puts our health care systems in our country at the center of public health battle.  It is in this tumult, that the Duke Heart Community responded with much more involvement and innovation in clinical care and multiple organized research grants nationally and locally in an attempt to continue to move the scientific field forward, and many outreach efforts to improve our community health in hopes of better days.
It is with your relentless commitment and resilience that we have endured and worked as a group.  This has been highlighted over the last week as the Pfizer-BioNTech Covid-19 arrived across the country and groups mobilized to get frontline and essential groups vaccinated. At Duke and we worked as hard as possible to ensure all of our groups were informed, registered, and appropriately getting in line to get vaccination slots.  But this was not without angst as we were ensuring we register, get our groups aligned and communicated to how and when people will get the vaccine.  It's hard to be patient at the end of a 10-month pandemic.  We were encouraged by the increase in vaccinations given even today on Sunday, with many of our that our trainees and staff and faculty starting to move through the process.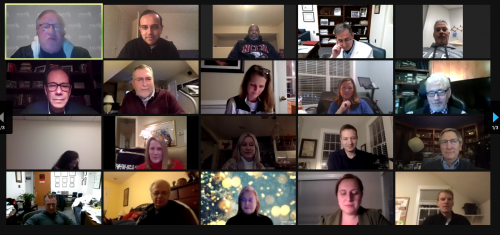 It is with this background, that I was most struck this week by the CT surgery final faculty meeting with Peter Smith as Division Chief.  As the Division Chief for CT surgery at Duke for the last 25 years, it is hard to put into words what he has meant to the group.  For 2 hours we heard from all parts of our health system, network, clinical practice, research infrastructure and most importantly numerous faculty and staff as to the affect he has had on our Heart Center.  We are glad he will be around support our group and Ed Chen and the CT surgery group, and look forward to his continued leadership.
I am proud of the work our staff, fellows, and faculty have done to care for our patients. As we look forward into 2021, we are aware of the need for your continued partnership, local leadership for the health of your community, and the importance of keeping our patients involved and engaged in our science.  We are ever grateful for all of our people, the people that make Duke Heart.  We will need all of your continued collaboration and support in this upcoming year.
Highlights of the week:
Duke Heart Talent Show 'Spectacular' Held
As this crazy year began winding down and vaccine planning ramped up, a different sort of challenge was thrown down – with several brave souls stepping up for the first-ever Duke Heart talent show… The event was held via Zoom on Friday evening. Contestants representing areas within the Division of Cardiology competed in short videos demonstrating the wide range of talents (or lack thereof, depending on who you ask) in front of a panel of judges and an audience of 75+ colleagues. Our co-hosts were Manesh Patel, Vanessa Blumer and Sipa Yankey; our judges were Kevin Friede, Zack Wegermann, Navid Nafissi and Angela Lowenstern.
The event kicked off with a surprise visit by "the Masked Santa" and moved on to the cooking talent of John Alexander, (in photos he was accompanied by Mango, the African lovebird); Alexander had – prior to the Zoom event –delivered his Slow Cooker Red Lentil Cauliflower Curry direct to the homes of each of our four judges as well as instructions on how to reheat, etc. The curry was a hit!
Next up were:
Chris Granger & Tilley, with an impressive juggling performance
Beckett Mentz, 8, in a convincing performance of the aftershave scene from Home Alone
Members of the Duke Heart Failure Team singing the 12 Days of COVID with a cameo performance by Joe Rogers
Tony Carnicelli on acoustic guitar with a twist on Let It Be
Adam Barnett, accompanied by adorable daughter Lily, playing classical piano
Schuyler Jones reading hiaku
Mikael "Mik" Templeton, from our interventional team, on saxophone with The Christmas Song (chestnuts roasting on an open fire).
The Adult Congenital team's "Kazoo Khoir" in a rousing performance of Rudolph the Red-Nosed Reindeer.  Rich Krasuski with some wonderful ad libs.

Future Tik Tok star Manesh Patel, encouraging vaccination for COVID-19, with cameos by Anna Lisa Crowley, Jacob Schroder and Carmelo Milano
Sipa Yankey rapping his day-in-the-pandemic-life experiences with "Ain't No Thrombus"
The showstopper of the evening proved to be a stunning rendition of 'Ave Maria' featuring the gorgeous voice of Ashli Carnicelli accompanied Tony Carnicelli on acoustic guitar; the judges agreed this was the winning performance.
Thanks to all who were able to join our Zoom event. The commentary in the 'chat' was a vital part of the evening – it was great to see so many members of our team and we hope that coming together in this way helped you celebrate the holidays and one another. To quote Tracy Wang via chat at the end, "Needed the pick me up, thanks to all; this was special…. happy holidays!"
We especially appreciate the generosity of our contestants – we know it took effort to pull your videos together on short notice. We thank our judges and the hosts for the evening – you did a great job with commentary and keeping things lively.
Great job, everyone, and happy holidays to you and yours. Thanks for making Duke Heart such a special place at Duke.
7200 Moved Successfully!
The Cardiac Stepdown Unit on Duke North 7200 moved to Duke North 7700 with a capacity for 12 patients on Friday, Dec. 18. Thanks to everyone who helped make this a successful, seamless move! In one of the photos you can see the code response for move with Greg Flynn. Also shown are Faith Williams, Diane Sauro, and Sarah Kirby. Another photo shows the team debrief. Many, many thanks everyone!
Commendation for Lisa Duncan and 7100/7200 Team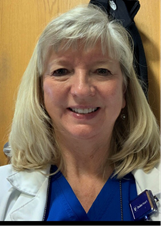 Special thanks to Lisa Duncan, 7100 Nurse Manager and Clinical Leads Antoniette Embler, Brittany Stephenson, and Katherine Adams for their leadership on 7200.  This leadership team opened 7200 in the fall of 2017 by hiring and onboarding a team of nurses to complement the existing 7100 team. During their tenure, the unit received top performance accolades from senior leadership for Patient Experience metrics on several occasions (unit cleanliness and staff responsiveness to name a few). In FY20, the unit excelled with quality metrics, having no CAUTI or CLABSI infections or hospital acquired pressure injuries. As the coverage for 7200 has now transitioned, we want to acknowledge the efforts and contribution of the 7100/7200 leadership team and staff under Lisa's guidance for their care of patients and their loved ones, and support of the Hospital's capacity needs.
Informatics Expert Joe Kelly Earns Black Belt
Congratulations to Joe Kelly, Duke Heart's Director of Cardiovascular Informatics & PI/QI, for earning his black belt in karate – specifically in the Shito-Ryu Motobu-Ha style.
According to Joe, it usually takes about 10 years to get a black belt in this style. "We also practice Jiu Jitsu (Hakko-Ryu), and Kobudo (weapons – Ryu Kyu Kobudo Hozon ShintoKai), he said. "All these are from the island of Okinawa."
His testing/demonstration was done via Zoom (see photo). The Zoom panel photo shows Sensei Devorah Dometrich who is a 9th Degree Black belt (10 is highest) and was the first female Okinawan 7th Degree black belt in 1997.
During the testing, Joe had to perform and then show application for the exact same Kata (forms) that have been done for over 200 years and derived from other Kata that date as early as 600 C.E.
According to Joe, his sensei will often have kids with special needs in the class for children; he teaches special needs classes in Durham County, and anyone of any shape-age-weight, provided they can partake of physical activity, can make adjustments and take the classes.
"I picked the Dojo because they are not at all "macho" or "rough" but instead are humble and excellent teachers," he added.
Please join us in congratulating Joe on this accomplishment! He will soon be teaching classes via Zoom, so if you're interested, drop him a note.
Way to go, Joe!!!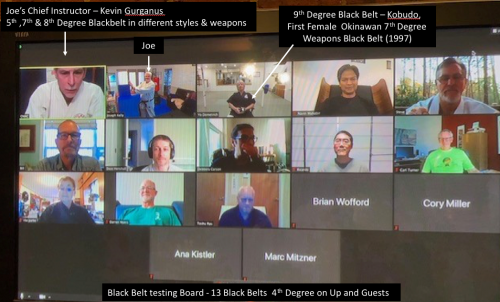 7200 Earns Top Performer Status
Congrats to the team of 7200 for earning Inpatient Responsiveness Top Performer Status for Sept. – Nov. 2020.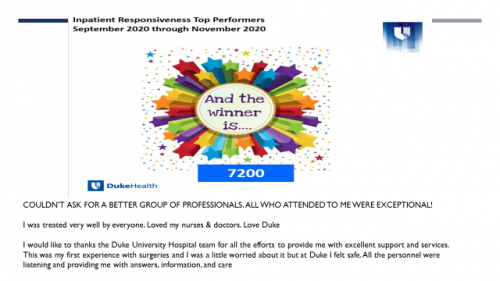 Zoom Retirement Party Held for Karen Craig
A virtual retirement celebration was held via Zoom for Karen Craig of the CardioPulmonary Rehab team on Wednesday evening, Dec. 16. Craig is retiring from Duke on December 31st. It is hoped that we'll be able to offer a celebration in-person sometime in the future, but the team gathered this week via Zoom to share stories and reflect on Karen's remarkable contributions throughout her career.
Zoom guests were asked to prepare a few words to share with Karen, and creative Zoom backgrounds that reminded people of Karen were encouraged, many of which can be seen in this screen shoot.
Congrats, Karen!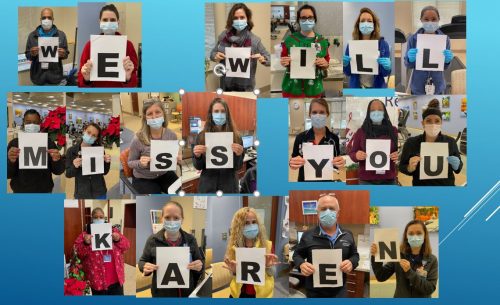 Steve Guerrant Retirement Celebrated
Steve Guerrant, who has served Duke University Hospital for 29 years and has been the Engineering Specialist in the Duke Electrophysiology Lab for 13 years, is retiring this month from Duke; he was celebrated this week on the unit. His knowledge of EP equipment, lab construction, and troubleshooting will be sorely missed. His ability to share knowledge and teach EP staff members the equipment side of EP is one-of-a-kind. He has been an integral part of the EP team and we are all grateful to have worked with him. Many thanks to Jill Engel for photos and Elizabeth Watts for helping Pulse share this news!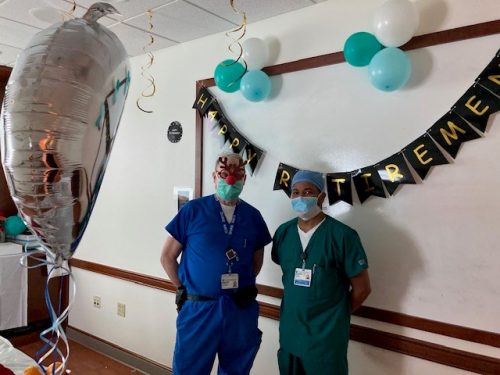 Lowers Named CardioPulmonary Rehabilitation Manager
We are excited to share that Sean T. Lowers, PT, DPT, CCS has accepted the Manager, Clinical Services position with our CardioPulmonary Rehabilitation team. The announcement was made last week by Brian Wofford, Vice President of Heart Operations for Durham County.
In his announcement, Wofford offered special thanks to our HR, Recruitment, and Interview teammates for an efficient and effective recruitment process. Lowers started in his new role on Tuesday, December 15th in order to maximize the formal handoff between him and Karen Craig before her retirement on December 31st.
"We will miss Karen more than words can express, but Sean has been a pivotal member of the team both as a Physical Therapist and Clinical Services Coordinator," said Wofford. "His experience and work with Karen has prepared him to lead the team through our next chapter, and I am personally excited for what is in store for all of us."
Lowers' previous position on the team was Clinical Services Coordinator, Rehabilitation; as he transitions, leadership is changing the scope of his previous role. The replacement position will have a Cardiac Rehabilitation focus instead of a focus on Pulmonary Rehabilitation and we anticipate the job to be posted soon.
Please join us in congratulating Sean on his promotion!
Shout-out to Banks & the Fellows Team
We received a great note this weekend from Cary Ward regarding Adam Banks, which led to additional observations about the Cardiology Fellows team:
"I first want to give a shout out to Adam Banks for helping the DHP team with a patient who was very sick with mitral regurgitation and needed a diagnostic cath in preparation for surgery. The patient was frightened and anxious and intermittently refusing care. She had even signed out AMA the week before. Adam was able to develop a rapport with the patient who then agreed to cath and eventually a balloon pump. This took a lot of time and emotional energy on Adam's part and he could have easily taken the easy way out instead by reporting back that she was not willing to sign consents. We were all very appreciative of all the extra time he took with her.
After noticing Adam's contributions in the beginning of the week, I began to see all the other times in which the fellows ensure that our patients get excellent care: Chris Wrobel managing the DHP team all week while needing little input from me … Alyson Corley spending most of her CCU call resuscitating one of our patients…Toi Spates and others helping the nurses with an off service patient who had fallen in 7200…Kelly Arps who cared for a very sick AS patient all Friday night…the list goes on.
And then on Friday we watched the talent show in which Tony Carnicelli and Adam Barnett showed off incredible musical talent, the emcees were hilarious and Sipa performed "Ain't No Thrombus."
During this holiday, I feel grateful to work with such an amazingly talented and vibrant group of young people, and want them to know how incredibly valued they are.
Happy Holidays to all the fellows!"
Indeed, we have a gifted team of fellows, faculty and staff comprising Duke Heart. Thank you to all!
Good Catch, Spikes!
Jasmine Spikes received a Good Catch Award on December 11; the "catch" occurred on October 22 – the award reads, "For ensuring patient safety by recognizing that a patient had a red identity flag and that the patient's identity had not yet been confirmed during a recent admission from the ED.  She immediately contacted unit leadership for support on how to handle the situation.  It was determined that the patient identity was not verified while in the ED and the patient's identity was subsequently confirmed."
Thank you to Antoniette Embler, Clinical Team Lead for Cardiology Stepdown 7100/7200, for sharing this with Pulse!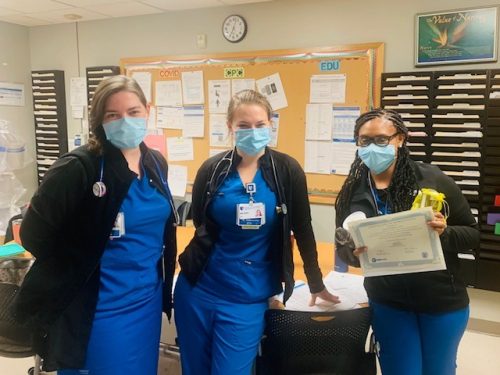 Shout Out to Siffring & Perfusion Team!
Travis Siffring and our Perfusion team have two publications in the latest issue of The Journal of ExtraCorporeal Technology, the official journal of AmSECT, as well as a prominent accolade from the JECT editor:
Academic Perfusion at Its Best and New Tradition:
Our final Journal of ExtraCorporeal Technology issue for 2020 showcases the myriad of ways that our clinical perfusion community conducts academic work that contributes to our practices. The impressive work published here not only shares the knowledge they have generated but also will, I hope, inspire others to partake in the enrichment of our clinical skills and enhancement of our profession.
The first example of such an enhancement that I would like to highlight is that of AmSECT, our sponsoring society, now have a published set of standards and guidelines for pediatric congenital perfusion! Molly Oldeen and her co-authors have meticulously compiled a much needed, previously non-existent set of standards and guidelines for our colleagues practicing pediatric and congenital perfusion. AmSECT's service to these perfusionists is now on par in this regard with what it provides to adult perfusionists. Furthermore, these standards and guidelines were reviewed and endorsed by both the Congenital Heart Surgeons and Congenital Cardiac Anesthesia societies. With its co-publication in the World Journal for Pediatric and Congenital Heart Surgery, these standards and guidelines will be widely available and shared broadly within this specialty. My congratulations to Molly Oldeen and her co-authors who are all well-known, long-time contributors to AmSECT, for their latest accomplishment!
Another group of perfusionists I would like to congratulate and highlight in this issue is Travis Siffring and his Duke University team. They have two publications in this issue, not only showing us a new optimized perfusion strategy for Norwood reconstructions but also demonstrating how perfusionists can participate in investigating and innovating along with their physician partners and then share their findings in their respective profession's journals. The work shared in this issue first describes their early in vitro evaluation of their sustained total all-region perfusion technique. This is followed by their second article describing the clinical implementation of this technique from the perfusionists' perspective. Also referenced in their work is a third publication by their physician colleagues who described the surgical technique aspect of this effort. Siffring and co-authors should be commended not only for their contributions in developing this technique but also for making that extra effort to share their relevant efforts with our perfusion community through these articles. This is clinically driven academic perfusion done right!
A PDF of the full message from JECT Editor-in-Chief Raymond K. Wong, PhD, CCP, is available here. The full issue is available now, online, to AmSECT members.
Way to go, Perfusion!!!!
Thoughts on "LV"
It comes as no surprise that the people we work with each day make a pretty significant impact in our work lives. In healthcare, the work is personal and especially so when we become 'the patient'. The retirement of Lavetta "LV" Staton spurred the following note to her, which was shared this week with Pulse. It's printed here with permission of the writer, name withheld:
"LV,
I have thought about this for 5 years but have never had the right opportunity to share it with you. Now you are retiring.
In 2016 I had chest pain, got a stress test, and then a cath. It turned out to be normal.
As familiar as I am with health care and the Duke Cath Lab it is still a humbling and anxiety producing experience to be on the other side of the table as a patient.
I am privileged and got to choose Sunil Rao to be the attending but it was your being there that made me feel comfortable and that I was in good hands.
You were familiar, professional, competent, and kind. Thank you.  Somehow I don't remember anybody else.
All the best in your retirement!"
The work we do together is important; our skills and expertise matter. But at the end of the day, how you treat people makes a bigger impression.
COVID-19 Updates:
All the latest official DUHS information regarding coronavirus/COVID-19 response at the following locations:
NOTE:  Today is our last issue of Pulse for 2020. We will return on Jan. 10. Enjoy the holidays!
Upcoming Opportunities/Save the Date:
Cardiology Grand Rounds
Dec. 22:  No Cardiology GR. Happy Holidays!
Dec. 29:  No Cardiology GR. Happy Holidays!
Have news to share?
If you have news to share with the Pulse readership, please contact Tracey Koepke, director of communications for Duke Heart at tracey.koepke@duke.edu. We would love to hear about your latest accomplishments, professional news, cool happenings, and any events or opportunities that may be of interest to our Duke Heart family. Please call with any questions: 919-681-2868. Feedback on Pulse is welcome and encouraged.
Duke Heart in the News:
December 14 — Rob Califf
CNBC/Squawk on the Street
Historic vaccination effort underway
https://bit.ly/3mwEEIL
*clip begins @ 10:33:40
December 15 — Rob Califf
Bloomberg Surveillance
https://bit.ly/38oyGVd
*clip begins @ 08:19:28
This story also carried on Bloomberg Radio