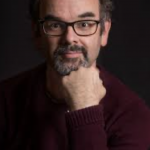 On Friday January 10, the Humanities Research Center welcomes Professor Mark Larrimore from the New School, New York City to give a presentation on Religious Texts in the Anthropocene and to enter into a conversation with HRC Co-Director James Miller.
IB1046: Friday 10 January, 2-3pm
Professor Larrimore is Associate Professor of Religion at the New School, and author of two important books about contemporary religion and politics.
Queer Christianities: Lived Religion in Transgressive Forms, edited with Michael Pettinger and Kathleen Talvacchia (NYU Press), 2014
The Book of Job: A Biography (Princeton University Press), 2013
His research interests include: modern manifestations of religion and the politics of their study in the Unites States and internationally; the problems of evil and good; comparative ethics; interfaces of religion and the arts; lived religion; interpretations of the Book of Job; the future of the liberal arts; religion and the Anthropocene.
During this one hour presentation, Professor Larrimore will explain his research on how religion and the Anthropocene can be related to each other, and will engage in conversation with Professor Miller about conducting research in an interdisciplinary and integrated way.