Wang to become Chief of Comparative Effectiveness Research at PCORI
Tracy Wang, MD, professor of medicine in cardiology at Duke and Director of Health Services & Outcomes Research at the Duke Clinical Research Institute, has accepted an exciting new role as Chief of Comparative Effectiveness Research at the Patient Centered Outcomes Research Institute (PCORI). Her last day at Duke will be Nov. 7.
"After almost 20 years at Duke, I have made the difficult decision to pursue a totally different career pathway at PCORI in Washington, DC," Wang wrote in a message to colleagues. "As many of you know, it's been a true privilege to train here at Duke, and my time as faculty has continued to offer learning opportunities every day as I work alongside amazing colleagues and friends.
"Here, we have a unique environment that allows us to contribute to medicine by taking care of some of the sickest patients out there, by taking on meaningful and impactful scientific research, and by growing the next generation of cardiologists and researchers. It has been a true honor to serve here and, from the bottom of my heart, I thank you for all your support, collegiality, and friendship over the years."
Tracy has been an inspiration to generations of cardiology fellows and faculty and has won numerous mentoring awards.  She has been tireless in her pursuit of improving quality of our care and has been a consummate collaborator and leader in our Division.  The ability to shape the national landscape of comparative effectiveness research through PCORI seems like the a position built for someone with her skills, passion, and desire to improve health through clinical science.  Tracy is a world-class physician researcher who will undoubtedly bring critical thinking and common sense solutions that will have immediate impact on all of those around her.
Personally, it is bittersweet to have her leave our Duke Heart team and the DCRI, but we are excited for this next stage of her career and we look forward to continued collaboration and friendship with her over the coming years.
Congratulations, Tracy!
Gehling Joins Duke Development; Will Support Duke Heart
Please join us in welcoming William Gehling to Duke Heart! Gehling is the new Director of Development for Heart and Lung in the office of Duke Health Development and Alumni Affairs. He began his position in late August and has spent the last
month acclimating to DUHS.
William relocated here from New York, where he most recently served as a director of development at Stony Brook Medicine supporting their Department of Surgery as well as Stony Brook Children's. He has prior experience with fundraising and alumni relations at the Center for Reproductive Rights, Weill Cornell Medicine, NYU Langone Health, and New York-Presbyterian.
Gehling says he looked at the chance to work for Duke Health as an opportunity to reconnect with his roots.
"My family is still here in North Carolina, so it's nice to be able to be closer to them," he said. "I really love academic medicine fundraising and the opportunity to support Duke Heart is special to me because my father had care here. Dr. Milano was his provider and I can really attest to the amazing care that was provided to our family. It's nice to go full circle and give back to support a program that supported us as a family.
"Overall, I'm excited to support the tripartite mission. I know the faculty here are just really incredible. They have a vision they are trying to execute and that's where my job comes in. I can't do the medical work or the discovery work that they're doing, but I can help find the right donor to support their efforts. I know that every time I'm raising funds, another family is going to be provided for and that's really special."
Originally from the greater Charlotte area, William holds a bachelor's degree from NC State University. He enjoys running and has completed two New York City marathons.
Welcome to Duke Heart, William!
Notable Efforts & Recent Happenings
Camille Frazier-Mills and Sana Al-Khatib served as program faculty for the Women in Electrophysiology summit held at the Sofitel Chicago Magnificent Mile in Chicago Oct. 13-15.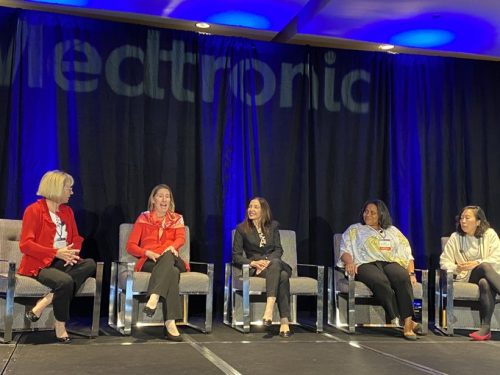 Tommy D'Amico served as a member of the program committee for the AATS International
Thoracic Surgical Oncology Summit held in NYC Sept. 30-Oct. 1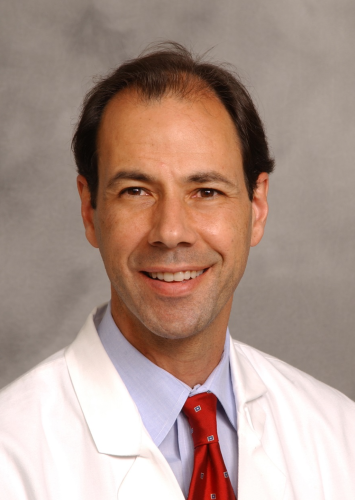 Jason Katz served as a course director for the 2nd Annual NYU Langone Critical Care Cardiology Symposium held in NYC Oct. 13-14.
The Duke Cardio-Oncology 2022 conference Cardio-Oncology in the Era of Precision Medicine was held at the J.B. Duke Hotel & Conference Center in Durham on Friday, Oct. 14. Michel Khouri and Susan Dent co-led the program. The conference was very well attended and we continue to be excited about this growing area of research and improved care for patients. Khouri presented "Risk Identification and Management Strategies of Cardiotoxicities" and Nishant Shah presented "Identifying Cardiometabolic Risk and Preventive Cardiology Strategies."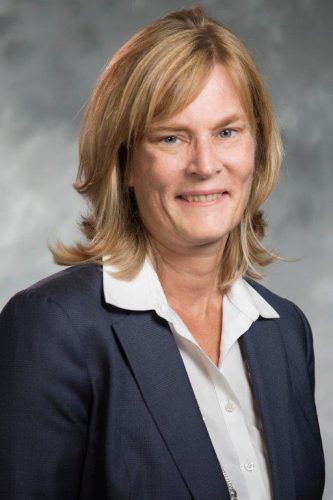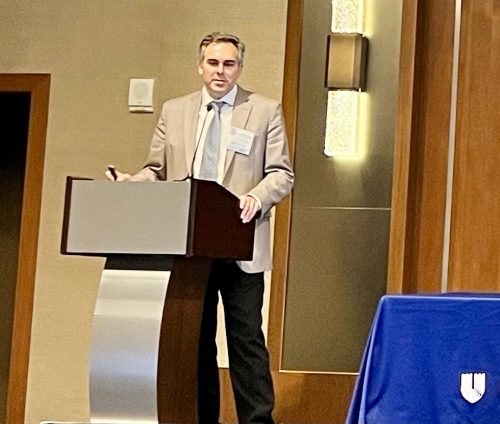 Congratulations to all – great job!
Celebrating Sonographers
October is Medical Ultrasound Awareness Month, and we would like to take a moment to thank all of the sonographers
throughout Duke Heart for their hard work and dedication to the field of Cardiovascular Ultrasound. Our Duke Heart Center patients benefit from your expertise, careful attention to detail, and thoughtful care. We are grateful to work alongside each of you!
Speaking of sonographers… we're excited about a newly published book with submissions by several of our team members. Please see our next story.
New Congenital Echocardiography Guide Now Available
A new reference guide for congenital echocardiography is now available. The first edition of Congenital Echocardiographer's
Pocket Reference was authored by Richie Palma, Director of the Duke Cardiac Ultrasound Certificate Program, and Melissa Wasserman, Supervisor of Echo Lab Satellite Operations at
Children's Hospital of Philadelphia. The book includes contributions from 33 of the top sonographers in the U.S., including Duke's own Colin Dunbar, Tracy Ralston, Ashlee Davis and Jon Owensby. Gregory Tatum, MD, Medical Director of Duke Children's Specialty Clinic of Greensboro and Director of Quality and Education for the Duke Pediatric Echocardiography Lab, wrote the forward and served as editor.
The book has 32 chapters and offers access to hundreds of videos and diagrams. Tatum says it's "the perfect book for someone who is beginning their career in echocardiography, as well as someone who wants to refresh on topics within congenital heart disease. Palma and Wasserman have created an invaluable reference resource for all learners and practitioners of congenital echocardiography."
The book, published this summer, is currently available only through the Arizona Heart Foundation.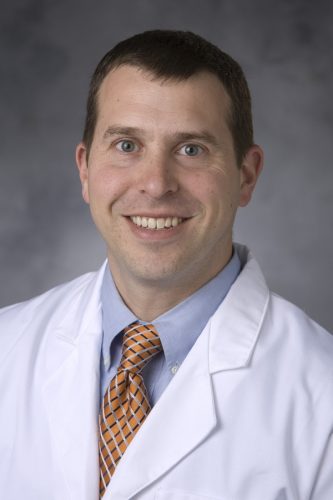 Congratulations to all involved!
Shout-out to Senman
Congratulations to second year fellow Balim Senman — she was the only cardiology trainee invited to participate in and lead a session at the 2nd annual NYU Langone Critical Care Cardiology Symposium held Oct. 13-14 in NYC. Senman co-moderated an incredible breakout discussion on the impact of "Social Media in Critical Care Cardiology Education, Research and Professional Advancement."
Great job, Balim!
Kudos to Kosovec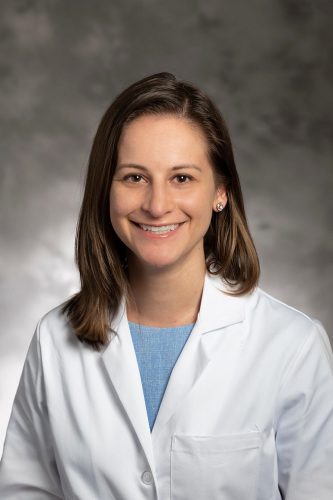 Congratulations to Juliann Kosovec, a resident in Duke's General Surgery Residency Program — she and her co-authors won the best poster award at the AATS's International Thoracic Surgical Oncology Summit held Sept. 30-Oct. 1 at the Sheraton New York Times Square in NYC. Their abstract, Redefining Quality Metrics in cN2M0 Non-Small Cell Lung Cancer, can be found here.
Way to go, Juliann!
Shout-out to Rao
Congratulations to Advanced Heart Failure and Transplant Cardiology fellow Vishal Rao – he has been named a top reviewer to the Journal of Cardiac Failure (JCF).
In a letter sent to Manesh Patel from the journal's Editor-in-Chief Robert Mentz and Deputy Editor Anu Lala-Trinidade, they stated, "Of a large pool of expert reviewers, Dr. Rao stood out for being timely and providing insightful comments that contributed meaningfully to the improvement of manuscripts and publication decision processes. We recognize the numerous demands on Dr. Rao's time and are especially grateful for the time and effort that goes into providing high-quality impactful reviews. Dr. Rao was acknowledged publicly at the JCF reception at the HFSA Annual Scientific Meeting on October 2, 2022, for his contributions. We look forward to Dr. Rao's further work with the JCF family."
Well deserved, Vishal!
Duke Team Attends AMPATH Global Gathering
The AMPATH Global Gathering was held last weekend in Indianapolis and Duke was well represented. The team celebrated advancing our commitment to global health and in particular, our relationship with Moi Teaching and Referral Hospital (MTRH) in El Doret, Kenya. AMPATH (Academic Model Providing Access to Healthcare) is a partnership between MTRH and a consortium of North American institutions led by Indiana University.
AMPATH began working in western Kenya in 1988 and has been most widely known for its work addressing HIV/AIDS. Duke joined the AMPATH consortium in 2009 with support from a National Heart, Lung, and Blood Institute (NHLBI) grant to create a cardiovascular and pulmonary disease Center of Excellence. The Cardiovascular Center of Excellence partnership has been a joint effort led by the Hubert-Yeargan Center for Global Health (HYC), the Duke Clinical Research Institute (DCRI) and Duke Heart, with initial leadership from Duke faculty members Eric Velazquez (now at Yale) and Gerald Bloomfield.
Clinical educational efforts have been led by John Lawrence, adjunct assistant professor of medicine in cardiology at Duke. Lawrence has, since the earliest years, has spent four to eight months a year in Kenya helping to establish a clinical cardiovascular service including a robust outpatient clinic, inpatient teaching service, opening a new 10-bed cardiac care unit and leading the development of a Cardiovascular Fellowship Training Program at Moi University with the support of HYC.
HYC is led by Executive Director Chris Woods, Executive Director Nathan Thielman and Director of Operations Cynthia Binanay, who has led the Kenya Operations with HYC since 2006. Since 2009, the cardiovascular efforts have been supported by expanding partnerships within Duke, with other AMPATH institutions, and the DUCCS alumni network.
Duke Heart has been a consistent partner and supporter of the Cardiovascular COE since its inception. Numerous physicians, nurses and echocardiographers have rotated there for educational and consultative activities. Duke trainees have rotated at MTRH as part of the Global Health Residency Pathway, and many have been mentored by Bloomfield as Fogarty Global Health Fellows, Doris Duke Clinical Scholars and junior faculty at Duke with ongoing support from Duke Heart for global health efforts.
Pictured here (left to right) are some members of the partnership who attended the Global Gathering last weekend: Gerald Bloomfield, Cory Miller, Nick Nguyen, Titus Ngeno, Felix Barasa (Head, Cardiology Unit at MTRH), Wilson Sugut (Head, Department of Medicine at MTRH), Duke hospitalist Rebecca Lumsden, Andrew McCrary, Lauren McCrary, Cynthia Binanay, Tara Holder (former Duke IM resident, current ICC fellow at Vanderbilt), Rob Nealy (UT Austin, Cardiothoracic Surgery); Shanti Nulu (UT Austin, Cardiology), Dale Lawrence, and John Lawrence.
Bloomfield, Ngeno, Lawrence and others have been pillars leading the development of clinical programs and research with our colleagues at MTRH. They've done incredible work in El Doret and we look forward to all they will continue to accomplish.
Photo of the Week
Magnus Ohman, adjunct professor of medicine in cardiology, met recently with long-time Duke Heart supporters Mr. and Mrs. Albert "Lynn" Williams over lunch at the Washington Duke Inn.
Ohman said, "We had a wonderful meeting and we spoke about their philanthropy supporting the lecture in Cardiovascular Genetics.  He and his wife shared how meaningful it was for them to support this and to see all the outstanding scientists that have spoken at these lectures over the years. They also commented on how cardiovascular genetics are now moving to the forefront in several areas of cardiology."
Having fostered numerous relationships with Duke Heart donors, grateful patients and the Duke Health development teams over many years, Ohman enjoys maintaining these connections.
"Philanthropy is so rewarding, as it is so meaningful to a donor and so important for the academic aspects of medicine that otherwise would not be possible," Ohman added. "It's a true win-win situation."
Additional Reminders:
October is Medical Ultrasound Awareness Month – thank a sonographer!
National Physician Assistant Week was celebrated Oct. 6-12. We are so grateful for the incredible work our PAs do throughout Duke Heart and throughout the Health System. Thank you!
Open Enrollment starts tomorrow and runs Oct. 17-28. This is your opportunity to review your medical, dental, vision, and reimbursement account benefit elections and make any changes necessary to ensure your choices continue to meet your needs. You should have received a copy of the annual Open Enrollment Guide in the mail from Duke HR.
The DUHS annual flu vaccination campaign is underway. The deadline for staff vaccinations is Tuesday, Nov. 15 at 10 a.m. Vaccination sites for faculty and staff can be found here: https://flu.duke.edu/vaccination/employees/
Duke Health has launched our first comprehensive Team Member Referral Program. Team members at Duke University Health System and Duke University who refer qualified candidates for any posted clinical or non-clinical positions at https://careers.dukehealth.org/ may be eligible for a monetary bonus and prizes. To learn more, visit: https://duke.is/2sjkv
Upcoming Events & Opportunities
Cardiology Grand Rounds
October 18: PRECIDENT D Study at Duke with Schuyler Jones. 5 p.m. Webex. This event will be online only.
CME & Other Events
October 17-28: Open Enrollment period for 2023 for all Duke faculty and staff.
October 28: Duke Caregiver Community Event, in-person conference. Details here: https://duke.is/nzbcp.
November 4: 14th Annual NC Research Triangle Pulmonary Hypertension Symposium. 7 a.m.-4 p.m. This will be an in-person event at the Durham Convention Center. Registration required. To learn more and register, visit: https://duke.is/jag2b
November 5: Duke Annual Reception at AHA.22. Marriott Marquis Chicago. 5:30 – 8:30 p.m. Questions? Contact Elizabeth Evans or Willette Wilkins.
November 14: Prostate Cancer & CVD Symposium, Webinar 4. Final of a four-part webinar series. Collaboration between the International Cardio-Oncology Society & Duke Heart. Noon, Eastern. Free. To register visit https://duke.is/ptjbs.
Have news to share?
If you have news to share with the Pulse readership, please contact Tracey Koepke, director of communications for Duke Heart at tracey.koepke@duke.edu. We would love to hear about your latest accomplishments, professional news, cool happenings, and any events or opportunities that may be of interest to our Duke Heart family. Please call with any questions: 919-681-2868. Feedback on Pulse is welcome and encouraged. Submissions by Noon, Wednesdays, to be considered for weekend inclusion.
Duke Heart in the News:
October 7 — Joseph Turek and the Sinnamon family
WILX 10 News (Lansing, MI)
Your Health: History-making patient is thriving
https://duke.is/zbkkx
October 7 — Adrian Hernandez
The Daily Progress
UVa Health leads statewide COVID-19 clinical trial
https://duke.is/mk59u
October 7 — Senthil Selvaraj
Medscape
Dapagliflozin DELIVERs Regardless of Systolic BP in HF With Preserved EF
https://duke.is/8qjzj
October 10 — Michael Pencina
Healthcare Innovation
With Focus on Equity, Coalition for Health AI Readies Framework Release
https://duke.is/j8bcn
October 10 — Joseph Turek and the Sinnamon family
WDAM (Hattiesburg-Laurel, MS)
https://duke.is/rujdc
*clip starts at 5:17:05
October 12 — G. Michael Felker
Medical Dialogues
Sacubitril/Valsartan May Reduce Mitral Regurgitation in HFrEF, Eliminating Need for Interventions
https://duke.is/bj9fr
October 12 — Harry Severance
Medpage Today
Isn't It a Seller's Market for Healthcare Professionals?
https://duke.is/czagj
October 13 — Tommy D'Amico
rtve.es (Spain)
Diego González Rivas, el cirujano que ha operado en más países en la historia de la medicina
https://duke.is/ws8wp
Division of Cardiology Publications Indexed in PubMed October 7-12, 2022
Coats AJS, Abraham WT, Zile MR, Lindenfeld JA, Weaver FA, Fudim M, Bauersachs J, Duval S, Galle E, Zannad F. Baroreflex activation therapy with the Barostim™ device in patients with heart failure with reduced ejection fraction: a patient level meta-analysis of randomized controlled trials. Eur J Heart Fail 2022 Sep;24(9):1665-1673. PM: 35713888.
Garus M, Zdanowicz A, Fudim M, Zymliński R, Niewiński P, Paleczny B, Rosiek-Biegus M, Iwanek G, Ponikowski P, Biegus J. Clinical determinants and prognostic significance of hypocapnia in acute heart failure. Sci Rep 2022 Oct 7;12(1):16889. PM: 36207364.
Heffron SP, Windheim J, Barrett TJ, Voora D, Berger JS. Platelet inhibition by low-dose aspirin is not influenced by body mass or weight. Platelets 2022 Nov 17;33(8):1208-1213. PM: 35768902.
Jones MM, McElroy LM, Mirreh M, Fuller M, Schroeder R, Ghadimi K, DeVore A, Patel CB, Black-Maier E, Bartz R, Thomas K. The impact of race on utilization of durable left ventricular assist device therapy in patients with advanced heart failure. J Card Surg 2022 Nov;37(11):3586-3594. PM: 36124416.
Kunadian V, Baber U, Pivato CA, Cao D, Dangas G, Sartori S, Zhang Z, Angiolillo DJ, Briguori C, Cohen DJ, Collier T, Dudek D, Gibson M, Gil R, Huber K, Kaul U, Kornowski R, Krucoff MW, Dehghani P, Mehta S, Moliterno DJ, Ohman EM, Escaned J, Sardella G, Sharma SK, Shlofmitz R, Weisz G, Witzenbichler B, Džavík V, Gurbel P, Hamm CW, Henry T, Kastrati A, Marx SO, Oldroyd K, Steg PG, Pocock S, Mehran R. Bleeding and Ischemic Outcomes With Ticagrelor Monotherapy According to Body Mass Index. JACC Cardiovasc Interv 2022 Oct 10;15(19):1948-1960. PM: 36202563.
Morris K, Weston K, Davy A, Silva S, Goode V, Pereira K, Brysiewicz P, Bruce J, Clarke D. Identification of risk factors for postoperative pulmonary complications in general surgery patients in a low-middle income country. PLoS One 2022 Oct 11;17(10):e0274749. PM: 36219615.
Nelson AJ, Harrington JL, Kolkailah AA, Pagidipati NJ, McGuire DK. Sodium-Glucose Cotransporter-2 Inhibitors: Impact on Atherosclerosis and Atherosclerotic Cardiovascular Disease Events. Heart Fail Clin 2022 Oct;18(4):597-607. PM: 36216489.
Peters AE, DeVore AD. Pharmacologic Therapy for Heart Failure with Preserved Ejection Fraction. Cardiol Clin 2022 Nov;40(4):473-489. PM: 36210132.
Pineda AM, Wang A. New Pacemaker Implantation After Alcohol Septal Ablation: How Sharp Is the Double-Edged Sword? JACC Cardiovasc Interv 2022 Oct 10;15(19):1918-1920. PM: 36202560.
Salah HM, Fudim M. Sodium-glucose Cotransporter 2 Inhibitors and Nonalcoholic Fatty Liver Disease. Heart Fail Clin 2022 Oct;18(4):625-634. PM: 36216491.
Salah HM, Fudim M. Tolerability and safety barriers to sodium-glucose cotransporter 2 inhibitor initiation in heart failure with reduced ejection fraction. Eur J Heart Fail 2022 Sep;24(9):1633-1635. PM: 35867845.
Salah HM, Levin AP, Fudim M. Device Therapy for Heart Failure with Preserved Ejection Fraction. Cardiol Clin 2022 Nov;40(4):507-515. PM: 36210134.
Senni M, Alemayehu WG, Sim D, Edelmann F, Butler J, Ezekowitz J, Hernandez AF, Lam CSP, O'Connor CM, Pieske B, Ponikowski P, Roessig L, Voors AA, Westerhout CM, McMullan C, Armstrong PW. Efficacy and safety of vericiguat in patients with heart failure with reduced ejection fraction treated with sacubitril/valsartan: insights from the VICTORIA trial. Eur J Heart Fail 2022 Sep;24(9):1614-1622. PM: 35791083.