Highlights of the week:
Duke Heart at HFSA 2022
Duke Heart had a great turnout at the 2022 Heart Failure Society of America (HFSA) Annual Scientific Meeting held Sept. 30- Oct. 3 at Gaylord National Harbor in Washington, DC.
Congratulations to all presenters, including Mike Felker with a LBCT presentation, "Effect Of Sacubitril/valsartan On Mitral Regurgitation In Heart Failure With Reduced Ejection Fraction: The PROVE-HF Study" and new faculty member Senthil Selvaraj with a LBCT presentation, "Blood Pressure, Dapagliflozin, And Cardiovascular Outcomes In Heart Failure With Preserved And Mildly Reduced Ejection Fraction: DELIVER," which was simultaneously published in JACC HF.
Second year cardiology fellow Mark Kittipibul presented several poster sessions based on work he has done with Marat Fudim; there was an opportunity for Duke Heart team members to gather and mingle, and a JCF editorial board meeting to round things out.
Great job, everyone! Thanks to Rob Mentz and Karen Flores Rosario for photo submissions!
Duke Kannapolis Director Outlines Future at North Carolina Research Campus
Svati H. Shah, MD, MHS, spoke to partners at the North Carolina Research Campus (NCRC) about the pivotal role of Duke Kannapolis at the 350-acre translational science hub focused on human health and nutrition.
The Duke University School of Medicine has created in Duke Kannapolis a full-service research site that manages a wide variety of clinical and translational research projects to inform a deeper understanding of health and disease and to accelerate population health research.
"This is Duke's investment in the NCRC," Shah said Sept. 15 at the campus, located just north of Charlotte. "We embrace the mission of this unique scientific community working together collaboratively to empower human health through research, and we are extremely proud to be one of eight universities on the campus."
Her talk marked the first time that Shah has presented to NCRC partners since being named to direct Duke Kannapolis.
Shah spoke about the history and capacity-building of Duke Kannapolis, part of the Duke Clinical and Translational Science Institute (CTSI). Founded in 2007 by Robert Califf, MD, MACC, now commissioner of the U.S. Food and Drug Administration, Duke Kannapolis has reached 22,339 total enrollments by 13,886 unique participants — and counting.
"Our community of engaged research participants are our most valuable asset, with many enrolling in multiple research projects," Shah said.
Built on the foundational MURDOCK Study and Project Baseline Health Study, Duke Kannapolis has 58 funded research projects with 110 Duke faculty, as well as dozens of collaborations with investigators and institutions outside of Duke. Current areas of work include COVID-19, pain, mental health, smoking cessation, type 2 diabetes, cardiovascular disease, aging, chronic kidney disease, and more.
Shah welcomed new projects and collaborations with NCRC partners and encouraged attendees to explore the MURDOCK Study storefronts, which summarize data and samples at a glance for populations of interest. Duke Kannapolis has also streamlined access to biospecimens with a new biorepository transformation initiative, she said.
"We measure collaboration by relationships, and every project is an opportunity to strengthen these relationships through research," Shah said.
Duke Kannapolis has developed a high level of community engagement by utilizing community advisory boards, marketing and communications, bilingual staff, events, and community partners including civic, church, and health organizations. Noting proven strategies for recruitment, retention, and engagement across diverse participant populations, Shah also attributed the success of Duke Kannapolis community engagement to bidirectional communication and 15 years of building trust with residents.
"We see participants as partners, and we prioritize personal connections with the community and open information flow to and from participants," she said.
Shah thanked NCRC partners for warmly welcoming Duke University President Vincent Price recently during his first visit to the campus. Key takeaways from in-depth discussions with Price included the importance of success through collaboration and shared goals, as well as the need to address disparities impacting research, healthcare, workforce development, and more.
Shah defined her vision for the future of Duke Kannapolis as harnessing innovations in contemporary precision medicine integrated with implementation science, education, and clinical infrastructure to accelerate discovery and transform patient care.
"Ultimately, we want more precise diagnosis, prognosis, and therapeutic decision-making for the individual person," Shah said. "And we are thrilled to work with this collaborative, interdisciplinary scientific community toward that end."
Kudos to Ouyang & Huber, Gaca & 3100 team!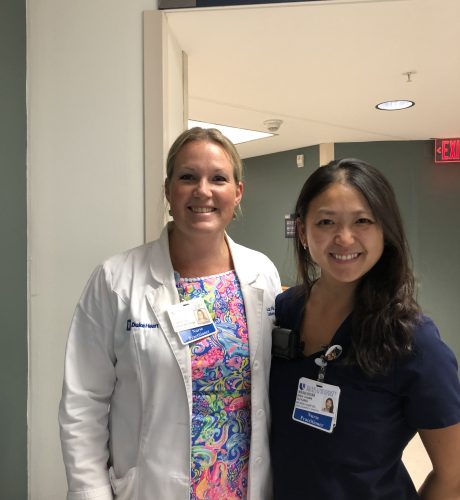 We received accolades from a patient for a number of our providers on DUH Unit 3100 recently. Here is what they said:
"Duke is obviously known for the quality of health care received. During 3 major events over the last 2 years at Duke the most impressive learning is not just medical professionalism, but the genuine caring, respect, empathy, you feel from everyone at Duke; from the Valet, to Admit, Housekeeping, all Nurses and Techs, and Providers.
"A special mention to Dr. Gaca and his Surgical Team and the entire crew in the 3100 Section of the heart center. 5 RNs (Rosseli, October, Camyron, An Valery and Michelle) all deserve a special mention as well NPs Wendy and Jessica." – A grateful patient (name withheld for privacy)
"Wendy and Jessica, thank you for all you do for the patients and your teamwork.  You do awesome work which does not go unnoticed.  We are so happy to have you as part of the Duke Heart Center." — Diane Sauro, Director, Advanced Practice, Duke Heart Center.
"Thanks Wendy and Jessica for living the Duke values. We are fortunate to have you on the Duke team. Shout-out to Dr. Gaca, his team and all of 3100 for making sure our patients are getting the best care possible. Celebrate your awesomeness!" – Jill Engel, Service Line Vice President – Heart & Vascular.
Way to go, everyone!
Alumni News: Harrington Receives Stokes Medal
Interventional cardiologist Robert Harrington, current chairman of the Department of Medicine at Stanford and former director of the Duke Clinical Research Institute received the Irish Cardiac Society (ICS) Stokes Medal this week. Each year an individual who made outstanding contributions to the profession of cardiology and who has Irish connections is invited by ICS leadership to present to the membership body as the Stokes lecturer; they are then presented with the ICS Stokes Medal.
Congrats, Bob!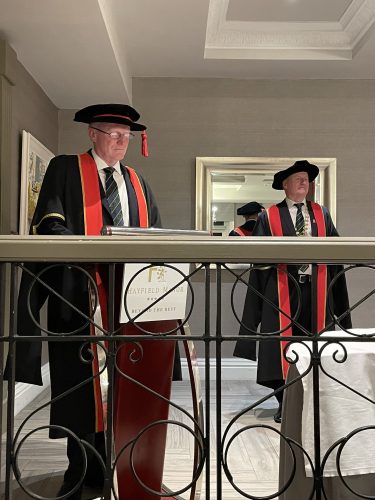 Pakistan Update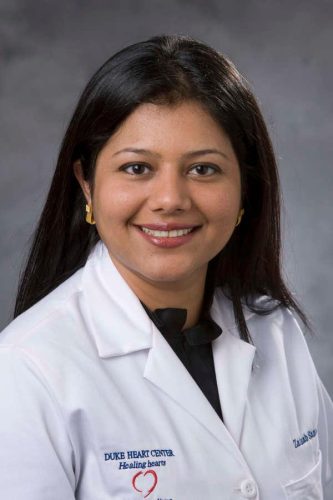 We checked in again with Zainab Samad, chair of the Dept. of Medicine at Aga Khan University in Karachi about the situation in Pakistan.
"The crisis continues and it's growing arms now. We have an outbreak of Dengue – it's everywhere – my kids got Dengue two weeks ago – thankfully they are better but required admission and IV fluids/IV antipyretics. Large swathes of Sind are still underwater with the water lapping the sides of the road like an ocean. It will be a long road to recovery."
The New Yorker published a piece by Mira Sethi this week that is worth checking out:  Pakistan's Unseen Climate-Change Survivors
If you are interested in helping – donations are being accepted by AKU. They are appreciative of any help. https://duke.is/b7xj7
Additional Reminders:
It's National Physician Assistant's Week! October 6-12.
Nominations are open for 2022-23 Duke Presidential Awards: https://duke.is/pambd. Deadline to nominate is Oct. 17!
The DUHS annual flu vaccination campaign is underway and will continue until mid-November. Vaccination sites for faculty and staff can be found here: https://flu.duke.edu/vaccination/employees/
On October 1, Duke Health launched our first comprehensive Team Member Referral Program. Team members at Duke University Health System and Duke University who refer qualified candidates for any posted clinical or non-clinical positions at https://careers.dukehealth.org/ may be eligible for a monetary bonus and prizes.
Open Enrollment is October 17-28. This is your opportunity to review your medical, dental, vision, and reimbursement account benefit elections and make any changes necessary to ensure your choices continue to meet your needs. Watch your email and home mail delivery for more information.
Upcoming Events & Opportunities
Cardiology Grand Rounds
October 11: No CGR this week
CME & Other Events
October 14: Cardio-Oncology in the Era of Precision Medicine. Symposium to be held at the J.B. Duke Hotel, Durham, NC. Registration is open: https://bit.ly/CardioOnc22. Email Beth Tanner with questions: beth.tanner@duke.edu.
October 17-28: Open Enrollment period for 2023 for all Duke faculty and staff.
October 28: Duke Caregiver Community Event, in-person conference. Details here: https://duke.is/nzbcp.
November 4: 14th Annual NC Research Triangle Pulmonary Hypertension Symposium. 7 a.m.-4 p.m. This will be an in-person event at the Durham Convention Center. Registration required. To learn more and register, visit: https://duke.is/jag2b
November 14: Prostate Cancer & CVD Symposium, Webinar 4. Final of a four-part webinar series. Collaboration between the International Cardio-Oncology Society & Duke Heart. Noon, Eastern. Free. To register visit https://duke.is/ptjbs.
Have news to share?
If you have news to share with the Pulse readership, please contact Tracey Koepke, director of communications for Duke Heart at tracey.koepke@duke.edu. We would love to hear about your latest accomplishments, professional news, cool happenings, and any events or opportunities that may be of interest to our Duke Heart family. Please call with any questions: 919-681-2868. Feedback on Pulse is welcome and encouraged. Submissions by Noon, Wednesdays, to be considered for weekend inclusion.
Duke Heart in the News:
September 30 — Jason Katz
Cardiology Magazine/ACC
Feature|The Future of Cardiology Critical Care: Interview With Jason Katz, MD
https://duke.is/9d488
October 2 — Jason Katz
Medpage Today
Growing Calls to Marry HF Specialists With Cardiac Critical Care
https://duke.is/2b4qq
October 3 — Joseph Turek
WFRV CBS-5/Green Bay
How a heart & thymus tissue transplant could change the procedure for children around the world
https://duke.is/2cx7u
October 3 — G. Michael Felker
Medscape
Optimized HF Meds May Lessen MR Severity, Perhaps Avoiding MV Repair
https://duke.is/n3gbt
October 3 — G. Michael Felker
Healio/Cardiology
Sacubitril/valsartan improves mitral regurgitation severity in certain patients with HFrEF
https://duke.is/pmmyn
October 4 — Marat Fudim
Newstribune.com (Jefferson City, MO))
Study: People hospitalized with COVID-19 may have higher heart failure risk
https://duke.is/4w4u3
October 4 — Tracy Wang
Heart.org
Heart risk factors, not heart disease itself, may increase odds of COVID-19 death
https://duke.is/2z3d4
October 4 — Pamela Douglas
DAIC/dicardiology.com
HeartFlow Announces Late Breakers Presentation at the 2022 American Heart Association (AHA) Scientific Sessions
https://duke.is/gs9aw
October 4 — Nikki Pelot (Biomedical Engineering)
Cleveland.com
CWRU, Duke receive $15.75 million NIH grant to map nerve, develop treatments for heart, intestinal disease
https://duke.is/685g2
October 5 — Svati Shah
Independent Tribune
Duke Kannapolis director outlines future at North Carolina Research Campus
https://duke.is/ncb8j
October 5 — Joseph Turek and the Sinnamon family
WQAD (Moline, IL)
First-ever heart transplant and thymus implant gives toddler a new chance at life
https://duke.is/br3bp