Chief's message:
We have been fortunate over the last several years to partner with the Joel Cornette Foundation and now a partnership with the
American Heart Association to better understand, study, and inform the care of young competitive athletes.  The studies we have been looking to conduct evaluate the overlap between human physiology, performance, and cardiovascular risk.  We aim to improve our understanding and to help our athletes make shared decisions around returning to play, preventing sudden cardiac events, and improving their performance.  This week I was fortunate to attend and give some remarks at the Cornette Foundation fund raising event.  It was great event in Cincinnati and we were fortunate to have several sports stars in attendance and supporting the work including: Charles Barkley, Carlos Boozer, Jay Williams, Brad Stevens, and several others.  Thanks to all that work and support this work that Duke Heart has the opportunity be a part of and help lead.
Highlights of the week:
Duke Surgery Announces New Division Chief of Vascular and Endovascular Surgery
The Duke Department of Surgery this week announced the appointment of Dawn Marie Coleman, MD, FACS, to the role of Chief of the Division of Vascular and Endovascular Surgery.
Coleman, a clinical professor of surgery and pediatrics, joins Duke from the University of Michigan in Ann Arbor where she served as co-director of the Pediatric Renovascular Hypertension Center as well as program director for the Integrated Vascular Surgery Residency and Fellowship at Michigan.
Her clinical and translational research interests encompass a unique pediatric vascular surgery practice, and her research leverages a multidisciplinary team to deeply phenotype patients with renovascular hypertension resulting from aorto-renal arterial dysplasia. She has made several high impact research contributions to this rare disease, and received major funding from the Taubman Institute, National Institutes of Health, Department of Defense, and the Patient-Centered Outcomes Research Institute. Dr. Coleman also leads an international pRVH patient-centered outcomes research collaborative.
Coleman serves as a lieutenant colonel in the U.S. Army Reserve, assigned to a Forward Resuscitative Surgical Team. She has deployed on three occasions to support forward operations in the Middle East.
"After a nationwide search, I am thrilled to welcome Dr. Coleman to Duke," says Dr. Allan D. Kirk, Chair of the Department of Surgery. "She is a superb clinician, a skilled investigator, and an effective educator. However, I believe her towering strength is her humanistic approach toward leadership. Dr. Coleman's rich, real world experience serves as a strong foundation for her executive intuition, and we are so fortunate to have her lead the growth of both the department and the Division of Vascular and Endovascular Surgery."
Coleman obtained her Bachelor of Science degree in Biology from the University of Cincinnati, where she went on to obtain her Doctor of Medicine degree in 2003. She completed her general surgery residency at the University of Michigan Medical Center in 2010, and subsequently completed a fellowship in vascular surgery at Michigan in 2012. Upon completing her surgical training, Coleman joined the faculty as a clinical assistant professor in surgery at both the University of Michigan and the VA Ann Arbor Healthcare System.
Coleman holds leadership positions in several professional societies and associations, most recently having joined the Society of University Surgeons and the Excelsior Surgical Society. She is a dedicated surgeon educator and mentor, and is currently appointed as the President-Elect for the Association of Program Directors in Vascular Surgery. She has contributed review service to several peer-reviewed journals, and is currently a member of the editorial board for Vascular and Endovascular Surgery as well as Vascular Surgery Associate Editor for the Journal of Surgical Research.
"I am absolutely thrilled to join the extraordinary faculty and leadership of the Duke Department of Surgery," says Dr. Coleman. "It's an exciting time to join such a high performing team and renowned medical institution. I am beyond grateful for Dr. Shortell's progressive divisional leadership to date, and the opportunity I have been granted by Dr. Kirk and Institutional Leadership to steward this division forward. Duke is renowned for being forward-thinking and at the forefront of surgical innovation, advancements in patient care, and dedication to research. I am certain that Duke Vascular and Endovascular Surgery will continue to excel and lead with clinical, educational, and academic excellence locally and nationally."
Since 2005, Cynthia Shortell, MD, professor of surgery and Executive Vice Chair of the Department of Surgery, has skillfully led the Division of Vascular and Endovascular Surgery as Division Chief. Since 2006, she has also served as chief for the Section of Vascular Surgery at the Durham VA Medical Center; Director of Duke's Center for Vascular Disease; Director for Duke's Venous Center of Excellence; and Medical Director for Duke's Vascular Non-Invasive Laboratory.
Shortell will continue her stewardship of the division as a faculty member and through her departmental leadership positions.
"I would like to thank Dr. Cynthia Shortell for her extraordinary leadership over the past 17 years in the division, to which she brought unparalleled dedication and enthusiasm," says Dr. Kirk. "I am pleased that she will remain on our faculty at Duke Surgery as well as an integral piece of our department's administration as Executive Vice Chair. I am excited to witness her continue to lead and develop our various educational programs."
"I am delighted to welcome Dr. Coleman to her new role," says Dr. Shortell. "She is exceptionally well qualified and has the strong leadership skills needed to take our division forward. I am committed to working closely with her to make the transition a smooth one."
Coleman's appointment as Chief of the Division of Vascular and Endovascular Surgery begins October 1, 2022.
We look forward to working with her!
HAV Pre-Clinical Work Presented at AHA BCVS
Adam Williams, MD, Duke cardiothoracic surgeon, presented pre-clinical results of an off-the-shelf Human Acellular Vessel (HAV) in a nonhuman primate model of coronary artery bypass grafting at the American Heart Association's Basic Cardiovascular Sciences (BCVS) 2022 annual scientific sessions held July 25-27 at the Hilton Chicago in Chicago, IL.
The team demonstrated patent graphs at six months post-implantation and host repopulation of the HAV with vascular cells. Their results will be published in the September issue of Circulation Research.
Williams and his team are performing pre-clinical trials for HAV, a product of Humacyte, at Duke. Williams is serving as PI for the study. He is one of the lead surgeons along with Alan Kypson, MD from UNC Healthcare/Rex. Kypson is a former resident and fellow at Duke. Drs. Mihai Podgoreanu and Sharon McCarthy are Duke cardiothoracic anesthesiologists on the project team.
"This has been a great collaboration between Humacyte and Duke in an effort to bring novel therapies to the market," says Williams.
Humacyte's HAVs are engineered replacement vessels designed to be durable, infection-resistant and off-the-shelf to address long-standing limitations in vessel tissue repair and replacement. CABG surgery, which treats the blockage of the coronary arteries to restore blood flow to the heart, is performed more than 400,000 times annually in the United States, with over 765,000 annual CABG procedures globally. Humacyte is developing a small-diameter HAV as a potential alternative to existing vascular conduit substitutes during CABG surgery, particularly in obese or diabetic patients, where the risks of saphenous vein harvesting are substantial.
Laura Nicholson, MD, CEO of Humacyte is a former Duke faculty member.
Congratulations, Adam! We look forward to learning more about this great work!
New Cardiology Fellowship Program Coordinator Announced
We are pleased to announce that Brianna Small has accepted our Cardiology Fellowship Program Coordinator position.
Brianna was born and raised in Hadley, PA, went to West Virginia University (WVU) and earned her Bachelor's degree in Criminology and dual Master's degrees in Social Work and Public Administration. She most recently worked with WVU faculty, staff, residents and fellows on wellness in her role as a graduate assistant at the internal employee assistance program.
Outside of work, Brianna enjoys kayaking, exercising, and shopping. Brianna said she is looking forward to joining our team because of the sense of community and to have the opportunity to work with fellows and assist them along their journey! She will join our team at the end of August.
Once her Duke contact information is established, we'll share that with the team.
On behalf of Anna Lisa Chamis, we extend a huge THANK YOU to the program coordinator selection committee members for their hard work during the past 3+ months: Richa Agarwal, Chris Holley, Neha Pagidipati, Lisa Criscione Schreiber, Jill Rimmer and Lynsey Easley.
Please extend a warm welcome to Brianna when she arrives in a few weeks!
Call for Nominations: DHIP Strategic & Operational Committees
NOTE: Deadline is Tuesday, August 9 at 5 p.m.
The DHIP planning process is designed to ensure broad participation from physicians, other providers and staff to create the new clinical practice. There are seats designated for PDC members and staff on all key committees (click here for the total number of seats per Committee).
There are two levels of involvement for PDC members and staff: Committee Representative or Participant.
Committees
To be considered to serve as a PDC representative on the various DHIP Committees, please complete the form below. You may be nominated for only one Committee. Committee members should expect to spend 4-6 hours per week on Committee-related work, and will not be compensated for their time. Each Committee will have a designated staff lead, project manager and communications professional to support its work.
Participants
For physicians, other providers and staff who would like to stay apprised of the work of the Committees, but do not have the time to serve as a Committee representative, you may sign up to be a Participant to the Committee. Participants can offer direct input into the committee via elected liaisons, and will receive regular updates on the Committees' work. There is no limit on the number of Committees on which you can be a Participant.
To be included as a Participant, please complete the form at the link below and indicate the Committees for which you would like to be a Participant. There is no limit on the number of Committees on which you can participate. Once the Participant groups have been formed, a separate process will be used to elect 2-3 PDC liaisons from within this population to serve on each Committee.
Strategic and Operational Transition Committees
(read: Committee descriptions and number of designated seats per entity here)
Change Management and Culture (2 PDC positions)
Diversity, Equity and Inclusion (2 PDC positions)
PDC Team/Staff Transition (2 PDC positions)
Advanced Practice Provider Transition (2 PDC positions)
Community Practices (3 PDC positions)
Funds Flow and Physician Compensation (2 PDC positions)
New Hire Process (2 PDC positions)
Committee Eligibility
Nominations are open to current PDC physicians, providers and staff with demonstrated experience in the subject area
Nominees must submit a 250 word summary of their expertise
Individuals may nominate themselves for only one Committee
Committee Selection Process
The selection team includes the PDC Executive Committee, PDC CMO and ACMO for DEI.
The selection team will base decisions on subject matter expertise, diversity, stakeholder perspective and leadership acumen.
Nominees who are not selected will be added to the Participants group for the chosen Committee.
Send questions to PDC-President@dm.duke.edu
To access the Qualtrics nomination form click here.
DCRI selected as Coordinating Center for NIH RECOVER Long COVID Initiative
The Duke Clinical Research Institute (DCRI) has been named the Clinical Trials Data Coordinating Center for large-scale national research studies aimed at understanding and improving the treatment of long COVID.
As the data coordinating center, DCRI will partner with RTI International, the study's Administrative Coordinating Center, to accelerate the clinical trial process, oversee the study's program-wide infrastructure, establish a patient registry, and launch simultaneous prevention and therapeutic multi-intervention studies among adults and children.
The data coordinating center is part of the National Institutes of Health (NIH) Researching COVID to Enhance Recovery (RECOVER) initiative. In December 2020, Congress provided $1.15 billion in funding over four years for NIH to support research into the prolonged health consequences of SARS-CoV-2 infection.
RECOVER brings together patients, caregivers, clinicians, community leaders, and scientists from across the nation to understand, prevent, and treat long COVID. The initiative comprises multiple sub-awards to researchers at institutions across the country.
To read more, click here.
Ginsburg to Receive Leadership in Personalized Medicine Award
We learned this week that the Personalized Medicine Coalition (PMC) will present its 17th Annual Award for Leadership in Personalized Medicine to Geoffrey S. Ginsburg, MD during the PMC summit Personalized Medicine and the Patient scheduled for Nov. 14-15, 2022, at the Hotel Commonwealth in Boston, MA. The award to Ginsburg will be presented on Nov. 15 by Jay Wohlgemuth, MD, chief medical officer and senior vice president of Quest Diagnostics. After accepting the award, Ginsburg, who now serves as the Chief Medical and Scientific Officer of the U.S. National Institutes of Health's All of Us Research Program, will present on the future of personalized medicine and patient care from his new vantage point at the NIH. To learn more about the Summit, visit: https://pmandthepatient.org.
Wonderful news, Geoff – congratulations!
Photos of the Week
A group of Duke CCU colleagues from across the decades — past and present — gathered at Local 22 on Saturday, July 30 to celebrate Karol Harshaw-Ellis and her years of service to Duke Cardiology. How many of these faces do you recognize?
Congratulations, Karol! So nice to see this group gather to celebrate you!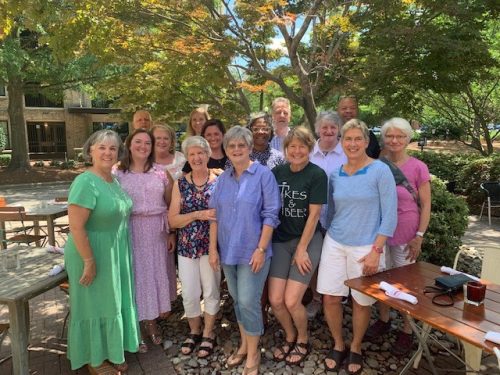 COVID-19 Update
Please continue to practice safe COVID-19 protocols in your day-to-day interactions with others. Be particularly vigilant about masking, and avoid eating indoors in group settings. The health of our team members and our patients remains a priority as we continue to monitor the COVID-19 trends throughout our community.
Stay home if you are not feeling well. Employees who begin to experience any COVID-19 symptoms should report symptoms through the Duke SymMon app, which is available in both the Apple and Google app stores.
Donate blood if you're able to. Click here for Duke-sponsored blood drives through the Red Cross.
All the latest Clinical Operations updates related to COVID can be found at https://covid-19.dukehealth.org. Patient-facing resources on DukeHealth.org can be found here: https://www.dukehealth.org/covid-19-update/resources. Duke University maintains a resource page as well, which can be accessed here: https://coronavirus.duke.edu/updates/for-staff.
Upcoming Events & Opportunities
August 17: Duke GME DEI 'First Look'. The Duke Office of Graduate Medical Education is holding a virtual DEI 'First Look' event for potential incoming residents and fellows. It's specifically designed for underrepresented applicants and any applicant interested in DEI issues. Registration is required.
August 17: Duke Health Annual Blood Drive. 9:30 a.m. to 3 p.m., Searle Conference Center, Seeley G. Mudd Building. Appointments required. Please sign up at http://www.redcrossblood.org using sponsor code: Duke.
September 12: Prostate Cancer & CVD Symposium. This is the third webinar of a four-part series. Collaboration between the International Cardio-Oncology Society & Duke Heart. Noon, Eastern. To learn more, please visit: https://duke.is/mbpte
September 25: Triangle Heart Walk. PNC Arena, Raleigh. Check-in starts at 11 am. Walk begins at Noon. Join us!
October 14: Cardio-Oncology in the Era of Precision Medicine. Symposium to be held at the J.B. Duke Hotel, Durham, NC. Registration is open: https://bit.ly/CardioOnc22. Email Beth Tanner with questions: beth.tanner@duke.edu.
November 4: 14th Annual NC Research Triangle Pulmonary Hypertension Symposium. 7 a.m.-4 p.m. Save the date! This will be an in-person event at the Durham Convention Center. Registration required, but is not yet live. Stay tuned for updates.
Cardiology Grand Rounds
Cardiology Grand Rounds has concluded and will resume in September.
Have news to share?
If you have news to share with the Pulse readership, please contact Tracey Koepke, director of communications for Duke Heart at tracey.koepke@duke.edu. We would love to hear about your latest accomplishments, professional news, cool happenings, and any events or opportunities that may be of interest to our Duke Heart family. Please call with any questions: 919-681-2868. Feedback on Pulse is welcome and encouraged. Submissions by Noon, Wednesdays, to be considered for weekend inclusion.
Duke Heart in the News:
 July 25 — Jennifer Green (Endocrinology)
HCPLive.com
Advancing Insulin Care in Diabetes: Tech and Tips
https://duke.is/wrz2y
July 29 — Adrian Hernandez
Triangle Business Journal
How consolidation is shifting power in Triangle's robust CRO industry
https://duke.is/gfep2
July 29 — Craig Albanese
Spectrum News
Hospital COO says recent patient attack on staff example of troubling national trend
https://duke.is/bvpct
*A version of this story appeared in 30+ news outlets
July 30 — Craig Albanese
WRAL.com
'I have never witnessed this degree of incivility:' Duke Health executive describes recent uptick in violence against healthcare workers
https://duke.is/cazss
July 30 — Pamela Douglas
AJMC.com
Duke's Douglas Highlights Need for Respect in Promoting Diversity, Health Equity
https://duke.is/nct25
August 1 — Shahzeb Khan
HCPLive.com
Heart Failure–Related Mortality in Young Adults Saw Rapid Increase Since 2012
https://duke.is/wx2d3
August 1 — Pamela Douglas
Healio/Cardiology
'Professionalism' is first step beyond the ABCs of preventive cardiology
https://duke.is/jwcy7
August 2 — Harry Severance
Medium/Duke University Opinion and Analysis
US Healthcare System is a House of Cards; Could it Collapse?
https://duke.is/2kc8k
August 2 — Adrian Hernandez
CBS17.com
Duke research center put in charge of coordinating data from long COVID studies
https://duke.is/y5egu
August 3 — Shahzeb Khan
tctMD
HF Deaths on the Rise in Young Adults, US Data Show
https://duke.is/6kzu6
August 4 — Robert Lefkowitz
GQ India
5 golden rules to be successful, according to the Nobel Prize winners
https://duke.is/pq2kb
August 5 — Marat Fudim
Medpage Today
No Worsening Cardiac Dysfunction in Long COVID
https://duke.is/zs259