Highlights of the week:
Celebrating Sunil Rao
Please join us in wishing Sunil Rao, MD, professor of medicine in cardiology at Duke and section chief of cardiology at the Durham VA Medical Center all the best as he departs Durham and heads to NYU Langone Health System to serve as their director of interventional cardiology! He was recently celebrated by his team at the Durham VAMC. He has been the Chief of Cardiology at the VA since 2014. He initiated and grew the transradial catheterization program there and around the country. He also supported a number of VA programs including the Women's Heart Health Program, Home-Based Cardiac Rehab, CardioMEMs, and robotic PCI (just to name a few). He has won numerous teaching and mentorship awards and supported successful VA Career Development Awards. He is leaving after 26 years at Duke and 18 years of VA service.
Sunil's last official day at Duke and the VA was August 5. We had an opportunity to speak with him about his upcoming transition and his time at Duke. Here is some of what he shared with us:
"I did all my training at Duke and then joined the faculty in 2004. What I will remember most, obviously, are the people I've been
fortunate enough to interact with during my time here. The people who mentored me, the fellows that I've interacted with, the junior faculty that I've worked with, the nurses, the nurse practitioners, the cath lab techs… Duke is a great place with incredible research and incredible clinical care, but at the end of the day, it's the people that make the place. I feel really fortunate to have had the opportunity to work here," he says. "When I was a medical student at Ohio State, the first two clinical rotations I did, the physicians that I interacted with had trained at Duke. When I was applying for residency programs, I knew that I wanted to be a cardiologist who had trained at Duke.
"I consider myself one of the luckiest people in the world to have been able to train here and I feel really, really fortunate to have been able to work with all the people that I have while at Duke, and now to be able to take these lessons and apply them to my new position in New York."
A big part of Sunil's career has been his work at the Durham VAMC. He has been affiliated with the VA since completing his training 18 years ago.
"It is a huge privilege to be able to take care of veterans, I consider it an honor. The people that I've worked with at the VA have been phenomenal, too. They've always had the veterans best interests at heart and we've been able to do some really innovative things at the VA and develop, I think, what can only be described as really cutting-edge, innovative care. One of the things we're very proud of is that the Durham VA recently achieved silver award quality status with the American Heart Association's Get with the Guidelines registry. We are one of the few VAs that actually participate in that registry – and this was something that I felt was important for us to participate in, because I wanted to make sure that the quality of care that we delivered was not only on par with other VAs, but on par with or better than hospitals that we considered to be our peers, whether they were VA hospitals or not. This year, we had one of the highest ratings for quality of care for both acute coronary syndrome and stroke in the state of North Carolina. So we're really proud of that. We've been laser-focused on delivering the highest quality of care to our veterans and creating opportunities for them to participate in innovative clinical research."
We asked a number of Sunil's colleagues for their reflections on his impact at Duke. Here is what they shared with us:
From Tom Povsic:
"It is rare to find people in academics with the complete skill set that Sunil possesses.  Obviously, he has published extensively and was amongst the first to outline the detrimental impact bleeding has on outcomes in hospitalized patients and post-PCI. It's hard to remember but most of the trials initially focused entirely on ischemic outcomes, with almost no attention paid to bleeding. But while many people publish, few then take the next step to transform care, and clearly one of the most effective strategies to mitigate bleeding is radial access. Sunil has been at the forefront of the transformation in PCI performance locally, nationally and internationally, and he did not stop there — changing the way we take care of patients based on sound clinical data to favor same-day discharge and, most recently, routine imaging to guide PCI. It's amazing that one person has impacted care at the VA and Duke so much.
In addition, what I find truly astounding is how many people he knows by name. It's impossible to go to a meeting with Sunil without him being constantly accosted by hordes of colleagues who want to speak with him, which just reflects his best attributes. And that is the type of person he is…deflecting attention from himself, promoting the interests of his colleagues and the many fellows and students he has mentored, and supporting group, rather than individual, efforts. We will miss his presence as a key thought leader, colleague and friend." 
From John Alexander:
"Sunil joined the Duke Cardiology faculty roughly 25 years ago and I have a hard time imagining Duke Cardiology without him. Sunil and I first met as cath lab fellows where he was identified early on by Jess Peter as the expert in cath-ing patients with extreme obesity. Sunil has always been a Master Educator with the knack for presenting complex topics simply. He was an early member of the Bleeding Mafia, revolutionizing the way we think about and measure bleeding as an adverse clinical outcome. Together with Mitch Krucoff and others, Sunil pioneered SAFE-PCI, the first Randomized Registry Trial leveraging the ACC's NCDR Registry to collect data for a randomized trial comparing radial and femoral access in women undergoing coronary angiography and PCI. Sunil was the first interventional cardiologist at Duke to adopt Radial Access, seemingly training himself and then leading national training programs to train colleagues at Duke and elsewhere. Sunil has been and remains a Trusted Colleague. Sunil is now off to New York and NYU. Our loss is their gain. We can all look forward to seeing what Sunil does next. Wishing him all the best."
From Tom Bashore:
"There have been few individuals that have come through the Duke program that have had a more positive impact than Sunil Rao. We often joked that he took the "golden pathway" to get here (both of us were graduates of Miami Ohio and Ohio State before coming to Duke). Sunil's fantastic sense of humor, his incredibly caring instincts for others, his organizational skills and his impeccable clinical competence pushed his rapid rise through the system here. Those same characteristics were bound to eventually catch the eyes of folks nationally. It has been clear since early on that he would eventually be heavily recruited by others outside of Duke, and unfortunately for us, that time has now come. Though it really is a bummer to see Sunil move on, we can all take great pride in knowing he will be an outstanding representative of "all that is Duke" on the national stage.
And besides, if he doesn't make it in the cardiology world in NYC, he has a real shot at a career in standup comedy there. And if that doesn't work out, he is always welcome to come back "home" to Durham."
From Mike Sketch:
"Sunil has the ideal academic pedigree being both a Buckeye and a Blue Devil!! He is an academic powerhouse at both Duke and worldwide… even without all his Twitter followers. What an amazing mentor he has been to so many fellows!
The most impressive thing about Sunil is his love and commitment to his wife, Carrie and to his four beautiful daughters! He will be so, so very missed."
From Tony Gutierrez:
"Despite being the most technically gifted interventionalist I have ever worked with, Sunil's greatest contribution to Duke these past 26 years is his relentless commitment towards mentoring young physician-scientists. Whether it's learning how to draft a manuscript, perform a complex PCI, or navigating a difficult life moment, Sunil is the tiger dad every cardiology fellow needs to succeed. In the words of the great American hero RB, "Sunil is the best there is. Plain and simple." Best of luck on your new endeavor."
From Magnus Ohman:
"We both have had a great research career at Duke and it was so fitting that we were able to write our last editorial together and be published as we were both leaving Duke.  Sunil has been an outstanding colleague."
From Jenn Rymer:
"It's hard to emphasize how much of an impact Sunil has had on both the faculty and fellows at Duke. He is one of those special people who always "elevate" those around him. I can remember during cath conferences or cine reviews that he would always highlight — in just minutes — a salient point about a case, and it made the process of learning from him a real privilege as a fellow and young faculty member. He is simultaneously a remarkably brilliant clinician, researcher and leader. As a fellow, he always took opportunities to introduce me to faculty outside of Duke at conferences and meetings, and is a real advocate for promoting Duke fellows for jobs and research opportunities. He is someone that I believe many young interventional cardiologists, like me, aspire to live up to. While we will all miss him here, I cannot wait to learn about the many successes that await him at NYU!"
From Rajesh Swaminathan:
"Sunil has been an amazing mentor, colleague, and friend. He has this unique ability to elevate the people around him in the most selfless way. He is particularly strong at mentoring fellows and early-career faculty. He supported my research and taught me the ins and outs of transradial interventions. Sunil has done an incredible job growing innovative programs at the VA. I'm glad that I will get to continue working with him through SCAI and societal committees and wish him all the best in the big city!"
And from Sean M. Wu, MD of Stanford, via Twitter:
"Congrats Sunil on your new leadership role @nyulangone. For just about my entire medical career I've associated you & @DukeMedSchool like PB&J. NYU is so fortunate to have you. I know you will do great things there in the coming year."
We will miss your presence here with us at Duke, but you'll always be part of our Duke Heart family. Best wishes, Sunil!
(Editor's note: in the coming weeks, we'll be recognizing Magnus Ohman as well as the recent retirement of Ken Morris.)
Fudim Receives DDCF Award
Congratulations to Marat Fudim, MD, MHS, assistant professor of medicine in cardiology at Duke for his selection as a 2022 recipient of a Doris Duke Charitable Foundation (DDCF) Clinical Scientist Development Award! This is an early-career development award that will support his project, "Role of the Splanchnic Vascular Compartment in Heart Failure with Preserved Ejection Fraction."
Fudim has been working to understand the splanchnic nerve compartment's role in heart failure for years. His team is now developing methods to simulate volume shifts, or volume distribution, so that they can better identify responders and non-responders ahead of time.
"We already know that not every medication or intervention can work for everybody," he says. "We have seen the benefit of splanchnic nerve block in many people, but now we want to take a step back and ask how can we identify people who are more likely to be "volume shifters" versus "volume overloaders"? Who has the right physiology? Who will respond best?"
He says he doesn't believe the situation is black and white, but that's why he is eager to simulate volume distribution to see if there is an overlap between the phenotypes. Fudim hopes this will help lead to a better understanding of the contribution of volume redistribution to the average heart failure patient.
"It is a great honor for me to have been selected by the Doris Duke Charitable Foundation and I am especially appreciative in this time of very tight research funding," Fudim said. "I believe this project will help bolster the entire field and that it will go beyond splanchnic nerve. It hopefully will help us get to the mechanism of how cardiac decompensation occurs."
The DDCF announced their grant award recipients this week. Through the Clinical Scientist Development Awards, the foundation funds promising physician scientists whose projects have the potential to advance the prevention, diagnosis and treatment of human disease and to enable their transition to independent research careers.
A rigorous, multistage peer review process is done to evaluate each application on the significance, originality and research approach of their scientific proposals, and the research environment. According to the Foundation, a large share of this year's recipients span a broad range of critical health issues and their grantees are diverse in representation, with 53 percent of the selected projects led by women and 23 percent by those identifying as Black or Hispanic/Latinx, which is critical for providing insights into the health concerns of a wide spectrum of the national population.
Duke interventional cardiologist Schuyler Jones, MD is a previous DDCF grant award recipient.
A list of additional 2022 grantees and their project titles can be found here: https://duke.is/vgcjj. Each recipient will receive a grant of $495,000 over three years which begins retroactively on July 1, 2022.
This is great news and well-deserved, Marat!
CMRI Team Granted IAC Accreditation
Our Duke Cardiac Magnetic Resonance Imaging (CMRI) program has achieved national accreditation for cardiovascular MRI and magnetic resonance angiogram (MRA) through the Intersocietal Accreditation Council (IAC). The application process includes a demanding clinical peer review that evaluates standards of care, safety criteria, and quality metrics of diagnostic images.
The awarded accreditation demonstrates the Duke Heart CMRI program's commitment to the pursuit of excellence in its continuous quality improvements and documentation of safe, quality patient care in the field of MRI, setting the program apart from others.
Thank you to all team members who participated in the accreditation process with special thanks to Stephen Darty for preparing the submission.
Strong work, all!
Shout-out to Williams
Melissa Williams, clinical manager, Registry Team, in the Duke Heart Center of Excellence, has achieved the designation of
Certified Professional in Healthcare Quality (CPHQ).
This is the only fully accredited credential in the field of healthcare quality. The CPHQ is accredited by the National Commission for Certifying Agencies which is the accrediting arm of the Institute for Credentialing Excellence.
Congratulations, Melissa — we are proud of you and so glad to have you on our team!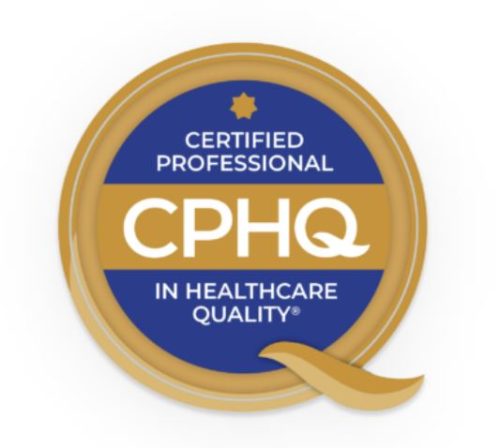 Celebrating an Engagement
Please join us in offering congratulations to Duke Heart cardiac sonographers Dallas Gardner and Eddy Sandoval on their recent engagement!
Eddy and Dallas met in the CDU and got engaged during a recent trip to the Outer Banks. Eddy popped the question on a private sunset cruise with a picture-perfect back drop. We are so happy for you, Dallas and Eddy!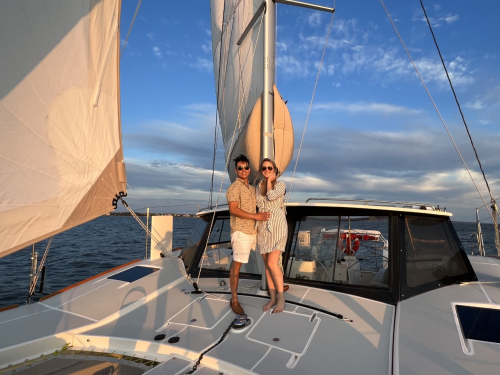 Photo of the Week
Spotted on Twitter: Apparently our CICU has a sunshine committee that occasionally makes omelettes… We think that's a great way to start the day and build camaraderie!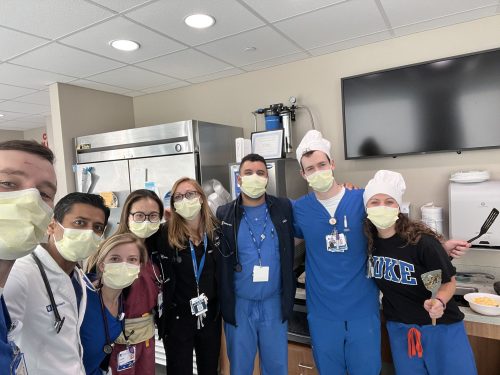 COVID-19 Update
Please continue to practice safe COVID-19 protocols in your day-to-day interactions with others. Be particularly vigilant about masking, and avoid eating indoors in group settings. The health of our team members and our patients remains a priority as we continue to monitor the COVID-19 trends throughout our community.
Stay home if you are not feeling well. Employees who begin to experience any COVID-19 symptoms should report symptoms through the Duke SymMon app, which is available in both the Apple and Google app stores.
Donate blood if you're able to. Click here for Duke-sponsored blood drives through the Red Cross.
All the latest Clinical Operations updates related to COVID can be found at https://covid-19.dukehealth.org. Patient-facing resources on DukeHealth.org can be found here: https://www.dukehealth.org/covid-19-update/resources. Duke University maintains a resource page as well, which can be accessed here: https://coronavirus.duke.edu/updates/for-staff.
Upcoming Events & Opportunities
August 17: Duke GME DEI 'First Look'. The Duke Office of Graduate Medical Education is holding a virtual DEI 'First Look' event for potential incoming residents and fellows. It's specifically designed for underrepresented applicants and any applicant interested in DEI issues. Registration is required.
August 17: Duke Health Annual Blood Drive. 9:30 a.m. to 3 p.m., Searle Conference Center, Seeley G. Mudd Building. Appointments required. Please sign up at http://www.redcrossblood.org using sponsor code: Duke.
September 12: Prostate Cancer & CVD Symposium. This is the third webinar of a four-part series. Collaboration between the International Cardio-Oncology Society & Duke Heart. Noon, Eastern. To learn more, please visit: https://duke.is/mbpte
September 25: Triangle Heart Walk. PNC Arena, Raleigh. Check-in starts at 11 am. Walk begins at Noon. Join us!
October 14: Cardio-Oncology in the Era of Precision Medicine. Symposium to be held at the J.B. Duke Hotel, Durham, NC. Registration is open: https://bit.ly/CardioOnc22. Email Beth Tanner with questions: beth.tanner@duke.edu.
November 4: 14th Annual NC Research Triangle Pulmonary Hypertension Symposium. 7 a.m.-4 p.m. Save the date! This will be an in-person event at the Durham Convention Center. Registration required, but is not yet live. Stay tuned for updates.
Cardiology Grand Rounds
Cardiology Grand Rounds has concluded and will resume in September.
Have news to share?
If you have news to share with the Pulse readership, please contact Tracey Koepke, director of communications for Duke Heart at tracey.koepke@duke.edu. We would love to hear about your latest accomplishments, professional news, cool happenings, and any events or opportunities that may be of interest to our Duke Heart family. Please call with any questions: 919-681-2868. Feedback on Pulse is welcome and encouraged. Submissions by Noon, Wednesdays, to be considered for weekend inclusion.
Duke Heart in the News:
August 5 — Harry Severance
Emergency Physicians Monthly
'Burnout' and the Healthcare Workplace
https://duke.is/n7q83
August 9 — Sunil Rao
Medpage Today
Potent DAPT After CABG Halves Vein Graft Failure
https://duke.is/bdzpc
August 9 — E. Magnus Ohman
Healio/Cardiology
Adding ticagrelor to aspirin reduces vein graft failure, increases bleeding after CABG
https://duke.is/42eun
August 10 — Pamela Douglas
Nature Reviews Cardiology
Implementing an anti-bullying culture in cardiology
PDF: https://duke.is/9rbk8
August 10 — Joe Turek and Louise Markert
ACC Expert Analysis
A Small Step For Heart Transplantation But a Huge Leap For Infant Heart Transplantation
https://duke.is/jkpzq
August 11 — J. Antonio Gutierrez
Time.com
What to Know About Peripheral Artery Disease—and Its Connection to Diabetes
Division of Cardiology Publications Indexed in PubMed July 21–August 10, 2022
Baksh SS, Hodgkinson CP. Conservation of miR combo based direct cardiac reprogramming. Biochem Biophys Rep 2022;31:101310. PM: 35860436.
Beller JP, Mehaffey JH, Wegermann ZK, Grau- Sepulveda M, O'Brien SM, Brennan JM, Thourani V, Badhwar V, Pagani FD, Ailawadi G, Yarboro LT, Teman NR. Strategies for Mechanical Right Ventricular Support During Left Ventricular Assist Device Implant. Ann Thorac Surg 2022;114(2):484-491. PM: 34843696.
Caruba T, Charles-Nelson A, Alexander JH, Mehta RH, Heringlake M, Toller W, Yavchitz A, Sabatier B, Chatellier G, Cholley B. Prophylactic levosimendan in patients with low ejection fraction undergoing coronary artery bypass grafting: A pooled analysis of two multicentre randomised controlled trials. Anaesth Crit Care Pain Med 2022;41(4):101107. PM: 35643391.
Cools F, Virdone S, Sawhney J, Lopes RD, Jacobson B, Arcelus JI, Hobbs FDR, Gibbs H, Himmelreich JCL, MacCallum P, Schellong S, Haas S, Turpie AGG, Ageno W, Rocha AT, Kayani G, Pieper K, Kakkar AK. Thromboprophylactic low-molecular-weight heparin versus standard of care in unvaccinated, at-risk outpatients with COVID-19 (ETHIC): an open-label, multicentre, randomised, controlled, phase 3b trial. Lancet Haematol 2022;9(8):e594-e604. PM: 35779560.
Czura CJ, Bikson M, Charvet L, Chen JDZ, Franke M, Fudim M, Grigsby E, Hamner S, Huston JM, Khodaparast N, Krames E, Simon BJ, Staats P, Vonck K. Neuromodulation Strategies to Reduce Inflammation and Improve Lung Complications in COVID-19 Patients. Front Neurol 2022;13:897124. PM: 35911909.
Domingo-Relloso A, Makhani K, Riffo-Campos AL, Tellez-Plaza M, Klein KO, Subedi P, Zhao J, Moon KA, Bozack AK, Haack K, Goessler W, Umans JG, Best LG, Zhang Y, Herreros-Martinez M, Glabonjat RA, Schilling K, Galvez-Fernandez M, Kent JW, Sanchez TR, Taylor KD, Johnson WC, et al. Arsenic Exposure, Blood DNA Methylation, and Cardiovascular Disease. Circ Res 2022;131(2):e51-e69. PM: 35658476.
Fanaroff AC, Wang TY. Risk Prediction in Percutaneous Coronary Intervention: Solving the Last Mile Problem. Circ Cardiovasc Interv 2022;15(7):e012262. PM: 35861801.
Friedman DJ, Tully AS, Zeitler EP. Subcutaneous and Transvenous ICDs: an Update on Contemporary Questions and Controversies. Curr Cardiol Rep 2022;24(8):947-958. PM: 35639275.
Goldstein SA, Pagidipati NJ. Hypertensive Disorders of Pregnancy and Heart Failure Risk. Curr Hypertens Rep 2022;24(7):205-213. PM: 35347569.
Harrington J, Felker GM, Mentz RJ. Catastrophic Disruptions in Clinical Trials. Circulation 2022;146(5):369-371. PM: 35914015.
Hogan SE, Nehler MR, Anand S, Patel MR, Debus S, Jackson MT, Buchanan C, King RW, Hess C, Muehlhofer E, Haskell LP, Bauersachs RM, Berkowitz SD, Hsia J, Bonaca MP. Improvement in walking impairment following surgical and endovascular revascularization: Insights from VOYAGER PAD. Vasc Med 2022;27(4):343-349. PM: 35467452.
Jensen AD, Østergaard L, Petersen JK, Graversen P, Butt JH, Bundgaard H, Moser C, Smerup MH, Modrau IS, Iversen K, Bruun NE, Torp-Pedersen C, Gislason G, Wang A, Ragnarsson S, Povlsen JA, Køber L, Fosbøl EL. Surgical treatment of patients with infective endocarditis: changes in temporal use, patient characteristics, and mortality-a nationwide study. BMC Cardiovasc Disord 2022;22(1):338. PM: 35906539.
Khan MS, Shahid I, Fonarow GC, Greene SJ. Classifying heart failure based on ejection fraction: imperfect but enduring. Eur J Heart Fail 2022;24(7):1154-1157. PM: 35239210.
Khouri MG, Greene SJ. Sodium-Glucose Co-Transporter-2 Inhibitor Therapy During Anthracycline Treatment: Is There a Role for Cardioprotection? JACC Heart Fail 2022;10(8):568-570. PM: 35902160.
Kosiborod MN, Angermann CE, Collins SP, Teerlink JR, Ponikowski P, Biegus J, Comin-Colet J, Ferreira JP, Mentz RJ, Nassif ME, Psotka MA, Tromp J, Brueckmann M, Blatchford JP, Salsali A, Voors AA. Effects of Empagliflozin on Symptoms, Physical Limitations, and Quality of Life in Patients Hospitalized for Acute Heart Failure: Results From the EMPULSE Trial. Circulation 2022;146(4):279-288. PM: 35377706.
Lamas GA, Anstrom KJ, Navas-Acien A, Boineau R, Kim H, Rosenberg Y, Stylianou M, Jones TLZ, Joubert BR, Santella RM, Escolar E, Aude YW, Fonseca V, Elliott T, Lewis EF, Farkouh ME, Nathan DM, Mon AC, Gosnell L, Newman JD, Mark DB. The trial to assess chelation therapy 2 (TACT2): Rationale and design. Am Heart J 2022;252:1-11. PM: 35598636.
Lee M, Huan T, McCartney DL, Chittoor G, de Vries M, Lahousse L, Nguyen JN, Brody JA, Castillo- Fernandez J, Terzikhan N, Qi C, Joehanes R, Min  JL, Smilnak GJ, Shaw JR, Yang CX, Colicino E,  Hoang TT, Bermingham ML, Xu H, Justice AE, Xu CJ, Rich SS, Cox SR, Vonk JM, Prokić I, et al. Pulmonary Function and Blood DNA Methylation: A Multiancestry Epigenome-Wide Association Meta- analysis. Am J Respir Crit Care Med 2022;206(3):321-336. PM: 35536696.
Lewis GD, Voors AA, Cohen-Solal A, Metra M, Whellan DJ, Ezekowitz JA, Böhm M, Teerlink JR, Docherty KF, Lopes RD, Divanji PH, Heitner SB, Kupfer S, Malik FI, Meng L, Wohltman A, Felker GM. Effect of Omecamtiv Mecarbil on Exercise Capacity in Chronic Heart Failure With Reduced Ejection Fraction: The METEORIC-HF Randomized Clinical Trial. JAMA 2022;328(3):259-269. PM: 35852527.
Li G, Zhang J, Van Spall HGC, Douglas PS, Wang Y, Sun X, Thabane L. Exploring ethnic representativeness in diabetes clinical trial enrolment from 2000 to 2020: a chronological survey. Diabetologia 2022;65(9):1461-1472. PM: 35705796.
Limkakeng AT, Rowlette LL, Hatch A, Nixon AB, Ilkayeva O, Corcoran D, Modliszewski J, Griffin SM, Ginsburg GS, Voora D. A precision medicine approach to stress testing using metabolomics and microribonucleic acids. Per Med 2022;19(4):287-297. PM: 35466688.
Loring Z, Holmqvist F, Sze E, Alenezi F, Campbell K, Koontz JI, Velazquez EJ, Atwater BD, Bahnson TD, Daubert JP  Acute echocardiographic and hemodynamic response to his-bundle pacing in patients with first-degree atrioventricular block. Ann Noninvasive Electrocardiol 2022;27(4):e12954. PM: 35445488.
McIntyre WF, Wang J, Benz AP, Johnson L, Connolly SJ, Van Gelder IC, Lopes RD, Gold MR, Hohnloser SH, Lau CP, Israel CW, Wong JA, Conen D, Healey JS. Estimated incidence of previously undetected atrial fibrillation on a 14-day continuous electrocardiographic monitor and associated risk of stroke. Europace 2022;24(7):1058-1064. PM: 35061877.
Minhas AMK, Ijaz SH, Javed N, Sheikh AB, Jain V, Michos ED, Greene SJ, Fudim M, Warraich HJ, Shapiro MD, Al-Kindi SG, Sperling L, Virani SS. National trends and disparities in statin use for ischemic heart disease from 2006 to 2018: Insights from National Ambulatory Medical Care Survey. Am Heart J 2022;252:60-69. PM: 35644222.
Olsen C, Mandawat A, Sun JL, Triana T, Chiswell K, Karra R. Recovery of left ventricular function is associated with improved outcomes in LVAD recipients. J Heart Lung Transplant 2022;41(8):1055-1062. PM: 35410822.
Pandey A, Segar MW, Singh S, Reeves GR, O'Connor C, Piña I, Whellan D, Kraus WE, Mentz RJ, Kitzman DW. Frailty Status Modifies the Efficacy of Exercise Training Among Patients With Chronic Heart Failure and Reduced Ejection Fraction. Circulation 2022;146(2):80-90. PM: 35616018.
Petek BJ, Moulson N, Baggish AL, Kliethermes SA, Patel MR, Churchill TW, Harmon KG, Drezner JA, et al. Prevalence and clinical implications of persistent or exertional cardiopulmonary symptoms following SARS- CoV-2 infection in 3597 collegiate athletes: a study from the Outcomes Registry for Cardiac Conditions in Athletes (ORCCA). Br J Sports Med 2022;56(16):913-918. PM: 34725052.
Piccini JP, Cunnane R, Steffel J, El-Chami MF, Reynolds D, Roberts PR, Soejima K, Steinwender C, Garweg C, Chinitz L, Ellis CR, Stromberg K, Fagan DH, Mont L. Development and validation of a risk score for predicting pericardial effusion in patients undergoing leadless pacemaker implantation: experience with the Micra transcatheter pacemaker. Europace 2022;24(7):1119-1126. PM: 35025987.
Pohlman FW, Ford CB, Weissler EH, Smerek MM, Hardy NC, Narcisse DI, Lippmann SJ, Greiner MA, Long C, Rymer JA, Gutierrez JA, Patel MR, Jones WS. Impact of risk factor control on peripheral artery disease outcomes and health disparities. Vasc Med 2022;27(4):323-332. PM: 35387516.
Pokorney SD, Berchuck SI, Chiswell K, Sun JL, Thomas L, Jones WS, Patel MR, Piccini JP. Atrial branch coronary artery stenosis as a mechanism for atrial fibrillation. Heart Rhythm 2022;19(8):1237-1244. PM: 34958941
Pokorney SD, Granger CB. Evidence Builds for Catheter Ablation for Atrial Fibrillation and Heart Failure. Cardiovasc Res 2022;118(9):2112-2123. PM: 34358298
Polonsky TS, Khera A, Miedema MD, Schocken DD, Wilson PWF. Highlights in ASCVD Primary Prevention for 2021. J Am Heart Assoc 2022;11(13):e025973. PM: 35785971.
Vogel RF, Delewi R, Wilschut JM, Lemmert ME, Diletti R, van Vliet R, van der Waarden NWPL, Nuis RJ, Paradies V, Alexopoulos D, Zijlstra F, Montalescot G, Angiolillo DJ, Krucoff MW, Smits PC, Van Mieghem NM, Vlachojannis GJ. Pre-hospital treatment with crushed versus integral tablets of prasugrel in patients presenting with ST- Segment Elevation Myocardial Infarction-1-year follow- up results of the COMPARE CRUSH trial. Am Heart J 2022;252:26-30. PM: 35671829.
Wang TY. Mentorship and the Leaky Pipeline in Academic Cardiology. Circ Cardiovasc Qual Outcomes 2022;15(7):e009218. PM: 35562107.
Zhang X, Yamada Y, Sagayama H, Ainslie PN, Blaak EE, Buchowski MS, Close GL, Cooper JA, Das SK, Dugas LR, Gurven M, El Hamdouchi A, Hu S, Joonas N, Katzmarzyk P, Kraus WE, Kushner RF, Leonard WR, Martin CK, Meijer EP, Neuhouser ML, Ojiambo RM, Pitsiladis YP, Plasqui G, et al. Human total, basal and activity energy expenditures are independent of ambient environmental temperature. iScience 2022;25(8):104682. PM: 35865134
Ferencik M, Mayrhofer T, Lu MT, Bittner DO, Emami H, Puchner SB, Meyersohn NM, Ivanov AV, Adami EC, Voora D, Ginsburg GS, Januzzi JL, Douglas PS, Hoffmann U. Coronary Atherosclerosis, Cardiac Troponin, and Interleukin-6 in Patients With Chest Pain: The PROMISE Trial Results. JACC Cardiovasc Imaging 2022;15(8):1427-1438. PM: 35926901.
Grenier-Larouche T, Coulter Kwee L, Deleye Y, Leon-Mimila P, Walejko JM, McGarrah RW, Marceau S, Trahan S, Racine C, Carpentier AC, Lusis AJ, Ilkayeva O, Vohl MC, Huertas-Vazquez A, Tchernof A, Shah SH, Newgard CB, White PJ. Altered branched-chain α-keto acid metabolism is a feature of NAFLD in individuals with severe obesity. JCI Insight 2022;7(15):10.1172/jci.insight.159204. PM: 35797133.
Rao SV, Ohman EM. Balancing the Risks and Benefits of Antiplatelet Therapy After Coronary Artery Bypass Graft Surgery. JAMA 2022;328(6):532-533. PM: 35943481.
Rasmussen LD, Fordyce CB, Nissen L, Hill CL, Alhanti B, Hoffmann U, Udelson J, Bøttcher M, Douglas PS, Winther S. The PROMISE Minimal Risk Score Improves Risk Classification of Symptomatic Patients With Suspected CAD. JACC Cardiovasc Imaging 2022;15(8):1442-1454. PM: 35926903.
Salah HM, Minhas AMK, Khan MS, Pandey A, Michos ED, Mentz RJ, Fudim M. Causes of hospitalization in the USA between 2005 and 2018. Eur Heart J Open 2021;1(1):oeab001. PM: 35919090.
Toro C, Hatfield J, Temkin N, Barber J, Manley G, Ohnuma T, Komisarow J, Foreman B, Korley FK, Vavilala MS, Laskowitz DT, Mathew JP, Hernandez A, Sampson J, James ML, Raghunathan K, Goldstein BA, Markowitz AJ, Krishnamoorthy V. Risk Factors and Neurological Outcomes Associated With Circulatory Shock After Moderate-Severe Traumatic Brain Injury: A TRACK-TBI Study. Neurosurgery 2022;91(3):427-436. PM: 35593705.
Weissler EH, Mulder H, Rockhold FW, Baumgartner I, Norgren L, Blomster J, Katona BG, Fowkes FGR, Mahaffey K, Bonaca M, Patel MR, Jones WS. Understanding Study Drug Discontinuation Through EUCLID. Front Cardiovasc Med 2022;9:947645. PM: 35928933.