Chief's Message: Moments of Brightness
Being on call for the cath lab this weekend highlighted for me the continued dedication and strain our teams are facing in the Winter of 2020 as we struggle with the Pandemic for hopefully the last time.  All of our health systems and communities have been strained, but perhaps not as much as they are now.  Although the health system entry points, the routine of masking and PPE, visitation, clinical care, and communication and distancing procedures have now been going on for many months – there is still a sense of new found struggle.  I see the calm and resolve that our faculty, staff, fellows, and teams exhibit hourly to help care for our patients and each other.  And it is the hope and now the expectation with vaccines and improved treatments that there will be a light at the end of a long tunnel.  It is in this journey that I ask for all of your in this upcoming Holiday time to take a moment to get any rest possible, appreciate those in our lives, and recognize the moments of brightness that are happening.
This weekend was the last weekend of call with Lavetta Staton "LV" (a long standing Duke Cath lab nurse – over 22 years in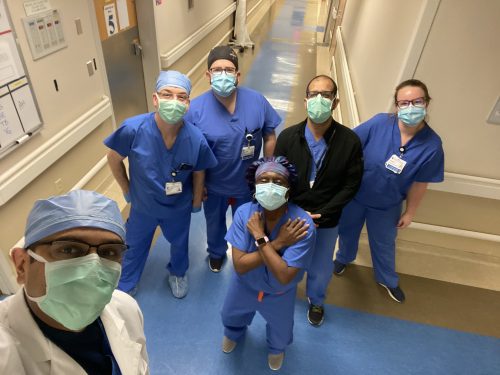 the cath lab and 30 years at Duke).  If you have been in the Duke lab, you have heard the LV sayings – "Teamwork makes the Dreamwork", "If you stay ready, you don't have to get ready," and many more.  Generations of patients, fellows, faculty, and staff have been touched by LV.  We will be holding a proper retirement when we can – but until then it was an honor to take care of the last Acute MI patient with her as another class of diagnostic and interventional fellows will have there own personal sayings and lessons from LV.  Perhaps the most important lesson from a long career in the Duke Cath Lab that LV imparted was the sense of vigilance, readiness that we continually strive for to ensure our patient care is as good as it can be.  The fun, the interaction, all of it came after ensuring we could get patients the care they needed in times of acute and sometimes unexpected need.  Therefore, as we near a hopeful end to a long winter, we should all appreciate the moments of joy/brightness this holiday season while we strive to stay ready and safe as we care for our patients and each other.
Highlights of the week
Duke Cardiology Fellowship Program Announces 2021 Class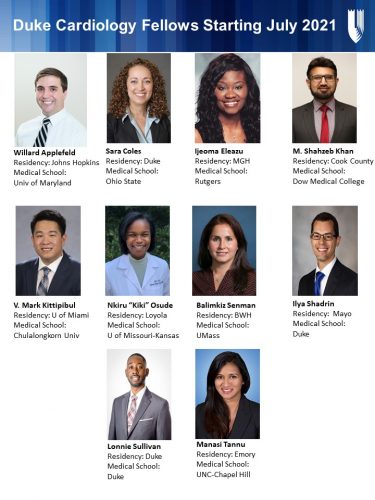 The newest fellows to the Duke Cardiology fellowship program were announced earlier this week. They'll join us in July, 2021. Please join us in celebrating with:
Willard Applefeld, Osler Medicine Training Program, The Johns Hopkins Hospital
Sara Coles, Duke University Health System
Ijeoma Eleazu, Massachusetts General Hospital
Mohammad Shahzeb Khan, Cook County Health & Hospital System
Veraprapas Mark Kittipibul, Jackson Memorial Hospital/University of Miami
Nkiru "Kiki" Osude, Loyola University Medical Center
Balimkiz Senman, Brigham & Women's Hospital
Ilya Shadrin, Mayo Clinic
Lonnie Sullivan, Duke University Health System
Manasi Tannu, Emory University School of Medicine
Congratulations to all! Hat tip to Anna Lisa Crowley, Arlene Martin and all the fellows and faculty who helped during this recruitment season. Great job!
Barnes named Clinical Director, Advanced HF Services, Effective Jan. 1
Duke Heart is pleased to announce that effective January 1, 2021, Stephanie Barnes, MSN, AGPCNP-C, PCCN will assume the role of Clinical Director for Advanced Heart Failure Services at Duke University Hospital. As the Clinical Director, she will be responsible for programmatic oversight of services providing care to the advanced heart failure patients, including the medical heart failure patients and durable mechanical circulatory support population. In this role, Stephanie will partner with the focus on programmatic development, regulatory compliance, evidence based care, and overall quality outcomes and improvement for the heart failure population in partnership with the Heart Failure and Ventricular Assist Device Medical and Duke Heart Center leadership teams.
Stephanie completed her BSN at the University of South Carolina and MSN with Adult Gerontology Primary Care Nurse Practitioner focus at the University of North Carolina. Stephanie has experience as a heart failure and LVAD nurse and Nurse Practitioner at both Duke University Hospital and Tufts Medical Center. Most recently, she has served as a Nurse Practitioner and Team Leader on the Duke Cardiology inpatient Advanced Practice Provider team.
"Steph has been a brilliant and dedicated team member and team leader for the Cardiology APPs for over 3 years," her team of cardiology APPs said. "She is an outstanding provider and will be greatly missed. We are excited about this new opportunity for her and look forward to seeing her in her new role."
Stephanie has presented and published on heart failure and LVAD topics and serves as a clinical preceptor for NP students. Please help us congratulate Stephanie in her new role in Duke Heart.
Blumer Recognized by Patient Family
Anna Lisa Crowley shared an email she received this week from the family member of a patient cared for by Vanessa Blumer. We wanted to share it with all of you: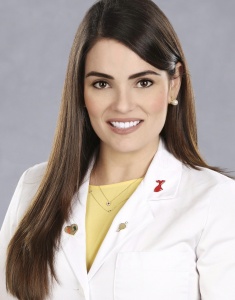 Dr. Crowley,
I'm writing this email to commend a trainee from your cardiovascular disease program. I saw your name listed as director on the Duke webpage, but if I should be directing this email to another person, please accept my apologies.
Often times, I feel we fail to recognize the efforts of those who go out of their way for others' wellness. In our case, we didn't want to miss out on the opportunity to openly highlight the kindness, aptitude, and extraordinary work ethic of Dr. Vanessa Blumer. She cared for my mother while she was in the intensive care and never have we encountered someone so caring. You could easily tell her high level of competency and in-depth knowledge but, more importantly, she had humanity. Like my mom said: "there's an angel in her".  Sometimes physicians forget what it's like to be a patient or a family member; in this regard and all others, Dr. Blumer was exemplary.
Thank you for your leadership and for allowing my family the opportunity to be cared by world-class physicians.
Grateful,
Megan*
Way to go, Vanessa! We are blessed to have you on our amazing team of care providers. (*Shared with permission of the family.)
Kudos to Coles, Narcisse & Durham VAMC Cath Lab Staff
In a note from Raj Swaminathan to Anna Lisa Crowley this week, we heard about a great save at the Durham VAMC this week:
"Just wanted to give some praise to our fellow, Dennis Narcisse, and our incoming fellow, Sara Coles, for a great save late in the day yesterday at the VA. A veteran in the MICU with a history of advanced heart failure quickly went into shock with rising lactate and Cr, and reduced urine output. [The patient] was ice cold and not mentating well. Sara and Dennis quickly notified the cath lab team, performed a bedside ECHO confirming poor ejection and volume overload, obtained telephone consent from family, and triaged [the patient] to the lab. Dennis then performed the RHC confirming severe cardiogenic shock and placed an IABP. Overnight, [the patient] turned the corner with improving labs, brisk urine output, and is now off pressors.
[The patient] would not have made it overnight had it not been for our amazing house staff expediting care. I also want to recognize our VA cath lab staff who stayed late to get this case done. Strong work all around!"
In a follow-up note to Raj's from Sunil Rao, we got a second round of accolades for Narcisse and Coles for the same patient case:
"Dennis and Sara are awesome! An additional word about Dennis – he was in the MICU to see an entirely different patient but noticed that this particular patient wasn't doing well. So he took the initiative and, with Sara, diagnosed [the patient] appropriately with severe cardiogenic shock."
Great job, everyone!
Yankey Receives High-5
Congrats to Sipa Yankey for receiving a High-5 this week! He was nominated by Michel Khouri who said, "Dr. Yankey spent a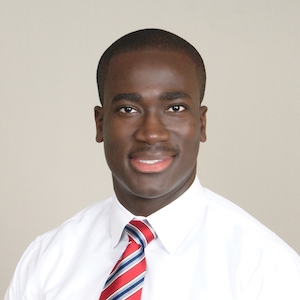 lot of time providing comfort to a patient and their family. He helped ease the patient's transition to another treatment course after a complex hospitalization."
Nicely done, Sipa!
DUHS Well-being Survey: Dec. 7
A short survey will be sent to all Duke Health team members starting Dec. 7 to better understand how everyone is holding up during this challenging year. DUHS leadership wants to hear the organization's voice on two things that have changed our world dramatically – the COVID-19 pandemic and racial injustice. DUHS nursing and house staff will each have a unique, short set of additional questions.

The survey is being administered by a 3rd party survey partner (SMD) in order to maintain confidentiality. The survey will ask specific questions to understand how DUHS can improve things that may increase our resilience and well-being. The effort will also check how we're doing with our effort to increase our diversity, inclusion and belonging. We will use your thoughts to guide these efforts going forward. Please participate.
Duke Voice Mail upgrade, Dec. 10
On the evening of Thursday, December 10, the Office of Information Technology (OIT) will upgrade Duke's voice mail system and move it to new servers. Users will not lose access to voice mail during the cutover. After the cutover:
New messages will be available immediately and can be accessed as usual from 919-613-MAIL (6245).
Messages up to 12 months old will be migrated to the new servers. These may not be available for up to 48 hours, while they are imported. Users may access messages on the old servers by calling 919-385-0090 and following the standard procedure for listening to messages (see https://oit.duke.edu/help/articles/kb0025163).
Messages older than 12 months will not be migrated. These messages may be recovered upon request by contacting the Service Desk (see below).
OIT expects the import will be complete by 6:00am on Monday, December 14.
If users experience any issues with voice mail, they should contact their Service Desk:
COVID-19 Updates:
All the latest official DUHS information regarding coronavirus/COVID-19 response at the following locations:
NOTE:  A reminder that Pulse will not be published on Dec. 27 or Jan. 3 so that we may enjoy some time off.
Upcoming Opportunities/Save the Date:
Cardiology Grand Rounds
Dec. 8:  Duke Faculty/Fellow grand rounds — COVID plans updates

Dec. 10:  Cardio-Pulmonary Joint Grand Rounds: Ryan Tedford of MUSC, Assessment of Right Ventricular Function: The Role of RV-PA Coupling and RV Reserve. 12 pm, Webex.
Dec. 22:  No Cardiology GR. Happy Holidays!
Dec. 29:  No Cardiology GR. Happy Holidays!
Moments to Movement Virtual Town Hall, Dec. 7
Join us for our next Moments to Movement (M2M) virtual town hall on Monday, Dec. 7 from 4:30 to 5:30 p.m. During this town hall, leaders will discuss the Duke University School of Medicine's work to dismantle racism and create a just, diverse and equitable school and community. Submit questions in advance to M2M@duke.edu.
Join the Zoom meeting here.
Radiothon for Duke Children's Dec. 15-16
The annual Radiothon for Duke Children's will be held on Dec. 15-16. Tune in to MIX 101.5 FM during the Radiothon to hear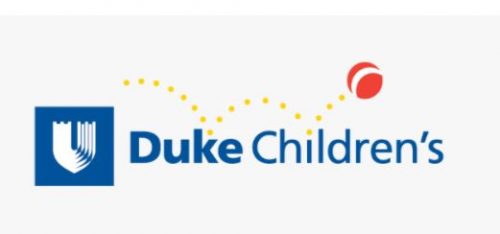 incredible and moving stories from our Duke Children's patient families and pledge your support. Together, we can continue to advance care and give hope to the children and families who need it most. Donate today at bit.ly/DukeRadiothon2020.
Have news to share?
If you have news to share with the Pulse readership, please contact Tracey Koepke, director of communications for Duke Heart at tracey.koepke@duke.edu. We would love to hear about your latest accomplishments, professional news, cool happenings, and any events or opportunities that may be of interest to our Duke Heart family. Please call with any questions: 919-681-2868. Feedback on Pulse is welcome and encouraged.
Duke Heart in the News:
November 24 — Joseph Rogers
News & Observer
North Carolina hits record hospitalizations again as new mask rules set to take effect
https://bit.ly/39BXIT5
November 25 — Tracy Wang
Medscape
Fish Oils and CV Prevention — Now What?
https://www.medscape.com/viewarticle/940810
December 1 — Muath Bishawi and Amanda Randles, Mike Kaplan & Simbarashe Chidyagwai (Biomedical Engineering)
Microsoft/the AI Blog
All hands on deck': How Duke University and AI for Health raced to create a COVID-19 solution for patients
https://bit.ly/3olE1Da
December 1 — Joseph Rogers
CBS17/WNCN
Some Triangle hospitals expecting to have a COVID-19 vaccine in as few as 2 weeks
https://bit.ly/3mBGFUR
December 2 — Amanda Randles (Biomedical Engineering)
Becker's Hospital Review
Duke University, Microsoft develop ventilator splitting tech for COVID-19 patients
https://bit.ly/37vsXN3