Reported by Zishuo Wu, Class of 2024
Edited by Chloe Alimurong, Class of 2025
Yunan Mei, a graduate studying at Yale University who previously conducted research on dementia patient caregivers based in Kunshan with DKU's Health Humanities Lab as her signature work, was invited in an interview with the HRC to share about this project.
Yunan introduced her project as focusing on caregivers and their impact on medication adherence of people with dementia that have in-home care. She conducted this research in Kunshan for convenience concerns. Three perspectives: the caregivers' knowledge of dementia, their emotional state, and the relationship with care recipients were examined in her project.
When talking about the motives of this project, Yunan said she was inspired by her previous roommate, a biology graduate studying at the Oxford University, to study this topic as her signature work. "She reminded me of how dementia patients might be an ignored population in China during the COVID period," said Yunan, "because at the time we just focused on some COVID-19 related diseases, dementia patients were totally ignored by society at that time." Advice also was given by her signature work adviser, Prof. Chenkai Wu, who has prior expertise on the dementia population.
When asked about research methods, Yunan said that she applied qualitative research methods. She interviewed in-home caregivers for dementia patients in Kunshan and did an analysis of the transcript. Because she conducted this research on her own, she could only reach out to the participants individually, which costed some time to get their information and agreement on conducting the interviews in this research. "Because dementia patients are  discriminated against in this society, and some of them feel like they are being offended or have obstacles being interviewed, I could only conduct this research with six participants," Yunan mentioned.
Then, Yunan shared some of her interview questions. The questions, following the structure of her project, were divided into three parts. The questions include "Do you feel depressed when taking care of dementia patients?," "Do you feel anxiety or stress with the people around you?," "Do you see a bright future?," and "Do you want to spend more time taking care of this patient?." She took careful consideration when designing those questions: former research, Prof. Chenkai Wu's suggestions, and "How to make those questions least harmful for the participants"…… It took about a year for her questions to be designed and approved.
Yunan also shared some impressive findings from the interviews. One was about the caregivers' understanding of dementia. Initially, she guessed that they would not be knowledgeable about such a disease, this was proved wrong. Most of them were aware that the medication was the most effective treatment for such a disease, and they knew the symptoms of the disease. "They could even tell symptoms between dementia and depression," Yunan mentioned. Another impression was about the caregivers' pessimism about the future — "half of them were unsure what to do in the future; caregivers' privacy and health were worsened due to long time interactions with the patients." One of the participants told Yunan that she was embarrassed by the patient's actions, as the patient would yell and shout at the people around them when hanging out……
An impression of the patients was that "some of them were excessively aggressive to anyone around them," noted Yunan. "They feel like the society, and their friends, relatives, or their partners are kind of doing some bad to them. They usually feel angry and behave offensively to the people around them." This made her more concerned about how tough the caregivers' job was. "Caregivers give patients a lot of support and spend a lot of time on them, but the patients still feel insufficient about it. I think that is a very important, impressive, and unexpected point for me."
To make the caregivers' lives even tougher, there came the pandemic era. One of the problems, as Yunan mentioned, was that, as the caregivers were required to stay in their homes or communities, they had to spend more time staying with the patients, which brought about heavier physiological and psychological challenges. Especially at the beginning of the pandemic era, "the government did not put too much attention on this patient. For example, they cannot reach out to the hospital to get the drugs they had to get. Some elderly people also needed medication for their chronic diseases, while quarantines created difficulties. Some counties, like Yushan County, provide relate medical support patients, while some were not." Yunan noted.
Lastly, Yunan was asked to describe her feelings about the project. " For me, executing the project was like a dream.," said Yunan. Starting from designing questions, and getting approval from the IRB board, to contacting and interviewing the participants, the research was quite challenging and "made me feel kind of hopeless about my research." But finally, as she successfully conducted the project, what she got was not only her signature work output but "
During my research period, I developed more mature thoughts. The experience not just informs me on how to conduct research, it also showed me where to go for information and how to communicate effectively to explore the viatal facts during the interview which can help me out with my projects."
Biography
Chloe Alimurong is a Class of 2025 undergraduate from Maryland, USA. Her intended major is Computation and Design with a track in Social Policy and concentration in Urban Design. She has interests in urban planning, architecture, social justice, environmentalism and art history. Chloe works as a reporter and editor for the HRC and as a student research assistant for the HRC's Citizenship Lab's Casa Rio project.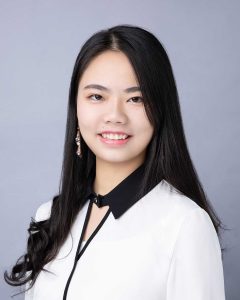 Yunan Mei earned a Bachelor of Science in Global Health/Public Policy from Duke Kunshan University and a dual degree from Duke University. She is now pursuing her master's degree in Chronic Disease Epidemiology at Yale School of Public Health. Yunan led the Health Humanity lab-funded research on dementia patients' medication adherence in Kunshan from 2021 to 2022. Her research focuses on the influence of home caregivers on dementia patients in terms of mental health, disease understanding, and patient relationships. She is also interested in the application of digital health to disease prevention and performed research on elderly sleeping disorders and ADIS/HIV among the MSM population.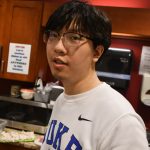 Zishuo Wu is from Wuhan, China, from the class of 2024, majoring in Psychology in Behavior Science. He is an HRC Student Assistant who is supporting HRC's Chinese social media and is also a reporter for HRC events. He has reported dozens of HRC events, including the General Report of the 2021 Fall Conference. To Zishuo, HRC is a place full of wisdom and knowledge, providing every one of its members with a comprehensive and splendid learning-and-sharing platform.