On April 19-21, 2019 at Duke Kunshan University, DKU undergraduate students were joined by seniors from top Chinese universities for the very first DKU undergraduate humanities research conference. Envisaged by the humanities research center to provide an open platform for junior college students to learn how to do research when DKU just started its undergraduate program in 2018, the DKU undergraduate humanities research conference ended up bringing more than 40 students together for academic presentations and discussions.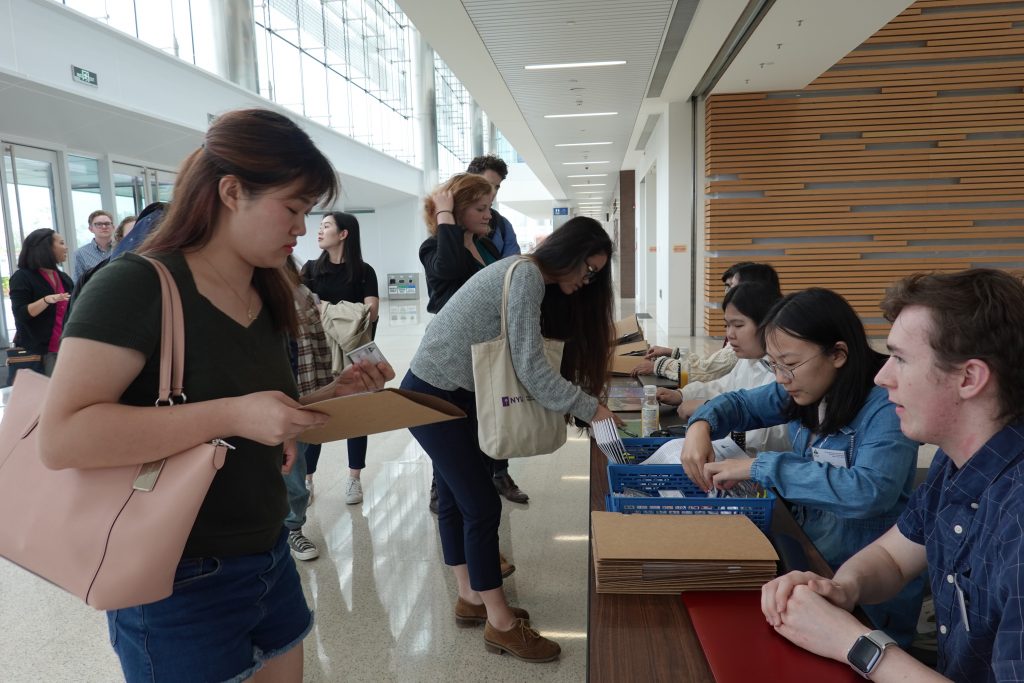 A Flashback to Keynote Sessions
The fully packed two and a half days featured four keynote speakers from Professor Tongdong Bai (Dongfang Chair Professor of Philosophy at Fudan University), was focused on the study of Pre-Qin Chinese Thought as a Modern Political Philosophy. Through the analysis of the nature of pre-Qin philosophy, Bai successfully directs the readers to a re-evaluation of the nature of modernity, and of the relevance of pre-Qin philosophy to today's world.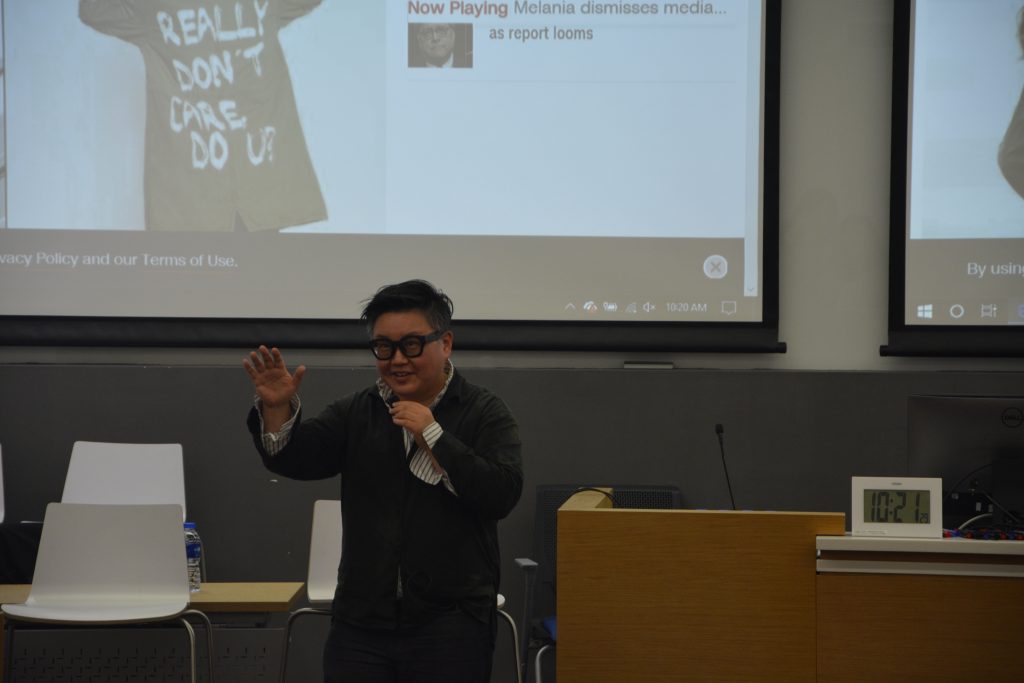 Professor Kyoo Lee from CUNY explored the philopoetics as well as politics of space and place, its relation to the literary imagination in particular, following Virginia Woolf's A Room of One's Own. She starts by briefly contextualizing A Room of One's Own as a performative metaphor for reading addressed to "You" the reader/listener "in the room" now, also as in a reading.  After that, she gives an example of specifically "contemporary" modes of reading, or what she refers to as "InOutside Reading". By delivering the concept in a slightly more accessible way, Lee "translates" some of the key ideas and makes them better grasped by the audience.
The third keynote address saw Professor Diego von Vacano give a fascinating lecture: "El Presidente Trump:" Understanding the Rise of President Trump Through Transnational Lens. According to Vacano, the US should learn the appliance of a pluri-national state from Latin America, which would require constitutional reforms and the explicit recognition of many people or 'nations' within the US. Thus, Vacano successfully argues that one must think of Trump's winning strategy as emblematic of an 'American,' that is—Western-Hemisphere—brand of populism that has much closer ties to Latin American models of populism than to European ones.
The last keynote speaker was Professor Lisa Raphals from UC, Riverside. Her talk, titled "Body and Mind in China and Greece: Perspectives from Philosophy and Medicine", examines a range of philosophical and other conceptions of the relations between mind and body in early China and ancient Greece. Raphals argues that in a philosophical context, debates about the relationship between mind and body are often described in terms of mind-body dualism and its opposite, monism or "holism." By incorporating Chinese and Greek medical contexts, an important counterpoint to philosophical debates becomes available.
Spotlight on Students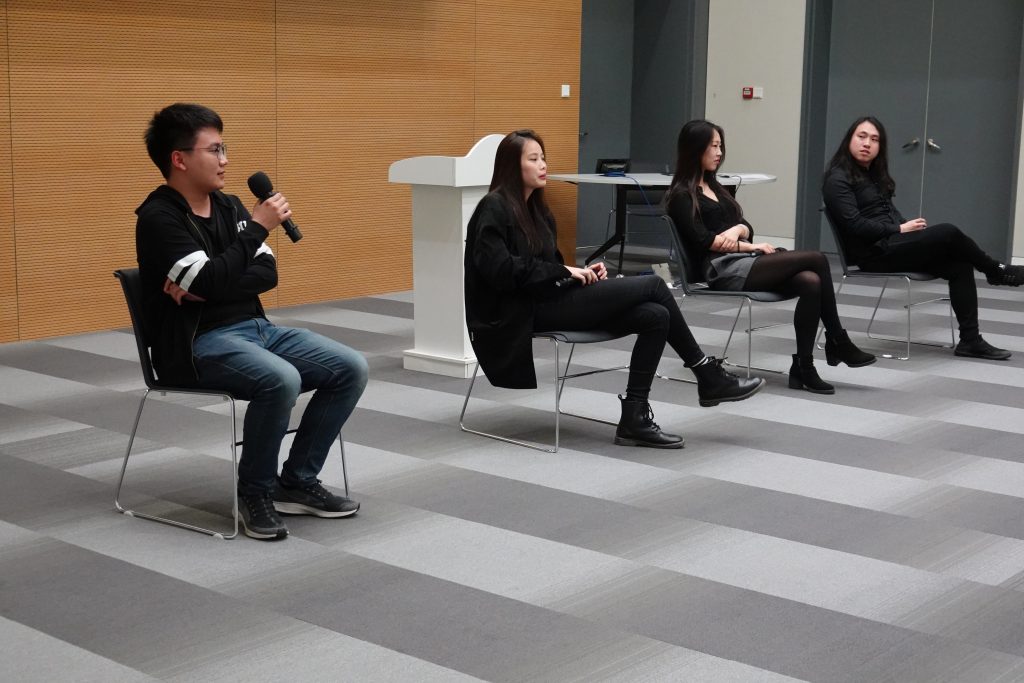 The conference was all about undergraduate students. Panels were formed under 9 themes and there was a film festival on the evening of April 19 screening short films and documentaries made by students from DKU and Shanghai Vancouver Film School. Environmental humanities, feminism, film and literature, China studies, international politics, political philosophy—over these themes intense discussions were brought up, which at the same time showcased the amazing talents those young academics have possessed —be it a well-polished final-year project, or a rudimentary class assignment.
The plenary panel, featuring our very own PETAL Project, kick-started the student presentation session. All the research fellows went on stage to talk about their on-going projects. Elva successfully tricked everyone into the idea that our mobile phones can think and act on their own. Agnes talked about killer robots and her experience at the Hawaii International AI conference. Sherry called for more actions to destigmatize AIDS. Nathan and Karen led the audience to understand ecological crisis through an alternate reality game, and meanwhile wittily solicited the audience's help to rename their project.
Student Paper Awards
In the end 6 students won awards for best papers. They were:
Aiya Kuchukova and Henry Stevens, Duke Kunshan University
Lia Warner, NYU Shanghai
Siming Ye, NYU Shanghai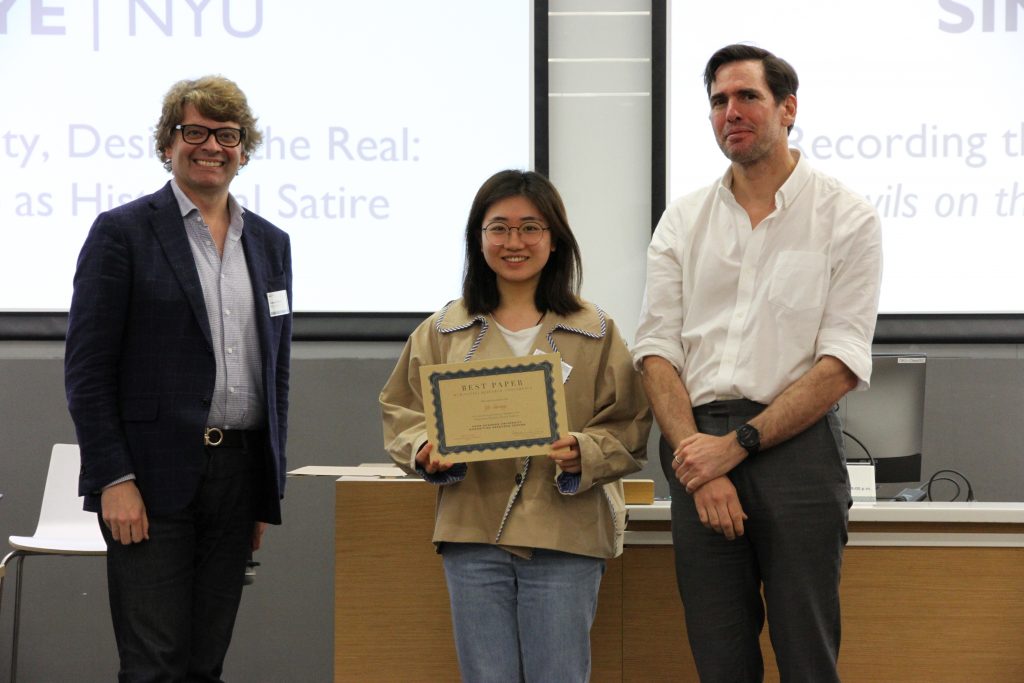 Yifan Li, Beijing Normal University-Hong Kong Baptist University United  International College (UIC)
Yin-Chu Lu, Duke Kunshan University
Siming Ye with her work, "Recording the Absurdity, Desiring the Real: Devils on the Doorstep as Historical Satire" provided an informed critique of authoritative narratives, and the methods of historical presentation. She chose the film "The devil on the doorstep" in which the filmmaker creates a text that contributes to the public discourse on our collective memory through the history of cinematic patriotic propaganda in China. In her presentation concludes on a moment of epiphany: the rationality of the war is self-undermining, challenging the dominant and authoritative narratives of war.
Yifan Li, through her examination of American Noir gives a presentation on "Alienation and Despair in The Big Sleep and Do Androids Dream of Electric Sheep?". According to Li, American noir is the ultimate illustration of the darkness lurking underneath the prosperity and wealth of the American society. She discovers that two main subgenres emerge in two different eras: classic noir during the Depression and neo-noir during the Cold War era. Her exploration of mental labyrinths of American noir leads to her finding that classic noir mainly deals with epistemological labyrinths while neo-noir relates to ontological labyrinths. Yifan's research is henceforth interpreted as revelations of the inauthenticity of the American Dream. The encounters of noir detectives and other noir characters thus, reflect the dark side of America's capitalist society that hides underneath the dazzling and alluring cover of prosperity and wealth.
Yin-Chu Lu, with her research, "The Application of Neo-Confucianism and
Daoism on Environmental Ethics" focuses on the impact of both schools of thought on the field of environmental ethics. She talks about how modern societies are built on an anthropocentric worldview, where the superiority of human beings is built upon the exploitation of others e.g. through racism, sexism, colonialism, environmental degradation, etc. Although the anthropocosmic worldview and Daoist worldview have characteristics in common, however, their underlying approaches and values maintain differences. In terms of the anthropocosmic worldview, it is a dualistic worldview that advocates "action" such as self-cultivation and self-transcendence. In terms of Daoism, it is a non-dualistic worldview that advocates "non-action." As a result, the shared concept of "the unity between human and nature" was examined in order to reveal the underlying approaches between Neo-Confucian application and Daoist application on environmental ethics.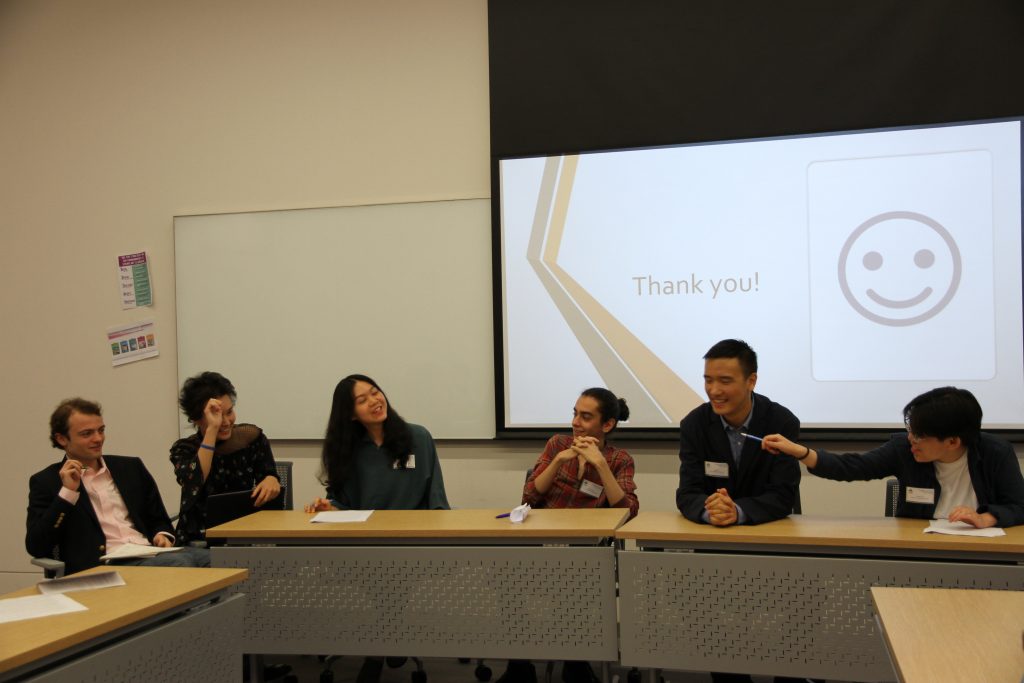 Aiya Kuchukova and Henry Stevens gave a talk on the topic of "Limits to Limitarianism." They raise two objections against limitarianism, argue that the implementation of limitarianism is based on overly-optimistic assumptions about government, and claim that the most important concepts in limitarianism are too vaguely defined to be useful.
Lia Warner's presentation goes back to the examination of the feminist works of Ding Ling, a writer from the east. The paper focuses on a scrutinization of female subjectivity and feminism in China primarily through Ding Ling's works, which were borne in the tumultuous years of mid-twentieth century China. There was an explication of the divide between the ideas of the 'new woman' and 'modern girl', and the state's determination of the place women hold in society- although communist China was anew ear of freedom for women, there were still men puppeteering women's freedom. Warner argues this as exemplified in Ding Ling's work, informed by her own experiences under party rule, showing the political impact on feminism in China.
With the conclusion of this conference, the 2019 Spring semester has come to an end. There will be more exciting humanities events coming soon, so keep checking back with us!