Reported by Vicky Yongkun Wu, Class of 2026
This workshop was part of the Women's History Month 2023 events organized by the HRC's Gender Studies Initiative. 
The Women's History Month Student Workshop 2023, hosted by Professor Titas Chakraborty, focused on 9 student papers. On Friday April 21, after Professor James Miller's opening remarks, student presenters, who were accordingly distributed to three panels, gender in China, women and conflict, and feminism and media, were given approximately 10 minutes to introduce their projects, followed by professors' comments and the Q&A session. The wide range of gender topics covered in the workshop was impressive and truly enhanced gender studies at DKU.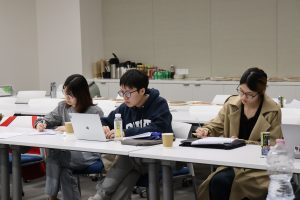 In the first panel focusing on gender problems in China, Emily Gonzales (senior, Cultures and Movements/Cultural Anthropology), Eyer Ding (senior, Cultures and Movements/Sociology), and Yutong Shi (junior, Cultures and Movements/Cultural Anthropology) respectively presented on Confucianism and queerness in China, "Sisterhood and Chinese Gay Men," and women bodies in the Maoist era. These topics demonstrate how gender in China can be analyzed from different angles such as queerness, sisterhood, and Maoist women.
The second panel, "Women and Conflict," featured Shuzhe Wang (junior, Cultures and Movements/Sociology) and Wynona Eurj Curaming (senior, Environmental Science/Public Policy), who respectively touched upon topics of women in relation to environmental gentrification and barbies. It showed how the concept of "women" is contested both in the mediascape and the urban and rural environments.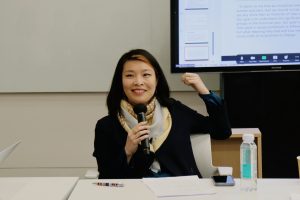 The last panel, "Feminism and Media," which featured Vicky Yongkun Wu (freshman), Xinzhe Jiang (junior, Media and Arts/Art History), Meixuan Wang (senior, Media and Arts/Art History), and Xiaomeng Yan (senior, Global Cultural Studies/Literature), focused on topics of Chinese digital feminism, female representations in East Asian TV series, and girl power in K-pop. Media studies, post-structuralist theories, feminist theories were largely applied.
During the Q&A session, professors and presenters enthusiastically further the discussions around gender topics. After Professor Chakraborty's closing remarks, students chatted with professors further on topics such as their future plans, research interests, confusions, etc. Overall, the workshop was a productive and diverse one.