Reported by Yongkun (Vicky) Wu, Class of 2026
Established in 2018, _ao_ao_ing (老妖精) is a Shanghai-based performance ensemble that is continuously morphing and finding its shape. With six core members from different disciplines and backgrounds, the ensemble uses contemporary experimental theatre as their main medium, but their creation also includes participatory performances, city walks, workshops, online interactive programs, and happenings, which revolve around strong action. _ao_ao_ing makes performances that juggles the line between theatre and everyday life and create real happenings that cannot be replicated.
_ao_ao_ing's works of art derive from and enrich yaojings' (also "妖精" in Chinese, referring to the core members of the ensemble) observation of life, personal encounters, and mutual sharing. For instance, Annata, one of _ao_ao_ing's brilliant works launched in 2019, was inspired by the culture of drag and born out of a private bedroom shared by five girls who dissect their own life experiences as young women. And Weekly Scratch, an artistic experimentation consisting of five theatrical shows and city strikes at the end of 2018, has laid the foundation for _ao_ao_ing to make embedded site-specific and audience-involved performances. Annata and Weekly Scratch are merely two of the manifold happenings _ao_ao_ing have created.
_ao_ao_ing on DKU campus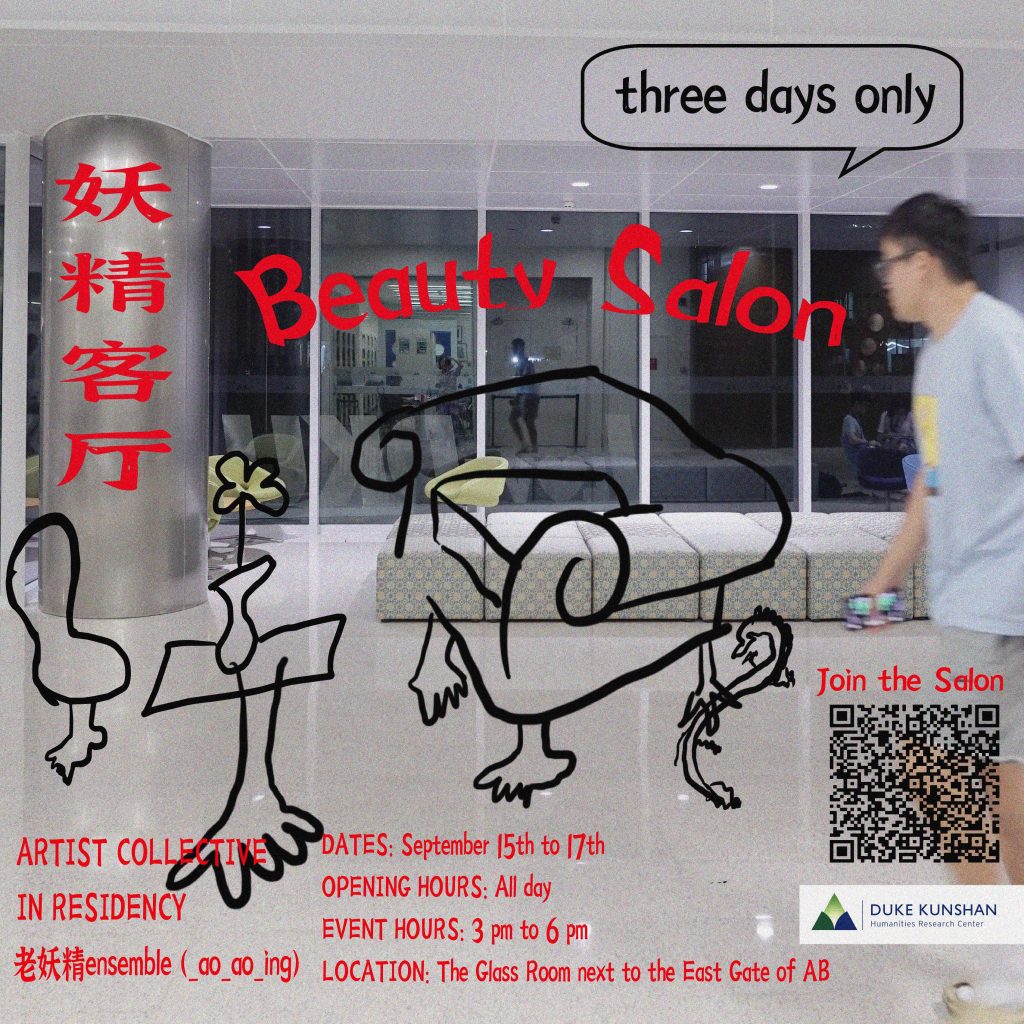 This DKU Artist-in-Residence is supported by Humanities Research Center, Division of Arts and Humanities, and DKUNST Art on Campus, convened and organized by DKU's Associate Director of Arts, Professor Zairong Xiang. This event, "Beauty Salon 2," lasted three days, from Sepember 15 to 17, 2022. It was the ensemble's second time being on the DKU campus, with the first happening in February 2022.
The area at _ao_ao_ing's disposal was the glass room next to the east gate of AB. On the glass were instruction papers, colorful scrawls, pictures, and notes decorated by students who dropped by the space.
The three "yaojings," Eva (一娃), Fangdanteng (方胆疼), Cuixi (林翠西), and DKU students, sat on bean bags and soft benches that surround low tables stacked with snacks and drinks. They brainstormed funny topics to share and extract an impressive remark about each theme. Some of the funny topics discussed include "I chose DKU because of its bathrooms," "we need a place for noise making," "…tied together by making knots," and "let's go out." The remarks and conversation were heartfelt from the genuine sharing of the participants.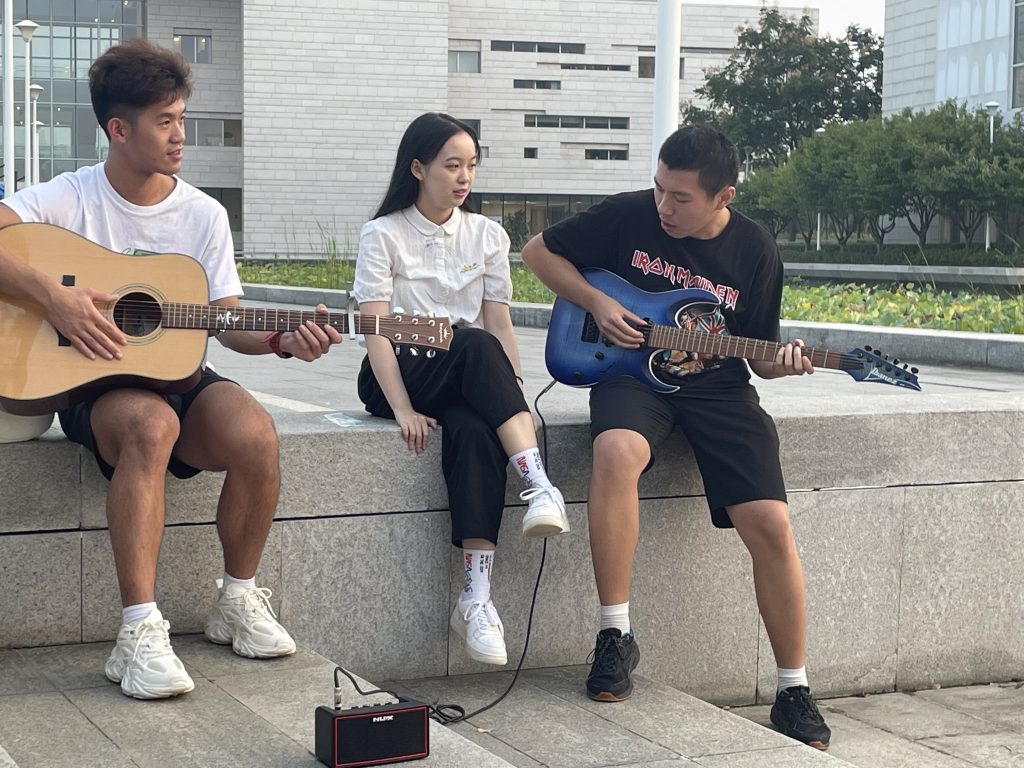 The _ao_ao_ing ensemble brought vitality to DKU, a unique campus known to students for its quietness. One of _ao_ao_ing's core themes this time was to make some noise in public space. Students and yaojings (妖精) discussed the definitions of noise, who gets to forbid/promote certain noise, and people's tolerance of noise on different occasions. Metal music lovers, guitarists, and trumpet players all joined to 'create noise' within Academic Building and outside in the clearing. It was definitely novel on the DKU campus.
Interviewing with Eva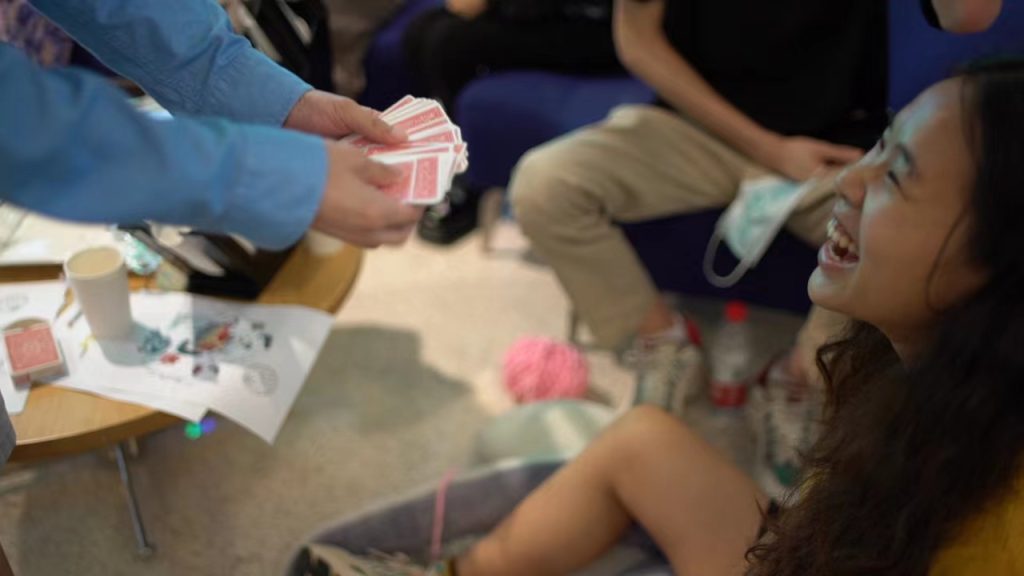 Eva, a core member of the ensemble, mentioned two ways a work comes into being, a personal 'urgency' to express (Annata) and a need to build connections with local people and space, which happens a lot to artists in residence. Interacting with the DKU community is one vivid example of creating a happening in local fields. According to Eva, _ao_ao_ing, whose creation wanders outside of the mainstream performances and happens in informal spaces, and its audiences are a two-way selection system. Most people usually attend their shows with openness and the prospect of discovering novel ways of expression. Moreover, _ao_ao_ing's performances do not demand audiences of any prior theatrical knowledge and emphasize audiences' participation.
Furthermore, Eva talked about how _ao_ao_ing, a collective artist group, resolves internal conflicts and strikes a balance between individuality and collectivity. A unique approach is exploring a common point that every member has something to express. For instance, since all six members of _ao_ao_ing are girls of the same generation and have experienced adolescent complications, Annata perfectly combines their expressions. Even the most personal narratives can reveal broader topics that everyone can resonate with. The fact that yaojings (妖精) choose collectivity as a core approach to art also implies that they identify with its value and foresee possible conflicts. In the process of adjusting and working on their relationships, yaojings (妖精) learn from the wear-and-tear and grow to be more resilient. In addition, yaojings (妖精) all have lives outside of artistic creation, which provide inspiration for the making of arts.