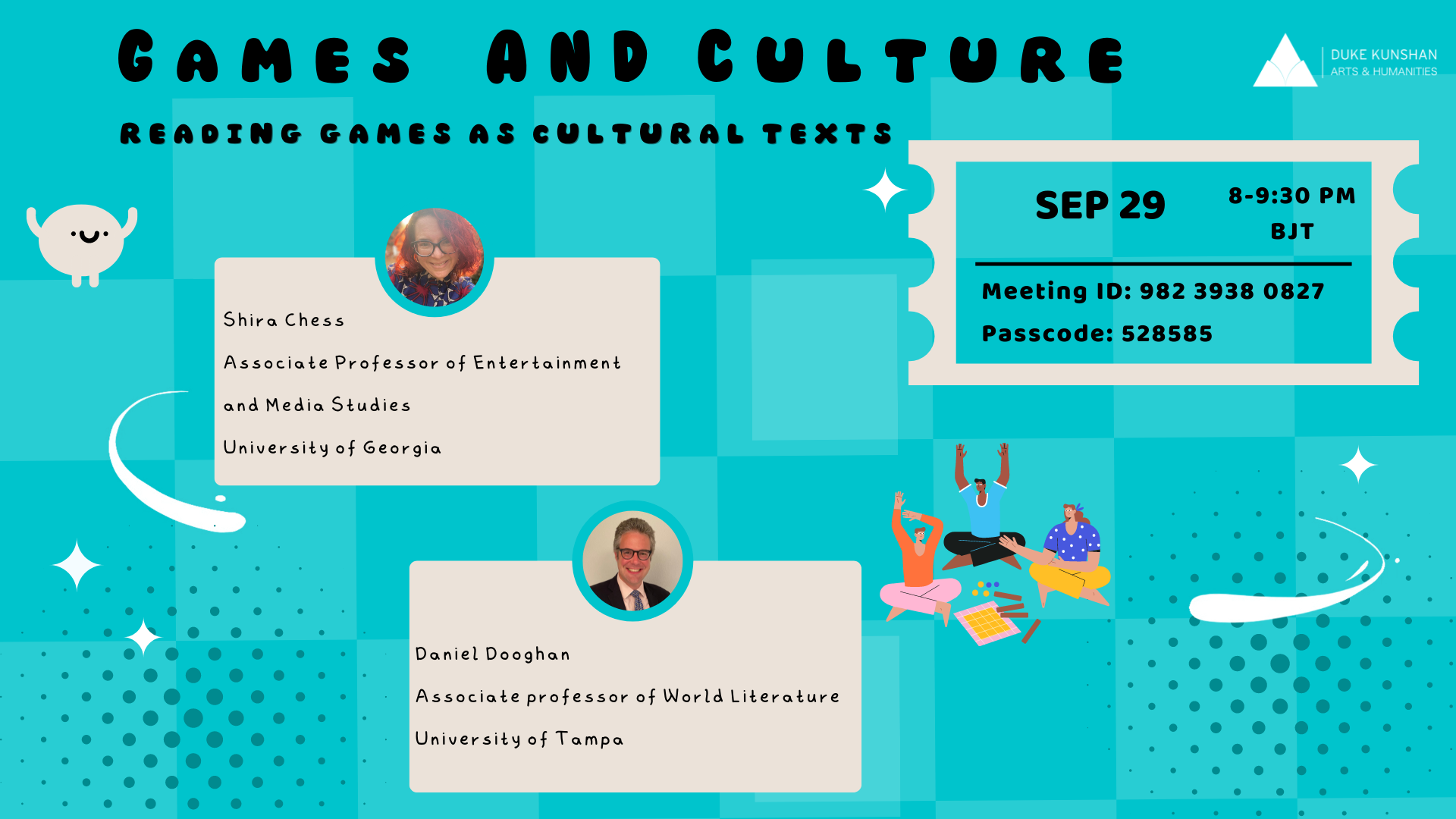 Games and Culture | Reading Games as Cultural Texts
Presented by DKU's Arts & Humanities Division
Date: Sep 29, 8-9:30pm BJT
Zoom Meeting ID: 982 3938 0827
Passcode: 528585
We all play games. All the time. But how well do you "read" the games you play? What roles do culture, race, gender, class or ideology "play" in our games? Our guest speakers will discuss how games engage broader cultural and political themes, how prevailing cultures and values affect design, popularity, and even user experience, and the relation between games and questions of identity, ethics, group behavior, and politics. In short we will ask: Do we play the game, or does the game play us?
Guest speaker bios
Shira Chess is an associate professor of Entertainment and Media Studies at the University of Georgia. She is author of Play Like a Feminist (MIT Press, 2020), Ready Player Two: Women Gamers and Designed Identity (UMN Press, 2017), and Folklore, Horror Stories and the Slenderman: The Development of an Internet Mythology (Palgrave, 2014).
Daniel Dooghan is an associate professor of World Literature at the University of Tampa in the Department of English and Writing. His current research projects examine representations of foreignness in Chinese travel literature, frustrated cosmopolitanism in science fiction, and the intersections of video games and philosophy. Recent publications include articles on the role of criticism in translation and on the modern Chinese writer Lu Xun.
Contact person: Prof. Lewis (yml3@duke.edu)