By Xiaoxi Zhu
Student Media Center fellow
中文翻译
The story of Wenliang Li, the so-called whistleblower of the coronavirus (Covid-19) crisis, was widely spread on Chinese social media when he died from the disease on Feb. 7. He was an ophthalmologist working in the Central Hospital of Wuhan, Hubei province, where the first case of Covid-19 was confirmed, and he was reprimanded for spreading "fake news" about the contagion in a WeChat group.
Li's isn't the only case; Chinese know they risk having their WeChat account suspended if they post something explicitly or implicitly against the government. They also perceive that the official news is more likely to be positive for the sake of stability. But when a crisis happens, people are eager to know what is really happening, so they try to obtain information through many different various channels.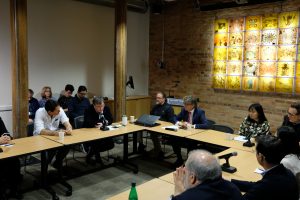 Melanie Manion, a political professor of Duke University, talked on this issue during the March 3 online forum, Coronavirus: Human, Social and Political Implications, hosted by the DKU Humanities Research Center and Duke's Franklin Humanities Institute. The discussion featured professors from DKU and Duke, undergraduate and graduate students, and the U.S. bureau chief of South China Morning Post.
For her part, Manion referenced the Changchun fake vaccine crisis of 2018. "After the crisis broke," she said, "there was a huge search on [search engine] Baidu to look for the word 'vaccine,' so people were looking for information. When we ask people what social media they use, we find that, as the crisis period goes forward, people use what we call cozy information, or familiar information, in WeChat."
Official news media such as People's Daily and China Central TV have a huge number of followers on Weibo, a Twitter-like platform. "Xinwen Lianbo," one of the most important news shows on CCTV, has seen a more than 12 percent increase in viewers since the Covid-19 crisis began. This shows that official news channels remain a key source of information for many people.
"This is the big problem, I think, for Chinese that you now cannot control the message unless you impose the censorship," Manion said. "And the more you impose the censorship; the more people will not believe your message from the Chinese government."
How has the Chinese government confronted this crisis in confidence? The answer may be in the identity transition of Nanshan Zhong from epidemiologist and pulmonologist to hero.
Zhong has been well known in China since he disclosed the truth about SARS to the media in 2003. CCTV interviewed Zhong in January to answer general questions about the emergency, and he delivered a speech in February about the exact circumstances as China's leading expert on Covid-19. What's more, he appeared in the news many times to refute rumors, cheer for medical workers and announce the latest developments.
To some extent, Zhong has become spiritual support for Chinese. He has enhanced communication between the government and the public, and he has played a part in improving the official media's credibility.
However, we cannot base credibility on just one person; it should come from the efficient work of China's vast and powerful media system. China still has a long way to go in this respect.
Xiaoxi Zhu is a member of the undergraduate Class of 2022 from Hubei province.