Histoire de l'équipe
L'équipe de Côte d'Ivoire de football féminin, surnommée Les Eléphants féminin, a été fondée en 1988. (5) Leur première rencontre reconnue par la FIFA date du premier juin 1988 contre les Pays-Bas ; elles ont perdu 0-3. (5) Durant les six jours qui ont suivi, les joueuses de cette nouvelle équipe ont joué contre le Canada (0-6) et contre la Chine (1-8). (5) Malgré les résultats, ces matchs ont été une victoire pour l'équipe féminine—elles pouvaient jouer à l'étranger sans être punies par leur état. (3) Le gouvernement de Côte d'Ivoire a commencé à reconnaître les droits des femmes et à leur donner des opportunités pour jouer et représenter la Côte d'Ivoire à l'étranger.
Fait par l'auteur 
Malheureusement, l'équipe de football féminin de Côte d'Ivoire a dû faire face à beaucoup de défis durant les années suivantes. La politique n'était pas si stable et l'équipe ne pouvait pas recevoir de l'argent ou du soutien pour jouer à l'étranger, payer les joueuses et l'entraîneur, et tout l'équipement dont elles avaient besoin. (2) Même aujourd'hui, il n'existe pas de salarié qui travaille pour l'équipe nationale. Ils/Elles ont tous un autre travail pour soutenir leurs familles. Alors, au début du vingt et unième siècle, l'équipe n'a joué que très peu de matchs en Afrique ou même dans son propre pays. (3) Ci-dessous, un tableau indiquant quelques années et les matchs qu'elles ont joués.
 Fait par l'auteur 
Bien que l'équipe nationale des femmes n'ait joué que sept fois au cours des cinq années, elles ont commencé à avoir de plus en plus de succès dès que le football féminin est devenu de plus en plus populaire en Côte d'Ivoire et partout dans le monde. La FIFA a aidé à créer des programmes pour que les femmes puissent commencer à jouer et qu'il y ait des changements. (2) Donc, elles peuvent s'entrainer et concourir contre d'autres équipes qui ont aidé à la participation des femmes au foot. Grâce à ces programmes et à cette aide, la quantité des joueuses en Côte d'Ivoire a énormément augmenté. (3)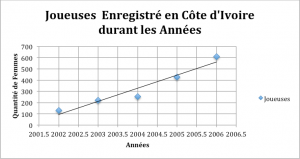 Fait par l'auteur 
Comme le graphique le montre, le nombre de joueuses a continué à augmenter durant les années suivantes. Donc, cette augmentation des joueuses en Côte d' Ivoire a évidemment aidé l'équipe à réaliser de grandes réussites.
En 2012, l'équipe a été qualifiée pour la première fois pour la Coupe d'Afrique de Football Féminin (CAF Féminin). Elles ont gagné un match mais elles ont perdu les deux autres et ne pouvaient plus continuer. Malgré leurs défaites, les femmes de Côte d'Ivoire sont passées à la 67ème place (4) au classement mondial en comparaison à 2011, où elles étaient 136ème. (6)
Après cette grande réussite, l'équipe de Côte d'Ivoire a continué à être une des équipes féminines les plus compétitives d'Afrique. Elles ont été qualifiées une nouvelle fois pour la CAF Féminine en 2014 et ont stupéfié l'Afrique quand elles sont arrivées jusqu'en demi-finale. (1) L'équipe de Côte d'Ivoire a montré que ses programmes de foot, qui ont créé des opportunités pour les femmes de recevoir une éducation lorsqu'elles jouent au foot, sont une grande réussite dans les pays développés où les femmes ont toujours eu des rôles « traditionnels » dans la société. Guehai a marqué un but, quand il ne restait que 6 minutes dans le match, pour les Eléphants pour gagner 1-0 contre l'Afrique du Sud. (1) L'équipe féminine de la Côte d'Ivoire a obtenu la troisième place dans le championnat. Ce championnat fût leur première grande victoire sur la scène internationale.
Les femmes de Côte d'Ivoire vont pouvoir montrer leur vrai potentiel cet été lors de la Coupe du Monde au Canada. C'est leur première qualification mais elles ont montré qu'elles pouvaient faire concurrence aux meilleures équipes de leur région et peut-être aussi à celle du monde du football féminin. L'équipe a beaucoup de motivation suite à leur victoire contre l'Afrique du Sud et ce ne serait pas une surprise si elles gagnaient beaucoup de matchs et se retrouvaient en quart de finale ou même plus loin.
Écrit par Tomás Giménez
Works Cited
1) "African Women's Championship." Summary. SoccerWay, n.d. Web. 22 Apr. 2015.<http://us.women.soccerway.com/international/africa/caf-championship–wc-qualifying-africa/2014-namibia/s7893/final-stages/>.
2) Gabriel Kuhn (24 February 2011). Soccer Vs. the State: Tackling Football and Radical Politics. PM Press. p. 34. ISBN 978-1-60486-053-5.
3) FIFA (2006). "Women's Football Today". p. 57. Retrieved 20 April 2015. <http://www.fifa.com/mm/document/afdeveloping/women/93/77/21/factsheets.pdf>
4) "The FIFA Women's World Ranking". FIFA.com. 2009-09-25. Retrieved 20 April 2015.
<http://www.fifa.com/fifa-world-ranking/ranking-table/women/rank=527/index.html>
5) "Women's FIFA Invitational Tournament 1988". Rsssf.com. 2011-01-13. Retrieved 2015-04-16.
<http://www.rsssf.com/tablesw/wom-fifa88.html>
6) "World Rankings". FIFA. 2009-09-25. Retrieved 20 April 2015.
<http://www.fifa.com/fifa-world-ranking/ranking-table/women/rank=536/index.html>