Written in 2009 by Kelsey Ontko, Julia Fogleman and Lucas Nevola
Edited and Updated in 2013 by Matt Darlow, Dan Carp, Bryan Silverman and Matt Berezo
What Constitutes the Soccer Market in the U.S.?
Soccer in the U.S. is a widely popular recreational sport for boys and girls. However, as a spectator sport, soccer is largely overshadowed by American football, baseball, basketball, and hockey.  The United States has a professional first-division men's league, Major League Soccer, which is comprised of 19 teams. Previous leagues in the United States, like the NASL and the WUSA, folded after losing millions of dollars.  The MLS currently survives with a very structured pay system, where the lowest paid players can make as little as thirty-five thousand dollars a year.
When did the United States officially become a member of FIFA?
The official governing body of soccer in America today, the United States Soccer Federation, was officially recognized by FIFA in 1913.  However, before the term soccer was coined, the governing body of the sport was called the Football Association.  Although the form of soccer as we know it today was not formally recognized in the U.S. until the 20th century, the roots of the game in America go back much further.  The first US soccer match under Football Association rules was played on November 6, 1869 between Princeton University and Rutgers University.  Throughout the nineteenth century, the rules of the game evolved to emulate rugby, and eventually produced American football.
Why is the soccer market weaker in the U.S. compared to the rest of the world?
The soccer market in the US is subject to many factors, all of which play a role in defining the market: entry barriers, which exclude players from certain socio-economic strata from entering the sport; the lack of media exposure, which directly impacts the popularity of the sport in a media-obsessive country; and limited investments, which means that the sport lacks the cushion of capital essential in securing the resources necessary for it to fully develop.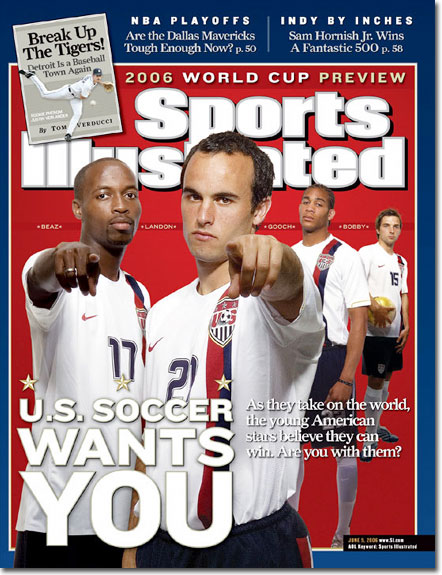 Striving to Take Root in America
In an effort to heighten the popularity of men's professional soccer in the U.S., the United States Soccer Federation is continuously vying for the opportunity to host future World Cups.  After hosting the 1994 World Cup, U.S. Soccer feels that the media attention associated with hosting the world's most-viewed tournament will once again make a positive impact on soccer in America.
To learn more about soccer in the U.S., visit the pages available through the drop-down menu above.
How to cite this article: "The Soccer Market in the U.S.," Written by Kelsey Ontko, Julia Fogleman and Lucas Nevola (2009), Edited and Updated by Matt Darlow, Dan Carp, Bryan Silverman and Matt Berezo (2013), Soccer Politics Pages, Soccer Politics Blog, Duke University, http://sites.duke.edu/wcwp (accessed on (date)).