Written in 2009 by Kayla Kirk, James Goldberg, Quentin Ybarra, Federica Burelli, Steve Johnson, & Chris Straka

Edited in 2013 by Ramsey Al-Khalil, Jordan Cirocco, & Halsey Friedel
Brazil
Brazil is a country commonly associated with the highest level of soccer. The world has grown used to Brazil winning, but the Brazilians themselves seem to have an insatiable appetite for world football dominance.  Their nation has produced soccer players that have come to represent spontaneity, creativity and skill on the playing field. The bandy-legged Garincha, a walking paradox, the goal scoring machines Friedenreich and Ronaldo, the modern hope Kaká, and, of course, the eternally great Pelé – all these players have left their indelible marks on football's canon.
In this webpage we present detailed looks at the lives and careers of these great players.  Some of them rose like rockets only to burn out and fall back to earth, others built steady careers around consistent, stellar play, while still others have yet to finish their stories, and hope to add another star to the Brazilian jersey before all is said and done.  Whatever the case, each athlete in this page represents a unique perspective on the Brazilians' beautiful game.  Together they tell a story that is more than the sum of its parts, please read on and enjoy…
Friedenreich
Pele

Garrincha
Zico
Falcão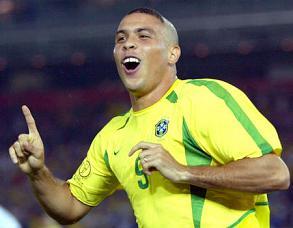 Ronaldo
Kaka
Neymar
Famous Coaches
Click here to learn about the intertwined history of football and politics in Brazil.
Friedenrich image courtesy:
http://www.esfutbol.es/docs/En-1919-Uruguay-y-Brasil-jugaron-un-partido-de-150-minutos-382.html
Pele image courtesy:
http://static.open.salon.com/files/pele_061254744472.jpg
Garrincha image courtesy:
http://oglobo.globo.com/fotos/2008/01/17/17_MVG_GARRINCHA10.jpg
Kaka image courtesy:
http://www.independent.ie/multimedia/archive/00081/Kaka_falls_to_his_kn_81263t.jpg
Zico image courtesy:
http://www.planetworldcup.com/LEGENDS/zico.jpg
Falcao image courtesy:
http://www.myfootballfacts.com/LEGENDS_113_Paulo_Roberto_Falc_o.JPG
Ronaldo image courtesy:
http://www.stateofthegame.co.uk/images/ronaldo-brazil.jpg
How to cite this article: "Brazil!," Written by Kayla Kirk, James Goldberg, Quentin Ybarra, Federica Burelli, Steve Johnson, & Chris Straka (2009), Edited and Updated by Ramsey Al-Khalil, Jordan Cirocco, & Halsey Friedel (2013), Soccer Politics Pages, Soccer Politics Blog, Duke University, http://sites.duke.edu/wcwp (accessed on (date)).