About two weeks ago Stephen Kirchner wrote a piece about the United States U23 Men failing to qualify for the 2016 Summer Olympics. Now that the groups have been released for both the Men's and Women's tournaments, it is time to revisit some key storylines surrounding this tournament. Even though the Copa America Centenario and the Euros will likely feature a higher level of play and generally more interesting soccer, there are still some good reasons to care about soccer at the 2016 Summer Olympics, even if many big nations will not be there.
One of the more interesting features for the Olympics is the age rules for the men's teams in the tournament. This tends to be a confusion point for many as it is not very intuitive and seems somewhat inconsistent. Most of the world's qualification depends on each nation's U23 team, but European qualification rests on U21 teams and South American qualification is only with players aged 20 and below. To make matters more confusing, for South American nations that did not qualify through the South American Youth Championship, they could play a play-off with both CONCACAF and CONMEBOL teams with their U23 team. For the actual event, they must use their U23 teams with three players allowed to be above age. For the women's tournament there is no age restriction.
Another feature of the men's qualification that is very interesting is the amount of teams that qualify for each region. As with the World Cup, the Olympics has spots reserved for each region to avoid European and South American dominance of the qualifiers. With only 16 teams in the tournament it is a very tight qualifier system for many top teams in Europe and South America. For example, Europe has four teams and South America has three whereas much weaker regions such as Africa and even Asia each have three teams. North America only has two and the last spot went to the winner of the Pacific Games. The winner of the Pacific Games was Fiji in a field of many nations not recognized by the International Olympic Committee and a New Zealand team that was disqualified by fielding an ineligible player. Unsurprisingly, this led to Fiji winning and therefore qualifying as a nation whose normal National Team is ranked 182 in the world by FIFA rankings.
It is apparent as a result of these key features as well as being "crowded out" by Copa American Centenario and the Euros that the Olympics is not the premier soccer event of the Summer. For many leagues around the world, the Olympics will conflict with the first games of the new season, potentially causing teams to pull talent from international competition. Still, many players and countries will be looking for a good result especially those in Asia and Africa who do not have other tournaments to look forward to this year. For example, in nations such as South Korea, players can earn their exemption from required Military Service by winning a medal at this event. It is also a good way to see the up and coming youth of many different nations, or to just see which overage players each nation brings and to see how good they really are in a less developed field of younger players.
There are a few key features to look forward to for this Olympics. The three overage players for each nation is a big source of excitement as it is a chance to see the international stars play on an otherwise generally unknown U23 team. Many international stars have decided not to go, most notably Lionel Messi who instead will attend Copa America. Other players like Neymar, a Brazilian player trying to make up for the World Cup and win a championship on home soil, are trying to get permission from their team to play in what seems like an unimportant event, especially when many of these players are also playing in one of the other tournaments of the year.
Another interesting feature is that FIFA is testing a new rule for a fourth substitution if the game goes into extra time. Traditionally each team gets three substitutions regardless of how long the game goes, but this new rule has been getting a lot of interest so if all goes well, we may see it instituted in time for a future World Cup.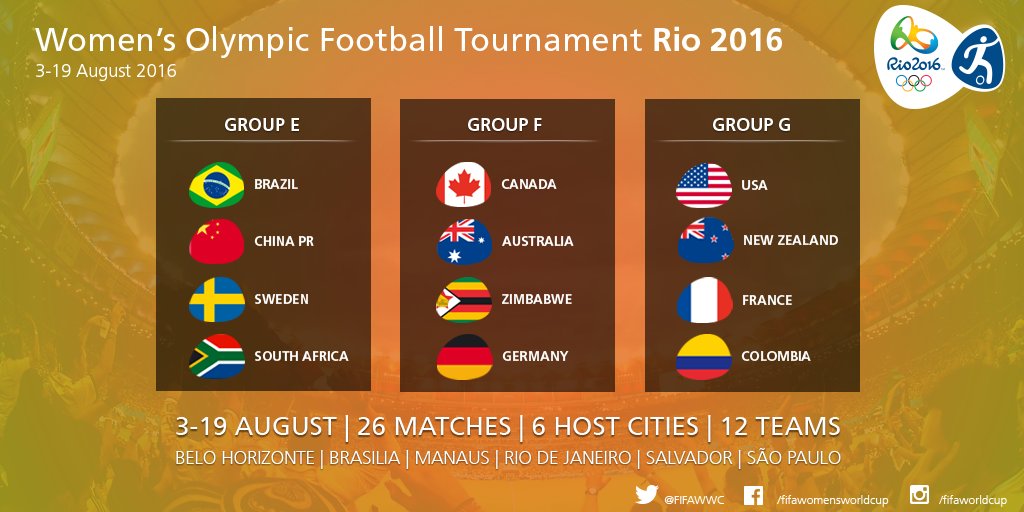 Lastly, while the men's tournament will feature a less experienced field, the women's tournament will feature 12 strong teams that have no age restriction. With the wage controversy about the United States Women's National Team, there is the possibility of a boycott, but if not, then we will see a United States team with something to prove, especially as their male counterparts failed to qualify. Despite the many oddities of the Olympic Soccer Tournament, if you are still looking to watch some international soccer come August, you will not be disappointed.
Works Cited
DeCourcy, Mike. "Olympic Boycott Would Be the Wrong Play by U.S. Women's Team – Goal.com." Goal.com. 14 Apr. 2016. Web. 14 Apr. 2016. <http://www.goal.com/en-us/news/11102/us-womens-team/2016/04/14/22380762/olympic-boycott-would-be-the-wrong-play-by-us-women?ICID=HP_HN_1>.
Edwards, Daniel. "Brazil Vows to Fight for Neymar at Copa America & Olympics – Goal.com." Goal.com. 08 Apr. 2016. Web. 14 Apr. 2016. <http://www.goal.com/en-us/news/3296/brazil/2016/04/08/22167642/brazil-vows-to-fight-for-neymar-at-copa-america-and-olympics>.
"Regulations for the Olympic Football Tournaments." FIFA. Web. 14 Apr. 2016. <http://resources.fifa.com/mm/document/tournament/competition/02/54/40/46/oftsregulationsrio2016-e_neutral.pdf>.
Omnisport. "Argentina's Lionel Messi to Miss Rio Olympics, Focus on Copa America – Goal.com." Goal.com. 11 Jan. 2016. Web. 14 Apr. 2016. <http://www.goal.com/en-us/news/3297/argentina/2016/01/11/19208492/messi-to-miss-rio-olympics-focus-on-copa-america>.
Simpson, Christopher. "Rio Olympics 2016 Soccer Draw Results: Men's Groups." Bleacher Report. 14 Apr. 2016. Web. 14 Apr. 2016. <http://bleacherreport.com/articles/2632839-rio-olympics-2016-soccer-draw-results-mens-groups-bracket-schedule-revealed>.
Wright, Joe. "FIFA to Test Extra Sub Rule at Olympics – Goal.com." Goal.com. 18 Mar. 2016. Web. 14 Apr. 2016. <http://www.goal.com/en-us/news/1786/fifa/2016/03/18/21453892/fifa-to-test-extra-sub-rule-at-olympics-and-club-world-cup>.