This past week we read the first few chapters of The Game of Our Lives by David Goldblatt. The discussion of corner kick strategy caught my attention. According to Goldblatt, "English Premier League clubs score a goal from a corner once every ten games" (Goldblatt 67). More specifically, only 11.1 percent of goals came from "corner situations" in the 2015 season. Goldblatt continues that teams like Barcelona have thrown in the towel altogether on corner kicks and elect to pass it in to keep possession of the ball. Even though the crowd looks forward to exciting goal-scoring opportunities like corners, some teams seem to be putting knowledge from statistics over the traditional dead ball play.
Of Barcelona's 192 corner kicks this season in La Liga, the team has netted none of them. By choosing to maintain possession instead of whipping a cross into the box, perhaps Barcelona, who sits atop the table, is proving that the most dangerous teams do not need to rely on dead ball chances to score. Rik Sharma in his article on Barcelona corner kicks adds how "this perhaps suggests that poor teams find it more difficult to score goals from open play and therefore focus more on being effective from their set plays."
By contrast, third ranked Real Madrid has the 11th highest goals per corner ratio, coming in at 7 goals off of 151 corners, an average of .33 goals per game off of corners. This statistic proves that the best teams do not need to abandon the corner kick in order to be successful. However, only 7 of their 71 goals found the back of the net through corners, proving how Real Madrid has been a prolific goal scoring team from live play and do rely on dead ball action.
During Xavi Hernandez's time with Barcelona F.C.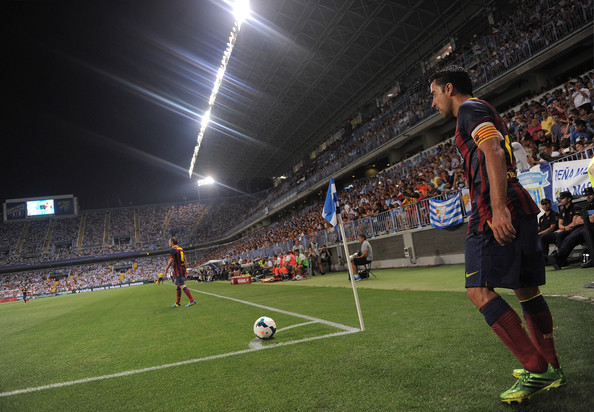 (Aug. 24, 2013 – Source: Denis Doyle/Getty Images Europe)
The "dying art" of corners has experienced this shift for multiple reasons (Tweedale). Nowadays managers are criticized when they put emphasis on corner kicks. This is one of the reasons for the recent low success rates on corner kicks since teams spend less time strategizing to score off of them and put more time into open field play. Also, there is an argument to be made that sending up the tallest center backs into the box during corners leaves a gaping hole in the defense to be exposed during a quick counter attack. Furthermore, teams have been plagued with inconsistent corner kick takers, which can make the wasted opportunity frustrating for elite teams.
I believe that teams, especially in high levels like the English Premiere League and La Liga, should find the life in this "dying art." As a fan and center forward, corner kicks have always been one of my favorite parts of the game. There is nothing better as a fan than seeing the beautiful cross and finish alter the complexity of a game. There is also nothing better as a player than smooth header and one touch finishes off of a dead ball assist from your teammate. If teams were to dedicate more time in practice to these dead ball situations, the number of goals scored off of corners would rise. But as teams move away from the corner due to managerial pressure, the statistic for success off of corners only continues to drop. Teams and managers should realize how critical this traditional part of the game is to both the player and fan in order to resuscitate the "dying art."
Works Cited
Goldblatt, David. The Game of Our Lives. New York: Nation Books, 2014. Print.
Sharma, Rik. "Do Barcelona Have a Corner Kick Problem?" Sport. Sport, 18 Feb. 2016. Web. 29 Feb. 2016.
Tweedale, Alistair. "Corner Kicks a Dying Art in the Premier League." ESPN FC. ESPN, 22 Jan. 2015. Web. 29 Feb. 2016.