¿FIFA cambiará la ubicación del Mundial 2022 desde Qatar?
por Andrew Bihl
Nota: Este ensayo fue escrito en 11/03/14. Debido a esto, cualquiera información más reciente no está incluido.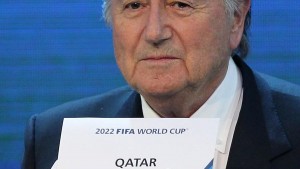 En 2010, FIFA eligió a Qatar para anfitrión de la Copa del Mundo de 2022. Chocó al mundo. Qatar, un país pequeño en el oeste de Asia, no tiene una cultura fuerte de fútbol, y su equipo nunca ha participado en la competencia. Además, el país tiene una clima muy caliente y se falta la infraestructura necesaria para ser el sede del Mundial. Finalmente, ha habido reportes y noticias describiendo violaciones de derechos humanos cometidos durante el proceso de construir la infraestructura para el Mundial. Parece que todo el mundo no está de acuerdo con la decisión.
A pesar de esto, han pasado cuatro años desde la decisión inicial y Sepp Blatter, el presidente de FIFA, todavía insiste en que Qatar será el anfitrión. Qatar ya ha empezado las preparaciones para realizar el Mundial, y crearía un gran conflicto con el país si FIFA cambia la ubicación del Mundial ahora. Además, FIFA quiere que se celebre el Mundial en Qatar porque extendería la popularidad de fútbol en el oeste de Asia, lo que extendería la influencia de FIFA.
Hay muchas razones para cambiar la ubicación del Mundial, pero la evidencia indica que FIFA no intenta de cambiarla. Los oficiales han fallado en abordar los problemas alrededor la Copa del Mundo 2022, y sus acciones indican que no importa si hay problemas existentes de Qatar 2022. Sin embargo, tomando todo esto en cuenta, es más probable que sí FIFA seleccionará otro país para ser la ubicación de la competencia, porque las cuestiones actuales simplemente son demasiadas serias.
El hecho que eligieron a Qatar es muy sorprendente cuando se considera que FIFA supo muchos de los problemas antes de decidir. Por ejemplo, cuando Qatar aplicó para ser anfitrión, no tenía la infraestructura necesaria para realizar la competencia. En cambio, las otras naciones que querían realizarla son países con una cultura establecida de fútbol como Australia, Holanda, Bélgica, Japón, Corea, España, Portugal, y los Estados Unidos. Tienen las ciudades con hoteles y otros alojamientos, tienen los modos de transportación, y tienen los estadios para llevar a cabo una competencia deportiva grande. Qatar, en cambio, tendría que gastar el dinero para construir nueve estadios desde cero y para remodelar tres (Arellano). Además, este costo solo representa 1.5 por ciento del total que Qatar estimó para el presupuesto. Necesitaría crear la infraestructura para sostener no sólo los juegos en los estadios sino también los turistas que vendrían al país. En total, se estimó un costo de 200 mil millones dólares. Este número parece absurdo cuando se compara con el costo del Mundial 2014 en Brasil, el que costó unos 11 mil millones y fue más que cualquier otro en la historia del Copa del Mundo(Arellano, n. pag). Estos hechos demuestran claramente que por lo menos Qatar no fue la opción fácil ni práctica.
Por añadidura, hay otro problema práctico: el calor de Qatar. Durante el verano, la temperatura en Qatar puede superar los 50 grados centígrados (Pérez Salazar, n. pag). Estas condiciones pueden ser muy peligrosas para los jugadores y los aficionados. Inicialmente Qatar dijo que podría construir sistemas de control de la temperatura en los estadios, pero hay duda que la tecnología pueda funcionar exitosamente. Desde entonces, FIFA ha considerado otra opción: jugar durante el invierno (Pérez Salazar, n. pag). Sin embargo, la competencia tradicionalmente sucede en el verano durante junio y julio, y crearía muchos problemas si se realizara durante el invierno. Por ejemplo, las ligas mayores futbolísticas del mundo juegan a lo largo del invierno. Además, el invierno de 2022 es la fecha de los juegos olímpicos del invierno 2022, y esa competencia no se podría mover a otro tiempo. En suma, cambiar el tiempo de la Copa chocaría con otras competencias deportivas, pero parece que no posiblemente podría llevarse a cabo durante el verano.
Con todos estos problemas, es sorprendente que Qatar fuera elegido. En un reporte analítica que hizo FIFA sobre los países que aplicaron, Qatar fue el único que se clasificó como "alto riesgo". Pero en 2010, 14 de los 22 miembros de la junta electoral de FIFA que selecciona la ubicación del Mundial votaron que sea Qatar el anfitrión, a pesar de los varios problemas con Qatar (Arellano, n. pag). La explicación única es la corrupción. FIFA ha tenido problemas con corrupción por mucho tiempo, y el Mundial 2022 añade a ellos. Según unos reportes, un representante para el fútbol Qatarí pagó cinco millones dólares a varios miembros de FIFA durante el proceso de seleccionar la ubicación del Mundial (Bond, n. pag). Un correo desde el mismo hombre, Mohamed Bin Hammam, fue enviado a Blatter preguntando si él fuera un "amigo" que pudiera confiar. Finalmente, desde 2010, múltiples ejecutivos de FIFA han abdicado sus posiciones en medio de acusaciones de corrupción (Arellano, n. pag). Es claro que FIFA tiene problemas éticos adentro de la organización.
Ahora, FIFA enfrenta problemas éticos nuevos. Más allá de las cuestiones prácticas, hay muchas cuestiones serias alrededor del proceso de preparación para la competencia en Qatar. La nación ya ha empezado a construir la infraestructura, y hay muchas violaciones de los derechos de los trabajadores, quienes son esencialmente esclavos. Según un reporte del Human Rights Watch, los trabajadores son principalmente de otros países, y las compañías constructoras van a esos países como India y Tailandia para encontrar ellos. Les emplean y les traen a Qatar para trabajar, y entonces roban las visas a los trabajadores. En unos casos, los empleadores cargan a ellos para el proceso de emplear. Además, los leyes de Qatar imponen que un trabajador no puede salir de su posición sin el permiso de la compañía (Qatar: Migrant Workers Face Abuse). En suma, cuando alguien consigue empleo con estas compañías, no puede salir.
Todo esto se hace más terrible porque las condiciones de trabajo son muy peligrosas. Un estudio por Confederación Internacional de Sindicatos estimó que hasta 4000 obreros podrían morir trabajando por la Copa en 2022 (4.000 trabajadores podrían morir en las obras Del Mundial De Qatar). Además, el grupo Human Rights Watch ha encontrado que Qatar no reporta los muertos fielmente (Qatar: Migrant Workers Face Abuse). Un grupo llamado la Confederación Sindical estimó que uno 1.200 trabajadores habían muerto en menos de dos años de trabajo(La masacre del mundial de Qatar). Sepp Blatter, el presidente de FIFA, simplemente dijo que algo necesita cambiar, pero dijo que FIFA no es responsable para los apuros de los obreros ("Blatter: FIFA no es responsable por obreros en Qatar).
Normalmente, una organización internacional no podría ser tan indiferente hacia problemas éticos obvios como estos. Sin embargo, FIFA actúa sin reglamentación ni control externo. Es un grupo independiente, y además es un grupo con el poder increíble. Un ejemplo que demuestra este poder sucedió en 2012. En preparación para el Mundial 2014, FIFA tuvo que abordar un conflicto de intereses. Generalmente, los fanáticos pueden comprar la cerveza durante los partidos, y un patrocinador importante de FIFA es Budweiser. Sin embargo, Brasil hizo una ley en 2003 que puso fin a la venta de cerveza a los partidos porque tuvo un problema con violencia entre los fanáticos. La ley tuvo la intención de proteger la gente. FIFA, sin embargo, decidió que eso no fue aceptable, y convenció al gobierno de Brasil para cambiar la ley de Brasil (Brazil Signs World Cup Beer Law).
Otro ejemplo aún peor es el caso de los tribunales del Mundial 2010 en Sudáfrica. FIFA, para combatir el crimen durante la competencia, estableció 56 tribunales en la nación para ocuparse de los crímenes asociadas con el Mundial. Los tribunales, que se establecieron con el permiso del gobierno de la nación, realmente tuvieron el poder de castigar a ellos quienes cometieron los crímenes. Además, la manera en que llevaron a cabo la justicia fue muy dudable. En un caso, dos hombres robaron a un periodista el miércoles, fueron al tribunal el jueves, y el viernes empezaron sentencias de 15 años en el cárcel (Hughes, n. pag). Tres días no basta para decidir el futuro de un individuo. Esto demuestra el poder de FIFA de operar sin considerar el bien y el mal. Parece que simplemente a FIFA no se importa la opinión pública.
En fin, ahora bien, FIFA sí tiene que considerar la opinión pública. El Mundial 2014 en Brasil trajo publicidad mala porque pareció que el gobierno estaba más enfocado en la Copa del Mundo que las necesidades de los ciudadanos, y perjudicó la imagen de FIFA y la de fútbol internacional (Benavides, n. pag). Ahora, con los ojos del mundo sobre ellos, los oficiales de FIFA deben tener cuidado. Sí la opinión pública se hace demasiado mala, podría costar a FIFA mucho. Por ejemplo, cuatro patrocinadores de FIFA, Sony, Adidas, Coca Cola, y Visa, recientemente hicieron declaraciones denunciando la reacción de FIFA a las acusaciones de corrupción. Adidas, un socio de FIFA desde 1970, resumió las preocupaciones: "El tenor negativo del debate público respecto a la FIFA en este momento no es bueno ni para el fútbol ni para la FIFA y sus socios" (Weir, n. pag). Para estas empresas, el propósito de ser patrocinadores es ganar dinero mejorando su imagen, y el éxito de eso depende en las acciones de FIFA.
FIFA, por consiguiente, podría perder dinero y influencia si ignoran los problemas de Qatar. Y, como sucedió en Brasil 2014, los problemas de Qatar 2014 tendrán la máxima publicidad cuando empiece el torneo. Además, el éxito de FIFA depende últimamente de los jugadores, las ligas, los gobiernos, y los consumidores. Si cualquier de esos grupos decidiera que no aceptaría las acciones de FIFA, el imperio internacional de fútbol cesaría de funcionar.
La pregunta, en fin, es esta: "¿Cuál decisión sería la mejor para los miembros en FIFA y el éxito de la organización?" Parece, para concluir, que se tendría que mover el Mundial a otro país. Cuando se considera las repercusiones del Mundial en Qatar, se deduce que no es una buena idea. Todas los asuntos de los derechos humanos, los conflictos de horario, y la corrupción atraerían mucha atención. Podría causar una reacción violenta del público. Ahora, aunque los delitos mismos existen, el público no le importan porque no están en los periódicos. FIFA tiene la oportunidad de evitar la publicidad por elegir una ubicación nueva antes de 2022. Un país como los Estados Unidos o un país Europea tiene la infraestructura y el gobierno para ser anfitrión sin polémica, y esto estaría a favor de FIFA. Por eso, FIFA probablemente cambiará el anfitrión del Mundial 2022.
Works Cited
"4.000 trabajadores podrían morir en las obras del Mundial de Qatar." ABC.es. Diario ABC, 26 Sept. 2013.       Web. 03 Nov. 2014. <http://www.abc.es/deportes/futbol/20130926/abci-mundial-qatar-4000-muertos-201309261656.html>.
Arellano, Alberto. "Qatar 2022: La corrupción que corroe a La FIFA." Ciperchile.cl. CIPER, 17 June 2014. Web. 02 Nov. 2014. <http://ciperchile.cl/2014/06/17/qatar-2022-la-corrupcion-que-carcome-a-la-fifa/ >.
Benavides, Sofía. "La otra cara de la Copa del Mundo: 250.000 Desalojos En Todo Brasil | Mundial Brasil 2014, Brasil." Infobae América. Infobae, 19 Jan. 2014. Web. 10 Nov. 2014.
"Blatter Defends Qatar Decision." The World Game. SBS, 9 Nov. 2012. Web. 03 Nov. 2014.    <http://theworldgame.sbs.com.au/article/2010/12/10/blatter-defends-qatar-decision>.
"Blatter: FIFA no es responsable por obreros en Qatar." El Nacional Deportes. El Nacional, 2 Dec. 2014. Web. 03 Dec. 2014. <http://www.el-nacional.com/deportes/Blatter-FIFA-responsable-obreros-Qatar_0_530347035.html>.
Bond, David. "Qatar World Cup: £3m Corruption Claim." BBC Sport. BBC, 31 May 2014. Web. 03 Dec. 2014. <http://www.bbc.com/sport/0/football/27652181>.
"Brazil Signs World Cup Beer Law." BBC News. BBC, 06 June 2012. Web. 03 Dec. 2014. <http://www.bbc.com/news/world-latin-america-18348012>.
Hughes, Rob. "Swift and Severe Justice at World Cup Courts." The New York Times. The New York Times, 20 June 2010. Web. 03 Dec. 2014. <http://www.nytimes.com/2010/06/21/sports/soccer/21iht-wcsoccer.html?pagewanted=all&_r=0>.
"La FIFA nunca publicará el informe definitivo sobre Qatar 2022." El Correo Del Golfo. El Correo Del Golfo, 22 Sept. 2014. Web. 03 Nov. 2014. <http://elcorreo.ae/la-fifa-nunca-publicara-el-informe-definitivo-sobre-qatar-2022/>.
"La masacre del Mundial de Qatar: Más De 1200 Muertos En La Construcción De Los Estadios." Mundo D. La Voz Del Interior, 19 Mar. 2014. Web. 11 Nov. 2014.
Pérez Salazar, Víctor. "El rompecabezas de jugar en invierno El Mundial De Qatar 2022." ABC.es. Diario ABC, 23 Sept. 2013. Web. 02 Nov. 2014. <http://www.abc.es/deportes/futbol/20130920/abci-problemas-mundial-qatar-201309201102.html>.
"Qatar: Migrant Construction Workers Face Abuse | Human Rights Watch." Qatar: Migrant Construction Workers Face Abuse | Human Rights Watch. Human Rights Watch, 12 June 2013. Web. 02 Nov. 2014. <http://www.hrw.org/news/2012/06/12/qatar-migrant-construction-workers-face-abuse>.
"Rival de Blatter quiere Mundial 2022 en Estados Unidos." Univision.com. Univision, 25 Oct. 2014. Web. 02 Nov. 2014. <http://futbol.univision.com/estados-unidos/videos/video/2014-10-25/rival-de-blatter-quiere-mundial>.
"Sepp Blatter 'did Not Question Qatar' as World Cup Host, Says FIFA." CNN. Cable News Network, 16 May 2014. Web. 02 Nov. 2014. <http://edition.cnn.com/2014/05/16/sport/football/qatar-world-cup-mistake-sepp-blatter/>.
Tuttle, Robert. "Money Can't Buy Qatar Love: $200 Billion in World Cup Spending Jeopardized Over Alleged Corruption." Bloomberg.com. Bloomberg, 5 June 2014. Web. 02 Nov. 2014. <http://www.bloomberg.com/news/2014-06-04/qatar-emir-finds-money-can-t-buy-love-as-world-cup-woes-increase.html>.
Weir, Keith, and Ossian, Shine. "Patrocinadores aumentan presión sobre la FIFA por acusaciones sobre Qatar." Reuters América Latina. Reuters, 09 June 2014. Web. 10 Nov. 2014.