Highlights of the week:
New Generation Artificial Heart Implanted in Patient at Duke – First in U.S.
A surgical team at Duke University Hospital, led by Drs. Jacob Schroder and Carmelo Milano, successfully implanted a new-generation artificial heart in a 39-year-old man with heart failure, becoming the first center in North America to perform the procedure.
The artificial heart was developed by CARMAT and has been studied in Europe, where it is approved for use. Last year, the company received FDA approval to begin studies in the U.S. to potentially enroll 10 patients with end-stage bi-ventricular heart failure. The study will evaluate whether the artificial heart is a viable option as a life-saving step before transplant.
"We are encouraged that our patient is doing so well after the procedure Monday," said Milano, a transplant surgeon and the principal investigator of the device study at Duke. "As we evaluate this device, we are both excited and hopeful that patients who otherwise have few to no options could have a lifeline."
The Duke patient, Matthew Moore, is from Shallotte, N.C., and was referred to Duke in June after a sudden, unexpected diagnosis of heart failure. Moore and his wife, Rachel, recently adopted their two-year-old foster son, Marshall, and arrived at Duke expecting only to undergo heart bypass surgery.
As Moore's condition quickly deteriorated, however, traditional options, including transplant, became too risky. Meanwhile, Duke was among just three transplant centers in the United States selected to join the device study, and the procedure team received specialized training to prepare for the implant surgery.
"As a nurse, I understand how important it is to bring these advancements forward," Rachel Moore said. "Both Matthew and I are so grateful that we've been provided an opportunity to participate in something that has the potential to have an impact on so many lives. We are just taking it day-by-day and hope everything continues to progress well."
The artificial heart developed by CARMAT is an implantable prosthetic that includes biological valves derived from bovine tissue. It operates on an external power supply.
If the device receives FDA approval, it would provide a bridge to transplant for patients whose hearts require assistance to pump blood through both chambers. Current technology – notably a left-ventricular assist device (LVAD) — supports just one chamber.
"Because of the shortages of donor hearts, many patients die while waiting for a heart transplant," said Schroder, a transplant surgeon who led the implant procedure. "We are hopeful for new options to help these patients, many like Mr. Moore who have devastating disease and cannot otherwise be considered for a transplant."
Manesh Patel, M.D., chief of the Division of Cardiology in Duke's Department of Medicine, said the heart care program at Duke has fostered a culture of innovation over decades, aimed at improving care for patients.
"Our goal is to both deliver the best health care and to play a role in discovering it," Patel said. "Innovation is essential for this. Patients locally and nationally are seen by our heart transplant team for care they may not get elsewhere. The key is the culture of innovation and the teamwork between our cardiac surgeons, heart failure cardiologists, nurses and all the heart center staff that care for our patients."
Dr. Jason Katz, co-director of Duke's Mechanical Circulatory Support Program and co-PI on the CARMAT trial agrees, "This is another example of multidisciplinary collaborative innovation for our advanced heart failure patients and speaks to how important innovation of patient care is to the entire team. It's the first of what I hope will be many innovative options for this high risk patient population."
Clinical research nurse coordinator for the trial, Frank Benedetti added, "A million things had to happen over the past several weeks, but all the pieces fell in line. When I got the call that the patient was out of the OR and had done well, I teared up with joy. It was such a proud moment to see all of our hard work come together and really pay off for this patient – I am so proud of our whole team."
"The successful implant of the CARMAT artificial heart represents the latest in a long list of accomplishments by the Duke heart transplant team aimed at further expanding the treatment options available for patients with end-stage cardiac disease," said Edward P. Chen, M.D., chief of the Division of Cardiovascular and Thoracic Surgery in Duke's Department of Surgery.
Many thanks to our cardiothoracic surgical team led by Drs. Jacob Schroder and Carmelo Milano; to our Cardiac
Anesthesiology team members, Drs. Sharon McCartney, Alina Nicoara, Meredith Whitacre and Mihai Podgoreanu; all of our VAD coordinators, Laura Blue, Kevin Cox, Catherine Shuford, Dakota Bentz; our perfusion team; the entire nursing staff of the CTICU and clinical stepdown unit teams, including the Advance Practice Providers who are getting very familiar with a device that no other APP team in the U.S. is familiar with; and our Clinical Research Team, especially our clinical research nurse coordinator Frank Benedetti, "who was asked to do a lot on a very short timeline and came through with flying colors," said Katz.  We also thank the CICU who help care for the patient during his course of illness and kept him stable and supported to get to the CT surgical team.
Benedetti acknowledged the help of dozens of people including Robyn Osborne, laboratory manager at Substrate Services Core Research Support team in the Department of Surgery; Susan Churchill with the Multi-Dimensional Image Processing Laboratory in Duke Radiology, Brian Gore with Duke University Hospital Clinical Engineering; Diane Pinder, a fellow clinical research nurse coordinator, and Clancy Leahy, research project manager with SOCR.
A Duke press conference to discuss the device was held on Thursday afternoon. A link to the recording can be found here: https://youtu.be/GAI22Y6ksjo.
Shout-out to Barba & Team!
We received a recognition note this past week from Diane Sauro, director – Advanced Practice, for Ashley Barba and members of the patient care team.
"Ashley, see below comment from report I received from Patient Visitor Relations. The awesome, compassionate care you provide to your patients does not go unnoticed. You are a role model to your team. Thank you for everything you do for Heart patients and your team." —Diane
"Patient complimented Dezarae, Sonya, Taylor, Kaitlyn, Samantha, Ashley and Kat. Patient stated, "They were outstanding nurses!!! They were always attentive and very responsive. They listened to me and answered all of my questions in ways that I could understand. Most importantly they always treated me as a person and not just a patient!"
Great job, everyone!
Upcoming Events/Opportunities
July 20: COVID-19 Research Seminar Series featuring Christina Barkauskas and Manesh Patel. 4-5 p.m. Zoom. Sponsored by Duke University School of Medicine.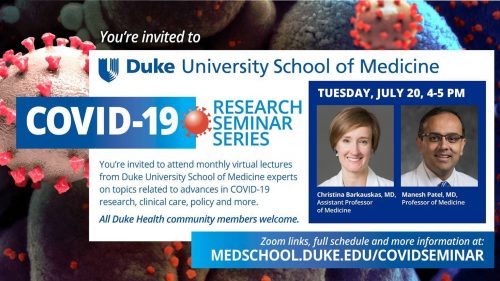 Have news to share?
If you have news to share with the Pulse readership, please contact Tracey Koepke, director of communications for Duke Heart at tracey.koepke@duke.edu. We would love to hear about your latest accomplishments, professional news, cool happenings, and any events or opportunities that may be of interest to our Duke Heart family. Please call with any questions: 919-681-2868. Feedback on Pulse is welcome and encouraged.
Duke Heart in the News:
July 9 — Duke Clinical Research Institute
Becker's Health IT
8 hospitals, health systems that launched innovation centers in 2021
https://bit.ly/3Bea92R
July 14 — Duke University Medical Center
Rev Cycle Intelligence
Study Raises Concerns About Gender Pay Gap in Healthcare
https://bit.ly/3BgtnoE
July 15 — Carmelo Milano and Jacob Schroder
WRAL/NBC-5
Adoptive father of 2-year-old becomes first patient to get artificial heart at Duke
https://bit.ly/3BhwQTJ
July 15 — Duke University Hospital
Nuevo Periodico
La empresa francesa Carmat realiza la primera implantación humana de su corazón artificial total
https://bit.ly/3rhlIln
July 15 — Carmelo Milano and Jacob Schroder
Healio/Cardiology Today
First North American patient implanted with next-generation total artificial heart
https://bit.ly/2Ui58G6
July 15 — Carmelo Milano and Jacob Schroder
Yahoo News/Business Wire
CARMAT Announces the First Human Implant of Its Total Artificial Heart in the United States
https://yhoo.it/3rgQURE
July 15 — Duke University Hospital
The Sun
First US-based artificial heart implant for French firm
https://bit.ly/3rpRxsf
July 15 —Carmelo Milano and Jacob Schroder
Health Tech World
CARMAT bioprosthetic heart implanted
https://bit.ly/3Bf0HfG
July 15 — Adrian Hernandez and W. Schuyler Jones
Healio/Cardiology Today
ADAPTABLE points to solutions about aspirin dose, conduct of pragmatic trials
https://bit.ly/3kuhntA