U.S. News Best Hospitals Survey Now Open
The U.S. News & World Report Best Hospitals annual survey is now open in Doximity. Voting is a great way to celebrate how Duke is leading the way in patient care, education and research, so be sure to log into Doximity in the coming weeks and VOTE!
Results from the reputation survey are an important component of the scoring U.S. News & World Report uses to rank the nation's top hospitals, along with all of the work we do to provide the best care for our patients. We hope all survey-eligible team members will consider showing your pride in Duke Heart and voting for all three of Duke's hospitals as part of your "top 5" for "Best Hospitals for Cardiology and Heart Surgery."
How to Vote:
Voting is open through March 26, 2021. Invitations to take the survey were emailed to a randomly selected 10 percent subset of the eligible physicians who are users of Doximity. All other survey-eligible Doximity users can expect to get an invitation by the end of next week, Friday, February 26. To vote, physicians can visit Doximity.com or the survey page on Doximity.com. The survey will display until the physician votes or the survey closes.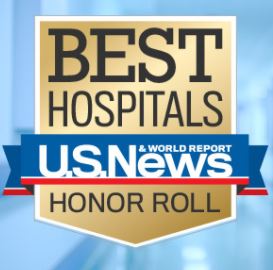 Heart Highlights: Duke Electrophysiology
Although the year 2020 may be one that most people were happy to put behind them, we are finding many reasons to celebrate accomplishments made throughout the last year. Our faculty, fellows and staff continued to contribute toward excellence in patient care, research and training. We are pleased to share some highlights from one of our program areas: Duke Electrophysiology.
Duke Electrophysiology has one of the largest teams in the U.S. with 14 faculty members (two of whom are women). It is home to the Duke Center for Atrial Fibrillation, one of the largest atrial fibrillation centers in the country.  We are sharing some of the highlights from the section this year courtesy of Jon Piccini our EP Section Chief.
In calendar year 2020, Duke EP clinicians performed:
5,822 in person device interrogations
14,206 remote device interrogations
1096 device implants at Duke University Hospital, including 125 leadless pacemaker implants
980 catheter ablations at Duke University Hospital, including 489 AF ablations and 131 VT ablations
57 left atrial appendage closure procedures at Duke University Hospital
120 lead extraction procedures within the Duke Heart network
The Duke EP faculty published 124 peer-reviewed manuscripts and conducted several "firsts" in NC, including:
Placement of the first Micra AV, a paradigm-changing device that provides atrioventricular synchrony by accelerometer-

Camille Frazier-Mills

based detection of mechanical atrial contraction and VDD pacing. This was done last February by Camille Frazier-Mills.

The use of Stereotactic Body Radiation Therapy (SBRT) to treat Refractory Ventricular Tachycardia. This was two years in the making under the stewardship of Al Sun, Jason Koontz, Zak Loring and Manisha Palta (radiation oncology)
Implanting the FDA-approved Watchman FLX left atrial appendage occlusion device. Jonathan Piccini and Sreek Vemulapalli (Duke's CDU Director) did the case in a patient who had atrial fibrillation and was a poor candidate for long term oral anticoagulation. (Duke was also the first center in NC to implant the original Watchman device approximately 5 years ago.)
Michael Rehorn, Albert Sun, and colleagues published the first case of noninvasive electrocardiographic mapping of ventricular tachycardia in a patient with a left ventricular assist device (HeartRhythm Case Reports)
In June, Brett Atwater and his team performed the world's first-in-human use of a new conduction system pacing (CSP) lead implantation system, called the Agilis HisPro.
Duke Clinical Research Institute (DCRI) leadership named electrophysiologist Sana Al-Khatib director of the DCRI fellowship program in 2020, and under the leadership of Donald Heglund, Duke EP graduated their 25th class of EP fellows since receiving ACGME accreditation in 1995 and July 2020 marked the 47th year of our overall EP fellowship program.
Importantly, as Duke (and all other AMC's) stepped up their commitment to increasing representation of all racial and ethnic backgrounds across the University and Health System, Kevin Thomas was named co-chair of the School of Medicine's (SOM) Faculty Steering Committee on Dismantling Racism. The committee will review data from institutional surveys, focus groups, exit interviews, and testimonials captured from faculty and students to inform recommendations for transformation across the SOM. Thomas currently serves as assistant dean for underrepresented faculty development at the SOM and director of faculty diversity and health disparities research at the DCRI. He has devoted his career to eliminating disparities for patients with cardiovascular disease and helping junior faculty from underrepresented populations advance their medical careers.
Exceptional work by all faculty, staff and fellows – congratulations!
Butler Named TBJ Health Care Hero for 2021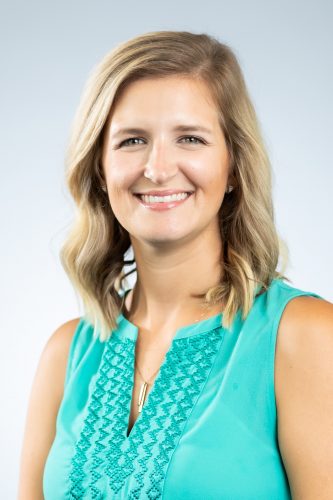 Congratulations to 7E/Cardiac Intensive Care Unit nurse Kiersten Butler! We learned this week that she has been selected by the Triangle Business Journal (TBJ) as one of their 2021 Health Care Heroes – and we are thrilled! Winners were announced on the TBJ website on Wednesday, Feb. 17.
Butler, who is one of four awardees from Duke this year, was nominated by her nurse manager, Greg Flynn. As part of the nomination, Flynn described the impact Butler's efforts have made at Duke:
"Her work as the chair for the Cardiac ICU charge nurse committee has helped multiple nurses train to become a charge nurse. In this work, she has helped the ICU maintain its high level of care. The charge nurses respond to cardiac arrests in the hospital, maintain patient placement throughout the cardiology wards and run the day to day functions of the ICU. Without the training Kiersten has helped establish, it would be difficult to get the charge nurses to a place where they could do their job effectively."
TBJ Health Care Heroes Awards are one of the longest running annual award programs in the Triangle. Awards are made in a number of health provider categories and each are highly competitive. A virtual celebration is planned for April 15. The TBJ will honor each of the awardees during an online event that will include their colleagues, friends and family.
Congratulations, Kiersten – this is well deserved!
Shout-out to Loriaux!
A special shout-out this week to cardiology fellow Dan Loriaux:
"I wanted to take a minute and shout out our ECHO Fellow Dan Loriaux. He quickly earned a reputation for going above and beyond for our CDU patients. He has stepped in several times to help obtain a PIV for a patient with difficult access using his portable US machine. This not only helps with the CDU workflow but prevents long time delays for the patient waiting on the IV team. On one occasion, while he was not on ECHO service and passing through 7200, he popped in and placed an IV for a procedure patient. His positivity and willingness to assist with even the smallest tasks has not gone unnoticed and is greatly appreciated.  Our ECHO Fellows are the best!" — Maile Billings
Great work, Dan! Hat tip to Jon Owensby and Anna Lisa Crowley for the share!
Shout-out to Samsky!
We have another impressive story worthy of a shout-out this week:
"Together with Dr. Michel Khouri, I want to give a special shout out to cardiology fellow Marc Samsky who rounded on the general medicine service this week at the Durham VAMC. He went above and beyond on a day when we unexpectedly had no cardiac sonographers report for work. He performed urgent echocardiograms on sick intensive care unit patients that were not even his patients just to help out our VA cardiology team! His extra effort helped expedite care to Veterans! Thanks Marc!" – Anna Lisa Crowley
Way to go, Marc! Nicely done!
ICYMI: Bernard Gersh, MD @CGR
In Cardiology Grand Rounds last week, Dr. Bernard Gersh presented a thorough review of "The Indications for and Preferred Methods of Coronary Revascularization in Chronic Coronary Syndromes." As most of you know, Dr. Gersh is Professor of Medicine at Mayo Clinic (Rochester) and Adjunct Professor of Medicine at Duke. In this lecture, Dr. Gersh discussed the available clinical trial results comparing medical therapy to surgical intervention or PCI in these patients. Many of the trials are quite dated now and do not reflect the current management of these patients, raising questions about what the best approaches are in 2021, and whether newer trials are needed.  He also discusses the recent controversy regarding the EXCEL trial, where the surgical chairman of the study alleged misconduct in the data reporting (which seems to be an argument about the changing definitions of MI).
Dr. Gersh also shared a beautiful musical tribute to all the frontline healthcare workers in the COVID pandemic, a traditional Zulu hymn recorded by his alma mater at the University of Cape Town. You can access the recording here: https://www.youtube.com/watch?v=iDwbUDpYs3E. This is well worth watching.
Many thanks to all who joined us via Webex and to Chris Holley for providing this summary.
COVID-19 Updates:
All the latest official DUHS information regarding coronavirus/COVID-19 response at the following locations:
Upcoming Opportunities/Save the Date:
Cardiology Grand Rounds
Feb. 23: Extravascular Targets in PAH: Metformin to Mobile Health with Evan Brittian of Vanderbilt University Medical Center. 5 p.m., Webex.
Mar. 2: Developing Pharmacogenomic Tools for Personalized Antithrombotic Therapy with Kevin Friede. 7:15 a.m., Webex.
Mar.9: Epidemiological Research in Cardio-Oncology – Focus on Atherosclerosis with Avirup Guha of Case Western Reserve University School of Medicine. 7:15 a.m., Webex.
Mar. 16: Advanced Cancer is also Heart Failure Syndrome:  Cardio-Oncology Including and Beyond Cardiotoxicity with Stefan Anker, Professor of (Tissue) Homeostasis in Cardiology & Metabolism at Charite Berlin. 7:15 a.m., Webex.
Mar. 23: If You Build It… (They) Will Come – Advanced Therapies in ACHD with Jonathan Menachem of Vanderbilt University Medical Center. 5 p.m., Webex.
DukeHeart On The Go: Latest PAD/CAD CME Modules Now Available
The third program in our CAD/PAD CME series is now available on the DukeHeart On The Go and MedEd On The Go educational platforms. These platforms offer micro-learning education presented in single-learning objective episodes. Developed by Duke Heart faculty in collaboration with the Society for Vascular Medicine and the Society for Vascular Surgery, the modules can be viewed here: Translating the Evidence to Practice Gaps (Case-based Session).The program presents recent, important trial data that guide clinical practice for these chronic and progressive vascular diseases. The CME/CNE certified program addresses key questions, such as: what are atypical signs and symptoms? How can I assess clinical risk profiles for patients with infra-popliteal disease and iliac occlusion?
Feel free to share program availability with colleagues! DukeHeart On The Go modules are free once you sign up for an account. If you have any questions about the DukeHeart On The Go CME platform, please direct them to Christy Darnell.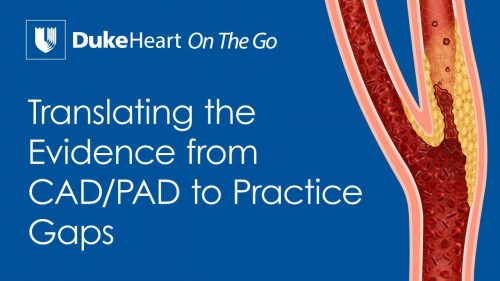 Six-Part Mental Health Webinar Series Available Through April
From February 17 through April 27, the Department of Psychiatry & Behavioral Sciences is hosting a six-part mental health webinar series, "Taking Care of Yourself and Your Loved Ones." The 30-minute topical webinars are designed to provide practical expert advice for Duke University and Duke Health community members and their families who may be struggling with different mental health challenges. Topics include general mental health, substance misuse, suicide prevention and mental health in children of color. Learn more and join the webinars. If you have any questions, please contact Susan Gallagher.
Have news to share?
If you have news to share with the Pulse readership, please contact Tracey Koepke, director of communications for Duke Heart at tracey.koepke@duke.edu. We would love to hear about your latest accomplishments, professional news, cool happenings, and any events or opportunities that may be of interest to our Duke Heart family. Please call with any questions: 919-681-2868. Feedback on Pulse is welcome and encouraged.
Duke Heart in the News:
February 2 — Harry Severance
Emergency Physicians Monthly
COVID-19 can offer some silver linings
http://bit.ly/3dwasNk
February 12 – Jonathan Piccini
tctMD
CABANA Supports Use of AF Ablation in Patients With Heart Failure
http://bit.ly/3azIXAk
*story also carried by Pharma & Healthcare Monitor and MD EDGE
February 18 — Tracy Wang and Manesh Patel
Healio/Cardiology Today
COVID-19 and CVD 'inextricably linked'
http://bit.ly/2NmLJ3c
February 18 — L. Kristin Newby
Salisbury Post
Duke University COVID-19 study in Kannapolis contributes data to wastewater surveillance
http://bit.ly/3pwlMv2