Chief's message: Adapting Halloween
Adapting Halloween for COVID-19 was something that we were struggling for a few weeks.  I had promised my daughter that I would build a haunted house (in our home) so that she and her brother could have fun without going out.  So, it was a nice break from the usual evenings, to be creative and make a scavenger hunt in three rooms with characters from Narnia including our dog as Aslan the lion, clues to solve for treats, and several "spooky areas".  The kids really seemed to enjoy it and we got to spend a bit more time on an evening that in the past has been a race to get around places, feed the family, and get back home.  The COVID-19 pandemic has drained all of us of energy and presented challenges that will undoubtedly continue.  As we continue to reduce the tragedies, we often struggle to stay vigilant with many of the public health recommendations. This weekend, however, provided a glimpse of how many in our community are adapting and moving forward, something that we continue to see across our health system and Duke Heart.  Keeping up the personal and public health battle remains our primary focused mission as we care for our patients and each out.
Highlights of the week:
Halloween: the Kids, the Pets & the Pumpkins!
We hope everyone throughout Duke Heart has had a safe, fun and treat-filled weekend!!! We loved checking out these great costumes – a special hat tip to Jamie Jollis for collecting and sharing these with Pulse.
Shown here are: Jellybean (Sandra Anton's pup) as a Hot Dog; a couple of pups dressed as wedding attendants; the Pokorney kids as a fireman and Wonder Woman; Katie Thompson's kids as a dragon and an old lady; Mike Rehorn's kids as Captain America and a cow. Also included: the contestants in the Cath Lab pumpkin contest. You're all winners to us!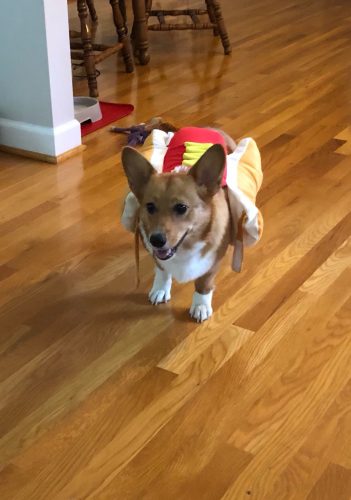 Celebrating Respiratory Care Week (Oct. 25-31)
Many thanks to all our wonderful respiratory therapists throughout Duke Heart! This was their special week to celebrate. Shown here are some images of our RT group having some fun with our daily COVID-safe treat cart (leadership decorated and brought the cart to the units each shift to prevent any large gatherings with shared food.) We were also able to present a large Thank You card that we have been circulating through the units for a few months (will be framed and will eventually hang in the department).
"In all we were able to celebrate with ice cream sandwiches, breakfast, our 'Woot! Woot! Express' cart, and Relax, Reflect, and Recharge gift bags aimed at helping the team to unwind on days off," said Charlotte Reikofski, DUHS director of Respiratory Care Services. "We'll wrap up with a full day of 8 Free CEUs and Superlatives on Friday, along with a team hike at Eno Park and COVID-safe Trunk or Treat afterward on Saturday. It has been a great week to celebrate the team!
Thanks for all that you do, Respiratory Care team!!!!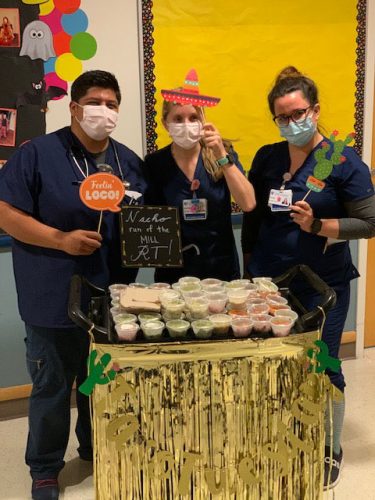 Duke Heart Grows Again!
We are very pleased to share that cardiology APP Tiffany McEwen and her husband Kevin have welcomed their first child. Please join us in welcoming Colton James McEwen, born Oct. 28; 9 lbs., 4 oz., 22". "Dad, Mom and Colton doing well!
EVS Worker Recognized for Emergency Intervention
On Thursday, Ali Dahham, an Environmental Services associate assigned to 7100 was recognized with a special celebration and certificate to honor his efforts to assist a patient. Thanks to his observation skills and quick-thinking, he noticed a problem with a patient and immediately notified nursing staff. Because of his decision, the patient was able to receive advanced stroke therapies within the appropriate window of time.
"We are all here because we want to make a difference in our patient's lives. When you think about who saves lives in a hospital, the first thing that comes to mind is the doctors, the nurses or the paramedics, and rightly so," said Louisa Joy, Duke System Patient Experience Manager. "Rarely do you think of Environmental Services. Housekeepers sanitize patient rooms to keep the patients in a safe environment and at times they come across situations where they play a more active role in saving someone's life."
Dahham received a certificate and a star pin. The team helped celebrate with refreshments.
Congratulations, Ali! We are really proud of his actions and we are grateful for the efforts of the full housekeeping staff throughout Duke Heart.
Pictured are: Lisa Pickett, MD, Floreasa Scott, Ali Dahham, Elizabeth Webb, Isaac Johnson, Megan Steele, Brittany Stephenson, Louisa Joy, Julio Rodriguez and several additional staff members.
Nazo Honored by CVRC
You may recall that, earlier this year, Nour Nazo was selected as the 2020 CVRC Research Staff Appreciation award recipient.  Due to the research curtailment, the team was not able to inscribe Nour's name on their award plaque until recently. The plaque is located in the lobby of the Duke Cardiovascular Research Center, first floor of the Carl Building.
Congratulations once again, Nour!
Important Reminders
COVID-19 Updates:
All the latest official DUHS information regarding coronavirus/COVID-19 response at the following locations:
Upcoming Opportunities/Save the Date:
Medicine Grand Rounds: Friday November 8th – 8 AM:  Stead Lecture from Nakela Cook, MD, MPH: Envisioning PCORI 2.0: Accelerating Innovation to Implementation
Cardiology Grand Rounds
Nov. 10: TBA
Nov. 17: No CGR. AHA Scientific Sessions
Conferences, Symposia & Webinars
Moments to Movement Series:
Nov. 12, 1 p.m., the Moments to Movement series continues with the panel discussion, Clinicians on Racism and Health Inequities.
Our panel participants are:
Theresa Williamson, MD, Neurosurgery Resident, Duke University Health System
Kevin Thomas, MD, Associate Professor, Department of Medicine, Assistant Dean for Underrepresented Faculty Development, Duke School of Medicine
Vicky Orto, DNP, RN, NEA-BC, Chief Nursing and Patient Care Services Officer, Duke Regional Hospital
Rick Shannon, MD, Chief Quality Officer, Duke Health
Panelists will discuss how and why people of color experience different clinical outcomes. They'll explain the meaning of health equity and explain what Duke is doing to ensure the same level of excellence is accessible to all.
To access the livestream, use this link.
Exclusive Event for Duke Community
Nov. 12: Common Hour/Fireside Chat with Adam Silver, T '84, Commissioner of the NBA and Duke Board Member (named to TIME's 100 Most Influential People, Fortune's World's 50 Greatest Leaders, The Bloomberg 50, etc.). 5 – 6 p.m., Virtual event.
This event will be open exclusively for the Duke Community: faculty, students, staff, alumni, and families both on the university and health system side. This will be an off-the-record conversation with Adam as he touches on many key topics, i.e. his leadership of the NBA during Black Lives Matter & COVID-19 and the NBA's involvement in China. Registration is available via:  bit.ly/AdamSilver. Hosted by Duke University's Student Government Vice President of Academic Affairs.
Nov. 13: 12th Annual NC Research Triangle Pulmonary Hypertension Symposium. Noon – 4:30 p.m. For more information, please visit this page. This event will be held virtually and is co-sponsored by Duke and the University of North Carolina in partnership with the Pulmonary Hypertension Association through the Building Medical Education in PH program. Please join us!
Nov. 13–17: AHA Scientific Sessions 2020, a virtual experience. Registration is now open. See the website for details.
Matters of Grief: The Duke Response
On Thursday, November 19th, join us for a free half-day symposium where we will learn about ways that we can support each other through both personal and professional grief, share stories of support, and identify resources available at Duke.
Matters of Grief: The Duke Response will feature diverse and multidisciplinary panels, engaging didactic sessions, and surprise guests from across the university. Just some of the highlights include:
Coach K delivers a special message
Duke medical students will discuss the research behind grief and finding support through peers
Well-Being experts and Duke Health leadership discuss normalizing discussions about grief
The virtual event runs from 1-5PM on November 19th, 2020. Sessions will be recorded for those who cannot attend the live event. Reserve your space today at bit.ly/mattersofgrief
Have news to share?
If you have news to share with the Pulse readership, please contact Tracey Koepke, director of communications for Duke Heart at tracey.koepke@duke.edu. We would love to hear about your latest accomplishments, professional news, cool happenings, and any events or opportunities that may be of interest to our Duke Heart family. Please call with any questions: 919-681-2868. Feedback on Pulse is welcome and encouraged.
Duke Heart in the News:
October 23 — James Jollis
Medpage Today
Disparities Abound in Chinese Heart Attack Care
https://bit.ly/3jRInPH
October 23 — Victor Dzau
Healio
Speaker: Medical community needs to determine ethics of genomic editing
https://bit.ly/2JgOArV
October 21 — Chetan Patel
WRAL
Duke completes 1,500th heart transplant
https://www.wral.com/duke-completes-1-500th-heart-transplant/19347521/
October 20 — Duke Health
WTVD
1500 Heart Transplants at Duke Health
https://bit.ly/3jPaCyu
October 20 — Stephen Greene
MDEdge.com
Experts tout immediate quadruple therapy for HFrEF patients
https://bit.ly/38e9Ucj
October 20 — Duke Hospital
Becker's Hospital Review
Healthgrades' best hospitals for cardiac care 2021
https://bit.ly/380xnNH
October 20 — Betty Tong
MedPage Today
Radiomics Could Help ID Lung Cancer Prognosis After Screening
https://www.medpagetoday.com/meetingcoverage/naclc/89219
October 20 — Betty Tong
MedPage Today
'License' to Smoke After Negative Lung Screening?
https://www.medpagetoday.com/meetingcoverage/naclc/89197
October 19 — Adrian Hernandez
Triangle Business Journal (subscription required)
For another Covid-19 study, this Durham CRO is given $44 million
https://bit.ly/3kR10og
October 18 — Manesh Patel
tctMD/the heart beat
Fewer Events and Symptoms With iFR-Optimized PCI, Suggests DEFINE-PCI Trial
https://www.tctmd.com/news/fewer-events-and-symptoms-ifr-optimized-pci-suggests-define-pci-trial