Chief's message: The Public Health and the Scientific Method
This weekend my 15-year old son was working on building a toothpick bridge for his physics class in high school, and as I was instructed not to help him, I realized how little I know about some of basic principles of the challenge.  In fact, his work building a prototype, refining it, and trying to improve based on observation was at times in stark contrast to the many of the ongoing events over the last several months, events that this week unfortunately included the President getting diagnosed with COVID-19 and being admitted to Walter Reed Hospital for care.
Increasingly, it seems that we need the scientific method to improve public health, but perhaps just as importantly, we need to develop ways to gain the acceptance and implementation across our colleagues and communities.  This is not a new story.  Many have likely heard the story of Ignaz Semmelweis, the Hungarian physician, who was functioning as an Assistant Professor at Vienna General Hospital in 1847 when he identified that puerperal fever (also known as childbed fever) could be dramatically reduced by using hand disinfection in the obstetrical clinics.  Many of the medical students going from the cadaveric clinic to the obstetric clinic had higher mortality rates that were reduced with chlorinated hand washes.  Unfortunately, his discovery was not met with great acceptance, and he grew increasingly outspoken and eventually had a nervous breakdown.  He was admitted to an asylum where he died, ironically from a gangrenous wound to his right hand that he reportedly got from a beating in the asylum.  After his death, with Louis Pasteur confirming the germ theory, Florence Nightingale and her mastery of data visualization and clear writing, and Robert Koch and his postulates on infection, the practice of hand washing started to become widespread.  Even today, we have monitors in our hospitals watching to ensure our rates of hand washing going into and coming out of rooms remain high – habits that can save lives.
We have certainly come a long way with the scientific method, using the 'gift of randomization', blinded analysis, data safety monitoring boards, and regulatory and scientific groups to help us understand and put the latest scientific findings into context.  However, now more than ever – on the eve of vaccines for a global pandemic, increased therapeutics for heart disease, and personalized cancer therapies, we need to develop ways to rapidly implement discoveries into practice.  Work from our group (many faculty in our Division that are pioneers) at the Duke Clinical Research Institute along with behavior science and health policy have shown to be effective we need to engage people and communities, remove barriers, and above all provide transparent findings from our work in easy to understand communications.
As we hope for the speedy recovery of our President, and recovery of the many thousands dealing with COVID-19 in our country, this week underscored both the significance of the scientific method, and the importance of getting adoption of proven therapies aimed at our public health.  In this week's edition of the Pulse you will find several stories of our group working to help identify ways to play important roles in scientific discoveries.
Highlights of the week:
Duke Lead Enroller for ACTIV-3 Trial for COVID-19; Receives Kudos from Collins, Operation Warp Speed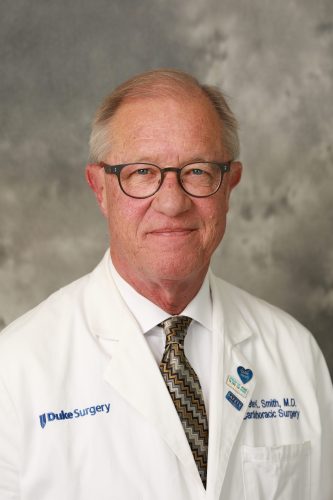 A team of clinicians across Duke Health, led by Peter K. Smith, MD, chief of the division of Cardiovascular and Thoracic Surgery and co-director of Duke Heart Center, are working diligently in a collaborative effort to enroll patients in ACTIV-3, a randomized, controlled trial testing a novel antibody treatment for COVID-19. Duke is currently the lead enroller in this international trial, with 42 out of 151 total patients enrolled in the U.S. and Europe thus far.
The team's early success in the trial was recognized this week with a personal letter of gratitude from Francis Collins, MD, PhD, Director of the National Institutes of Health (NIH), and Janet Woodcock, MD, of Operation Warp Speed.
"Given the ongoing COVID-19 pandemic that is taking many lives, the ACTIV-3 trial is now more important than ever and is critical to progressing our understanding of safety and effectiveness of different monoclonal antibodies in treating COVID-19 in people who have been hospitalized with the infection," the letter reads. "Rapid implementation and completion of this trial represents a very high priority for NIH and Operation Warp Speed. Your site was the second one opened, and has enrolled 27 [now 42] patients in 28 days, a truly remarkable performance."
The ACTIV-3 trial tests the efficacy of a monoclonal antibody as a method of treatment, developed from the blood sample of a recovered COVID-19 patient.
"This trial crosses so many different boundaries," says Smith. "We are grateful to the Department of Surgery's infrastructure, and we have hospitalists and critical care physicians involved. We are not just working at Duke University Hospital, but also at Duke Raleigh and Duke Regional. Everyone is pulling more than their weight, working 24/7, and it is incredibly heartening to see these selfless contributions by so many people."
Smith credits the recognition from the U.S. Department of Health & Human Services to the exceptional collaboration happening across Duke, including research coordinators Beth Hollister and Kathleen Lane, as well as clinical staff at all three hospitals.
Congratulations, Dr. Smith and team!!! To read more about this effort, see Duke Heart in the News, below.
DCD Heart Transplant Clinical Trial Update
Congratulations and many thanks to all members of the Duke Heart Transplant team. Not only did they perform the first adult donation after circulatory death (DCD) heart transplant in North America (December 1, 2019), but the Duke site was the lead enroller for the first phase of the clinical trial, dubbed the DCD Heart Trial.
The 90th DCD heart transplant was completed this week. Duke enrolled 34 total patients while the next leading site enrolled 20 as part of phase one. A second phase of the trial is expected to launch by the end of the year.
"Through a tremendous team effort, we continue to expand the donor pool and save lives," said Jacob Schroder, director of Duke's Heart Transplantation Program in an email to team members. He added a special thanks to Sarah Casalinova, the Duke's DCD Heart Trial study coordinator, and all heart transplant coordinators.
Congratulations, team! We are incredibly proud of your work and dedication to advancing heart transplantation. Outstanding!
ACC Quality Improvement Summit
Jennifer Rymer, Angela Lowenstern, and Sunil Rao presented their quality improvement project titled "The Duke Renal Impairment Project (DRIP)" at the American College of Cardiology's Quality Improvement Summit, held virtually on Sept. 30.
This project, funded by the American College of Cardiology, sought to reduce the incidence of acute kidney injury after cardiac catheterization or percutaneous coronary intervention. Working with Schuyler Jones, Duke Cath Lab Director, and Jimmy Tcheng, Duke Heart Center Informatics, the team implemented a process where high risk patients would be identified and given appropriate pre- and post-procedure hydration, and would undergo a "renal timeout" that included a maximum safe level of contrast administration.
This successful project was chosen by the ACC-NCDR as a finalist in their competition for QI projects, and has led to the submission of two NIH grants for wider implementation of the protocol. Congratulations to the team!
Semi-Annual Kisslo Heart Dissection Session Held
The semi-annual Kisslo Heart Dissection Session was held in two parts – the first was last Saturday, Sept. 26 and the second (an advanced session) was held yesterday, Oct. 3 in the Duke South Amphitheater. The course was hosted by Joe Kisslo, MD, along with sonographers Danny Rivera, Ashlee Davis, Melissa Lefever, Batina Kight, Tracey Ralston and Carissa Marsiglio from our adult and pediatric labs across DUHS, as well as Cooper Moore from Biomedical Engineering.
The course was attended by fellows from Duke's adult and pediatric Echo programs; Duke Biomedical Engineering students, sonographers, and fellows from the NC State Veterinary School. Attendees participated in an in-depth dissection session reviewing cardiac anatomy, electrical conducting system, coronary anatomy, and review of surgical procedures. Later in the day, participants applied their anatomical knowledge to echocardiography by cutting and cropping in 3D Echo.
This dissection session is always a favorite of fellows, students, and sonographers who join in, according to Ashlee Davis, chief technologist for the Clinical Diagnostic Unit.
Shown in photos are: Francis Ugowe, Vanessa Blumer, Josephine Harrington, and Karen Flores Rosario, along with teaching sonographer Batina Kight.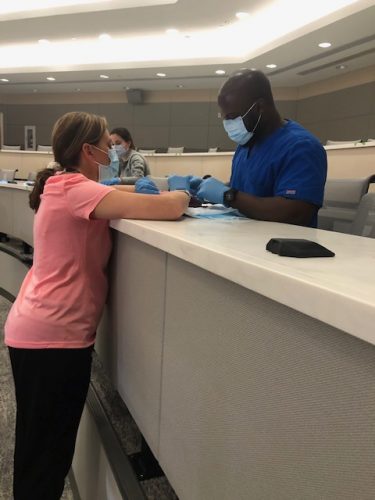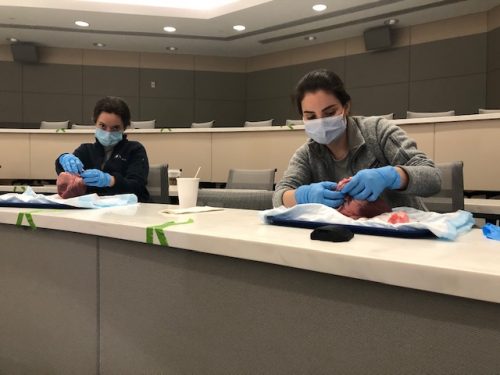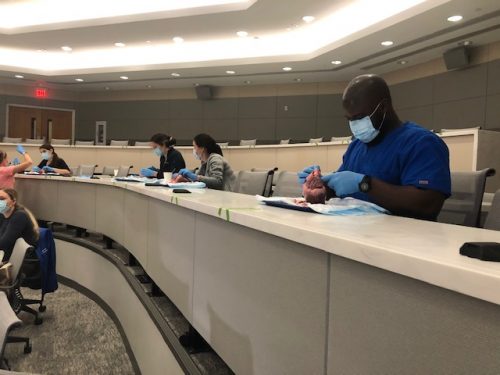 Duke Heart Grows By One!
We are thrilled to welcome James Rouse Peters, born Sept. 25 at 5:03 p.m., to the Duke Heart family. Cardiology fellow Anthony Peters reports that "Mom and baby are both doing well, and big sister Charlotte (2.5 years old) is loving taking care of her "new baby James"!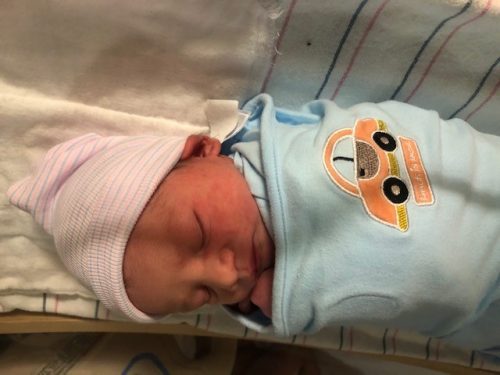 He's adorable and we look forward to meeting him! Congrats, Peters family!
High Five for Hearon!
Delia Hearon, one of our outstanding Duke Heart case managers, has received a Duke Health High Five. She was nominated by Jamie McDermott, one of our NPs, who wrote:
"We were discharging a patient to a center that required education for their staff. Delia worked to understand the needs of the center and thought of creative ways to get them the education that they needed. She developed a strong relationship with the center by offering her support and patience. Our team is thankful and appreciated Delia's hard work and dedication to this patient's situation."
Thanks for thinking outside the box for our patients, Delia. Way to go!
Passings: Felecia Monique Credle, RN, BSN
Felecia Credle, one of our Heart Center Communications (HCC) team members, passed away Sunday, Sept. 27. The cause was cancer. Ms. Credle began her career with Duke in 2004 working with the Outpatient Holding team. She was a member of the CVSSU from February 2007 until May of 2016 when she joined the HCC team. Credle had been in nursing for 30 years, 16 of them here at Duke. Her services were held yesterday at Mt. Olive Missionary Baptist Church of MESIC. A link to her obituary can be found here.
We extend our condolences to her family and friends, and to her immediate co-workers in Heart Center Communications. We know she will be missed.
ICYMI:
Todd McVeigh and Callie Tennyson have a newly published article in the October issue of the Journal of the American Academy of Physician Assistants. You can check it out here:
McVeigh, Todd PA-C; Tennyson, Carolina DNP, ACNP-BC, AACC Understanding and recognizing cardiac amyloidosis, Journal of the American Academy of Physician Assistants: October 2020 – Volume 33 – Issue 10 – p 16-20 doi: 10.1097/01.JAA.0000697236.11386.3a
ICYMI: Celebrating Sheroes in the Department of Medicine
The Department of Medicine allowed nominations for "Sheroes" during the month of September as a way to showcase accomplishments of women physicians, scientists, educators, and leaders in medicine. Several Duke Heart faculty members (Anna Lisa Crowley, Terri Fortin, Svati Shah, Monique Anderson Starks and Cary Ward) and Sarah Goldstein, a cardiology fellow, were nominated. Read more about it here.
Important Reminders
October 6-12 is PA Week.
It's Research Week! See link under Conferences, below.
Saturday, Oct. 10 is the 2020 Triangle Heart Walk (virtual!). An online kick-off Pep Rally is planned for Friday, Oct. 9 from 12-12:30 p.m. Team captains and registered walkers should check their emails from Triangle AHA.
October is Medical Ultrasound Awareness Month (the month formerly known as sonography month). Please thank a sonographer!
Open Enrollment for Duke Benefits is October 19-30.
Please get your Flu Vaccination: All team members must get their vaccination or otherwise demonstrate policy compliance by Tuesday, Nov. 10. Details and resources all available on the Duke Health Influenza Resources site (NET ID required): https://influenza.dh.dukehealth.org.
Upcoming Opportunities/Save the Date:
Cardiology Grand Rounds
Oct. 6: The Robert J. Lefkowitz, MD, Distinguished Lecture. Presenter: Helen Hobbs, MD, investigator, Howard Hughes Medical Institute and professor, Internal Medicine and Molecular Genetics, UT Southwestern Medical Center. Noon – 1 p.m., part of Duke SOM Research Week. For more information, please visit: https://medschool.duke.edu/research/research-week.
Oct. 6: Special Cardiology Grand Rounds – A Tribute to Dr. Eric Peterson. 5 p.m. Virtual. Links available in Outlook invitation. Presenters:
Matthew Roe, MD – Origins of CV Registries
Sreek Vemulapalli, MD – Partnering with Professional Societies
Jon Piccini, MD – Expanding the Scope: AF/Stroke Care
Tracy Wang, MD – Implementation Science
Neha Pagidipati – Possibilities in Prevention
Ann Marie Navar, MD – Going Digital
Eric Peterson, MD – The Future
Oct. 13: Michelle Kittleson, MD, PhD, of Cedars-Sinai.
Oct. 20:  The Albert L. Williams Cardiovascular Genetics Lecture Series. Presenter: Wendy Chung, MD, PhD, of Columbia.
Oct. 27: Cardiology Faculty meeting
Nov. 10: TBA
Nov. 17: No CGR. AHA Scientific Sessions
Conferences, Symposia & Webinars
Oct. 5 – 8: Research Week. Sponsored by Duke School of Medicine. Series will be held virtually, via Zoom: https://duke.zoom.us/j/92060873004. More information and a full agenda can be found here: https://medschool.duke.edu/research/research-week
Oct. 7: PROMISE trial webinar. Pam Douglas will lead an overview of the PROMISE trial cohort, and research plan, with insights and panel discussions. 4-6 p.m., To register for the Zoom link, please visit: https://duke.zoom.us/webinar/register/WN_wSz_1UcZRNy0cmqg8q6hgg. Sponsored by DCRI.
Nov. 13: 12th Annual NC Research Triangle Pulmonary Hypertension Symposium. Noon – 4:30 p.m. For more information, please visit this page. This event will be held virtually and is co-sponsored by Duke and the University of North Carolina in partnership with the Pulmonary Hypertension Association through the Building Medical Education in PH program. Please join us!
Nov. 13–17: AHA Scientific Sessions 2020, a virtual experience. Registration is now open. See the website for details.
COVID-19 Updates:
All the latest official DUHS information regarding coronavirus/COVID-19 response at the following locations:
Have news to share?
If you have news to share with the Pulse readership, please contact Tracey Koepke, director of communications for Duke Heart at tracey.koepke@duke.edu. We would love to hear about your latest accomplishments, professional news, cool happenings, and any events or opportunities that may be of interest to our Duke Heart family. Please call with any questions: 919-681-2868. Feedback on Pulse is welcome and encouraged.
Duke Heart in the News:
September 25 — Peter Smith
Duke DOS News
Duke Tests Novel COVID-19 Therapy, Is Lead Enroller in International Trial
https://surgery.duke.edu/news/duke-tests-novel-covid-19-therapy-lead-enroller-international-trial
September 26 — Cameron Wolfe (infectious diseases)
Medium.com
A Change of Heart: Why Covid-19 Myocarditis Seems Less Threatening to Athletes Now Than Before
https://bit.ly/2GpPt06
September 27 — Duke Clinical Research Institute
Triangle Business Journal (subscription required)
The future of clinical research: How DCRI is launching a direct-to-family trial
https://bit.ly/2SkQppb
October 1 — Peter Smith
Duke DOS News
Duke Researchers Testing Novel Therapeutics for Early and Acute Stages of COVID-19
https://surgery.duke.edu/news/duke-researchers-testing-novel-therapeutics-early-and-acute-stages-covid-19