Allison Geary
Introducción:
Tradicionalmente, albergar la Copa Mundial es un honor. La Copa ha sido el evento más visto del mundo por anos. Así que albergarla es una buena forma de recibir atención positiva del resto del mundo y de mostrar al mundo que se está respetable, rico, y abierto al mundo. Aunque albergar la Copa Mundial atrae la atención del mundo, a veces la populación del anfitrión no se beneficia de la Copa. En muchos países que han albergado (y que albergaran) la Copa realmente lastima a la persona común. Porque albergar la Copa requiere infraestructura expansiva, cada país que albérgala tiene que construir estadios, aeropuertos, hoteles, y más rapidísimo. Por las presiones a llenar estas obligaciones, muchos países cortan presupuesto para finalizar estos proyectos con el tiempo. Por eso, los estadios y otras estructuras no son construidos éticamente. En particular, los trabajadores que construyen estas estructuras son frecuentemente abusados por sus empresas y gobiernos. También, hay casos en que los gobiernos han desplazado a comunidades empobrecidas o indígenas para construir sus estadios. Este ensayo discutirá las Copas Mundiales en Rusia y Qatar para entender lo que ha pasado en estos países, que ha hecho FIFA, y porque estos problemas existen.
[https://players.brightcove.net/665003303001/4k5gFJHRe_default/index.html?videoId=4825247994001]

Estos videos expliquen lo que está pasando en Qatar y en Rusia con respecto a los estadios para la Copa Mundial y ofrecen un buen resumen de este ensayo.
Rusia:
Aunque históricamente, FIFA no ha sido involucrado en los derechos humanos en los países que albergan la Copa Mundial, para la Copa en Rusia, FIFA ha tratado públicamente de mejorar la situación para los trabajadores que construyen los estadios para la Copa Mundial. Según Human Rights Watch, en 2016 y 2017, FIFA y el gobierno de Rusia empezaron un sistema de monitorización para proteger a los derechos de los trabajadores que construyen los estadios. Este sistema consiste en visitas a los sitios de los estadios para asegurar que los trabajadores no son maltratados. Aunque este sistema existe, Human Rights Watch aún reportó que no era efectivo y que los trabajadores eran maltratados por sus empleadores: Porque las visitas a los sitios eran planeadas con las empresas que construyeron los estadios, las empresas tienen la oportunidad de mejorar sus infracciones antes de las visitas. Human Rights Watch ha entrevistado a trabajadores que dijeron que las empresas lo han hecho para pasar la visita de FIFA y el gobierno Rusia, y que después de las visitas las empresas continuaban de romper las reglas con respeto a los trabajadores. Hay indicio que las empresas que construía los estadios han creada un ambiente de trabajar muy peligrosa para los trabajadores. Building and Woodworkers International reportó que al menos 20 trabajadores han muertos durante la construcción de los estadios, y Human Rights Watch reportó que muchos trabajadores han sido forzados a trabajar en temperaturas bajos y peligrosos. Adicionalmente, Human Rights Watch encontró que muchas empresas han detenido los salarios de trabajadores por unos meses y les pagan menos que eran prometido. Porque esas empresas no han provisto los papeleos obligados por la ley, es casi imposible para los trabajadores a denunciar lo que está pasando. Peor, las empresas de construcción a veces amenazan a los trabajadores con deportación, perder la paga, y con encarcelamiento. Por eso, los trabajadores que construyen los estadios no solo trabajen en sitios peligrosos y no reciben su paga, sino también no pueden pedir mejor por las amenazas de sus empleadores. Condiciones así son ilegales en Rusia, y FIFA y al gobierno de Rusia han mejorado dos situaciones así en estadios por Rusia, pero Human Rights Watch dice que ese no es suficiente: Los abusos son extendidos y requieren esfuerzo de larga duración para mejorarlos. Dada la eficacia mediocre de la monitorización, es probable que Rusia y FIFA no realmente se preocupan de los derechos ni de la seguridad de trabajadores. ¿Si ellos realmente quisieran proteger a los trabajadores y sus derechos, porque las visitas a los sitios de construcción no son sorprendidas? Hay evidencia de Human Rights Watch que sugiere que hacerlas sorprendidas mejoraría al programa considerablemente. ¿Porque no han investigados las acciones ilegales de las empresas reportados por organizaciones non-gubernamentales? De manera similar, el indicio de estos eventos ya existe y es disponible a ellos. Tanto Rusia como FIFA han enfrentado escándalos recientes que han dañado sus reputaciones, y tienen interés en mejorar sus reputaciones por afirmar que les importan los derechos humanos. Por eso, es probable que su programa para proteger a los trabajadores no es para las éticas, sino para la publicidad. Porque el gobierno de Rusia y FIFA tienen más interés en sus reputaciones y sus beneficios que en los derechos de los trabajadores, depende de los espectadores de FIFA y las turistas de Rusia a les presionar para mejorar las protecciones de los trabajadores este año a la Copa Mundial (Human Rights Watch).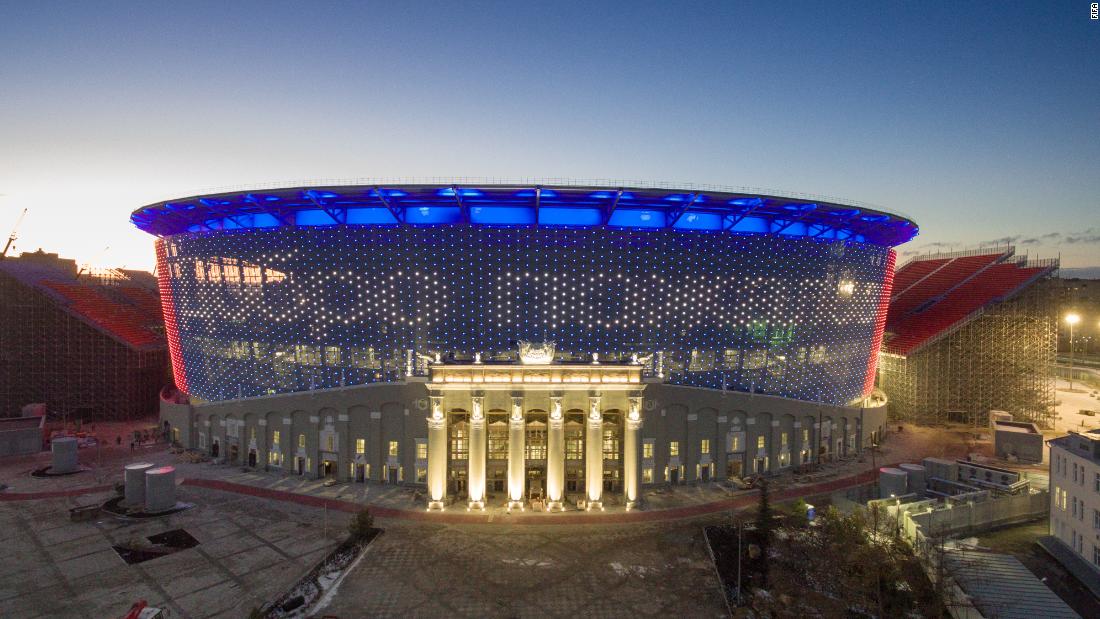 Esta fotografía muestra uno de los estadios en Rusia para la Copa en 2018. Se puede ver mas diseños y fotos aquí.
Qatar:
Después de FIFA anunció en 2010 que Qatar albergará la Copa Mundial en 2022, habían sido controversiales numéricos por las acciones de Qatar y de FIFA. En particular, Qatar estaba implicado en el descubrimiento de la corrupción a FIFA. Un reporte de FIFA que inicialmente estaba escondido del público revelaba que Qatar había comprado unos votos para que pudieron albergar la Copa Mundial en 2022. Aunque este descubrimiento ha causado un escándalo, hay otros problemas en Qatar que la Copa Mundial ha hecho público. En particular, muchas organizaciones non-gubernamentales han criticado su aproche a los derechos humanos por el tratamiento de trabajadores en Qatar (Chapman).
Para entender el tratamiento de los trabajadores en Qatar, se debe saber unas estadísticas sobre la población y economía de Qatar: En las décadas recientes, Qatar ha desarrollado mucho—Como los otros países del Golfo Pérsico, el descubrimiento del petróleo ha traído billones de dólares al país y ha resultado en una población muy rica y en el desarrollo rápido del país. Aunque Qatar tenía el dinero para desarrollar su economía y ciudad principal, Doha, tan rápido, no tenía la población suficiente para hacerlo. Cuando Qatar nacionalizó el sector de petróleo en los 1970s, su población era aproximante 108,000 personas (United Nations, US Library of Congress). Las empresas en crecimiento de Qatar necesitaban más trabajadores. Por eso, las empresas de Qatar empezaban de importar los trabajadores de países más pobres, como India, Nepal, y las Islas Filipinas. Por eso, ahora aproximante 2.6 millones de personas viven el Qatar, pero solo 330,000 de estas personas tienen la ciudadanía Qataria (United Nations). Los otros 2.3 millones personas viven en Qatar para trabajar, pero la mayoridad no puede obtener la ciudadanía (DSouza).
El gobierno de Qatar no ha creado suficientes regulaciones para proteger a los trabajadores migrantes, así que las tasas de muerte entre ellos son altas de manera desproporcionada y que el tratamiento de ellos es frecuentemente manipulativo y abusivo. Cuando empresas contratan a trabajadores de otros países, los reclutadores frecuentemente mienten a los trabajadores potenciales, diciendo que la empresa pagará para todos los costos de mudarse a Qatar y que la paga allí es lo mejor que se puede encontrar. Para hacer estas declaraciones aparecer creíble, las empresas frecuentemente contratan a personas locales como reclutadores. Los trabajadores creen que es una oportunidad fantástica, y se mudan a Qatar para trabajar. Cuando lleguen a Qatar, la situación no es así. Aunque los reclutadores a menudo prometen que los trabajos no son físicos, los trabajos realmente son construcción y otras formas de trabajo físico. Las condiciones laborales en estos sitios son sinceramente terribles: Muchos trabajadores tienen que trabajar en temperaturas muy altas (a veces tan alta como 102 grados), por casi 12 horas cada día, y en situaciones inseguras. Semejante, aunque los reclutadores prometen que la empresa pagaría por su viaje, no es verdad—Cuando llegan, los trabajadores deben cienes o miles de dólares a las empresas. Si un trabajador trata de salir o pedir mejores condiciones, las empresas confiscan su pasaporte y se amenazan con deudas, deportación, y encarcelamiento. Porque las empresas controlan los trabajadores así, muchas empresas no siguen las pocas leyes para proteger a los trabajadores porque ellos no pueden denunciar su tratamiento a la policía. Por eso, muchos trabajadores en Qatar han sido atraído allí por prometes falsos y están forzados de restar allí por sus deudas y las amenazas de las empresas (Amnesty International, Liew).
Organizaciones non-gubernamentales han presentado indicios que este tratamiento está practicado por las empresas que están construyendo los estadios para la Copa Mundial de 2022. Human Rights Watch ha reportado que los trabajadores están forzados de trabajar en temperaturas peligrosas y que en septiembre 2017 diez trabajadores ya habían muertos cuando trabajando para proyectos para la Copa Mundial. Aunque el gobierno de Qatar prometió que mejorarían a las protecciones para los trabajadores y que investigarían a los muertos de trabajadores, Human Rights Watch sugería que el gobierno no completará este prometo (Al Jazeera). Semejante a la situación en Rusia, el gobierno ha prometido de mejorar sus protecciones para los trabajadores para evitar a la crítica internacional, pero realmente no ha mejorado la situación mucho. Adicionalmente, Amnesty International ha reportado que muchos trabajadores construyendo los estadios para la Copa Mundial tienen miedo de salir del estadio porque su empleador ha amenazado a ellos con la deportación y el encarcelamiento. Por estos reportes, es claro que los trabajadores no están recibiendo tratamiento justo de FIFA, del gobierno de Qatar, ni de sus empleadores. Todos de estos grupos tienen bien razones para abandonar a estas personas: Los empleadores quieren maximizar su beneficio del proyecto, así que pagan los trabajadores lo menos que pueden. Amnesty International reportaba que una empresa, Six Construct, ha recibido $90 millones dólares para construir un estadio, pero la misma empresa solo paga sus trabajadores $220 cada mes. Semejante, el gobierno de Qatar no tiene motivación para proteger a los trabajadores porque hacerlo causaría sus proyectos a costar más y porque hacerlo incomodaría a unas empresas Qatarias. FIFA tampoco quiere proteger a los trabajadores en Qatar porque podría afectar a sus beneficios y porque podría causar un escándalo.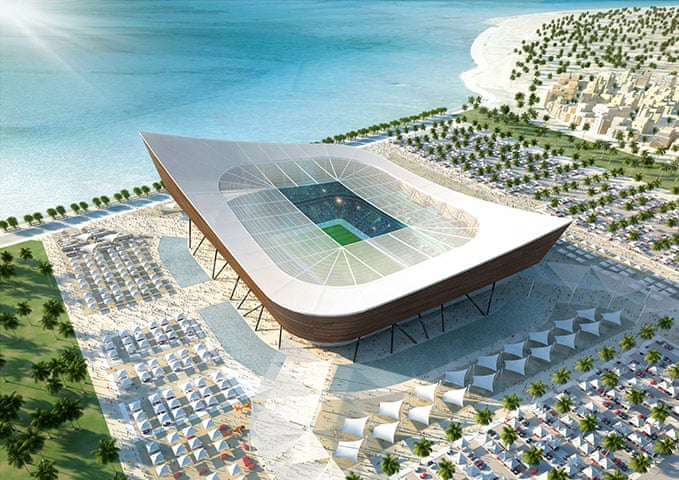 Esta fotografía muestra un diseño de uno de los estadios para la Copa en 2022. Se puede ver mas diseños y fotos aquí.
Conclusión:
Las situaciones en Rusia y Qatar muestran que el abuso de trabajadores es un problema extendido en la Copa Mundial, y sugiere que hay factores por FIFA que permiten conducta así. La manipulación y las amenazas contra los trabajadores por las empresas les atrapa en situaciones peligrosas y evitables. Y la negativa de los gobiernos y de FIFA a arreglar los problemas empeora la situación más. Ellos no han presentado una solución, ni han identificado que hay un problema en primer lugar. Por eso, depende de los fanáticos a presionar a FIFA y los gobiernos para mejorar el tratamiento de sus trabajadores—Nos tiene que demandar mejor de FIFA porque si nosotros no lo hacemos, nadie harálo.
Bibliografía:
Al Jazeera. "Qatar Rebuts Concerns over World Cup Workers' Safety." Qatar News | Al Jazeera, Al Jazeera, 28 Sept. 2017, www.aljazeera.com/news/2017/09/qatar-rebuts-concerns-world-cup-workers-safety-170928092345395.html.
"Amnesty International." Qatar World Cup of Shame, Amnesty International, www.amnesty.org/en/latest/campaigns/2016/03/qatar-world-cup-of-shame/.
Chapman, Anthony. "Qatar Faces Losing 2022 World Cup." NewsComAu, NewsComAu, 25 Feb. 2018, www.news.com.au/sport/football/world-cup/fifa-may-strip-qatar-of-hosting-the-2022-world-cup/news-story/7ecbee86f77e5b4e3c811d2746fa77f0.
Liew, Jonathan. "World Cup 2022: Qatar's Workers Are Not Workers, They Are Slaves, and They Are Building Mausoleums, Not Stadiums." The Independent, Independent Digital News and Media, 3 Oct. 2017, www.independent.co.uk/sport/football/international/world-cup-2022-qatars-workers-slaves-building-mausoleums-stadiums-modern-slavery-kafala-a7980816.html.
"Population of Qatar by Nationality in 2017." Priya DSouza Communications, 27 May 2017, priyadsouza.com/population-of-qatar-by-nationality-in-2017/.
"Qatar – The Economy – Oil and Natural Gas." Country Studies, US Library of Congress, countrystudies.us/persian-gulf-states/73.htm.
"Qatar: Take Urgent Action to Protect Construction Workers." Human Rights Watch, Human Rights Watch, 27 Sept. 2017, www.hrw.org/news/2017/09/27/qatar-take-urgent-action-protect-construction-workers.
"Red Card | Exploitation of Construction Workers on World Cup Sites in Russia." Human Rights Watch, Human Rights Watch, 14 June 2017, www.hrw.org/report/2017/06/14/red-card/exploitation-construction-workers-world-cup-sites-russia#page.
"Russia/FIFA: Workers Exploited on World Cup 2018 Stadiums." Human Rights Watch, Human Rights Watch, 14 June 2017, www.hrw.org/news/2017/06/14/russia/fifa-workers-exploited-world-cup-2018-stadiums.
"Russia/FIFA: Workers Exploited on World Cup 2018 Stadiums." Human Rights Watch, Human Rights Watch, 14 June 2017, www.hrw.org/news/2017/06/14/russia/fifa-workers-exploited-world-cup-2018-stadiums.
"Time for FIFA to Act on Human Rights." Human Rights Watch, Human Rights Watch, 22 Nov. 2017, www.hrw.org/news/2017/11/22/time-fifa-act-human-rights.
Weeks, Jonny. "World Cup 2022: Qatar's Stadiums in Pictures." The Guardian, Guardian News and Media, 2 Dec. 2010, www.theguardian.com/football/gallery/2010/dec/02/world-cup-2022-qatar-stadiums-pictures.
"World Population Prospects – Population Division." United Nations, United Nations, esa.un.org/unpd/wpp/