Russia will be hosting the next World Cup in 2018! The country will be host to the first World Cup in Eastern Europe and the first World Cup to be held on two continents.  The country submitted its candidacy in early 2009 and was selected by the FIFA Executive Committee in Zurich on December 2, 2010, beating out England and joint bids from Portugal/Spain and Belgium/Netherlands. With a size of 6,592,800 square miles, Russia is the largest country in the world (covering one-eighth of the Earth's inhabited land). Due to its incredible size, Russia spans over nine different time zones.
Announcing both the 2018 and 2022 bid simultaneously, FIFA claimed that the main criterion weighed for the selection of Russia and Qatar was the fact that they were new regions for the World Cup. Speaking about the committee's final selections, Sepp Blatter, president of FIFA, said, "We go to new lands. Never has the World Cup been in Russia and Eastern Europe, and the Middle East and Arabic world has been waiting for a long time. So I'm a happy president when we talk about the development of football."
The Russian bid team pitched the World Cup as an opportunity for the country to continue to emerge from the collapse of the Soviet Union and work to develop its infrastructure. Its original proposal included an ambitious plan to host the tournament in 13 cities with 16 stadiums.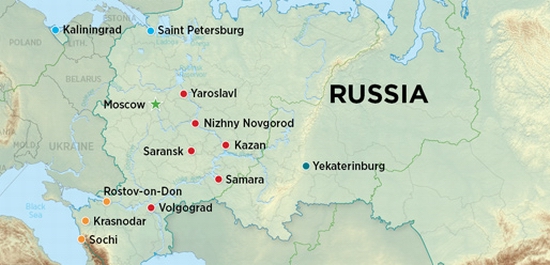 Russia's selection also marks the third consecutive World Cup to be hosted by one of the BRICS countries (South Africa and Brazil were the other two). The heavy investment and development that the event necessitates seems to have an amplified effect on these countries as they are rapid growth nations that are generally trying to get caught up to speed on infrastructure. For instance, Russia will be spending 600 billion rubles (~$20 billion) on the World Cup, allocated between the federal budget (~50%), private investors (~35%) and regions (~15%). According to Igor Nikolaev, the amount to be spent on the World Cup exceeds the federal budget for healthcare by 15-17%. Unfortunately, the hangover effects of hosting the World Cup can be seen in South Africa after 2010. The country ended up spending $3.8 billion, which was 10 times more than the country initially planned. Furthermore, the maintenance of the five stadiums has proven to be very costly as the stadiums barely generate enough revenue to pay maintenance costs, let alone turn a profit. Russia will need to keep its costs under control in order for the World Cup to make sense economically and allow the nation to continue to grow.
As previously stated, Russia's initial budget for its World Cup expenditures amassed $20 billion dollars, a lump sum that factors in the construction of 7 new stadiums, refinement of 5 pre-existing stadiums, and the expansion of rail travel, air travel, highways and hotels.  These 12 stadiums will span across 11 different host cities, namely Moscow (2 stadiums), Saint Petersburg, Kaliningrad, Sochi, Rostov-on-Don, Ekaterinburg, Kazan, Samara, Nizhny Novgorod, Volgograd, and Saransk.  The 81,000 capacity, newly refurbished Luzhniki Stadium in Moscow will be completed in 2017 and has been chosen to host the opening game, one of the semi-final matches, and final match.  Yet, while the establishment of Moscow predates that of Saint Petersburg by nearly 700 years, Saint Petersburg remains the iconic city of Russian football, as this city recorded the first official Russian match in 1897.  Russia will also play host to the FIFA Confederations Cup, an 8 team tournament that will be played in June of 2017, thereby serving as a prelude to the World Cup.  Fittingly, Saint Petersburg was chosen to host the Confederations Cup final and will also be the site of one of the semi-final matches of the World Cup.
Preparation for the World Cup has been moving along at a surprisingly rapid and efficient pace, though it has not been without its occasional roadblocks.  In May of 2013, the Russia Local Organizing Committee (LOC) published its first Annual Report, a document detailing the specific preparations for the World Cup.  The monitoring of the design and construction of these new stadiums is under the responsibility of Arena-2018, a special agency recently designed for this task.  In addition to mentioning the establishment/restoration of the 12 stadiums, this document also outlines the specifics of the Infrastructure Programme.  To accommodate the influx of international travel, the Annual Report explains how new airports are being upgraded, hotel room capacity is being augmented, and transportation between host cities is being enhanced. (see full Annual Report here).  Moreover, the FIFA World Cup law, which permits visa-free entry to Russia for all match ticket holders and free over-ground travel 18 hours before and after matches was adopted this past June (see full text of law here).  Yet, while preparations have been relatively successful thus far, the Ministry of Economic Development has begun to slash World Cup stadium budgets by £389.  Specifically, these cuts pertain to the construction of the 7 new stadiums in Yekaterinburg, Kaliningrad, Nizhny Novgorod, Volgograd, Saransk, Samara, and Rostov-on-Don.  Spending is expected to be reduced from $441 million per unit to $386 million per unit.  And while this move has been criticized, especially by these particular host cities, the 11 host cities are nevertheless thrilled to enter the international spotlight.  As a way to promote themselves, each city has already released its official 2018 FIFA World Cup Host City posters, though the general Russia 2018 emblem will not be revealed until the Brazil World Cup in 2014.
While numerous cities await the construction of their stadiums with anticipation, some of the stadiums are already finished.  As a gift to Kazan for the rapidity and efficiency of its World Cup preparations, the LOC created a World Cup park whereby fans of all ages were able to come and enjoy the festivities of the World Cup.  During this 2-week span, nearly 150,000 visitors were able to participate in numerous soccer events, ranging from face painting to guest commentating.  This experience has been memorable to many fans and should be a tradition that should continue in Qatar and other future World Cup locations, perhaps as a way of rewarding the first host city to declare its World Cup stadium open.
Yet, while this palpable sense of exuberance has been contagious throughout the country, issues of safety and discrimination have cast a darker shadow on the 2018 World Cup.  In November of 2012, a Dynamo Moscow goalkeeper was hit by a firecracker thrown from the stands and players from Moscow and Zenit St. Petersburg were both evacuated from the pitch.  Consequently, Alexei Sorokin, CEO of Russia's LOC, has ensured FIFA that such issues of fan hooliganism would not be an issue in the 2018 World Cup, as new security measures are currently being employed.  Additionally, an unexploded World War 2 bomb was discovered on the site of a new stadium in Moscow, the same site were a construction worker was killed last fall.
The issue that has received the most media attention, however, has been the implementation of Russia-anti gay laws.  The discrimination against gay, bisexual, and transgender individuals has long been a problem in Russia, and this prejudice has only been exacerbated following the passing of the anti-gay propaganda law.  In June of 2013, Russian president Vladimir Putin passed a law banning anything considered pro-gay, such as gay-affirmative speech, members of the same sex holding hands, and even rainbows, the national symbol of gay rights.  Yet we cannot attribute this discrimination to Putin alone, as the law was fervidly and quickly passed by Parliament.  The Russian government has been known to turn a blind eye towards anti-gay violence, which has proved consequential for many members of the homosexual community.  In June, a man was stabbed and trampled to death before his body was placed in a car and set on fire.  Earlier this year, a man was murdered by his friends after letting slip while inebriated that he was a homosexual.  He was raped with beer bottles, and his face was smashed in by rocks.   Obviously, such monstrosities have not gone unnoticed around the world.  With the upcoming Sochi Winter Olympics in Russia, people have begun to protest Russia's anti-gay stance.  There was recently a boycott of Russian products, namely Russian vodka, such as Stolichnaya.  In addition, on an interview with Jay Leno, President Obama responded, "I have no patience for countries that try to treat gays or lesbians or transgender persons in a way that intimidates them or are harmful to them…I think Putin and Russia have a big mistake in making sure the Olympics work and they understand that most of the countries that participate in the Olympics, we wouldn't tolerate gays and lesbians being treated differently."  The International Olympic Committee (IOC) remains optimistic that such discrimination will not exist in the Sochi games, as this prejudice directly violates Principle 6 of the Olympic Charter:
"An form of discrimination with regard to a country of a person on grounds of race, religion, politics, gender, or otherwise is incompatible with belonging to the Olympic Movement."
FIFA has also issued a statement asking for clarification on the impact of Russia's anti-gay laws, as Article 3 of the FIFA Code of Conduct has a zero tolerance stance on discrimination against sexual orientation.
All of these stances and speeches are swell, but words have not been backed by actions. There still exists a rapid disconnect between reality and this self-proclaimed future optimism, as Putin has not shown any signs of receding his law. The Sochi Olympics will set the stage for a battleground for gay rights, and soccer fans should look to the Olympics as a future indication of the 2018 World Cup.  In September of 2013, the Russia LOC displayed an exhibition of Russia 2018 at the G20 summit in Saint Petersburg.  While this interactive presentation provided an account of the rich history and symbolism of Russian football, a true depiction of Russia's rampant violent discrimination was conveniently left out.