Arseblog logo (obtained from arseblog.com)
At this very moment, it is without a doubt, one of the most difficult times to be an Arsenal fan. Having lost the most games out of any Premier League team in 2018 so far, the question of change on a managerial level begs to be asked. In a time riddled with emotion and heartache, it is not hard to find those sentiments reflected in Arsenal-based internet blogs and platforms such as ArsenalFanTV. One of the most prominent blogs, which I have chosen to write about, is the famed Arseblog, a media platform dedicated to Arsenal supporters.
The Wenger Out movement was a controversial one, to say the least. It used to be unconventional for a blog to have such a strong opinion on the leadership of the club, especially with a manager that has done so much for Arsenal. However, with the way the team is currently being run, the tone of despair is readily found all over the internet, and Arseblog is no exception. There are three main active authors on Arseblog: one main poster who goes by the name arseblog (and is the most active), and the other two being Tim Stillman and Arsenal Gent (providing a weekly review), both of whom write one article a week. In reading the blogs of all three, an overarching climate of despair and hopelessness can easily be felt.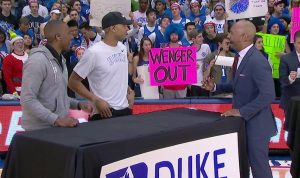 A student with a "Wenger Out" poster at this weekend's Duke vs. UNC Basketball game (obtained from the Benchwarmers Facebook page)
Arseblog is not by any means a formal sports reporting media outlet. This can be easily seen from the motto on their logo: "Arseblog: It's f***in excellent," and is reflected in their work. They are quite obviously a very Arsenal-centric blog, with a heavy bias favoring Arsenal. The way in which they talk about other teams illustrate this prejudice quite effectively. For example, just a few days ago (March 3, 2018), Arsenal Gent wrote:
"To state the obvious, Manchester City are a vile club, built on the wealth of an entire nation, skirting fair play rules like a grandmother skirting an ice patch on the way to the shops. They, like their close relatives Chelsea, are that most ersatz version of a football club."
(Link: https://arseblog.com/2018/03/arsenal-gentlemans-weekly-review-162/ )
Header image of Arsenal Gent's weekly review blogs
Clearly, there is a strong resentment for other clubs (particularly towards those in the top 4 of the Premier League, which Arsenal are currently not). Having a blog with such strong feelings and resentment towards others makes it feel more like a right-wing propaganda blog than a soccer fan club. However, as previously mentioned, the current climate is very much focused on the managerial and leadership failure that has come to represent Arsenal FC. Much of the hatred that these bloggers write about is towards their own players and (more importantly) management. After a spell of losses (to Östersunds, Man City, Man City, Brighton) and a generally very poor performance, the most recent blog post by arseblog is titled: "BRIGHTON 2-1 ARSENAL: STAN KROENKE IS ABDICATING HIS RESPONSIBILITY TO THE CLUB." (Link: https://arseblog.com/2018/03/brighton-2-1-arsenal-stan-kroenke-is-abdicating-his-responsibility-to-the-club/ ). This blog post, like other post-game blog posts by Arseblog, gives readers a post-game analysis and commentary, as well as a player-by-player rating system (which is given by both the writer, arseblog, and the average ratings of fans), as shown below. Perhaps what is most interesting about this particular blog post however, is that arseblog first addresses his usual audience (fellow Arsenal fans), but then shifts to speak directly to Stan Kroenke (Arsenal's majority stakeholder). Here, he argues: "And when you're the majority shareholder, you have a responsibility to do what's best for Arsenal. Leave aside your personal feelings for Arsene, and make the decision that everybody knows needs to be made. Dress it up as a mutual one, if you like, and I hope that's the case if and when it comes, but if he continues to do nothing and things continue the way they have been on the pitch, there's a risk of exacerbating an already toxic situation." Again, this showcases the inescapable anti-leadership sentiment on Arseblog.
Arseblog's player ratings for the Brighton vs. Arsenal game (2-4-2018)
(Obtained from arseblog.com)
A similar sentiment resides in most recent articles, like DRESSING ROOM LEAKS LIKE A PUBLIC CRY FOR HELP by arseblog (Link: https://arseblog.com/2018/03/dressing-room-leaks-almost-like-a-public-cry-for-help/ ) and WAITING FOR GODOT by Tim Stillman (Link: https://arseblog.com/2018/02/waiting-for-godot/ ).
Another interesting side of Arseblog is their live blog, in which they offer live minute-by-minute commentary during games. One of the most interesting live blogs I've seen was the Carabao Cup Final (2-25-2018) game against Manchester City, in which Arsenal lost 3-0. This commentary provides us with a rather comedic view of Arsenal's performance. In the 80th minute, arseblog writes: "Arsenal fans leaving. You wouldn't blame them." In the 84th minute, he writes: "Arsenal have it. City quite happy for us to have it. They know we're going to do f**k all with it." (Link: http://arseblog.live/liveblog/5a9271d9e8de4c1ba976cd7b ). Clearly, we see the tragic emotion in this commentary towards Arsenal's particularly awful performance in this game.
In terms of the large-picture contribution to the conversation of soccer, this blog represents soccer fandom at its finest. Perhaps it gives certain people an outlet through which they can express themselves and the passion they hold for their team. In Arsenal's current winning drought, it is more a means through which people can vent their anger and disappointment at the club (be it through writing posts or comments). Arseblog is certainly a haven for Arsenal fans as it provides them with a solace with regards to the current feelings they share, or possibly even a platform for celebration one day.