In a recent article posted on ESPN, it was announced that the newly created XFL has laid off nearly all its staff and currently has no plans to return in 2021. The XFL is an American football league whose inaugural season was cut short by the emergence of COVID-19.  The financial impact of having its first season curtailed seems to have put the league in the ground before it had a chance to take off. If you're a young league like the XFL, not having a full season can be too much to overcome. Smaller sports leagues will be the hardest hit by the financial struggles caused by COVID-19. With so many soccer leagues around the world, it is interesting to see how the size and funding of a league affects its financial response to the pandemic.
The English Premier League, one of the largest and most well-funded soccer leagues in the world, has already announced that it will advance a £125 million payment to the English Football League (EFL). Most of this money will be used to help support clubs that had previously been relegated from the Premier League. While this money is desperately needed for smaller clubs struggling to get by, it is not nearly enough to provide for all clubs in the lower leagues in England.
Many clubs in the lower leagues have placed their staff on the government's furlough scheme, which allows workers who were laid-off to receive 80% of their salary with a maximum of £2,500 per month. While this is not ideal, these clubs simply do not have the funds to continue paying all their staff members without the revenue generated by ticket sales and TV deals.
The Professional Footballers' Association has been in discussion with Premier League players and clubs about enforcing a 30% cut to players' salaries to offset the financial hardship caused by the suspension of play. This number was proposed as a worst-case scenario assuming the season is unable to resume. 10% of the drop in salaries would make up for revenue lost from ticket sales and other gameday purchases, while the remaining 20% would account for the loss in TV revenue. The Premier League has not yet lost its £750 million TV deal which is a driving factor for their desire to finish the season. Even if matches are played without fans, the revenue from TV contracts would certainly move leagues closer towards financial stability.
The average salary for a Premier League player on the first team is over £3 million. The average salary for a player in the Championship was about one-fifth that of a Premier League player. The average salary for a player in League One is another one-fifth lower than that of a player in the Championship. This means that the average player in League One makes around £75,000 a year. To ask that these players give up 30% of their salary would be unreasonable and, honestly, wouldn't make much of a difference.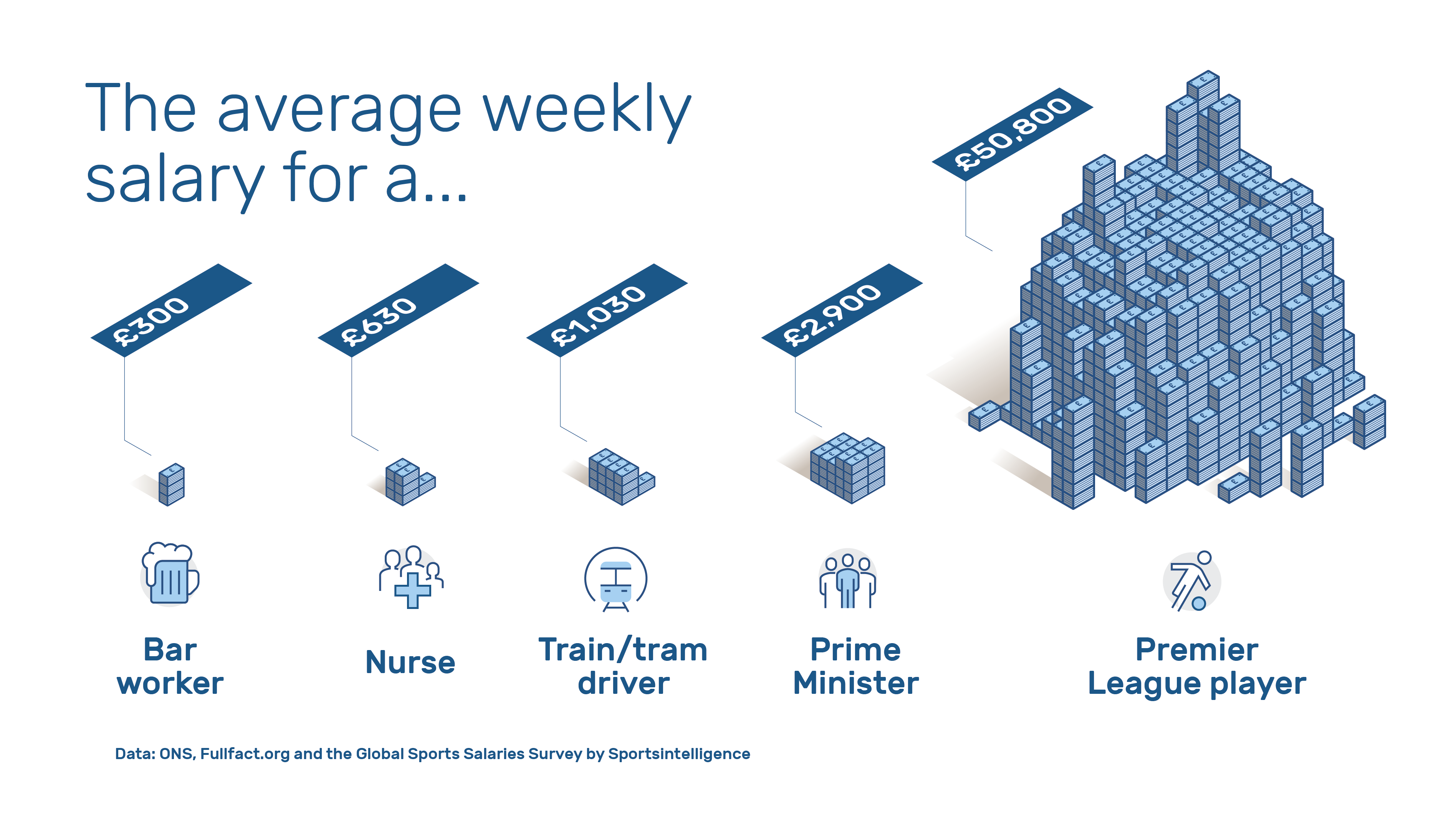 It will be very interesting to see how these different leagues emerge once it is safe to resume play. I would assume that the leagues in England will all be fine, bolstered by the support of the Premier League. However, only time will tell, and smaller clubs will need help. I will be especially curious to see how league like the MLS and NWSL are affected. Both leagues have currently suspended play and do not have the luxury of a deep emergency fund to dip into. Additionally, the MLS suspended play after only 2 games, while the NWSL season had not started when play was postponed. The Premier League and other European leagues have played most their games, so the losses may not be as severe. MLS and NWSL seasons are just beginning. If either league is unable to resume play, there will be lots of trouble in store.
Most importantly, stay healthy and stay safe! Let's hope play can resume soon and we can all get back to enjoying the game we love!
References:
https://www.espn.com/xfl/story/_/id/29021347/xfl-suspends-operations-lays-employees-no-plans-return-2021
https://www.theguardian.com/football/2020/apr/03/premier-league-clubs-will-ask-players-to-take-30-per-cent-wage-drop-cuts-deferrals
https://www.soccersouls.com/what-is-the-average-premier-league-salary-and-championship-salary/