Written in 2015 by Maddie Keyes
Return to Turf Controversy main page
Introduction
Turf has been a huge point of contention for many athletes across many sports, with claims ranging from the idea that it negatively affects playing styles or increases the risk of injury. All of these factors are why any athlete would question playing on turf; the reason that this case demands so much attention relates to the timing. This World Cup is the first that has ever been played on turf in the history of World Cups, and the fact that it is with a Women's World Cup is a huge source of controversy. As Heather O'Reilly said in an NPR interview, "Many men's players refuse to play on artificial turf, actually, and the thought of it being played in the World Cup is almost laughable." [1]
History of Turf Usage/FIFA's Decision
The Canadian Federation initially proposed to have the World Cup on turf when they presented the bid. FIFA's Laws of the Game include a caveat for the World Cup to be able to be held on turf with special permission from FIFA.
"Matches shall be played on natural grass or, provided special dispensation is granted by FIFA, on artificial surfaces. Where artificial surfaces are used, the surface must meet the requirements of the FIFA Quality Programme for Football Turf." [2]
This is not the first time that turf fields have been used with FIFA's sanctions, as the U- 17 World Cups in 2003 and 2005 were played on turf in Finland and Peru respectively. According to FIFA, these additional tournaments have been played at least in part on turf: World Cup qualifying matches, Canada U-20 World Cup 2007, U-17 Women's World Cup 2012 and 2014, Canada U-20 Women's World Cup 2014, UEFA qualifiers, and MLS games [2]. As you can see, many, although not all, of these matches have been played in Canada. In Julie Foudy's commentary for ESPN on the whole turf controversy, she mentions that Canada has announced plans to enter the running for hosting the 2026. As Julie Foudy eloquently puts it, "I would bet my left lung that their bid will include all-grass venues." [3]
It is important to note that the World Cups are an entirely different sphere of competition, with the Women's World Cup being the largest competition on the women's stage in the world. Imagine, the Women's World Cup team drew a big enough crowd to fill the entire Rose Bowl Stadium in 1999. It is because of this huge draw that Canadian Soccer Association president Victor Montalgiani proudly proclaimed, "For sport, for women, for Canada: those are three qualities that highlight our ambitions in hosting a successful FIFA Women's World Cup." With so lofty a pronouncement, it seems somewhat surprising that a man so dedicated to the future of women's soccer in Canada would later describe hosting the Women's World Cup as a stepping stone to hosting the Men's World Cup, or in the words of Mr. Montalgiani, "the big World Cup." [4]
Gender Discrimination: The Court Case
An equal presence for women's sports has been a battle from the start. Soccer, especially in the United States, has been a sport of relatively equal footing in years past, in that the women's side gets a fair amount of media attention. That, in part, is what makes this decision to have the women's teams be the first to have to play on turf so sad and disappointing. Initially, players attempted to open up a dialogue with both FIFA and the CSA about this issue, but as no acknowledgement came from those attempts, they then opened up a lawsuit on the grounds of gender discrimination.
The claims of gender discrimination primarily result from the lengths that have been taken by FIFA to ensure that the men's program would not have to play on artificial playing surfaces against their volition. CSA ensured that the men's qualifying matches for the 2015 World Cup were played on grass fields. They even rejected the B.C. Place and Commonwealth Stadiums as stadiums suitable for playing these qualifying matches, yet these stadiums are being used for the actual World Cup matches for the women this year [4]. An additional problem with gender disparities in terms of playing on turf result from FIFA's accommodations of expressed player preferences. FIFA, in 2013, took a survey of female soccer players around the world inquiring into their natural versus artificial grass preferences. Of the 190 female athletes interviewed, 77% believed turf to be an inferior surface and that all matches should be played on grass. If that's not enough, 80% of these interviewed athletes agreed that they would feel much less safe slide-tackling on artificial turf rather than grass. After seeing such conclusive evidence about the athletes' feelings about turf, one would think that FIFA would have made a concerted effort to respond to those expressed feelings. FIFA and the CSA, however, moved forward with their plans to play the matches on turf despite this. Additionally, FIFA recently has claimed that the blame for this lack of consideration rests solely with the CSA's National Organising Committee, as the CSA demanded turf. FIFA just wanted all playing surfaces, no matter the composition, to be equal. [4]
In addition to claims of discrimination, many human rights violations have also come to light, highlighting these instances of gender inequality. The first of these violations comes from FIFA's role, whether active or passive, in allowing these games to be played on turf when every effort in the past have been made for men's team to prevent that very thing from happening. When the United States hosted the World Cup in 1994, special grass sod was laid over the AstroTurf  in Giants Stadium for the purpose of the World Cup [5]. The move to overlay grass in stadiums where turf normally resides is not unprecedented. Although FIFA published the results of a self-ordered study stating that there was no difference in injury between turf and grass, many players beg to differ. The case argued that it is a violation of human rights to force women to play on a playing surface that is potentially more dangerous. Lastly, the possibility for harm to the dignity and confidence of female athletes who are forced to play on sub-par surfaces is a violation of human rights and should be viewed as possibly discriminatory [4].
The Court Case itself (for a more detailed look at the legal nature of the case, please click here) resulted from negative reactions against the decision from major names in women's soccer such as Abby Wambach (US), Alex Morgan (US), and Nadine Angerer (Germany), as well as members from Australia, Brazil, Colombia, Costa Rica, France, Japan, Mexico, New Zealand, South Korea, and Spain [6]. The case against FIFA and the CSA was eventually dropped, so the World Cup this year is definitely being played on turf, but hopefully the lasting impact will be more awareness of potentially discriminatory acts [7].
"Our legal action has ended, but I am hopeful that the players' willingness to contest the unequal playing fields – and the tremendous public support we received during the effort – marks the start of even greater activism when it comes to women's sports"

-Abby Wambach
Another interesting aspect of the court case resulted from the reactions of the involved players' federations. Allegedly, Teresa Noyola received pressure from Mexico to drop out of the lawsuit or risk being prohibited from playing with the Mexican national team. Eventually, this led her to drop her public support for the lawsuit and immediately following, she was reinstated to the Mexican women's national team. Similarly, French national players Camille Abily and Elise Bussaglia were threatened with release from the national team as well and were immediately reinstated following their drop from the lawsuit [8].
Outside Opinions on Gender Discrimination/Turf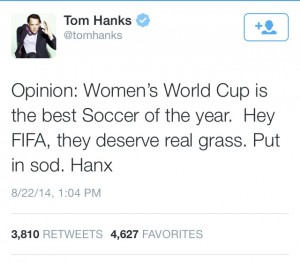 Much as Abby Wambach hoped, many people outside of the world of women's soccer got involved with the case on social media. Celebrities such as Tom Hanks and Kobe Bryant went public with their support for the female athletes.
Picture from
Kobe Bryant's twitter
. Accompanying tweet reads "This is @DrinkBODYARMOR athlete @sydneyleroux after playing on turf! #ProtecttheAthlete #USWNT"
 Another interesting group of people who became involved with the women's soccer turf controversy are United States senators Charles E. Schumer and Kirsten Gillibrand
[9]
. The Senators have decided to make a public call for accommodation of the female preferences for playing surfaces. In addition to writing letters to the President of FIFA, Sepp Blatter, Schumer and Gillibrand additionally contacted the President of the United States Soccer Federation, Sunil Gulati, to pressure FIFA as well, as he has a position on FIFA's Executive Committee. In addition to being a universal example of women's rights violations, this matter is of particular interest to senators from the United States as the United States Women's National Team is ranked so highly among all the world teams. Schumer and Gillibrand demanded of FIFA that women's rights be foregrounded and that equality of playing surfaces for all be maintained.
"FIFA should not have one set of rules and standards for the men's World Cup, which for good reason, bans the use of artificial turf, and a different one for the women's World Cup, which allows it."

"The fact that FIFA is not treating these women players equally, and forcing them to play on artificial turf, is an egregious error on their part and sends an awful message to the legions of girls and women who love this sport"

-Senator Schumer
Recap
The unprecedented decision by FIFA to play the 2015 Women's World Cup on turf definitely laid the groundwork for any discrimination claims that came their way. Soccer associations in years past have bent over backwards in order to accommodate the men's teams expressed preference to play on turf over grass, so why isn't the same thing being done for the women's teams?  Issues of safety aside, the lack of respect displayed by the governing bodies of the soccer world in refusing to engage in open dialogue with the players is an issue in and of itself.  Heather O'Reilly summed up the situation well, summarizing how she thinks the impact of the game will be changed
[1]
.
"Slide tackling on grass – you know, you get up, you shake the grass off, get the dirt off. On turf unfortunately, a little layer of your skin comes up with every slide tackle so you get turf burns. Those diving headers that are so exciting on the world stage aren't going to happen on artificial turf because you can get injured. So it changes the game quite a bit – one on the injury side. Two – it changes the game just on the soccer end. The ball just moves quite a bit faster on turf so you know, it's out of bounds a lot, there's a lot of throw-ins, things like that. And it's also quite a bit more bouncy. It doesn't roll as easily as it may on grass and it just loses the rhythm of the game and the fluidity of the game."
Women's soccer is hands-down the most watched women's sport in the entire world. Are we willing to take the chance of compromising the integrity of this game for unnecessary and petty reasons? Hopefully this situation will be remedied by the 2019 Women's World Cup, as neither France nor South Korea's bids include the stipulation of turf fields
[8]
.
---
[1] Chappell, Bill. "Soccer Players End Lawsuit Over Artificial Turf At Women's World Cup." NPR. NPR, 21 Jan. 2015. Web.
[2] "Football Turf – Q&A." (n.d.): n. pag. FIFA Women's World Cup 2015. Web.
[3]  Foudy, Julie. "Foudy Talks Turf — Because FIFA Won't." ESPN. ESPN Internet Ventures, 29 Sept. 2014. Web.
[4]  Dellinger, Hampton, and Kate Ferguson. "Legal Action Notice." HUMAN RIGHTS TRIBUNAL OF ONTARIO. 23 Sept. 2014. Web.
[5] "Giants Stadium." Wikipedia. Wikimedia Foundation, n.d. Web.
[6] Keogh, Frank. "Players Sue in World Cup Pitches Row." BBC Sport. N.p., 1 Oct. 2014. Web. 23 Apr. 2015.
[7] Das, Andrew. "Players Drop Fight Against Turf at Women's World Cup." The New York Times. The New York Times, 21 Jan. 2015. Web. 17 March. 2015.
[8] "Abby Wambach, Players Drop World Cup Turf Suit." ESPN W. N.p., 21 Jan. 2015. Web.
[9] McCroy, Winnie. "Legislators Demand Equal Footing for 2015 Women's World Cup." Edge Media Network. N.p., 5 Mar. 2015. Web. 23 Apr. 2015.