By: Natasha Catrakilis
Updated and edited by Spencer Davidson

Who made it? 
The process of becoming a referee for the World Cup is by no means an easy one. How FIFA determines who officiates the World Cup is explained in an earlier section of this page, titled 'World Cup Selection Process.'
In order to become a 2014 World Cup referee, officials had to make it through a process which started with 52 potential referees under evaluation since 2011. This list was cut down on January 15, 2014 to 33 referees, split up into 25 who each had two assistants, and eight who only had one assistant [1]. The list below contains the referees who were eventually chosen after this three year decision process. The list is divided by the six FIFA confederation zones (AFC, CAF, CONCACAF, CONMEBOL, OFC, AND UEFA), and the number of referees per confederation correlates to the number of team spots given to each confederation.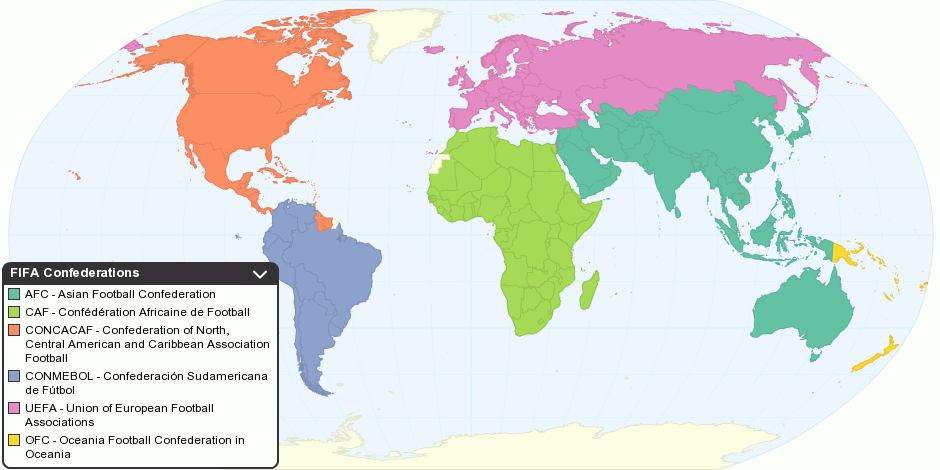 The above chart images are originally from this site: Referees and Assistant referees for the 2014 FIFA World Cup
Who returned from the 2010 World Cup?
The original list of 52 potential referees contained 11 officials who worked in the 2010 World Cup. Of these 11 potential returners, six were chosen for the 2014 World Cup. Below is a list of those referees and their respective countries of representation.
Ravshan Irmatov (Uzbekistan)
Yuichi Nishimura (Japan)
Joel Aguilar (El Salvador)
Marco Rodríguez (Mexico)
Peter O'Leary (New Zealand)
Howard Webb (England)
In the following section, we have chosen to analyze a few referees who were given either outstanding or unsatisfactory reviews after the 2014 World Cup.
Names and Faces to Recognize
Name: Howard Webb
Born: July 14, 1971 (age 42)
Height: 6′ 2″ (1.88 m)
Nationality: English
Other Occupation: Former police sergeant
Webb is known as one of the top referees throughout the soccer world, in fact he is a FIFA Elite referee. After plying his trade in the lower leagues during the mid-1990s, he worked his way up to the top flight as an assistant referee in 1998, before taking charge of his first Premier League match five years later. Some of his most notable domestic matches include the 2007 League Cup Final between Arsenal and Chelsea and the 2009 FA Cup Final, when Chelsea defeated Everton at Wembley Stadium.
He has been a FIFA-listed official since 2005 and has regularly refereed in the Champions League, European Championships and World Cup qualifiers during this time.
In 2010, Webb made history when he became the first man to officiate the final of both the Champions League and the World Cup in the same year. The first part of this historic achievement came when he oversaw Inter Milan's 2-0 victory over Bayern Munich at the Santiago Bernabeu in May. Just two months later, he was given the responsibility of officiating Spain's triumph against Netherlands in Johannesburg's Soccer City stadium. [2]
Howard Webb announced his retirement from refereeing on August 6th 2014 after the World Cup, in which he took charge of Colombia-Côte d'Ivoire and Brazil-Chile in the Round of 16. Webb set a record with appearing in 21 games at six FIFA tournaments.
"I am very excited to start this new chapter in my career after a wonderfully rewarding 25 years on the pitch. I have spent over a decade with the best seat in the house," Webb said, who will now focus on publicly educating and informing on refereeing matters.
Webb faced an orange tide of criticism after handing out a record 14 cards during a tumultuous World Cup 2010 final between Spain and the Netherlands. Dutch players reacted furiously after their extra-time defeat to Spain, blaming the tournament's leading referee for their loss.  Media outlets in the Netherlands also hounded Webb, accusing him of  missing a corner for Holland in the build-up to the goal and a foul which could have led to a red card for match winner Andres Iniesta.
During the 2014 World Cup, Chile uttered fears about a home bias before the game against Brazil started in Belo Horizonte, because Brazilian striker Fred benefitted from a couple of contentious decisions before. However, Webb took the scrutiny in his stride in the last 16 fixture, correctly ruling out a Hulk goal for handball, and the Chileans only had themselves to blame for their narrow exit after losing in the shoot-out. (The full highlights of the game can be accessed here.)
In response to the criticism, Webb said: "It [Spain vs. Netherlands] was an extremely challenging match to handle, but it would have been so for any referee. It is one of the toughest games we will ever be involved in and we feel that we worked hard to keep the focus on the football as much as possible." [3]
After the game Brazil vs. Chile in the 2014 World Cup, the 3rd Team Referee Observer's Report stated that "this was a very solid performance in a "high" difficulty match by Howard Webb and his team. He has a sense of quiet, natural authority that allows him to transcend dissent and establish control instantly. (…) Based on performance alone, Webb showed he was one of the best in this World Cup." (The full report can be accessed here.)
Name: Marco Rodriguez
Born: November 10, 1973 (age 41)
Height: 5'8″ (1.79m)
Nationality: Mexican
Other Occupation: Protestant Priest
Marco Rodriguez is known for being a very strict referee as he gives many yellow and red cards during his officiating. He has been an international referee since 2000, and has been selected to participate in the past three World Cups. In a total of seven matches at these World Cups, Rodriguez has sent off four players. Rodriguez was often called "Chiquidracula," as he resembled an actor that played Count Dracula in movies.
One incident that portrays Rodriguez' reputation as a strict referee is his "double yellow" in the 2012 Mexican Apertura finals between Tigres and Santos. In this match, Rodriguez gave out two yellow cards at once, with one in each hand. He proceeded to send off three players in the match, along with issuing seven yellow cards. Following this match, Rodriguez was suspended for five games. Despite this incident, however, he was still considered one of the top referees by the refereeing official at the time [4].
Rodriguez continued his legacy as a great official in  being chosen for the 2014 World Cup. He was elected to officiate three matches total in the tournament, and received superb reviews in two of them. In a Group H play between Belgium and Algeria that ended in a 2-1 defeat for Belgium, Rodriguez had an overall great performance. The reviewers state that he always had good positioning, very good foul detection, and a consistent line. Despite the low difficulty of the match, Rodriguez still made two correct significant decisions that affected the outcome of the match. After this match, it was predicted that he would be chosen for a higher caliber match later on in the tournament, and in fact he was.
Due to his great performance in the early rounds, Rodriguez was chosen for the semi-final match between Brazil and Germany, in which Germany came out on top in an astonishing fashion (7-1). Although the match was both wild and unusual, he managed to maintain constant communication with the players and presented a great use of verbal warnings. After this match, he was predicted to be selected for yet another World Cup appearance, however he chose to retire. [5]
Name: Ravshan Irmatov
Born: August 9, 1977 (age 37)
Height: 6'0″ (1.83m)
Nationality: Uzbek
Other Occupation: Teacher
Ravshan Irmatov has been an official in the Uzbek League since 2000, and an international referee since 2003. His father was also a referee for Soviet competitions. Irmatov has been recently considered one of the elite referees in the world, being named The Best Referee in Asia five times (2008, 2009, 2010, 2011, and 2014). Asides from his participation in both the 2010 and 2014 World Cups, he was selected to officiate the final match of both the 2008 and 2011 FIFA Club World Cups. [6]
In the 2010 South Africa World Cup, Irmatov was chosen to officiate five matches which was tied for the record of most matches in a single World Cup. He followed this up with four matches in the 2014 tournament. This combined amount of nine matches has earned him the record for total amount of matches officiated in World Cup history.
Iramtov's first appearance at the 2014 World Cup came in the Group E match play featuring Switzerland and Ecuador. In this match, he was widely recognized in the soccer community for perfectly applying the advantage rule, leading to the decisive last goal scored by Switzerland. Irmatov was able to show a great control of the game for a majority of the match, as well as great communication with his assistants. After this match, he was also chosen to officiate two more group plays between Croatia and Mexico, and the USA and Germany. Due to his consistently outstanding officiating, he was selected as one of the quarter final referees in the match between Netherlands and Costa Rica. [5]
In this match, Irmatov had good control of the game and was able to make various crucial calls that were correct. On top of this, he maintained excellent communication with the Assistant Referees, in a high difficulty match that ended in penalty shootouts.
Referees that were considered but not selected:
Name: Wolfgang Stark
Born: November 20, 1969 (age 44)
Height: 6'3″ (1.91 m)
Nationality: German
Other Occupation: Bank assistant
Aside from having a simply awesome name, Wolfgang Stark is also considered one of the world's most outstanding soccer referees. Stark knew he wanted to become a referee from a young age, and by  1994 he reached the highest level of refereeing in Germany. Five years later he acquired his FIFA license, and today he is a UEFA Elite Category referee.
Stark has been an official in the Champions League since 2001. In season 2008-2009 Stark took charge of the Champions League semi-final between Barcelona and Chelsea, and again two years later between Barcelona and Real Madrid.
He was chosen to ref at the World Cup U-20 2007 in Canada, where he officiated the semifinal game between Chile and Argentina, a rather controversial match. Stark also refereed three matches in the 2010 World Cup and was selected to referee the Olympic Games in Beijing 2008. More recently he was selected for the European Championship in 2012. [7]
Stark has received a lot of criticism over the years, but his officiating over the Chile-Argentina game in the World Cup U-20 semifinal in 2007 can be considered one of his most controversial. Argentina won the game 3-0, but according to many reporters, even after  flashing card after card, Stark never had control of the match. In the end, he sent off two players and issued nine bookings. His performance led to a belligerent crowd. Stark had to be escorted to the dressing room by police, and apparently several Chilean players were involved in a scuffle with the Toronto police after the match. [8]
Stark had no official statement after the game, but compared to many other referees, "Stark seems to enjoy the limelight and appears to welcome controversy." FIFA kept faith in him, and soon afterwards players voted him the best referee in the Bundesliga in 2010. [9]
Name: Viktor Kassai
Born: September 10, 1975 (age 38)
Height: 6'2″ (1.89 m)
Nationality: Hungarian
Other Occupation: Printing sales
Kassai  received his FIFA badge in 2003 and immediately started refereeing UEFA Cup matches: today he is a UEFA Elite Category referee. He was selected to officiate the Euro 2005 U-19 and the World Cup U-20 2007 in Canada. He took charge of qualifiers for Euro 2008 and reached the group stage of the Champions League in 2007. But Kassai's career really took off when he was selected as fourth official for Euro 2008 and also for the Olympic Games in Beijing that same year, where he officiated the final match between Nigeria and Argentina.
Then he was selected for the 2010 World Cup, where he took charge of four matches. One of those matches was the memorable United States – Ghana match, which finished in extra time and a 2-1 win for Ghana, and the other being the semi-final between Germany and Spain, ending in a 1-0 victory for Spain.
A year later he was awarded the 2011 Champions League final between Barcelona and Manchester United (3-1), and the following year he officiated two matches in the group stages of UEFA Euro 2012. [10]
In the group stage match between England and Ukrain of Euro 2012, Ukrainian striker Marko Devic's effort on goal was hooked away by English defender John Terry in the 62 minute, but TV re-plays showed that the ball had crossed the line. Despite Ukrainian players' appeals, Kassai did not allow the goal. This decision was strongly criticized by Ukrainian media and introduced a debate on the effectiveness of the inclusion of two additional blind officials and the need for goal-line technology. [11]
In response, Kassai was sent home after the game as part of UEFA's usual cut down of officials for the second round, but the UEFA Euro 2012  became the first international tournament where two additional assistant referees were introduced on the goal-lines. [12]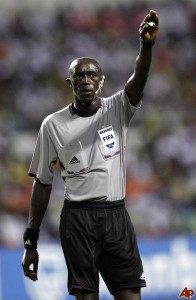 Name: Badara Diatta
Born: August 2, 1969 (age 44)
Height: 6'1″ (1.85 m)
Nationality: Senegalese
Other occupation: unknown
Because of his age, one would think there would be a lot of information and controversy on Diatta, but he is surprisingly on the quiet side when it comes to this. Despite the lack of thorough information, Diatta has no shortage of experience. He has been a FIFA referee since 1999, and has officiated the 2013 Africa Cup of Nations and at the 2006, 2010, and 2014 FIFA World Cup qualifiers. He also refereed in the 2008 Summer Olympics, as well as in the 2006, 2008, 2010, and 2012 Africa Cup of Nations. At the 2012 rendition of the tournament, Diatta was selected to referee the final match, where he handed out three yellow cards, with the match ending in a win for Zambia over Côte d'Ivoire after a penalty shoot-out. [13]
One other notable name is Nicola Rizzoli, the 2014 World Cup Final Referee.
Click to go to:
Previous Page: Women and Refereeing
Next Page: World Cup Referee Blunders
Back to Main Page:  World Cup Referees
Sources:
[1] "FIFA names referee pool for 2014 World Cup." U.S. National Soccer Players. Web.
[2] "Referee Profile: Howard Webb." Barclays Premier League. Web.
[3] " Webb defends final performance." World Cup 2010. ESPNsoccernet. 13 July 2010. Web.
[4] "Mexican referee Marco "Chiquimarco" Rodriguez retires." NBC Sports. Web.
[5] "World Cup 2014- Matches and Reports." The 3rd Team. Blogger. Web.
[6]  "Ravshan Irmatov". Wikipedia. Web.
[7] Sittmayer, Wolfgang. "Wolfgang Stark." World Referee. 6 June 2012. Web.
[8] Doyle, John. "The Mercurial Man in the Middle of England/Slovenia." The Globe and Mail. 23 June 2010. Web.
[9] "Germany's controversial selection – Euro 2012 referee Wolfgang Stark." Goal.com. 5 June 2012. Web.
[10] "Viktor Kassai." Wikipedia. 2 October 2013. Web.
[11] "Sepp Blatter: Technology a 'necessity'." Fox Soccer. 20 June 2012. Web.
[12] Costa, Morris Dalla. "Ref sent home after goal controversy." Sports Soccer. 20 June 2012. Web.
[13] "Badara Diatta." Wikipedia. 22 April 2013. Web.