Written By Alessandro Sant'Albano in 2013
Attacking Midfield,  #8, 23 Years Old
Bosnia and Herzegovina enter the World Cup as one of the least seen teams in the tournament. For on Bosnia & Herzegovina, who played their first FIFA-recognised match in 1995, it will be their first time qualifying for the tournament, having suffered a number of crushing defeats in the play-offs of World Cup 2010 and Euro 2012. For they have journeyed this path before; both World Cup 2010 and Euro 2012 were supposed to mark the development of Bosnia's very own Golden Generation before the intrusion of Cristiano Ronaldo[1].
But under the charge of Safet Susic, with players of the calibre of Manchester City's Edin Dzeko,  Vedad Ibisevic, Miralem Pjanic of Roma and Stoke City netminder Asmir Begovic, they have forged a united team that could be one of the dark horses to qualify for the later stages of the World Cup.
At the heart of Bosnia's rise is Miralem Pjanic, who has helped to inspire their country to their first major international tournament since the Balkan nation declared independence in 1992.
The former Lyon and Luxembourg Under-21 international currently plays his football with "overachieving" AS Roma. Since making the move to the Italian capital back in 2011 he has become a crucial cog in the Roma war machine, and as the current situation stands he has become central to Roma's push for the Scudetto title.[2]
[3]
In his first two seasons with Roma he oversaw four coaching changes and the sale of the club to an American owner which led to various inconsistent performances, and on the odd occasions seeing his flashes of brilliance from a free kick, or a magic ball placed over the top.
However, this season the creative midfielder seems to have turned a corner. With new coach Rudi Garcia giving Pjanic more freedom and Daniele De Rossi and Kevin Strootman in fine form in more defensive roles, Roma's number 15 has excelled. Pjanic is a world class distributor, someone who builds up an attack much like Andrea Pirlo, Xavi and Xabi Alonso. While, he is not quite at that level yet, there is a reason Barcelona, Man Utd, Arsenal and Tottenham ( 30 million euro bid rejected) all have shown a close interest in Miralem.
With Pjanic shaping the future at Roma and his magic displays taking Bosnia to there first World Cup finals next summer, Pjanic now has the stage set to prove he is one of the best midfielders in the world. At the young age of 23, he is a player that still has time to develop. His best-known attribute is his ability to zip pin point passes 40 yards in front of him, and his genius on direct and indirect free kicks. [4]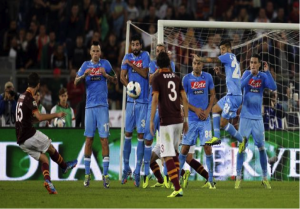 [5]
Photo by Max Rossi, Reuters
World Class free kick
But Pjanic is much more than a terrific free kick taker. His passing is precise and creative and he is involvement in offensive play is always a menace to the opposition, being very hard to stop his quick and short movements when on the ball.  Technically Pjanic is a remarkable player,  and his understanding of the game is unparalleled. He see's the game in another light, finding space, and always positioning himself well across the flanks. Defensively he has a good working capacity, both in effort and closing down a loose ball.
While Pjanic's job is to orchestrate the midfield and collectivize the attack, his technical abilities have also help bind the squad together as a whole. His passion, energy and class will be truly needed in Brazil this summer and it must be said, that what the "golden generation" has done to unify this team is remarkable,  in stark contrast to the lingering tension on the streets of cities such as Mostar where, despite the reconstruction of the Old Bridge, two ethnic communities are divided by the river.