Written by: Patrick He
Key Players
Xherdan Shaqiri (RW)
At just the age of 24, Xherdan Shaqiri already has two Bundesliga titles and one Champions League title under his belt. The former Bayern Munich right winger has been capped 51 times and has scored 17 goals on the international stage ("Xherdan Shaqiri" 1).
Shaqiri was born in Gjilan, Yugoslavia on October 10, 1991 and moved to Switzerland in 1992. His parents are Kosovar Albanian, and he has dual Swiss and Albanian citizenship. Shaqiri identifies with all three cultures, with the flags of Switzerland, Albania, and Kosovo all stitched into his boots (Riddell and Edwards 1). Overall, he has grown up with a multi-cultural experience, even in a country as diverse as Switzerland.
The Swiss winger began his youth career at SVV August before moving to FC Basel in 2001, where he remained until 2012. At Basel, he eventually broke into the first team, winning the Double (League title and Swiss Cup) in 2010, another League title in 2011, and then the Double again in 2012. In his three years with the senior team at FC Basel, Shaqiri made 130 total appearances with 23 goals and 27 assists("Xherdan Shaqiri" 1). In February 2012, Shaqiri signed with Bayern Munich for the 2012-13 season in a four-year contract. While at the Bavarian giants, Shaqiri ended up making 81 appearances, scoring 17 times and assisting 19 goals ("Xherdan Shaqiri" 1). However, he found it hard to become a first-team regular, especially with players like Thomas Muller, Franck Ribery, and Arjen Robben playing in wide roles. While it was intended for him to eventually replace the aging "Robbery" duo, the two wingers continued to perform at a world-class level, ending the 2012-13 and 2013-14 seasons in inspired form. In January 2015, Shaqiri transferred to Inter Milan before eventually moving to Stoke City in July 2015. He initially had trouble settling into the increased physicality of the Barclays Premier League, but Shaqiri has gradually found his form over the past nine months, becoming an integral part of the team. In his 30 appearances for Stoke so far, he has scored three times and assisted six goals ("Xherdan Shaqiri" 1).
Possessing good pace, strength, vision, passing, and dribbling, Shaqiri has been nicknamed the "Alpine Messi." As a winger, being able to beat the opposing fullback is one of the most important skills. Shaqiri's diminutive stature gives him a low center of gravity, allowing him to more easily weave past defenders and then either cross the ball or cut in for a shot at goal. Shaqiri's pace also helps with running down the wing, especially when there is space for a midfielder to play a through ball into. In addition to his movement with the ball, Shaqiri is effective at distributing the ball, which accounts for many of his assists both at the club and international level. Back in the middle of February, Stoke City won three games in a row, where Shaqiri contributed greatly to the team offensively, with 2.1 key passes and 2.0 dribbles per game and two assists and a goal overall (Keble 1). If Switzerland is to be successful this summer, Shaqiri will have to replicate that form in order to ensure that the team's strikers have the proper service to take shots on goal. Finally, despite being a winger, Shaqiri likes cutting in from the right and taking a shot with his preferred left foot, which has led to his respectable goal tally. While his finishing inside the box is not necessarily the greatest, he has scored a number of creative goals and long-shots from outside the box. Below is a chipped goal from the edge of the box scored against Everton in December 2015.
(Sportsnova14 1).
Shaqiri's biggest weakness is defending. Below is a diagram showing his defensive contributions in a 1-0 win against Newcastle United on March 2, 2016. The orange X represents tackles won, and the black triangle represents a foul.
(Keble 1).
This was one of his more effective games in defense this season, and even then, he recorded just one tackle. Looking back at his good run of form towards the end of February, Shaqiri recorded just one interception and two tackles across three games (Keble 1). In a game in March against Aston Villa, he was directly at fault for conceding a goal because he did not track back to defend against an opposing player's forward run. This is a significant weakness for Euro 2016 because much of Switzerland's strategy depends on a high press from the attacking players following by tracking back to defend if it fails. If Shaqiri is unable to properly mark his opponents, he will essentially create a 2-on-1 scenario for his fullback, giving the opposition significant time and space to either cut in or to cross the ball into the box.
Granit Xhaka (CM)
Granit Xhaka is a 23-year-old midfielder who currently plays for Bundesliga side Borussia Monchengladbach. A versatile player, he can play in a box-to-box role, as a deep-lying playmaker, or even as an attacking midfielder. Dubbed the "young Schweinsteiger" by former Switzerland coach Ottmar Hitzfield, Xhaka has been capped 39 times by the national team and has six goals and five assists to his name (Philipp and Whitney 1).
Xhaka was born in Basel, Switzerland on September 27, 1992. Like Shaqiri, he is of Kosovan Albanian descent, though his family moved from Kosovo shortly before he was born. Moreover, like Shaqiri, he began his senior career at FC Basel, where he played from 2010 until 2012. He made his debut in the third qualifying round of the 2010-11 Champions League and also scored his first senior goal in that game. Overall, Xhaka made 67 appearances, scoring three times and assisting seven goals at Basel ("Granit Xhaka" 1). At the end of the 2011-12 season, he transferred to Borussia Monchengladbach, where he has remained at since. At the German club, Xhaka has managed nine goals and seven assists in 138 appearances ("Granit Xhaka" 1). In the 2014-15 season, he played in all 34 league games and was named in the Bundesliga team of the season ("Bundesliga 2014/15 Team of the Season" 1). The team itself finished third in the league, qualifying for the 2015-16 Champions League.
Granit Xhaka's strengths make him a complete midfielder. He has good passing, vision, and stamina, all of which are necessary for midfielders. In particular, he is good at playing long passes across the pitch, which requires both vision and accuracy. On the defensive side, he is also adept at interceptions and aerial duels and is very physical, and offensively, he is strong at long-ranged shooting. This season, he has averaged an 84.9% pass accuracy and has won 3.4 aerial duels per game while also making over two tackles and two interceptions per game ("Granit Xhaka's Profile" 1). This is significant, because as one of Switzerland's key midfielders, he needs to be working hard throughout the entire match while continuing to remain effective as a playmaker. However, not only is he showing that he has good vision, he is also showing his presence throughout the entire pitch. Below is a map of Xhaka's passes in Switzerland's 2-1 win over Ecuador in the 2014 World Cup.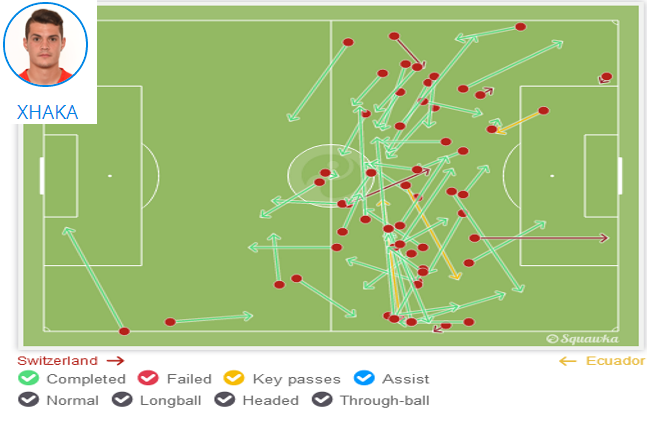 (Jiang 1).
The first thing to notice is that Xhaka had a presence throughout the entire pitch, especially in the opposing half. At the 2014 World Cup, he tended to play in a more attacking role, the two other midfielders, Valon Behrami and Gokhan Inler, sat deeper. However, the fact remains that Xhaka covered 12,107 meters, the most of any player on the pitch that day and thus remained active in the game the entire time (Jiang 1). Going forward, this workrate is going to be important for Switzerland, because the team will need to take advantage of its triangle midfield to maintain possession when attacking and will need to pressure the opponent when off the ball in order to win back possession and break down attacks. In his deeper role, Xhaka will have to perform all of these duties in order to be most effective for the team.
In addition to being a well-rounded playmaker and defensive-minded midfielder, Xhaka possesses tremendous shot power and accuracy, even from long range. This could end up being an important source of goals as Switzerland faces harder opposition in Euro 2016. Below are some of his best goals from range.
(Welovefootballhd99 1).
Xhaka's greatest weakness is his lack of discipline and his tendency to commit fouls. Since joining Borussia Monchengladbach, he has been sent off five times, making him the youngest player in the Bundesliga ever to receive five red cards. In the 2014-15 season, he was tied for the second highest number of yellow cards, at 10, and he also leads the 2015-16 Bundesliga in red cards, at 3 ("The Big Board" 1). His problems lie both in making poor tackles as well as having a bad temper. This could become a massive problem during the European Championship, as receiving a red card means automatic suspension in the next match, and accruing a second yellow card at any point during the Group Stage also means suspension for one game. Given that there are relatively few games played during the tournament, missing even one game could severely hurt the team. Below is a match against Darmstadt where Xhaka was sent off for kicking an opposing player.
(Cppn02 1).
Fun Fact: Granit Xhaka's older brother, Taulant Xhaka, plays for the Albanian national team, so the two brothers are likely to face each other this summer.
Ricardo Rodriguez (LB)
A versatile left-back, 23-year-old Ricardo Rodriguez is currently one of the best fullbacks in Europe. With 33 international caps to his name, Rodriguez has shown himself to be the top choice in his position for both his club, VfL Wolfsburg and for his national team.
Ricardo Rodriguez was born on August 25, 1992 in Zurich, Switzerland, to a Spanish father and Chilean mother. He began his senior career at Zurich, where he signed a professional contract in 2010 and made his debut as a substitute in the Swiss Super League. Just two years later, Rodriguez transferred to Bundesliga-side Wolfsburg in the 2012 January window, where he immediately established himself as the first-choice left-back. He ended up playing every single game for the remainder of the season without being substituted ("Ricardo Rodriguez" 1). In the 2013-14 season, Rodriguez played even better, ending the season with an average of 2.3 key passes per game (the same as Andrea Pirlo), 2.6 dribbles completed per game (more than Cristiano Ronaldo), and 9 assists overall (on par with Yaya Toure, David Silva, and Mesut Ozil) (O'Hanlon 1). At Wolfsburg, Rodriguez has scored 20 times and assisted 25 goals in 157 appearances ("Ricardo Rodriguez" 1). He is seen as a set-piece specialist, taking corner kicks, free kicks, and even penalties. In fact, five of his goals at Wolfsburg have come from free kicks, and eleven have come from penalties ("Ricardo Rodriguez" 1). One of Rodriguez's greatest goals is a 40-yard free kick against Stuttgart in 2015.
(Bundesliga 1).
Ricardo Rodriguez is a well-rounded attacking fullback. His strengths include pace, dribbling, passing, crossing, intercepting, fighting in the air, and taking set pieces. As an attacking-minded player, Rodriguez is useful on the pitch because he can press high up the pitch, forcing the opposing winger to sit deeper or risk being overwhelmed on the flank. Moreover, pressing higher up provides a base for attack; Rodriguez can support the Swiss winger either by providing options for 1-2 passes or by making an overlapping run. Moreover, his technical skill lets him beat opposing defenders in order to set up a cross. One of Wolfsburg's center forwards is the 6'5″ Bas Dost; Rodriguez has been able to take advantage of the striker's aerial ability by assisting goals through crosses. While Switzerland does lack a similar type of target man, Haris Seferovic is relatively proficient in the air, meaning that the team can still take advantage of the left-back's runs down the flank. In a match against Dortmund, Rodriguez's heat map shows several points in the game where he made runs forward, though most of his activity was still concentrated in his own half.
(Young-Myles 1).
Defensively, Rodriguez makes numerous contributions as well. He is both quick and energetic, meaning that he can fulfill Switzerland's demanding fullback role. In one-on-one scenarios, he tends to win the ball or at least hold the opposing player to a manageable position. Moreover, he is nearly six feet tall, making him ideal for winning aerial duels. This helps the team win the ball back more often, especially against goal kicks that tend to be kicked towards the flanks. This aerial ability was highlighted in the 2014-15 Bundesliga season, where no player with more than 20 appearances won more balls in the air than Rodriguez (Collins 1). Overall, Rodriguez is a well-rounded midfielder. He is consistently at the top of the table for key passes, aerial duels, dribbles, interceptions, and tackles. However, just stats do not tell the whole story of his ability, and below is a highlights video from the 2014-15 season.
(KYSTARHD 1).
Rodriguez's greatest weaknesses are all related to his poor positioning. In the 2014 World Cup, for example, he pushed too high up against France, giving Mathieu Valbuena too much space down the wing and exposing the team to several counter-attacks (Carney 1). While the fullback is effective in supporting the attack, he needs to understand that Switzerland's attacking style opens it up to counter-attacks frequently. As a result, he needs to show more caution in attacking and recognize threats before they occur. This can be partially mitigated by his pace and workrate, but proper positioning will be more effective than any single physical trait.
How to cite this page: "Switzerland Key Players", Written by Patrick He(2016). European Cup 2016 Guide, Soccer Politics Blog, Duke University, http://sites.duke.edu/wcwp/tournament-guides/european-cup-2016-guide/underrated-teams-of-euro-2016/switzerland/switzerland-key-players/ (accessed on (date)).