Chief's message: Happy Mother's Day
Hopefully you all got some time to spend celebrating mother's day either with your mother, or with family remembering your mothers.  Springtime in the triangle is notable for a good weather and school graduations, many of which are appropriately on mother's day weekend.  Graduations serve as a reminder of all the hard work and love, compassion, and grace that mothers have in raising and supporting their kids and families.  At graduations commencement speakers frequently ask our young colleagues to often look forward and look at the opportunity they will have to shape the world, and it is fitting that doing that with thoughts of the ways in which our mothers helped us all will serve as a continued guiding light.
Highlights of the week:
Celebrating National Nurses Week, May 6-12
It's National Nurses Week! As we take time to celebrate our nurses, we also pause to consider the sacrifices and losses many nurses and frontline workers have endured due to Covid-19. At Duke Heart and across the Health System, we have seen remarkable dedication and courage from all of our teams over the past year. It hasn't been easy and there are still challenges ahead. Yet we know that our nurses will continue to help lead the way through their outstanding care for patients and through their commitment to excellence, education, compassion, and to one another. Thank you to all Duke nurses – especially those on each of our Heart units, in each of our clinics and those in the research space and elsewhere. Thanks for all that you do!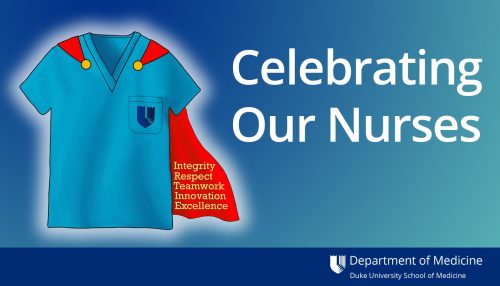 Reminder: The Department of Medicine Well-Being Committee is hosting Celebrating Our Nurses. Through May 12, all members of the Department of Medicine can use this link to nominate nurses for their contributions and describe how they emulate the Duke Health values of Excellence, Integrity, Teamwork, Respect, and Innovation.
There is no limit to the number of nurses one person can nominate, and you can nominate a nurse from any location (i.e. clinic, inpatient, research).
This year more than any other, it is important to recognize the inspiring work done by our nursing colleagues and their important role in the care of our patients.
Women in the Heart of Cardiology Symposium Held

The first "Women in the Heart of Cardiology" international symposium was held virtually on Wednesday, May 5th.
The program was organized by the Brazilian Clinical Research Institute (BCRI) in partnership with the Duke Clinical Research Institute and Stanford University with the goal of promoting discussion around gender disparities in cardiology, in cardiovascular health outcomes and quality of care around the world, and strategies to minimize them. The symposium featured discussions on the still low representation of women participating in clinical trials and as well as the paucity of women selected to lead clinical trials.
The symposium featured male and female thought-leaders from across the cardiovascular space. The presentations and discussions were informative, engaging and featured a number of current and former Duke faculty members including Tracy Wang, Renato Lopes, Jennifer Rymer, Adrian Hernandez, Manesh Patel, Robert Harrington, Lesley Curtis and Robert Califf, as well as Duke cardiology fellow, Vanessa Blumer.
To learn more about the event, the topics covered, and to see a full list of all presenters, please visit: https://wihc.online. Congratulations to co-chairs Renato Lopes, Robert Harrington, Tracy Wang and Ariane Macedo for planning a very successful and well-attended event. We hope to see more sessions on these critical topics in the future. Great job!
Swaminathan to Serve as Track Director for SCAI 2022
Rajesh Swaminathan has been appointed the Cath Lab Bootcamp Track Director for the 2022 Society for Cardiovascular Angiography and Interventions (SCAI) Annual Scientific Sessions, which is scheduled for May 19-22, 2022 in Atlanta. SCAI is the only professional medical society in the U.S. dedicated solely to interventional cardiology.
Duke is well represented on the SCAI Sessions planning team. In addition to Raj, former Fellow Connie Hess is part of the planning committee for the Peripheral Track of the meeting and Sunil Rao became President-Elect of SCAI as of April 28; Rao has most recently served as SCAI vice president.
Congrats, Raj!!
D'Amico, Tong Named to AATS Committees
Please join us in congratulating surgeons Tommy D'Amico and Betty Tong for their appointments to the following American Association for Thoracic Surgery (AATS) committees:
D'Amico has been appointed to the AATS Board of Directors, the governing body of the AATS, in recognition of his dedication and service.
Tong has been appointed to the IT committee, the group charged with modernizing the AATS digital universe and its online presence.
The AATS, founded in 1917, promotes scholarship, innovation, and leadership in the field of thoracic and cardiovascular surgery; it is an international organization whose members have a proven record of distinction within the specialty and have made significant contributions to the care and treatment of cardiothoracic disease.
"These appointments are not only significant individual accomplishments, but also are extremely important for our entire Division as well as our individual faculty and residents," said Edward P. Chen, chief of the Division of Cardiovascular and Thoracic Surgery. "I am absolutely thrilled for them and ask that you join me in congratulating Tommy and Betty for their achievements."
Perfusion Services Team Recognized with JECT Award
Congratulations to Travis Siffring, Amy Evans, William Dauch, Greg Smigla and David Kaemmer – all members of the Duke Perfusion Services pediatric specialty team — and to Duke medical student, Neel Prabhu. Their manuscript, Sustained Total All-Region (STAR) Perfusion: An Optimized Perfusion Strategy for Norwood Reconstruction, has been selected for the JECT Technique Article Award for 2021. The Journal of ExtraCorporeal Technology (JECT) is the official publication of the American Society of ExtraCorporeal Technology (AmSECT) and is the longest continuously published periodical in the field of perfusion.
STAR perfusion is a new technique being used at Duke during Norwood reconstruction. It combines continuous coronary perfusion, cerebral perfusion and lower body perfusion at mild hypothermic temperature for the duration of surgery to reconstruct the aorta. Norwood reconstruction is generally performed in the first weeks of life on infants born with a congenital heart defect called hypoplastic left heart syndrome – a condition where the left side of the heart has not fully developed, rendering the heart unable to pump oxygen-rich blood throughout the body.
"Before this technique we had to cool the patients and use hypothermic circulatory arrest with cerebral perfusion only in order to allow the surgeons to perform a big portion of the surgery — creation of the neoaorta," Siffring said. "Now we can stay closer to normothermia and can perfuse the brain, the heart and the rest of the body while the surgeons are operating on the aorta."
The perfusion team presented on this technique at the AmSECT 58th International Conference, held in March, 2020. Their manuscript describing the technique was published in the December 2020 issue of JECT.
This award is presented annually to a perfusionist who has published an exceptional technique article in JECT. The award consists of a certificate and a modest honorarium. The JECT Award was presented last weekend during AmSECT's 59th International Conference, which was held virtually from May 1-4.
ICYMI: Members of our pediatric heart surgery team published recently on the development and use of the STAR perfusion technique during Norwood. A manuscript by surgeons Nick Anderson and Joe Turek with medical student Neel Prabhu, Sustained Total All-Region (STAR) Perfusion for Norwood Reconstruction was published online last May in the journal Operative Techniques in Thoracic and Cardiovascular Surgery; it appears in the autumn 2020 print issue.
Congratulations to all!
Passings: Carl M. Voyles, Jr., MD
We were saddened this week to learn that Dr. Carl M. Voyles, Jr., a Duke cardiology alum, died on Dec. 31, 2020. He was 98. His obituary reads, in part, "Carl was part of an accelerated medical program at Duke University Medical School during the war (WW2). He interned at Johns Hopkins and then was drafted. As part of his military training, he became a flight surgeon. After his military service, Carl returned to Duke and completed advanced medical training in Cardiology/Internal Medicine under the infamous Dr. Eugene Stead. When his specialized medical training was complete, he moved to St. Petersburg, Florida, and opened a cardiology practice with fellow Duke graduate, Dr. Charlie Rast."
A wonderful tribute to his life can be found here. Our condolences to his wife Joan, their family and friends and his former colleagues. We know he is missed.
Shout-out to CT Surgery Team
We received the following note from Andrew Wang: "I would like to express my gratitude and awe for remarkable collaboration during a high risk TAVR case this past week. During the procedure being performed by Dr. Jeff Gaca and myself, there was a rare, unexpected complication that required rapid problem-solving and eventual conversion to open surgery. In addition to the prompt response from the OR staff, perfusion team and CT anesthesia, both Drs. Jacob Schroder and Ben Bryner quietly appeared and assisted in the emergent surgery which was successfully completed. In observing the many of parts of our heart center team work together at a moment's notice, running toward the fire, it provided a real-time example that "culture eats strategy for breakfast."  Thanks for everyone's dedication and help." – Andrew Wang, Vice Chief for Clinical Affairs, Division of Cardiology.
Nicely done, team!!!
Shout-out to Corley
We're pleased to share the following message of praise for first year fellow Ali Corley. In a note to Anna Lisa Crowley from Durham VAMC cardiology physician assistant Kim Jones, we learned:
"Ali is the best. I told her today about the snafu with the VA ID badges here so no incoming fellows in July. She asked who would be covering her patients. I told her I would, and she said she would be available to help with any questions I had.
What impressed me was not that she said she'd help with any questions (hopefully all the fellows would) but that her first comment was "who will be taking care of my patients?" … that, priceless.
Her future patients should count themselves lucky!!!" –Kimberly Jones, PA, Durham VAMC Cardiology
We completely agree — Great work, Ali!
Kudos to Tong
In a note from Lisa Clark Pickett, Chief Medical Officer for Duke University Hospital, we learned of warm feedback for Betty Tong and the thoracic care team.
"Every nurse was extremely nice to me and my visitor. Dr. Tong was awesome." – A grateful patient (name withheld)
Pickett wrote, "Betty, while reading comments on our Patient Satisfaction Survey I was just delighted to read this lovely compliment about you and your team! Thank you for always providing such excellent and compassionate care."
Photo of the Week: Nafissi Wedding
Congratulations to Duke cardiology fellow Navid Nafissi and his wife, Haley, who were married April 17! The couple, along with their friends and family, celebrated at the Daniel Stowe Botanical Garden in Belmont, NC. It was a beautiful day for a beautiful couple! Congratulations, Navid and Haley!
Newly published!
Congratulations to Carolyn Lekavich and her co-authors, Dennis Abraham, Marat Fudim, Cynthia Green, Robert Mentz, Karol Harshaw-Ellis, Margaret Bowers, Anita Kelsey, Kishan Parikh, Tracy Truong, Debra Barksdale (Virginia Commonwealth University), and William Kraus – their manuscript, Early Identification of Patients At-Risk for Incident Heart Failure with Preserved Ejection Fraction (HFpEF):  Novel Approach to Echocardiographic Trends was published online yesterday in the Journal of Cardiac Failure. Great job!
Triangle Go Red Luncheon – Register Now
The American Heart Association's 2021 Triangle Go Red for Women Luncheon digital celebration will be held on Friday, May 14th from 11:30 a.m. – 1 p.m. Join us as we celebrate the impact of Go Red for Women in the Triangle, learn tips to structure self-care into your day, participate in a series of health and wellness breakout sessions, and hear from inspiring survivors who are "Living Fierce" and not letting cardiovascular disease stand in their way. If interested, please visit https://events.bizzabo.com/301164. Registration is still open for those who would like to join. The event is free and open to all.
Registration Open for Friends of Nursing Gala, May 15
The Duke Friends of Nursing Board of Advisors cordially invites you to attend the 32nd Gala Celebration of Excellence! Hundreds of nurses, friends, supporters and community members attend the Gala each year to honor all Duke Nurses, and to recognize the nominees and winners of the Excellence Awards. While we can't celebrate in-person this year, we are preparing for a very special virtual celebration. Join us for a virtual program celebrating our spirit of innovation, unwavering compassion, clinical excellence, and significant impact across Duke Health. We hope you will attend. There is no fee for this event. To learn more or to register, please visit: https://www.dukefriendsofnursing.org.
COVID-19 Updates:
All the latest official DUHS information regarding coronavirus/COVID-19 response at the following locations:
Upcoming Opportunities/Save the Date:
Cardiology Grand Rounds
May 11:  Cardiogenic Shock: An Outlook on the Past, Present, and Future with Marc Samsky. 5 p.m. Webex.
Have news to share?
If you have news to share with the Pulse readership, please contact Tracey Koepke, director of communications for Duke Heart at tracey.koepke@duke.edu. We would love to hear about your latest accomplishments, professional news, cool happenings, and any events or opportunities that may be of interest to our Duke Heart family. Please call with any questions: 919-681-2868. Feedback on Pulse is welcome and encouraged.
Duke Heart in the News:
May 1 — Robert Lefkowitz
Endocrine News (April issue)
My Accidental Path Into Research and Thoughts on Grooming the Next Generation of Physician-Scientists
https://bit.ly/3es0tZr
May 2 — Robert Lefkowitz
Newsweek
'I'm A Nobel Laureate, But I Still Have Regrets'
https://bit.ly/3eYveUT
Division of Cardiology Publications Indexed in PubMed April 29 – May 5, 2021
Badhwar V, Vemulapalli S, Mack MA, Gillinov AM, Chikwe J, Dearani JA, Grau-Sepulveda MV, Habib R, Rankin JS, Jacobs JP, McCarthy PM, Bloom JP, Kurlansky PA, Wyler von Ballmoos MC, Thourani VH, Edgerton JR, Vassileva CM, Gammie JS, Shahian DM. Volume-Outcome Association of Mitral Valve Surgery in the United States. JAMA Cardiol 2020;5(10):1092-1101. PM: 32609292.
Blumer V, Greene SJ, Wu A, Butler J, Ezekowitz JA, Lindenfeld J, Alhanti B, Hernandez AF, O'Connor CM, Mentz RJ. Sex Differences in Clinical Course and Patient-Reported Outcomes Among Patients Hospitalized for Heart Failure. JACC Heart Fail 2021;9(5):336-345. PM: 33714746.
Breeze CE, Batorsky A, Lee MK, Szeto MD, Xu X, McCartney DL, Jiang R, Patki A, Kramer HJ, Eales JM, Raffield L, Lange L, Lange E, Durda P, Liu Y, Tracy RP, Van Den Berg D,  , Evans KL, Kraus WE, Shah S, Tiwari HK, Hou L, Whitsel EA, Jiang X, Charchar FJ. Epigenome-wide association study of kidney function identifies trans-ethnic and ethnic-specific loci. Genome Med 2021;13(1):74. PM: 33931109.
Califf RM, Hernandez AF, Landray M. Weighing the Benefits and Risks of Proliferating Observational Treatment Assessments: Observational Cacophony, Randomized Harmony. JAMA 2020;324(7):625-626. PM: 32735313.
Cavalier JS, Klem I. Using Cardiac Magnetic Resonance Imaging to Evaluate Patients with Chest Pain in the Emergency Department. J Cardiovasc Imaging 2021;29(2):91-107. PM: 33938167.
Dayoub EJ, Eberly LA, Nathan AS, Khatana SAM, Adusumalli S, Navar AM, Giri J, Groeneveld PW. Adoption of PCSK9 Inhibitors Among Patients With Atherosclerotic Disease. J Am Heart Assoc 2021;10(9):e019331. PM: 33904340.
Douglas PS. Functional vs Anatomical Testing for Patients With Stable Chest Pain-Binary or Directional Thinking? JAMA Cardiol 2020;5(8):868-870. PM: 32492103.
Figueroa JF, Wadhera RK, Frakt AB, Fonarow GC, Heidenreich PA, Xu H, Lytle B, DeVore AD, Matsouaka R, Yancy CW, Bhatt DL, Joynt Maddox KE. Quality of Care and Outcomes Among Medicare Advantage vs Fee-for-Service Medicare Patients Hospitalized With Heart Failure. JAMA Cardiol 2020;5(12):1349-1357. PM: 32876650.
Garza MY, Rutherford M, Myneni S, Fenton S, Walden A, Topaloglu U, Eisenstein E, Kumar KR, Zimmerman KO, Rocca M, Gordon GS, Hume S, Wang Z, Zozus M. Evaluating the Coverage of the HL7  FHIR  Standard to Support eSource Data Exchange Implementations for use in Multi-Site Clinical Research Studies. AMIA Annu Symp Proc 2021;2020:472-481. PM: 33936420.
Greene SJ, Velazquez EJ, Anstrom KJ, Eisenstein EL, Sapp S, Morgan S, Harding T, Sachdev V, Ketema F, Kim DY, Desvigne-Nickens P, Pitt B, Mentz RJ.Pragmatic Design of Randomized Clinical Trials for Heart Failure: Rationale and Design of the TRANSFORM-HF Trial. JACC Heart Fail 2021;9(5):325-335. PM: 33714745.
Kirtane AJ, Mehran R, Navar AM, Bonow RO. Heroism in the Face of the COVID-19 Pandemic. JAMA Cardiol 2020;5(10):1163-1164. PM: 32558909.
Klein LW, Anderson HV, Rao SV. Performance Metrics to Improve Quality in Contemporary Percutaneous Coronary Intervention Practice. JAMA Cardiol 2020;5(8):859-860. PM: 32374347.
Lowenstern A, Alexander KP, Douglas PS. Should We Simplify Computed Tomography Angiography Reporting as Black or White vs Describing All Shades of Gray?-Reply. JAMA Cardiol 2020;5(12):1450-1451. PM: 32902566.
Malik AO, Spertus JA, Patel MR, Dehmer GJ, Kennedy K, Chan PS. Potential Association of the ISCHEMIA Trial With the Appropriate Use Criteria Ratings for Percutaneous Coronary Intervention in Stable Ischemic Heart Disease. JAMA Intern Med 2020;180(11):1540-1542. PM: 32955575.
Mentz RJ, Rao VN. Worsening Heart Failure Events in HFpEF: Underlying Biology Not Treatment Location. JACC Heart Fail 2021;9(5):383-385. PM: 33839077.
Nanna MG, Chen ST, Nelson AJ, Navar AM, Peterson ED. Representation of Older Adults in Cardiovascular Disease Trials Since the Inclusion Across the Lifespan Policy. JAMA Intern Med 2020;180(11):1531-1533. PM: 32897289.
Okoro PC, Schubert R, Guo X, Johnson WC, Rotter JI, Hoeschele I, Liu Y, Im HK, Luke A, Dugas LR, Wheeler HE. Transcriptome prediction performance across machine learning models and diverse ancestries. HGG Adv 2021;2(2):100019. PM: 33937878.
Pagani FD, Mehra MR, Cowger JA, Horstmanshof DA, Silvestry SC, Atluri P, Cleveland JC, Lindenfeld J, Roberts GJ, Bharmi R, Dalal N, Kormos RL, Rogers JG. Clinical outcomes and healthcare expenditures in the real world with left ventricular assist devices – The CLEAR-LVAD study. J Heart Lung Transplant 2021;40(5):323-333. PM: 33744086.
Roth GA, Emmons-Bell S, Alger HM, Bradley SM, Das SR, de Lemos JA, Gakidou E, Elkind MSV, Hay S, Hall JL, Johnson CO, Morrow DA, Rodriguez F, Rutan C, Shakil S, Sorensen R, Stevens L, Wang TY, Walchok J, Williams J, Murray C. Trends in Patient Characteristics and COVID-19 In-Hospital Mortality in the United States During the COVID-19 Pandemic. JAMA Netw Open 2021;4(5):e218828. PM: 33938933.
Shahid I, Nizam MA, Usman MS, Khan MS, Fudim M, Michos ED. Meta-Analysis Comparing the Safety and Efficacy of Dual Versus Single Antiplatelet Therapy After Transcatheter Aortic Valve Implantation. Am J Cardiovasc Drugs 2021 May;21(3):373-376. PM: 33634434.
Spahillari A, Zhu J, Ferket BS, Hunink MGM, Carr JJ, Terry JG, Nelson C, Mwasongwe S, Mentz RJ, O'Brien EC, Correa A, Shah RV, Murthy VL, Pandya A. Cost-effectiveness of Contemporary Statin Use Guidelines With or Without Coronary Artery Calcium Assessment in African American Individuals. JAMA Cardiol 2020 Aug 1;5(8):871-880. PM: 32401264.
Steinberg BA, Li Z, O'Brien EC, Pritchard J, Chew DS, Bunch TJ, Mark DB, Nabutovsky Y, Greiner MA, Piccini JP. Atrial fibrillation burden and heart failure: Data from 39,710 individuals with cardiac implanted electronic devices. Heart Rhythm 2021 May;18(5):709-716. PM: 33508517.
Stone AT, Carlson KM, Douglas PS, Morris KL, Walsh MN. Assessment of Subspecialty Choices of Men and Women in Internal Medicine From 1991 to 2016. JAMA Intern Med 2020 Jan 1;180(1):140-141. PM: 31545349.
van Diepen S, Hochman JS, Stebbins A, Alviar CL, Alexander JH, Lopes RD. Association Between Delays in Mechanical Ventilation Initiation and Mortality in Patients With Refractory Cardiogenic Shock. JAMA Cardiol 2020 Aug 1;5(8):965-967. PM: 32432650.
Yang S, Starks MA, Hernandez AF, Turner EL, Califf RM, O'Connor CM, Mentz RJ, Choudhury KR. Corrigendum to "Impact of baseline covariate imbalance on bias in treatment effect estimation in cluster randomized trials: Race as an example" [Contemporary Clinical Trials volume 88 (2020) 105775]. Contemp Clin Trials 2021 Apr;103:106298. PM: 33578196.