DSV Week Three: The Power of Mission & Vision
This week, we continued our visits to tech companies including Uber, LinkedIn, Palantir, and innovative start-ups, including Impossible Foods and Rothy's. The common thread that I found between these companies is their mission-driven culture to solve critical problems.
Uber aims to bring smarter transportation to the world, LinkedIn connects the world's professionals to make them more successful, Palantir helps institutions solve the most challenging and impactful problems, Impossible Foods produces plant-based meat to combat global warming, and Rothy's creates fashionable and comfortable shoes for women to reduce waste by using plastic water bottles and 3D knitting technologies. Employees we met at these companies may work in different functions, such as engineering, marketing, operations, but they all are motivated by the company mission and are excited to create and improve products to solve problems that they care about. This left me with a deep impression and made me reflect on what a fulfilling job as an entrepreneurial problem-solver means.
Besides company visits, this week's highlights were inspiring guest speakers and our visit to the San Francisco Giants Game.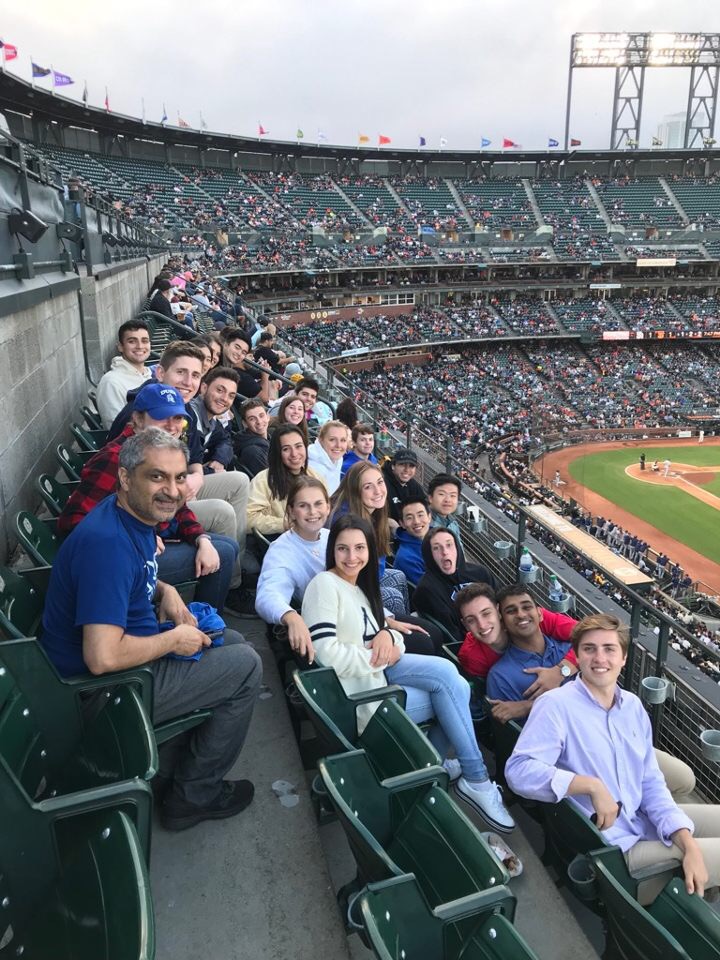 The first speaker we had was Sanj Goyle, a serial entrepreneur and the CEO at Finxera. He spent almost ten years building his latest venture Finxera and shared with us his experience pivoting the product use case before a successful exit. Another speaker we met at the Giants game was Bill Schlough, the Senior VP & CIO of SF Giants. Different from most people in the Valley who jump from one company to another, he has been with the Giants for almost twenty years and he oversees all technologies that are used for the operation of the Giants. The last speaker was Nick Zaldastani, a serial entrepreneur and an investor. He discussed his opinions on what makes Silicon Valley special, execution versus intention, the importance of integrity and transparency and more. Interestingly, although these three speakers talked to us on three separate days, all of them touched upon the topic of passion and had insightful perspectives.
We often hear people say "do what you are passionate about". As cliche as it may sound, after hearing from all speakers, I believe it's a piece of advice that's worth following. Sanj suggested that not everyone's success is related to passion and used enterprise software companies as a counterexample, saying that entrepreneurs who are working on enterprise software are not necessarily passionate about enterprise software. They are still successful because they are working on projects that they are good at. Instead of following the passion, he argued that we should leverage our strength and focus on solving the problem. Bill on the other hand, used his personal experience to demonstrate the value of "do what you are passionate about". He is a huge fan of all types of sports and has always been fascinated by the athletic spirit. He played three types of sports at Duke and always wanted to combine his true passion and his work, so he found his job at Giants perfect. To him, there's no so-called "work-life balance" because his work is part of this life: he loves being at the Ballpark, he takes his kids to games often, and he even uses his spare time to participate in Olympic organizing activities. Similarly, Nick also emphasizes the importance of passion by using the comparison between the word "drive" and the word "passion": "drive" is external and "passion" is internal. People who are driven can be successful, but they are not necessarily happy. Passion is critical to what we do because it is the reason why we do it.
Lin is a rising senior at Duke University pursuing a double major in Statistical Science and Computer Science. She grew up in Shanghai and is very excited to visit Silicon Valley for the first time. She also enjoys reading, traveling, good food and spending time with friends and family.