Palantir Site Visit
by Dhrumil Patel
The moment finally arrived.
We moved out of Lyfe Kitchen (definitely a place I would recommend) after celebrating Jenny Scherl's birthday and walked across the street to 100 Hamilton Avenue.
Our group stood anxiously outside Palantir's headquarter, also known as the Shire, for our first official site visit. Both terms actually came from the Lord of the Rings (if you didn't already guess so). Founded in 2004 by Peter Thiel and Alex Karp (current CEO), Palantir builds software that combines technology and data. Their software is used by numerous companies and governments to assist with cyber fraud, law enforcement, disease response, capital markets, healthcare, and other custom solutions.
Upon entering, we were greeted by a receptionist and security. One after another, we displayed our IDs and received a guest lanyard. After we all checked in, we were introduced to our tour guide, Jake Sanches, a business operations and development specialist. He graduated from Washington University in St. Louis with a BA in Philosophy and Neurology. Jake described his role at the company, his prior experience at a more traditional firm, and the history of Palantir (apparently Lord of the Rings wasn't the only theme present — one floor was dedicated to Game of Thrones).
Thereafter, we explained the DSV program to Jake and what our hopes for the visit were. A lot of us were curious about opportunities for non-engineers and programmers at tech companies. Surprisingly, many of the workers at Palantir were not technical and a multitude of jobs were available for those without technical backgrounds but deep interests in tech, design, and product.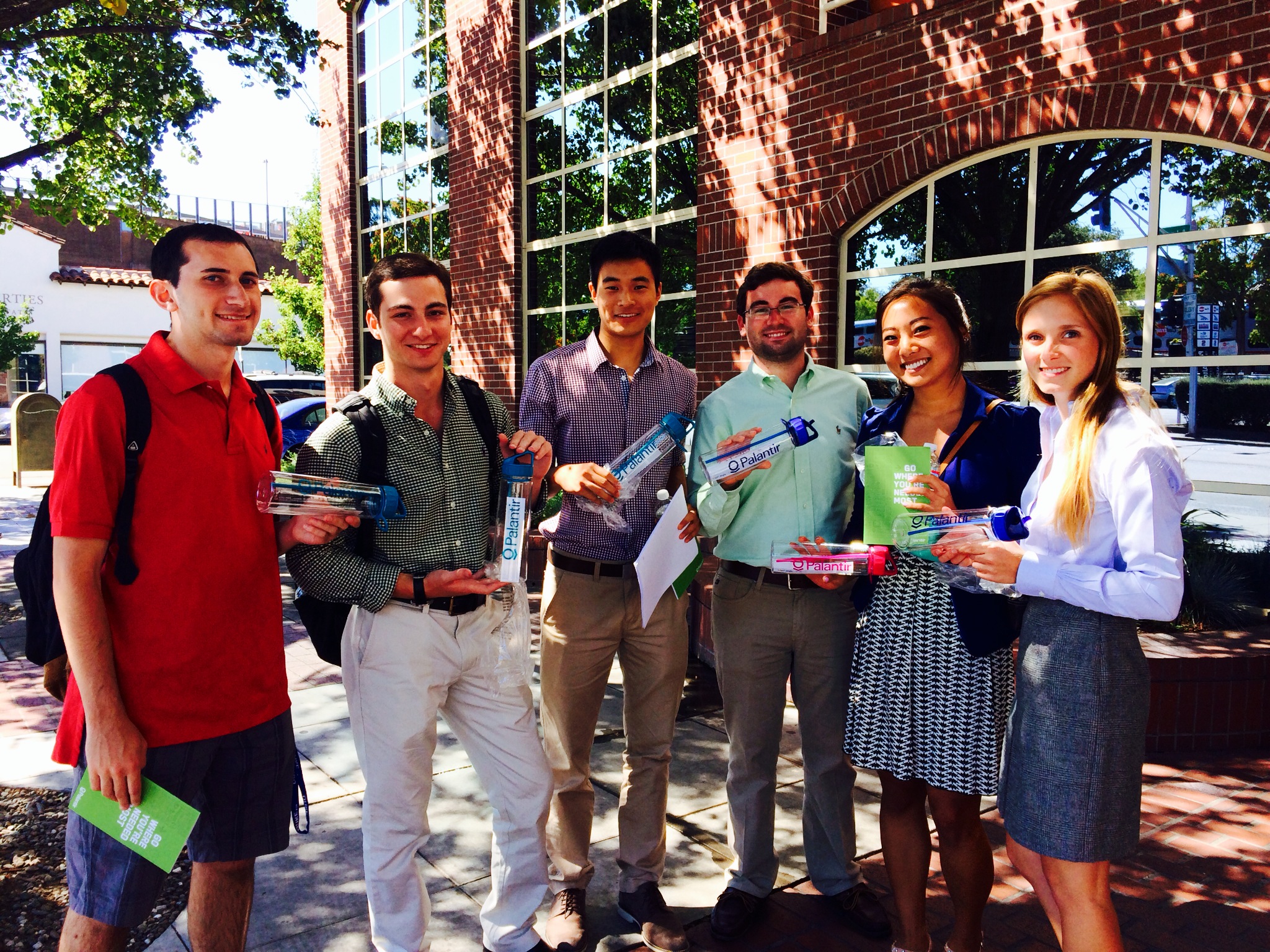 For the first leg of the tour, we were guided to the design hub. The design hub was located adjacent to the main building. The focus of the team in design was to create and continue iterations of design for the different programs Palantir has built. The hub was designed to offer a kitchen full of snacks and drinks, windows everywhere, and creative spaces. Another employee at Palantir gave us a tour of a few of their current projects. The titles, ranging from Raven to Valhalla, helped specific customers use their data to perform tasks such as manage legal documents, geo-tag health care respondents, and analyze where shoppers go. Because most of the work Palantir does is for financial institutions and governments, the work tends to be classified (makes working on projects much cooler anyways).
After viewing the projects, we returned to the Shire (formerly a Google and Facebook office) and ventured to the fourth floor conference room. After sitting down comfortable, Jake explained the culture at Palantir (a bit nerdy — but they aren't afraid to show it), life at work (tons and tons of perks and people sometimes do stay the night to work), and internship opportunities.  Next, Jake offered us a look into the former Palantir software in action using scenario involving a virus outbreak and the CDC. Using the technology, he was able to accurately uncover the source of the disease (two farms in rural California) after analyzing the data given by the CDC. He also previewed the newer, web-integrated Palantir software.
Finally, another employee at Palantir, Alex, came by for Q&A and to discuss the recruiting process at Palantir (challenging but ultimately rewarding). Afterwards, we each received Palantir water bottles and thanked both Alex and Jake for allowing us to visit the Shire and learn more about the wonders at Palantir.
Overall, the tour was amazing and offered all of us an insight into one of the fastest growing (and secretive) companies in the Valley.
Save the Shire!