DSV Video Filming
by Sid Gopinath
We have a pretty cool video in the works for all of you blog viewers. On the afternoon of Monday, July 21, after an incredible life coaching session with Patty Leeper, all of the DSV students packed into cars and drove over to LinkedIn headquarters.
LinkedIn had graciously allowed us to use a space in one of their buildings to film a series of interviews with DSV students, faculty members, and alumni. When we arrived, we realized how lucky we truly were. The company had opened up the entire cafeteria and lounge area to us, as well as a dedicated space to film everything. So, for the students who weren't filming or being filmed, there were plenty of ping pong and foosball games to be played, in addition to plenty of food to be eaten and work to be done.
The students working on the video were guided away from the noise of the lounge area and to our dedicated filming space. Amy Unell had also brought in her friend, documentary filmmaker Rebekah Fergusson, to help with the shoot. Within moments of setting our bags down, we realized we were in the hands of a true professional. Rebekah guided us through the shoot in the calmest and most efficient manner. She had brought along lights and professional microphones, which helped us really nail the interviews. Whether it was suggestions for questions or patient guidance through the filming process, Rebekah was always there to help us. Without her, this video would look very different and not nearly as professional and crisp!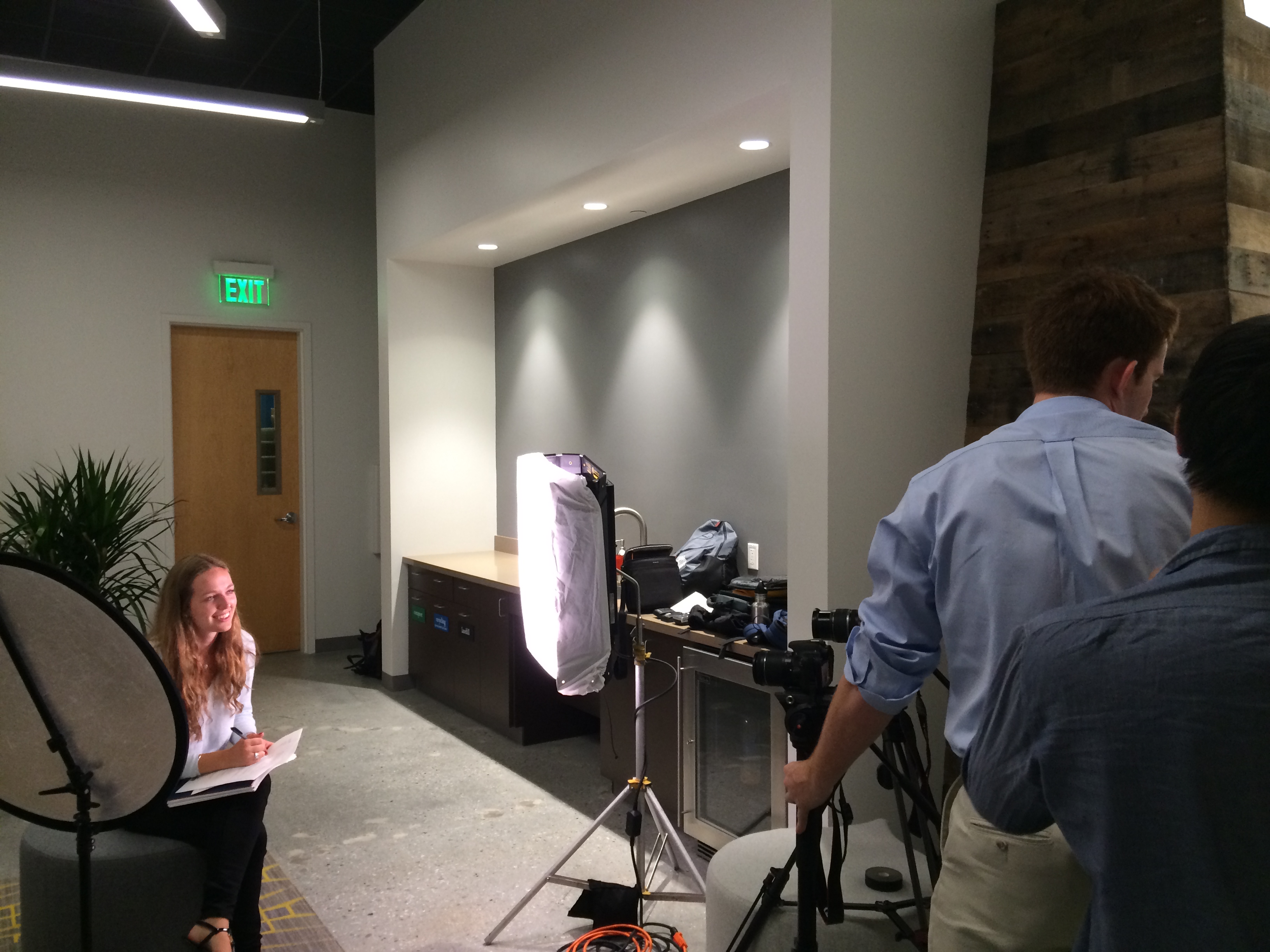 After rearranging the furniture, Rebekah and Matt Chambers set up their cameras for the interviews. Over the next four hours, Shannon Beckham interviewed twenty-two people involved with the program. Occasionally, I would toss in a follow-up question or two. We had several people who rotated in and out typing out "soundbites" from each interview. These soundbites would be used later in the editing process to choose the best segments of each interview.
We had been allotted three hours to complete the filming. But, because we are all enamored with this program, everyone had a lot to say about it. Some comments overlapped (everyone seems to think Matt Christensen is "intimidating and tall" when they first met him), while others were fantastically unique (Ben Peters shared with us his hope that George Bush Sr. and Matt Christensen meet one day to compare their unique sock collections).
Overall, thanks to the enthusiasm and flexibility of everybody involved, we captured a great series of interviews. Once again, a special thanks to Rebekah Ferguson for taking time out of her busy day to help with this student video. Over the next few weeks, we will be editing and polishing it. And it will be awesome.