Google Site Visit
by Peter Kann
As an avid fan of all things Google, this site visit was by far my most anticipated, but I don't think any of us were prepared for what we saw upon entering the Googleplex, the core of Google's massive headquarters in Mountain View.  Giant steel shark fins came out of the sidewalks, flowers and trees covered the lawns between buildings, and the buildings themselves varied from standard brick offices to works of modern art.  Every space was different due to Google's strategy of buying existing building complexes rather than building more of their own, which reflected the diversity of groups within the company.  Despite this, every area maintained the quirky, geeky vibe that we associate with Google.  A T-rex skeleton adorned with lawn flamingos stands in the center of the main quad, and models of spacecraft and superheroes fill the lobbies of the offices.  Even the classic Google colors (blue, green, yellow, and red) are present everywhere, from the umbrella over the outdoor tables to the Google bikes, which had become famous within our class.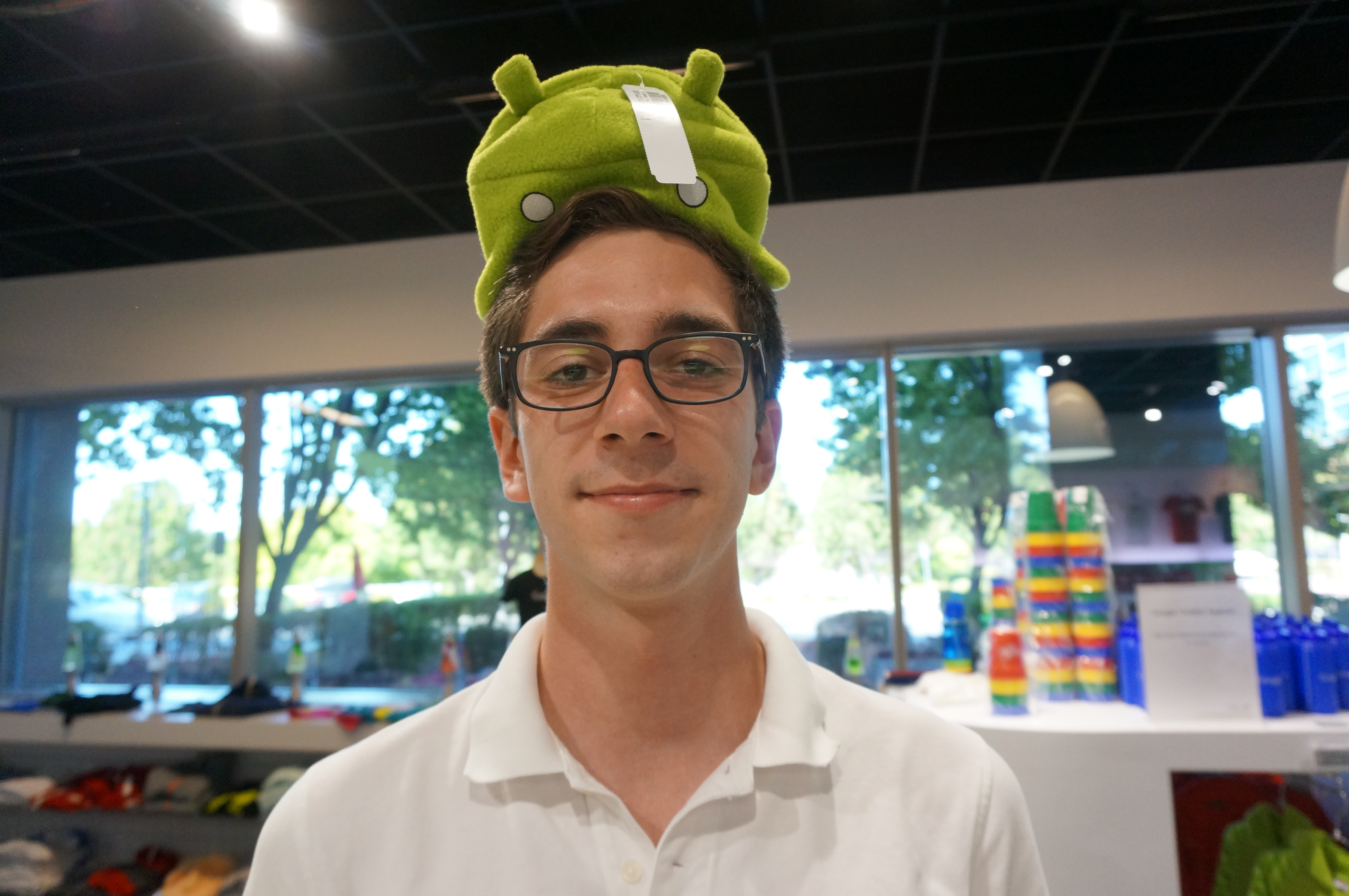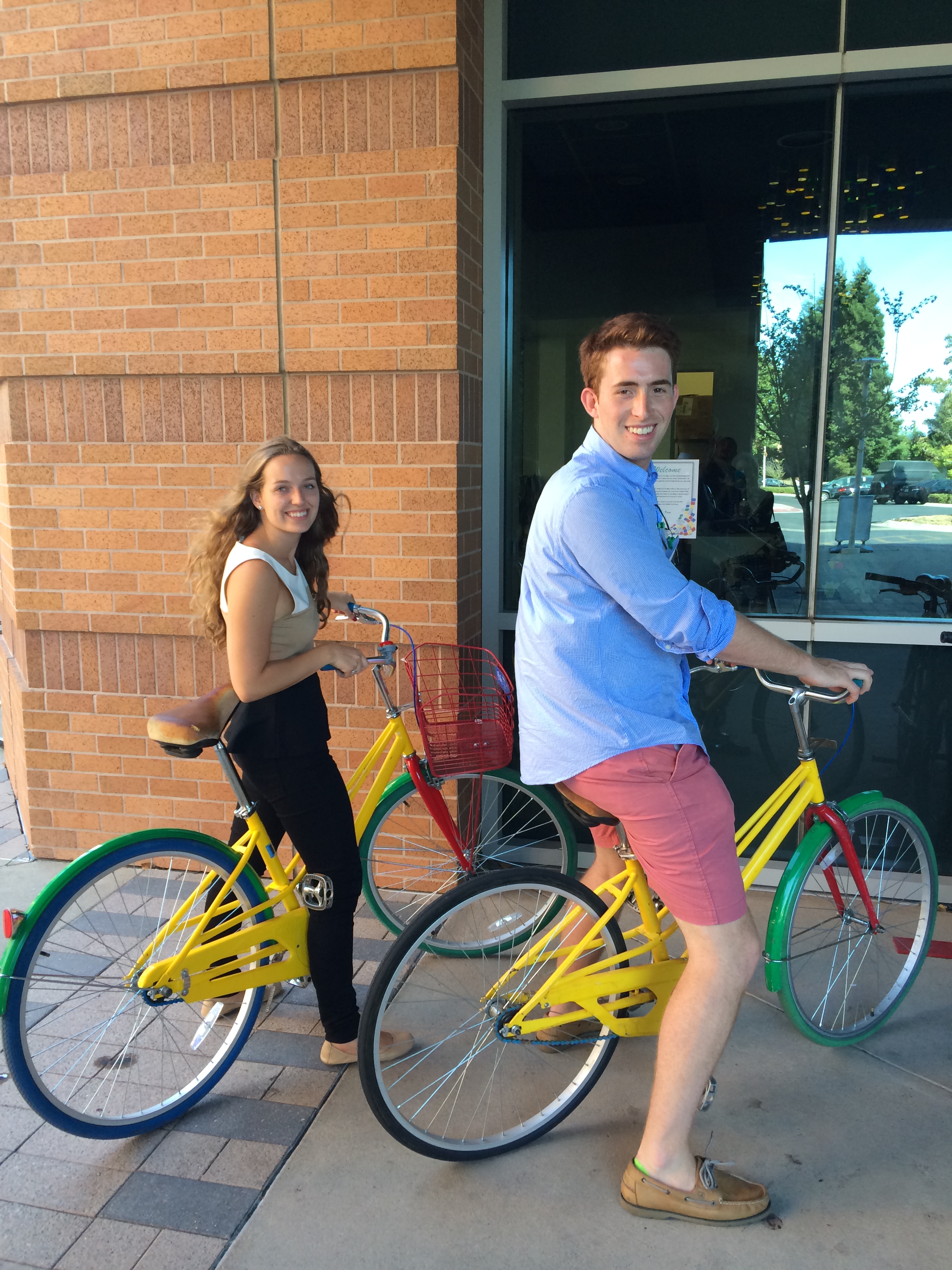 A few of us were lucky enough to come early to the Googleplex and have lunch with a Brown student who was working there.  Bryan had met him through utter coincidence on the CalTrain, and he was kind enough to host us in the afternoon.  Lunch was especially busy, as every Thursday Google co-founders Larry Page and Sergey Brin put on the TGIF event which catalogues the week's achievements and sets the course for the following week.  This event is unfortunately very exclusive, and it brought in a lot of Googlers who lengthened the lines in the cafeteria, but it was worth the wait.  The food was incredible and from every corner of the globe, and we all were encouraged to sit outside and enjoy the California weather while we ate.
After we left lunch, we joined the group at the registration desk to get our visitor badges and meet our tour guide.  We all gathered inside beneath a collection of lights hanging on strings that worked together to create moving 3D patterns, which was a little too entertaining for some of us.  We also noticed that in addition to the elevator, there was a slide that connected the second floor to the first, just one example of the fantastical environment that employees live in every day.  After getting situated we were introduced to our guide Mackenzie Thomas, a graduate from UNC (for which she was quickly forgiven) who works in Product Marketing at Google.
She took us farther into the building into an auditorium where we met with a panel of Duke alums working in various divisions within Google, even one currently in Texas who spoke with us via Google Hangouts.  Their experiences in their journeys to their currents positions were all very different, which made our conversation a very helpful one for a lot of us.  For those of us in the program without a technical or engineering background, it could be discouraging to go on site visits and hear about all of the programming or design skills that the employees need to have, and as a Biology major there were definitely many times when I felt out of place.  But as the Googlers began to tell us about their lives leading up to their careers with the tech giant, it became clear that no matter what your background is, there are opportunities everywhere.  If there were Psychology majors working at Google, anything was possible.  This came as a huge relief to a lot of us, myself included.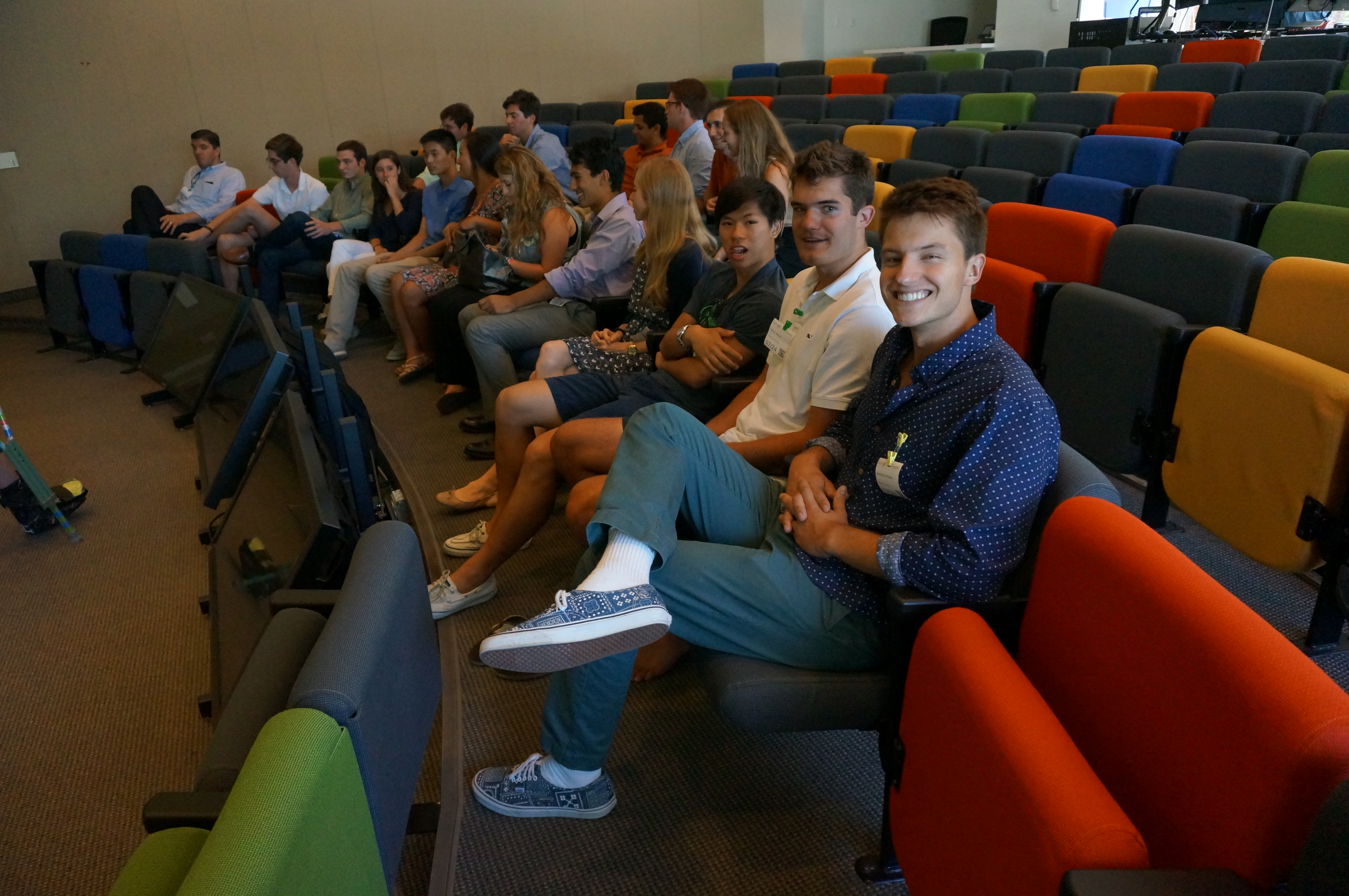 We then began our formal tour of campus, with Mackenzie showing us the grounds and taking us inside the main building at the center of the campus.  The headquarters was equipped with swimming pools, volleyball courts, and fitness centers, making it seem more like a college campus than a corporate complex.  Furthering the college vibe, there were bulletin boards covered with flyers advertising Google events, such as employee a cappella concerts.  Inside the buildings the quirkiness of the campus intensified, with doors hanging from hinges in the walls and a full scale replica of Virgin Galactic's SpaceShipOne hanging from the ceiling.  We even got to see the first server that the Google search engine ever ran on, which sat at the top of a staircase behind an unassuming plaque.  Downstairs there was a series of connected screens that gave a 270 degree view into Google Earth, and after learning the surprisingly difficult controls we naturally we used them to fly down to Duke's campus for a 3D rendered view of the Chapel.  It was a technological wonderland at Google, one that seemed to emphasize fun and creativity just as much as it valued hard work and perseverance.
Our visit ended with an obligatory trip to the company store, where I bought more shirts than I should have, and a series of photo shoots on the colorful Google bikes.  We had met a lot of great alums working with the company, many of whom I hope to keep in contact with, and we came away with a sense that Google was a much more well-rounded company than we had expected it to be in terms of the positions that it offered.  This visit also taught me that any career path is open to you, no matter what your background is, it just may look a little different depending on your passions and skills.  Google was certainly an excellent host to us and I feel that we all came away with a better understanding of what it meant to work at one of the most influential companies in the world.