IDEO Site Visit
by Bryan Wang
We got out of the Uber car right under the Bay Bridge at Pier 28, and looked to our surroundings for the IDEO San Francisco office. Where is it? Surely a company as big as IDEO would have a building just as prominent.
"Oh hey look! It's right here!" Someone shouted.
"Where?"
"Right here!"
Everyone turned around, and saw four tiny letters scattered on the wall of a warehouse-looking building: "I-D-E-O." Next to the little sign was a metal gate with a red train track leading towards the San Francisco Bay. We skeptically followed the tracks and walked along the alley towards the water, and noticed a single door at the end. This must be the entrance of IDEO.
IDEO's San Francisco office exterior
I walked in with the others, confused as to why I was entering IDEO's warehouse. But I was wrong. It was indeed the San Francisco office of IDEO, which was converted from a docking warehouse. The inside of the "warehouse" was stylishly furnished, retaining the original wooden floorings of the warehouse while adding a blend of modern touches. It was pretty hipster, if you will. Oh, and there were watermelon sour patches at the reception desk!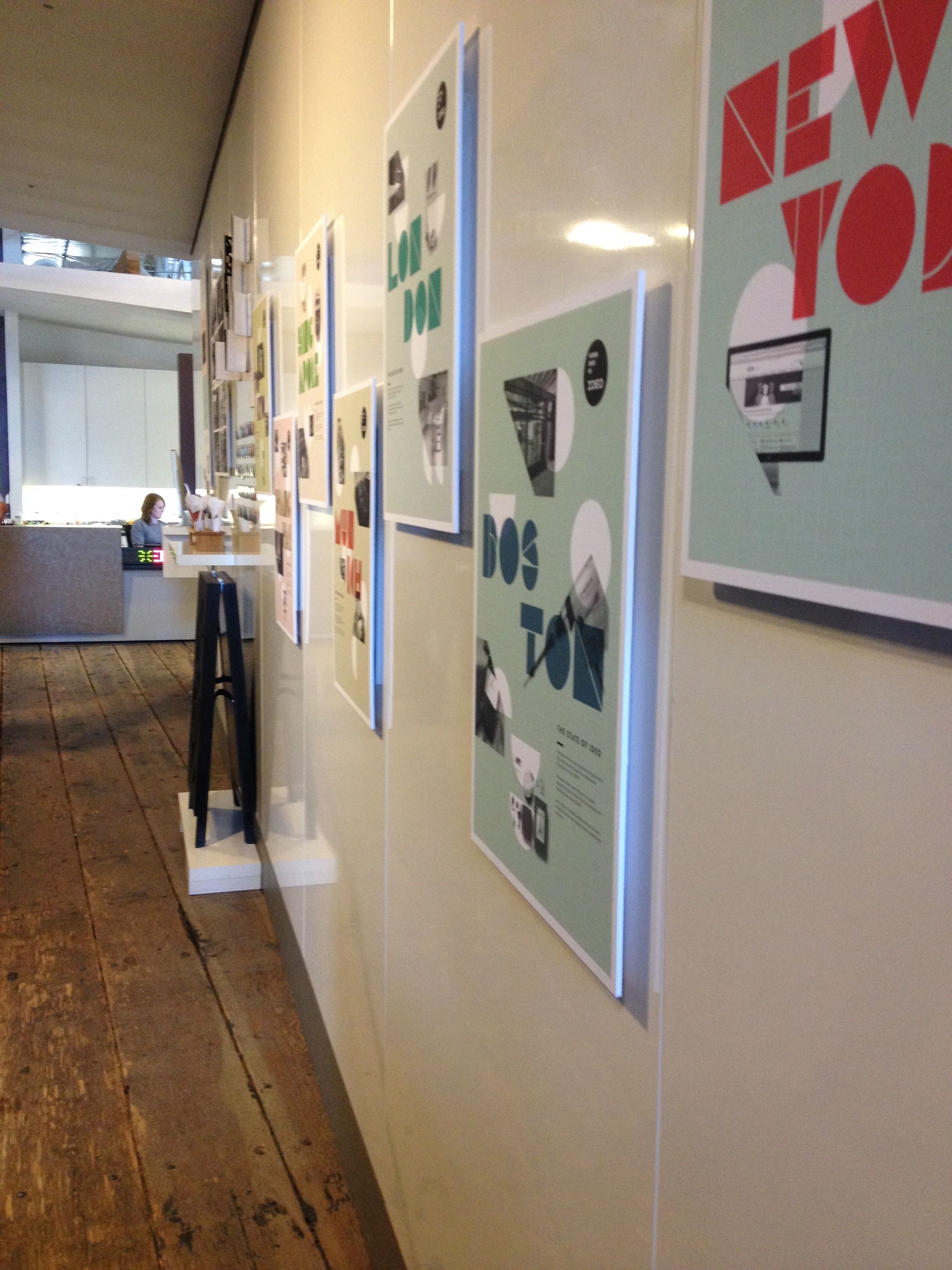 The inside of IDEO's office
The smart furnishings of the office easily impressed everyone. For those of you who don't know what IDEO is, it is a product design and market-consulting firm that has offices all around the world. Other companies contract IDEO when they need someone to design a product and bring it to market. For example, IDEO designed the first ever mouse for Apple.
Our group was greeted by Misa, a Duke Fuqua alum who works at IDEO. She pointed to the wall across from the reception desk, which had 3 big words written at the very top: Learning, Fluency, Mastery. These are the keys to success at IDEO. You first start by identifying what skills you want to learn, then practice to get good at it, and finally become a master of it so that you can teach others. I think this is what drives the employees every single day. Working at IDEO is a constant learning process; and to work here, you must have a strong will to learn from your peers. We continued walking, past displays of previous products and walls covered in sticky notes, and reached the patio area where the employees come to chat and relax. The patio opened towards the ocean, and San Francisco Bay was in full view. Misa explained that the employees don't have their own desks; rather, they rotate frequently based on the projects they're on. For each project, teams are assembled so that people from different backgrounds (engineers, business managers like Misa, etc) are on the same team to provide different perspectives. The teams work with the company that came to IDEO for help, and design the products based primarily on what customers want and need. This human-centered approach lies at the core of IDEO's values, and drives its processes everyday.
After the tour of the tightly-knit office, our long day of site visits came to an end (we had visited Students of the World and Rally.org earlier). IDEO was easily my favorite site visit. As a mechanical engineer, IDEO is exactly the kind of company that allows me to apply my skills very effectively. It is a cool place, with a cool philosophy, run by cool people. See you next time, IDEO!