From an Idea to a Reality: DSV Week 4
As we come to the conclusion of a summer program that can be described as nothing more than every self help book combined into one, this last week was my personal favorite. Often the concept of an idea gets conflated with a dream. A dream is something fictional. The bridge in bringing the dream into reality is what we learned.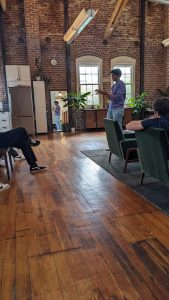 In the first three weeks we visited many companies and startups, but during week 4, we were able to explore one of the most important places: Susa Ventures. In visiting Susa, we were able to sit in on a pitch and observe the conception of a new company and the process in which one goes about seeking funding. What made it more impressionable was the idea of a young founder our age testing the waters of innovation.
In the following days this sense of innovation was furthered as we went to Emergence Capital. Here we heard a panel discussion from Pratyush Buddiga (Susa Ventures), Jeremy Zhang (Finch), Kyle Murphy (Emergence Capital). We were able to learn about the startup environment as all three panelists started their careers at start ups. We learned the thrill associated with it, along with the unreasonable hours. It was eye-opening to see a group of people who spend so much time at work actually praising it. I would have never expected to be at work and say, "what is 4 more hours." It was inspiring to learn not only about the ecosystem of innovation and how it is supported, but the drive which people who go into these jobs possess.
However, all of this would have been meaningless if not for our professor, Jamie Jones. A professional who manages a successful venture fund herself, her teaching during this final week, covering the topics of bootstrapping, charting, and so on, allowed us to learn from the perspective of the founder and the Venture Capitalist. Overall, it was a great way to finish off the program, and it is sad to see DSV come to an end. However, seeing this program being so structured chronologically, really added emphasis to this last week. It did indeed live up to the hype and became the bow to a memorable summer program I will never forget.
Hello, I'm Joshua. I'm from Los Angeles, CA. At Duke I am currently majoring in Poli-Sci while getting a minor in Psychology and a certificate in I&E. I am a Rubenstein Scholar. I love video games and enjoy building things like pinball machines. I have expertise in 3d design and clothing. Nothing makes me more excited than to go explore many of the companies who are responsible for the technology I am able to use each day.