DSV Week Two: There's a Place for Everyone
Our visits this week truly focused on the idea that people from all different types of backgrounds can find their home in Silicon Valley. Tech and consumer companies need team members from a variety of disciplines like sales, marketing, finance, and software engineering to operate, and it's the combination of these skills that truly make a firm successful. Understanding how these functions are interconnected was an essential part of this week's visits to Affirm, Netflix, ThirdLove, and Baris Akis, Founder and Managing Partner of Nav Talent.
At Affirm, we spoke to the VP of Communications, Elizabeth Allin, who talked to us about the company's origins, as well as how the company's service is marketed and its future growth potential.  Affirm essentially focuses on making consumer goods more affordable by allowing users to pay for products in installment over time with low interest. Learning about this process and the company's commitment to increasing transparency in the financial services industry aligned in accordance to concepts we discussed in class, such as ensuring that products serve utility in an industry and solve a problem for consumers. We then spoke to members of Affirm's data science team to learn about the more technical aspects of the service such as how the company uses algorithms and machine learning to decide whether to approve customers for a loan. We talked to members of the sales team and product development team as well and appreciated that we could see how members of different teams viewed the product through a unique lens to frame their decisions impacting the company.
On Tuesday we visited Netflix. Netflix approached our visit in a similar manner as Affirm, with the goal to teach us about all different aspects of the company's operations. We learned about how original shows are created, the data science behind personalizing each user's experience, and what markets Netflix hopes to expand into in the future. Engaging in these conversations helped us think about how we may fit into these roles in the future and talking about the backgrounds of people at the company pursuing these roles gave us insight into what paths we may take to garner the same skills.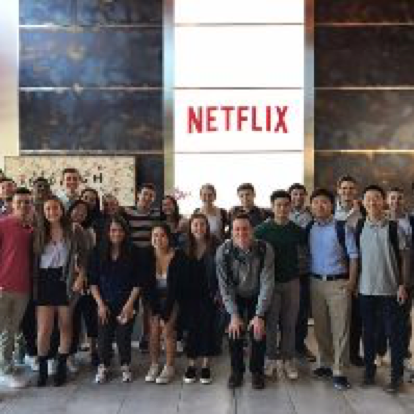 We also visited ThirdLove, where we heard from Founder and CEO, Heidi Zak, about why she started a company that empowers women of all sizes to find their fit for the intimates they wear. We discussed supply chain management and the company's merchandising strategy with its team members and also learned more about the algorithms that help them identify distinct customer segments for marketing/advertising purposes.
Finally, guest speaker Baris Akis, Founder and CEO of Nav Talent, came to class to speak to us about his journey as an entrepreneur and where Nav Talent serves utility as an effective career planning tool. His novel approach bridged the gap between high growth startups and high-achieving students from technical backgrounds, matching these students to jobs within the company. We heard about the multifaceted roles of members of his team such as the interns who plan events at various colleges, advisors who serve as the liaison between the student and companies, and the role of his executive team in strategizing for the company's future growth.
This week in one word: holistic. Tech is more than its technical roles, and there's a place for everyone's individual skills and interests here in Silicon Valley.
Vandita Garimella is a rising sophomore intending on studying Computer Science and Public Policy with a Statistics Minor. At Duke, she is an Analyst with the Duke Impact Investing Group, on the High School Mentorship Committee for Business Oriented Women, and will be on the Marketing Committee for DUU this upcoming school year. In her free time, she loves to watch TED talks, dance, and spend time with friends. Vandita is very interested in entrepreneurship and wants to learn more about how companies are using tech to impact their unique industries, as well as how company leaders work to create collaborative and innovative working environments that largely define the culture of Silicon Valley.