Silicon Valley: The Light of the Future
Ever since I set foot in the Bay, I was swept away by the energy and creativity. Even the first sunset had the finesse of a painter, coloring the skies in wide swaths of pink, orange and purple in ways that the New York skies had never shown me. I felt at home.
Our first visit to Tesla blew my mind—my love for the integration of design, cars and energy efficiency all welded together beautifully in that experience, just like the Model S. I was thrown off guard by the kindness and generosity of the work culture, as every employee went out of their way to make a group of loud, disruptive visiting students happy.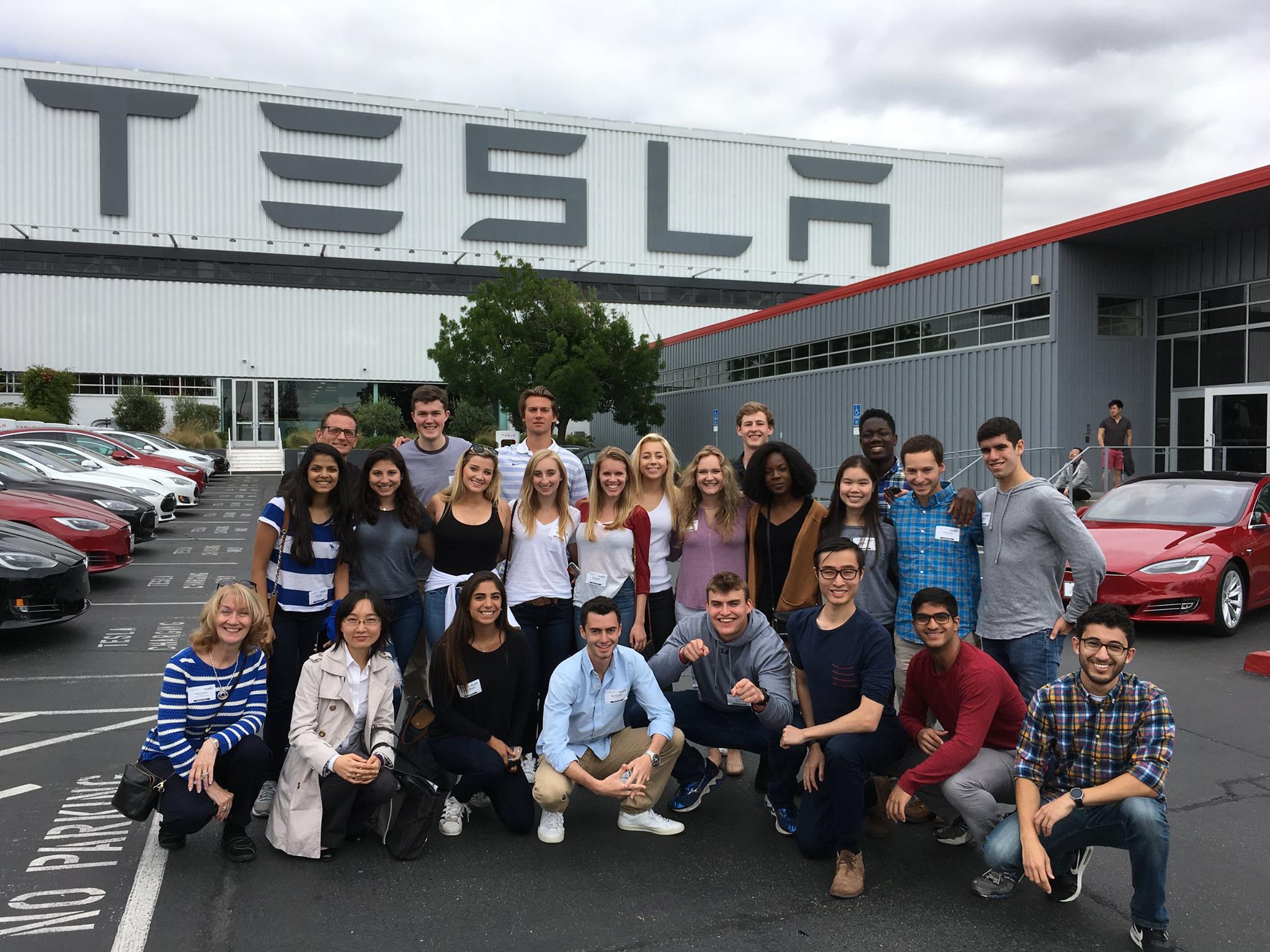 The next day, we landed in Carbon 3D, and I was past the point of joy. I have spent the last year pretty much living out of the Innovation Co-Lab, designing prosthetics with Duke eNable, along with toy cars for my Engineering Innovation class, and bobbleheads for my sister. To be standing in the hub of the 3D printing revolution amongst the pioneers of continuous liquid interface projection printing was a distant dream come true. Our next visit brought us to Idea Couture, where we learned about innovation consulting and the power of creative design. Everyone was told to reach out of their comfort zones and embrace the diversity of ideation we all hold within. With the spirit of entrepreneurs, we designed the future growth technology of the coffee industry while growing closer to each other, awed by the power of our collective minds. All three of these companies pushed our imaginations, creativity, and speed to limits none of us imagined, and set the tone for the incredible innovation of Silicon Valley.
The experience that has impacted our group dynamic the most was today's trip to Intuit, where we all learned to be divergent thinkers. Our experienced and hilarious professor, Dr. Azhar, had spent the morning talking with us about the strength of teamwork, divergent thinking, and hypothesis-based testing as we sleepily sipped our Plug-and-Play coffees and mentally prepared for another long and exhilarating day. Little did we know; those exact theories were going to be applied during our visit to Intuit.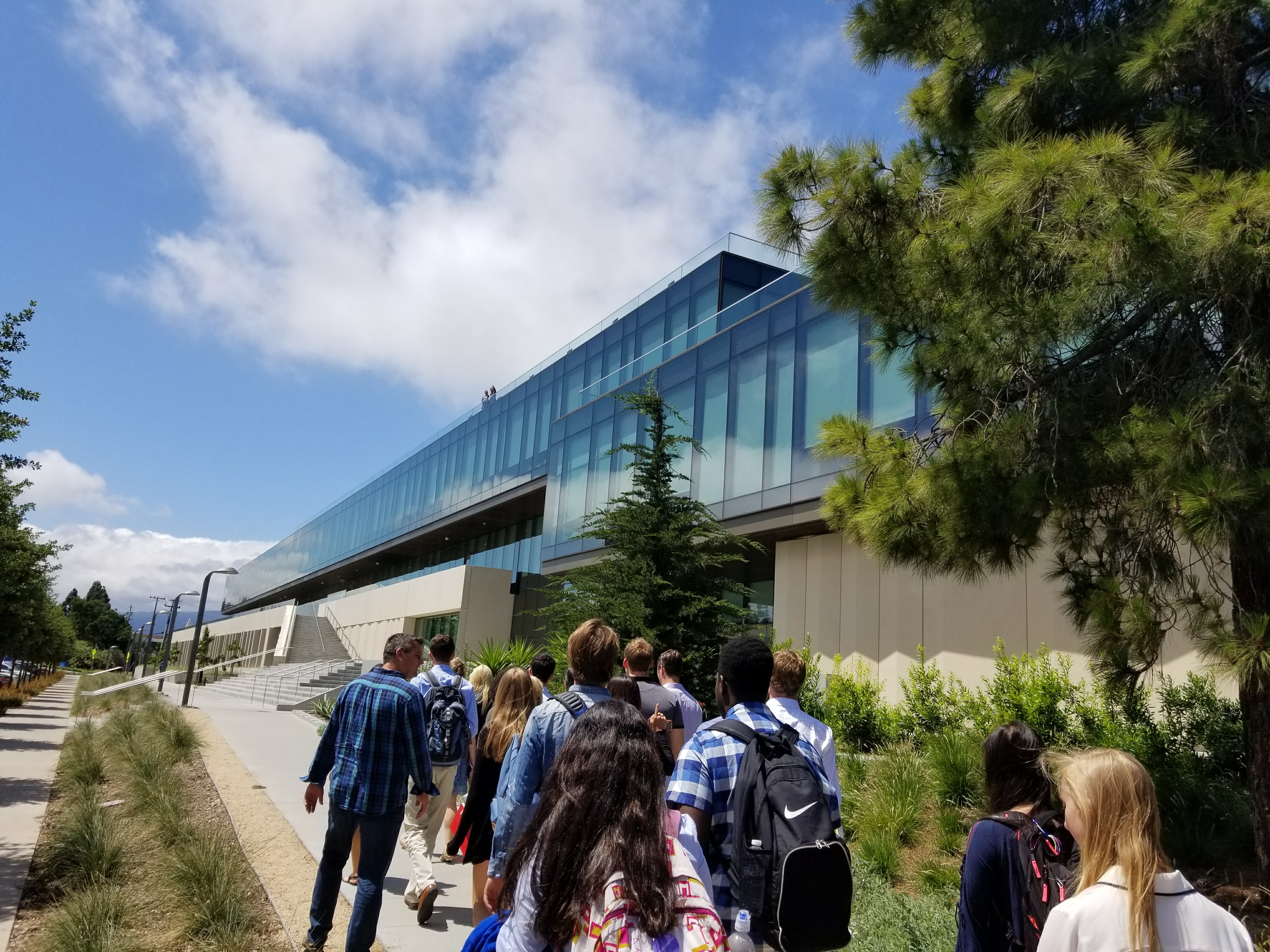 The visit started off with a tour of the breathtaking campus, complete with a 24-hour gym, a basketball court, and an enormous building reminiscent of a spaceship from Star Trek. We then met with Chief of Staff Lindsey Argalas, a proud Duke alum, who coached us on Intuit's strong core values. Somehow, Intuit manages to be a company as old as the Valley that feels younger than us. This is a product of their values of consumer-driven innovation and Design for Delight (D4D). These principles stem from the idea that the most important part of a product is not the technology or the features, but the people who use it. Intuit firmly believes in a "Go Broad to Go Narrow" approach to ideation, where creative people from divergent backgrounds come up with as many ideas as possible on how to solve a problem, then narrow down to a single hypothesis. They come up with a quick viable product, then go straight to the market to get feedback, iterate, and try again.
After giving us this framework, the employees split us into teams and had us learn about the problem of large unexpected expenses. We had to understand every aspect of the problem, brainstorm hundreds of small ideas on what we believed would solve it, and then create our visual mockup that we could lead a consumer through. We had a 40 minute timeline to create our minimum viable product before actual uninformed consumers would come in and try our product. After two gave their feedback, we had 17 minutes to iterate and try again.
The process was energizing. Every one of us felt challenged by the idea of designing for a consumer, and had to approach the problem from an ethnographic perspective, taking note on the qualitative and personal emotions and reactions consumers with unexpected payments would feel. We then designed a product together, trying to tackle all of the existing problems in one seamless experience. Of course, when the first customers tried the product, it failed. But failure, mixed with pride, taught us to create innovative design based on feedback. By the second set of consumers, each team had improved considerably, developed stronger bonds, and, learned at a greatly accelerated rate. We had all caught the bug of innovation.
There is something different about the Valley. The air teems with electricity, fueled by companies like Intuit. Here, people do not stop at the right answer. They create new questions. The problems that the world face are idiosyncratic; they are so diverse and specific to peoples, cultures, and identities. Only by understanding people will we learn to solve problems and lead industries. Only by thinking in divergent ways will people be able to find the true capabilities of their collective intelligence, and come across cross-disciplinary ideas that will lay the groundwork to a better future. Last Friday, we were shown by Tesla that with unparalleled vision and determination, energy can have a green, sustainable, and beautiful future. On Tuesday, we were given a peek into a world where manufacturing can be seamless, waste-free, and unbelievably convenient with Carbon, Inc.'s continuous 3D printing technology. Yesterday, Idea Couture envisioned a future in which every product connects with the human journey. Today, Intuit showed us that understanding people breathes delight and solution into complex and ambiguous problems. Elon Musk recently asked, "What do you love about the future?" (TED). This is something that many of us are afraid to ask ourselves. The answers will appear if we find ways to believe in ourselves and each other, recognize and understand the complexity of problems, and lead the world as change-makers, innovators, and entrepreneurs.
I can't wait for next week 🙂
__
Gaurav Uppal is a rising sophomore studying Mechanical Engineering with a passion for entrepreneurial change. He works with a diverse array of organizations around and outside Duke's campus in the fields of energy, prosthetic design, and innovation. Outside of class, he loves learning about the world's leaders and playing Ultimate.