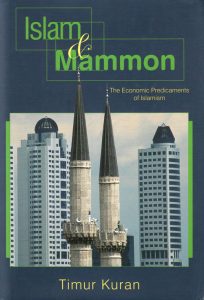 Islam and Mammon: The Economic Predicaments of Islamism (Princeton: Princeton University Press, 2004), xviii + 194 pp.
Arabic translation: Al-Islam wal-Thara'al-Fahish: Ma'zaq al-Iqtisad al-Islami (Amman: al-Ahliyya, 2012).
South Asian edition (New Delhi: Tulika Press, 2006).
Turkish translation: İslâm'ın Ekonomik Yüzleri, by Yasemin Tezgiden, with an original introduction (Istanbul: İletişim, 2002), 303 pp.