This 500-piece puzzle was designed by Emilia Grzesiak. On Thursday, March 30, at 6PM, Duke students gathered in the Jarvis residence hall to put it together. Emilia has donated the puzzle to Jarvis so that future residents of this dorm will also see the message for years to come.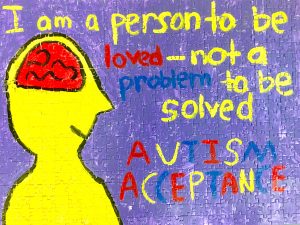 Image description: A square puzzle with a purple background. On the left is a silhouette of a person's profile, in yellow. The person is smiling, and we see the outline of a brain in red. A slogan is written in red, yellow, and blue letters. It says, "I am a person to be loved, not a problem to be solved: AUTISM ACCEPTANCE."
Video description: Time lapse photos of Duke students constructing the Autism Acceptance Puzzle for Disability Pride Week.