2022-2023 Duke Advanced Practice Provider Leadership Institute (APPLI) Program Fellows Selected

Image from our Welcome Webinar in May
With generous funding support from Duke Health Chancellor's Office, the Duke Advanced Practice Provider Leadership Institute (APPLI) Program is proud to announce the selection of our new cohort of fellows for the 2022-23 program year. The cohort includes 15 Advanced Practice Provider-led teams, which comprise a total of 36 program fellows from diverse healthcare professions. A key objective of the program is to provide leadership development opportunities for healthcare teams that will enable them to provide more effective and efficient healthcare services to vulnerable populations and to lead innovative health improvement initiatives for their organizations and communities. This year's selected program fellows are named by team in this announcement, with names of APP team leaders in bold type. Congratulations to each of them, and we wish them an extraordinary learning experience!
Carolyn Bogan – Chestnut Hill, MA
Rebecca White 
Patrick Cacchio – Rougemont, NC
Geraldine Kanne
Jessica Cerulli – Warwick, NY
Margaret Canjura
Ashley Linington
Christina Cone – Durham, NC
Therese Hennig
Kara Threatt
Christine Dorman – Melville, NY
Kaci Costello
Beatrice Forlizzi
Shieghetha Edwards – Durham, NC
Joy Curry
Paul Evangelista – Raleigh, NC
Nathan Pearl
Mistee Formica – Gastonia, NC
Stacey Bhalla
Valerie Keck – Wake Forest, NC
Gayathri Devi
Jamie Mancuso – Morrisville, NC
Savannah Henderson
Melissa Nelson – Easton, MA
Anna Patrusheva
Keisha O'Garo – Durham, NC
Karen McCain
Blanca Iris Padilla – Durham, NC
Michele Kuszajewski
Krysta Ramirez Henry – Warrensburg, MO
Nellie Modaress
Christy Evers
Sara Schedler –  Elm Grove, WI
Katie Eisele
Erika Klitzke
Jennifer Schuster
---
Leadership opportunity available to APPs and their teams
By: Morag MacLachlan, March 2, 2022 (Published originally in "Inside Duke Health")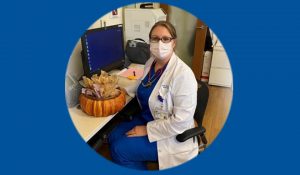 Jackie White, NP, a nurse practitioner with Duke breast surgery, received one of the pair's well-bring interventions – a healthy snack with a note of gratitude.
Bernadette Labriola had always been focused on her coworkers' well-being. The breast surgical oncology nurse practitioner completed the Duke Center for Healthcare Quality and Safety's well-being ambassador program. She also joined the Duke Cancer Institute's (DCI) well-being committee. And when she learned about a year-long leadership training for advanced practice provider-led teams, she embraced the opportunity to develop meaningful well-being interventions.
"It was such an enriching experience," said Labriola, RN, MSN, FNP-C. "It gave me the chance to step outside of clinical care and receive the mentoring and team leadership training I needed to become a better clinician and coworker."
The Duke Advanced Practice Provider Leadership Institute (APPLI) is accepting applications for its 2022-2023 cohort through Friday, April 1, 2022. This year-long program utilizes a flexible delivery approach, suitable for full-time professionals, which combines monthly distance-based learning activities, small-group project mentoring with experienced healthcare leadership, individual and group executive coaching sessions and weekend leadership development web-conferences. Teams will also develop and conduct a health improvement project that applies leadership and quality improvement techniques acquired throughout the program. Projects tend to have a clinical, educational or advocacy focus.
"APPs have the potential to be transformational change agents in health care," said Anh Tran, PhD, MPH, director of the Duke APPLI. "We hope our program's team training model empowers APPs and their teams to become the best versions of themselves."
Up to 25 interprofessional healthcare teams will be selected to participate. Teams must be led by an APP and can include one or two additional team members. The additional team members do not have to be healthcare providers and can be community partner colleagues. The team's composition should be based around the needs of the quality improvement or population health project. Operational costs for this robust professional development opportunity are supported, in part, by sponsorship from the Duke Health Chancellor's Office.
Labriola applied to the program with Meg Helsley, MSN, APRN, AOCNS, an oncology clinical nurse specialist at Duke who is also passionate about supporting her colleagues' well-being. They analyzed data from a DCI APP practice and work culture survey and focused on the responses from a smaller group of breast oncology multispecialty practice APPs. They paid particular attention to how APPs rated workday stress levels, burnout experiences and overall job satisfaction. The pair then developed interventions and evaluated their effectiveness. They discovered that interventions embedded in the workday, like surprising an APP with their favorite coffee, were more impactful than asking APPs to gather outside of work, like for a group yoga class.
"This team project gave me the opportunity to get to know my colleagues better," said Labriola. "I couldn't have done it without the support of the DCI leadership."  The year-long distance learning program will begin in June 2022 and end in May 2023. For more information, visit https://bit.ly/DukeAPPLI-Info.