The Program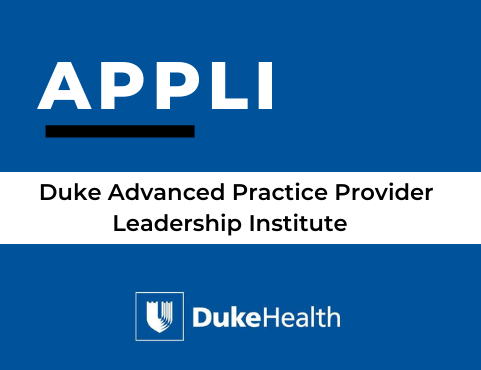 About The Program
With a focus on building team and workforce capacity to create, deliver and sustain health care transformation, Duke APPLI will provide APP leaders and their team members with opportunities to identify their personal leadership styles and philosophies and learn how to expand and leverage them when directing, supporting and participating in diverse APP interprofessional healthcare teams.
The APPLI team-based leadership development model was designed and executed with great success during the well-known Duke-Johnson & Johnson Nurse Leadership Program, which trained nearly 300 alumni across 41 states during the past decade.  Now, with generous funding support from Duke Health Chancellor's Office, Duke APPLI is able to continue offering a team-based leadership training opportunity to the next generation of health care leaders by building on these lessons learned nearly a decade leading the Duke-Johnson & Johnson Nurse Leadership Program. The goals of Duke APPLI are well aligned with the goals of Duke Health's clinical enterprise strategic plan. We enthusiastically channel our experience and our supporters' confidence in the vision of Duke APPLI.
In the Duke APPLI program, APP-led health care teams will be guided to create, deliver and sustain health care transformation through quality and population health improvement innovations – whether it be for their patients, providers, learners, organization or community. Skills and competencies that individuals and their teams acquire through program participation can benefit numerous diverse operations, including urban, rural, large or small clinical, educational or community environments.
This year-long program utilizes a flexible delivery approach, suitable for full-time professionals, which combines monthly distance-based learning activities; small-group project mentoring with experienced health care leadership; individual and group executive coaching sessions; and weekend leadership development web-conferences. Teams will develop and conduct, during the program, a transformational health improvement project that applies leadership and quality improvement techniques acquired throughout the program.
Mission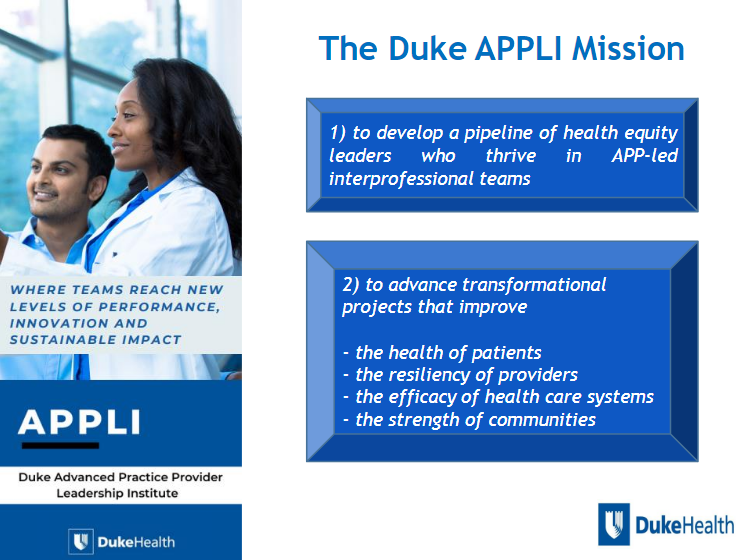 Goals
By augmenting participants' professional growth and development through a transformative learning experience, Duke APPLI aims to: