Everyone's best hours for research, reading, and paper writing are different. Some of us love working late at night. Some of us, regardless of preference, find ourselves working late at night because that paper deadline is tomorrow. But there is good news: though the Divinity Library has limited evening hours, the main university library (Perkins/Bostock) is frequently open 24 hours during the academic year (but check their hours to be sure). Even if you find yourself researching from your home in Durham or elsewhere, Duke Divinity Library resources are here for you, 24 hours a day — if you know how to look. Below are the search strategies and top databases Divinity students should know about.
Searching for Electronic Books
Our EBooks tab searches the Books and Media catalog and automatically limits the results to "Resource Type -> Book" and "Access Type -> Online." If you do this using "Theology" as a keyword search, you get over 15,500 results! You can also use this strategy to see what commentaries we have electronically to help you with your exegesis paper. For commentaries on Mark, for example, search "mark bible commentary," and bring up over 100 results. "Exodus bible commentary" brings up 60 results, and "1 Samuel bible commentary" brings up 80 results.
Good to Know: For these searches, it's important to include the word "bible" because the catalog search will treat all of your search terms as keywords. That means a search simply for "mark commentary" will also bring up any work whose author's first name is Mark, or that has Mark in the title, etc., regardless of whether the book in question has anything to do with the Gospel of Mark!
Atla
Atla is the biggest religion and theology database in the world, and once again, you can search it with key words directly from the Divinity Library's main catalog search box. When you find articles related to your topic, be sure to look for the following icons:
These will take you directly to the article to read or download it online. If we do not have the article through one of our online subscriptions, the "get it @ Duke" button will take you to a search of the print catalog. If Duke has a print subscription to the journal in question, you can then plan to retrieve the article and scan it (though ordinarily not at 3am), or you can request the article via InterLibrary Loan.
Good to Know: Sometimes Atla and JSTOR don't link directly to the downloadable PDF of an article. Before you give up, note the title of the journal your article appears in and use the "Online Journal Titles" search option from the main Divinity Library page to see if Duke subscribes to the journal through another platform. You can then search for the article by the date/issue in which it appeared.

JSTOR
Another huge database of online journals and articles you can search directly from the Divinity Library's website is JSTOR. This database is more broadly focused than Atla — it includes religion and theology, but also history, literature, anthropology, classical studies, cultural studies, economics, natural sciences, and many, many more.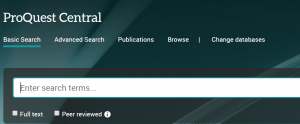 ProQuest Central
ProQuest Central is another massive online database, but this one has a focus on bringing together full texts of newspapers. Are you looking for contemporary coverage of historical events? Popular attitudes toward a certain event or cultural group or trend? ProQuest Central is a great way to browse for a topic in local, national, and international newspapers.

ProQuest Dissertations and Theses
Atla and JSTOR and other online databases are fantastic when you're trying to test-drive a thesis idea and you want to see who else has written on a topic. Another great resource for this sort of work is ProQuest's database for dissertations and theses.
Just search "proquest dissertations theses" in our main catalog search box and you'll connect to this resource. Scholars sometimes place an "embargo" on their dissertation while they work on revising and publishing it as a book, so if you are looking for a specific person's work, you may not find it. That said, browsing ProQuest is a great way to find recent dissertations in your discipline.
Because many dissertations have their full text available, ProQuest will use your keywords to search everything: the first results will be the most relevant ones, which have your keywords in the title. But the results will include any dissertation that mentions your search terms anywhere. For example, a search for "feminist theology," for example, brings up over 57,000 results! A search for "thomas aquinas" yields over 33,000 results, while "bonaventure" brings up over 10,000.
Note that if you want to limit your results to truly recent work, there's a helpful Date Range selector in the left-hand column:
You can also narrow your search by Subject, Language, University/Institution, etc.
Ministry Matters
Looking for online Bible commentaries, sermon resources, Bible study guides, and other tools for ministry? Ministry Matters gathers resources for worship, teaching, preaching, and more. You can search the "legacy library" (default setting), or use the orange banner at the top to navigate to the "research library." You'll find full text copies of commentaries on individual books of the Bible and more, including Abingdon Old Testament Commentaries, Abingdon New Testament Commentaries, Immersion Bible Studies, the New Interpreter's Bible, and more.

Tools for Studying the Hebrew Bible
This site, put together by Duke's own Professor Marc Brettler (Judaic Studies; Religion Department), gathers resources for learning the specialized discipline of studying Hebrew text.  Dr. Brettler has put together glossaries (English to Hebrew and Hebrew to English) that introduce students to major terms important for understanding the critical apparatus (i.e., the notes at the bottom of the page) of a scholarly edition of the Hebrew Bible.  He also gives helpful introductions to different editions of the text, lexica, grammars, concordances, and more. For those interested in taking a deep dive into exegesis of the Hebrew text, this site provides an invaluable set of resources to get you started.
Intelex Past Masters
Looking for primary source material? The Past Masters database includes full-text electronic editions of primary source materials in religion, philosophy, political thought and theory, education, classics, and more.  Featured authors that might interest Divinity students are Thomas Aquinas, Augustine of Hippo, Anselm of Canterbury, Peter Lombard, and more. The database allows you to browse/read full texts online, or to search a collection by keyword. (For example, you could select the collection of Augustine's writings and search "baptism" or "lord's supper" to bring up places where these words appear in his treatises or sermons.) See our full tutorial for using this database here.
Digital Karl Barth Library
Looking for Karl Barth's writings specifically? The Digital Karl Barth Library gathers the massive The Church Dogmatics(Die kirchliche Dogmatik) in English and German versions, as well as the first 45 volumes of Barth's Gesamtausgabe (including letters, sermons, etc.).

Library of Latin Texts Series A (and Series B)
The Library of Latin texts. Series A and the Library of Latin texts. Series B reproduce a massive amount of Latin literature (including early and medieval Christian literature) for online reading and searching. If you use any of the Corpus Christianorum series for your work, this online database helpfully reproduces many of those editions. From the main page, you can search by Author, Title, or Keyword, or you can go to the Table of Contents and browse by letter of the alphabet.  Selecting "A" under the Table of Contents will bring up any author and some titles that begin with the letter A, for example. Looking for Albertus Magnus? LLT-B has links to a dozen of his texts, including his commentary on Lombard's Sentences.

Loeb Classical Library
The beautiful red- and green-covered sets in the Divinity School Library's Reference Room are also available online through the Loeb Classical Library.  The search function for this database is notoriously cumbersome, but you can always select the "Browse Authors" option to take you to an alphabetical list of authors, from which you can pull up the full text of individual volumes with facing English and Greek/Latin pages.