Are you taking a seminar on the thought of St. Augustine this fall and looking for an easy way to get broad, searchable access to his writings? Are you curious about the theological writings of Anselm, Lombard, or Aquinas? Want to flip through Jane Austen's letters, or Søren Kierkegaard's journals, or learn about the Blue Stockings Society's advocacy of women's education and literacy in 18th-century England?
The Past Masters database includes full-text electronic editions of primary source materials in religion, philosophy, political thought and theory, education, classics, and more. Think it could be useful for your research? Here's how to get started:
Step 1: In the Divinity Library catalog, search "Intelex Past Masters." Your first result will look like this:
Select "View Online" to navigate to the database's main page.
Step 2: Begin searching!
You can search the entire database using the SEARCH box in the left-hand menu, or you can select a title from the alphabetized list in order to navigate directly to a particular author's works. Let's say you want to learn more about Augustine's writings. In that case, select the link for "Augustine: Works."
Step 3:  Once you've brought up Augustine: Works, focus on the left-hand menu.
There are two main ways to search within a collection like Augustine's writings: broadly through the whole collection, or within individual volumes/works. Both of these search strategies make use of the left-hand menu. Notice that the SEARCH box is still present at the top, but specifies its search parameters within the collection of Augustine's writings. Further down, you'll begin to see titles of Augustine's works linked in the grey boxes. This is how you would select a specific individual title to read or search online.
Step 4: Example search: collection-wide. Let's say you want to learn more about Augustine's thinking on the sacrament of the Lord's Supper. Using the SEARCH box, enter keywords that have to do with the Lord's Supper: for example, you might run searches for "communion", "Eucharist", or "bread and wine". Here's what happens when you search for "Eucharist": the database finds hits within 38 of the 41 available volumes of Augustine's writings! The volumes will then appear in order of relevance. Coming in first place with 39 separate hits is Augustine's Sermons (184-229Z) on the Liturgical Seasons. Here's a peek at the result list: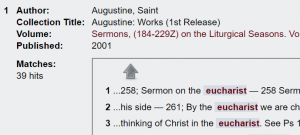 Notice that you get minimal context surrounding each occurrence of your search term. This can help you narrow down which hits will actually be helpful to your specific research question.
Step 5: Ready to see one of your hits in the broader context of Augustine's writings? One thing to be aware of: your search will bring up results in the main body of Augustine's text, but it will also bring up results in the titles, subtitles, and footnotes. Some of these will be useful, but many you'll want to cross off your list quickly. How to go about this? Notice that each occurrence of your search term is in bold scarlet print. These are hyperlinks connected to the place in the volume where the term appears. Select any line to get started. Here's an example of where you'll be taken in the larger text:

Once again, your search term is highlighted in scarlet. Also, notice there are arrows before and after the search term. These allow you to navigate quickly forward or backward through your search results without returning to the main results page. This can be very helpful, especially if you get several results in a row that are irrelevant or take you to occurrences of your search term in the translator's footnotes.
Step 6: Okay, we've found some good stuff. How do we cite it? Let's look at the left-hand menu again.
Notice the option, right under the SEARCH box, to "Export a Citation." This will pull up a citation for you in plain text, or, if you use a citation management program like EndNote, you can select an option that exports the citation to that program. Prefer to cite the print version of the text? Notice the title, volume, and part of the text you wish to cite. For example, "The Confessions I/1" means the volume title is The Confessions, the volume number is I, and the part number is 1. The print series is located on the Divinity Library's BQ-BR level, starting at  BR 65  .A5   E53   1990.