Two rooms in the Hudson Annex (rooms 1113 and 1114) are available to individuals needing a private space for virtual job interviews.
These rooms can be booked on a first-come first-served basis via Outlook, and are dedicated solely for use by engineering master's students.
In using Hudson 1113 and 1114, please observe the following:
–       Outlook Scheduling: These spaces can be booked by entering the room number under "Location" in an Outlook calendar invite, and then searching for availability (detailed instructions are available HERE).  When booking a room, it is recommended that you include a small amount of buffer time before and after your interview time to avoid potential overlap with others.
–        Directions:  Below is a floor plan of to help guide you to 1113 and 1114 from the main lobby of Hudson.
–      Amenities:  There is a desk in each room along with a power outlet for your laptop.  There are no monitors or other equipment in the rooms.  There is a strong wi-fi signal.
–       Waiting Area: If you arrive early for your time slot, there is soft seating at the near end of the hall.
–        General Etiquette:  Below is a summary of general etiquette norms for the interview rooms.
Directions to Hudson Annex Rooms 1113 and 1114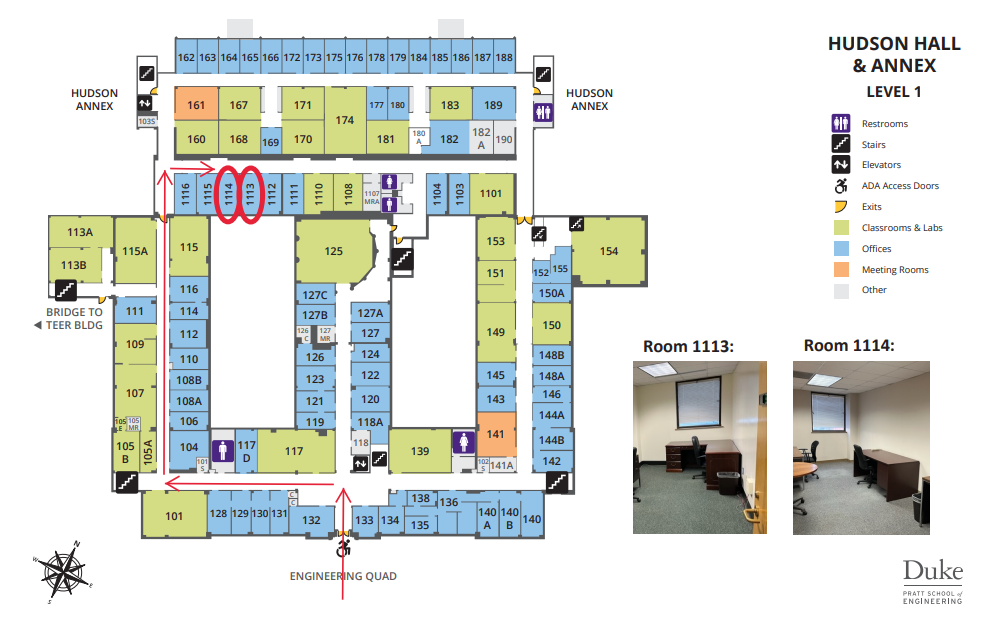 We hope you enjoy the use of this space! To maintain it in a welcoming condition, please uphold the following practices:
The space is intended for student video interviews, and not for other purposes.
Reserve only the time needed (allowing for transition time) and avoid overstaying your reservation.
Please use the "Vacant / Occupied" sign on the door when entering and leaving to help prevent interruptions.
If a reserved time slot is no longer needed, please remove it from the Outlook schedule, so others may use that time.
No food consumption is permitted in this space.
Leave the space clean and tidy, removing any items that were brought with you.
If you have any other questions about use of this space, please contact
Pat Gunsch at patrick.gunsch@duke.edu