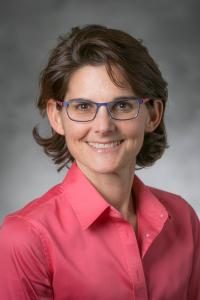 Katherine J. Franz
Alexander Hehmeyer Professor
Chair, Department of Chemistry
Education
Ph.D. – Nitric Oxide Reactivity of Manganese, Iron and Cobalt Tropocoronands and Development of Fluorescent Aminotroponiminates for Nitric Oxide Sensing, Inorganic Chemistry, MIT 2000.
B.A. – Chemistry and French, Wellesley College, 1995
Experience
2015 – present: Professor, Department of Chemistry, Duke University
2010 – 2015: Associate Professor, Department of Chemistry, Duke University
2003 – 2010: Assistant Professor, Department of Chemistry, Duke University
2000 – 2003: NIH Postdoctoral Fellow, MIT
---
Graduate Students
Kacey Hall kacey.hall@duke.edu Kacey is working towards determining how metal complexes respond to mechanical force.
Steven Conklin steven.conklin@duke.edu Steven uses spectroscopic and biological approaches to interrogate the mechanism of action of the Histatin antimicrobial peptides.
Lizzie Hunsaker elizabeth.j.white@duke.edu Lizzie is utilizing chemical and genetic approaches to understand how metal availability mediates interactions between antifungal drugs and fungal pathogens.
Jacqueline Zaengle-Barone jacqueline.zaengle@duke.edu Jacqueline is working to understand the modes of action by which prochelators and their released chelating moieties produce antibacterial/anticancer effects.
Abbey Jackson abigail.jackson@duke.edu Abbey is developing prodrugs that selectively manipulate metal homeostasis in drug-resistant bacteria.
Joanna Campbell joanna.campbell@duke.edu Joanna is investigating how metals mediate the mode of action of the antimicrobial peptide Histatin.
---
Postdocs
Subha Bakthavatsalam subha.bakthavatsalam@duke.edu Subha is working on developing novel targeted prodrugs for prostate cancer based on prochelators. These prochelators get specifically activated to bind to metal ions in cancer tissue.
Anton Razgoniaev anton.razgoniaev@duke.edu Anton is developing mechanically responsive metal complexes to modulate redox behavior and photophysical properties.
---
Undergraduate Students
Azim Dharani Azim is working towards synthesizing and characterizing a library of prostate cancer prodrugs based on disulfiram, a copper chelator.
Elena Puccio Elena is synthesizing prochelators that inhibit drug resistance enzymes and disrupt metal homeostasis in bacteria.
Kevin Hwang Kevin is investigating the effectiveness of prochelator turnover and chelator function within bacteria.
Jaewon Moon Jaewon is studying how modulating the metal-coordination environment affects the metal-redox properties of peptides.
Max Xu Max is investigating how metal coordination modulates biological and chemical properties of metal-binding peptides.
Petpailin (Paige) Wiangnak (Naresuan University, Thailand)
---
Former Graduate Students:
Lucy L. Liu, Duke PhD 2006
BioTherapeutics Pharmaceutical Sciences
Pfizer Inc., Andover, MA
Louise Charkoudian, Duke PhD 2008
Faculty, Haverford College
Lissette Perez, Duke MSc 2010
Katie Ciesienski, Duke PhD 2010
Reviewer at FDA, Rockville, MD
Kathryn Haas, Duke PhD 2011
Faculty, St. Mary's College, Notre Dame
Jeffrey Rubino, Duke PhD 2011
Post-doctoral fellow, CERM, Florence, Italy
Sarah Crider, Duke PhD 2011
Faculty member, the Peddie School
Marina Dickens Leed, Duke PhD 2011
Analytical Scientist, BASF Crop Protection
Lynne M. Hyman, Duke PhD 2011
Managing Editor, AJE:  American Journal Experts
Drew Folk, Duke PhD 2012
Liquidia Technologies
Qiang Su, Duke MA 2014
Andrew Franks, Duke PhD 2014
Senior Scientist, Pfizer
Marian Helsel, Duke PhD 2014
Zeenat Razvi, Duke MSc 2015
Microbiology Technician, Clorox
David Besse, Duke PhD 2016
FDA, Rockville, MD
Qin Wang, Duke PhD 2017
Mark Sleeper, Duke PhD 2017
Frontida BioPharm, Philadelphia, PA
---
Former Postdocs:
Jianfeng Jiang
Faculty member, Yeshiva University
Yohannes Tesema
Adjunct professor, Northern Virginia Community College
David Pham
Post-doc, Radiology Dept UCSF
Filip Kielar
Naresuan University
Bruno Alies
Associate Professor, Universite de Bordeaux
---
Former Undergraduates:
David Newman (Duke '04)
Rishi Parikh (Duke '04)
Lauren Shea (Duke '07)
Alison Kim (Bryn Mawr '05)
graduate school: Northwestern Chemistry
Brandi Thomas (Duke '05)
Istvan Nadas (Duke '08)
Abbey Vangeloff: (Duke '06)
graduate school: University of Wisconsin, Biochemistry
Daniel Yang (Duke '08)
Ashley Kwon (Duke '08)
law school
Samir Derisavifard (Duke '09)
medical school
Daniel White (Duke '09)
graduate school, ECU
Allison Putterman (Duke '11)
Michael Chenkin (Duke '11)
Katie Daniel (Duke '09)
medical school
Stephanie Dreifuss (Duke '10)
plastic and reconstructive surgery resident, University of Pittsburgh Medical Center
Robert Holbrook (Duke '10)
graduate school, Northwestern, Chemistry
Marcus Kaplan (Duke '11)
UNC Eshelman School of Pharmacy
Justin Torosian (Duke '12)
Jefferson Medical College Class of 2016
Rory McAtee (Lycoming College '15)
Ryan Liu (Duke '15)
Jacob Wiener (Duke '16)
law school, UVA
Emma Bridgman (Saint Mary's College '17)
AbbVie, Chicago, IL
Mike Wang (Duke '17)
Kelley White (Duke '17)
Pharmacy school, UT Austin
Spencer Telford (Duke '17)
Matias Horst (Duke '18)
Chemistry PhD program, Stanford
Vivian Lu (Duke '18)
---
Former High School Students:
Tanvi Dange (Peddie School '17, Georgia Tech '21)
---
Franz Lab Alumni: Please email Abbey (abigail.jackson@duke.edu) to update this page with what you're doing now!