Book Sections
Wang, Q, and Franz, KJ. "Detection of Metal Ions, Anions and Small Molecules Using Metal Complexes."Inorganic Chemical Biology: Principles, Techniques and Applications. June 23, 2014. 233-274. Full Text
---
Journal Articles
Garcia-Santamarina, S.; Probst, C.; Festa, R. A.; Ding, C.; Smith, A. D.; Conklin, S. E.; Brander, S.; Kinch, L. N.; Grishin, N. V.; Franz, K. J.; Riggs-Gelasco, P.; Lo Leggio, L.; Johansen, K. S.; Thiele, D. J., A lytic polysaccharide monooxygenase-like protein functions in fungal copper import and meningitis. Nat. Chem. Biol. 2020.
Hunsaker, E. W.; Franz, K. J., Candida albicans Reprioritizes Metal Handling During Fluconazole Stress.Metallomics 2019,11 (12), 2020-2032.

Hunsaker, E. W., and Franz, K. J. Emerging Opportunities To Manipulate Metal Trafficking for Therapeutic Benefit.Inorg. Chem. 2019, 58 (20), 13528-13545.

Hunsaker, E. W.; Franz, K. J., Copper Potentiates Azole Antifungal Activity in a Way that Does Not Involve Complex Formation. Dalton Trans. 2019, 48, 9654-9662.
Franz, K. J.; Metzler-Nolte, N., Introduction: Metals in Medicine. Chem. Rev. 2019,119 (2), 727-729. (part of thematic issue on Metals in Medicine co-edited by K. J. Franz)
Franz, K. J., Metallomics: Emerging Investigators 2019. Metallomics 2019,11 (1), 9-14. (part of Emerging Investigators 2019 issue edited by K. J. Franz)
Wang, Q.; Franz, K. J., Modifying aroylhydrazone prochelators for hydrolytic stability and improved cytoprotection against oxidative stress. Biorg. Med. Chem. 2018,26 (22), 5962-5972.
Bakthavatsalam, S.; Sleeper, M. L.; Dharani, A.; George, D. J.; Zhang, T.; Franz, K. J., Leveraging gamma-glutamyl transferase to direct cytotoxicity of copper dithiocarbamates against prostate cancer cells.Angewandte Chemie International Edition2018,57 (39), 12780-12784.
Zaengle-Barone, J. M.; Jackson, A. C.; Besse, D. M.; Becken, B.; Arshad, M.; Seed, P. C.; Franz, K. J., Copper Influences the Antibacterial Outcomes of a β-Lactamase-Activated Prochelator against Drug-Resistant Bacteria.ACS Infectious Diseases 2018, 4 (6), 1019-1029.

Hall, K. C.; Franks, A. T.; McAtee, R. C.; Wang, M. S.; Lu, V. I.; Franz, K. J., Metal-binding hydrazone photoswitches for visible light reactivity and variable relaxation kinetics. Photochem Photobiol Sci 2017,16 (11), 1604-1612.
Conklin, S. E.; Bridgman, E. C.; Su, Q.; Riggs-Gelasco, P.; Haas, K. L.; Franz, K. J., Specific Histidine Residues Confer Histatin Peptides with Copper-Dependent Activity against Candida albicans.Biochemistry 2017,56 (32), 4244-4255.
Wang, Q.; Franz, K. J., The hydrolytic susceptibility of prochelator BSIH in aqueous solutions. Bioorg. Med. Chem. Lett. 2017, 27 (17), 4165-4170.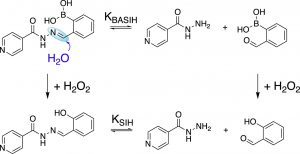 Helsel, M. E.; White, E. J.; Razvi, S. Z.; Alies, B.; Franz, K. J., Chemical and functional properties of metal chelators that mobilize copper to elicit fungal killing of Cryptococcus neoformans. Metallomics 2017, 9 (1), 69-81.

Wang, Q.; Franz, K. J., Stimulus-Responsive Prochelators for Manipulating Cellular Metals. Acc. Chem. Res. 2016, 49 (11), 2468-2477.
Sansee, A, Meksawangwong, S, Chainok, K, Franz, KJ, Gál, M, Pålsson, L-O, Puniyan, W, Traiphol, R, Pal, R, and Kielar, F. "Novel aminoalkyl tris-cyclometalated iridium complexes as cellular stains." Dalton transactions (Cambridge, England : 2003) 45.43 (November 2016): 17420-17430. Full Text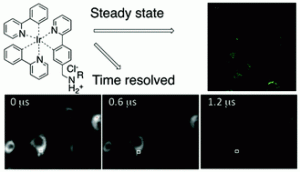 Hašková, P, Jansová, H, Bureš, J, Macháček, M, Jirkovská, A, Franz, KJ, Kovaříková, P, and Šimůnek, T. "Cardioprotective effects of iron chelator HAPI and ROS-activated boronate prochelator BHAPI against catecholamine-induced oxidative cellular injury." Toxicology 371 (September 2016): 17-28. Full Text
Jansová, H, Bureš, J, Macháček, M, Hašková, P, Jirkovská, A, Roh, J, Wang, Q, Franz, KJ, Kovaříková, P, and Šimůnek, T. "Characterization of cytoprotective and toxic properties of iron chelator SIH, prochelator BSIH and their degradation products." Toxicology 350-352 (March 2016): 15-24. Full Text
Franks, AT, Wang, Q, and Franz, KJ. "A multifunctional, light-activated prochelator inhibits UVA-induced oxidative stress." Bioorganic & medicinal chemistry letters 25.21 (November 2015): 4843-4847. Full Text
Crumbliss, AL, Franz, KJ, and Thiele, DJ. "Preface. Biometals 2014–Proceedings of the 9th International Symposium Biometals 2014 at Duke University, Durham, NC, USA." Biometals : an international journal on the role of metal ions in biology, biochemistry, and medicine 28.3 (June 2015): 431-. Full Text
Helsel, ME, and Franz, KJ. "Pharmacological activity of metal binding agents that alter copper bioavailability." Dalton transactions (Cambridge, England : 2003)44.19 (May 2015): 8760-8770. Full Text